It's a wrap! We just concluded the Reboot Work Festival and based on the early feedback from customers, partners, presenters, and many other attendees, Reboot Work Festival was a hit.
With nearly 100 companies participating in the three-day agenda jam packed with hands-on, interactive, and informative events, the Reboot Work Festival exceeded expectations. It was great to join together to recognize and celebrate the vast potential of automation. The event also showcased a commitment to sharing so many innovations and best practices to improve the way work is done in 2021 and beyond.
We hope you were able to attend, but even if you couldn't, it's not too late. We recorded all the sessions, so you can still watch the presentations (or rewatch your favorites). Simply register for access on the official Reboot Work Festival site and enter the virtual festival grounds to catch up on any presentation you missed.
Once you enter the virtual festival grounds, you'll see a variety of entry points to different recorded sessions including the Big Tent, Immersion Labs, and Demo Tent (you'll see mentions of these throughout the article to help you quickly find the on-demand sessions you're interested in).
There's so much great content, I wanted to share four key takeaways.
1. A fully automated enterprise™ is a digitally transformed enterprise
While the Reboot Work Festival had several sessions with tips for how to successfully implement and scale automation, many presentations focused on how companies are working towards becoming a fully automated enterprise.
It's an exciting new vision that aligns with a new IDC Research report that predicts that by 2022, 45% of all repetitive work tasks will be automated and/or augmented using digital cohorts powered by artificial intelligence, robotics, and robotic process automation (RPA).
With automation rapidly becoming a boardroom priority, we believe the race is on towards a bigger vision for automation's role across the enterprise. A vision now that we call the fully automated enterprise.

Bobby Patrick, Chief Marketing Officer (CMO), UiPath
Patrick kicked off the first day of the festival by outlining and defining what it means to be a fully automated enterprise. And, perhaps more importantly, the framework an organization can use to turn that vision into reality. He outlined the four pillars that define a fully automated enterprise: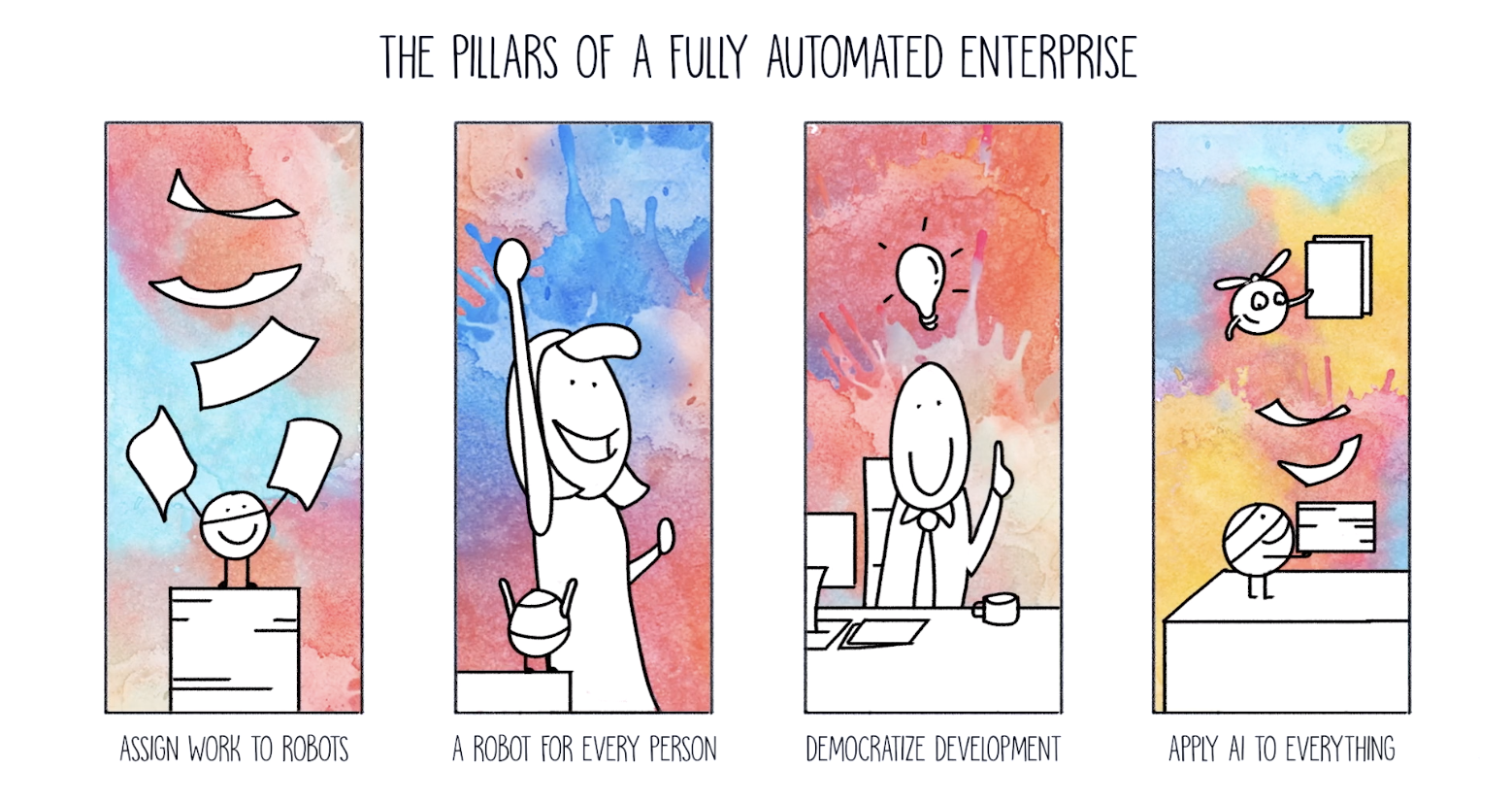 Diego Lomanto, Vice President (VP) of Product Marketing at UiPath, has written an article that further explains the benefits of becoming a fully automated enterprise and dives into each of the pillars that Patrick introduced.
Many of the Reboot Work Festival sessions spoke to the vision, benefits, and lessons learned along the journey of becoming a fully automated enterprise. But I highly recommend starting with watching the recording of Patrick's presentation and then reading Lomanto's article, The 4 Pillars of a Fully Automated Enterprise. These serve as a great foundation for the insights you'll hear from experts and customers in all the other session recordings.
This journey [of becoming a fully automated enterprise] will take time. But thanks to day one value and the rapid outcomes, your organization will benefit all along the way. Most of you already see those outcomes today.

Bobby Patrick, CMO, UiPath
"The fully automated enterprise uses automation to unlock its greatest potential," explained Patrick. "A fully automated enterprise is a digitally transformed enterprise."
2. UiPath 20.10 release: the "gold standard" for fully automated enterprises
In November, we announced the official release of our 2020 Long-Term Support release (20.10 for short). While we cover this full information more in our complete 20.10 release box set, the Reboot Work Festival gave attendees a much closer look 'under the hood' of 20.10.
In his Reboot Work Festival session, Patrick called the 20.10 release "the gold standard that offers your organization the best path to becoming a fully automated enterprise."
For example, with the 20.10 release, the UiPath Platform is better equipped to span the entire automation lifecycle and give our customers the ability to truly become a fully automated enterprise. The 20.10 release offers new advances for end-to-end automation, major enhancements for Automation Cloud™, new UiPath Apps, exciting innovations such as attended automation with Picture in Picture, and much more.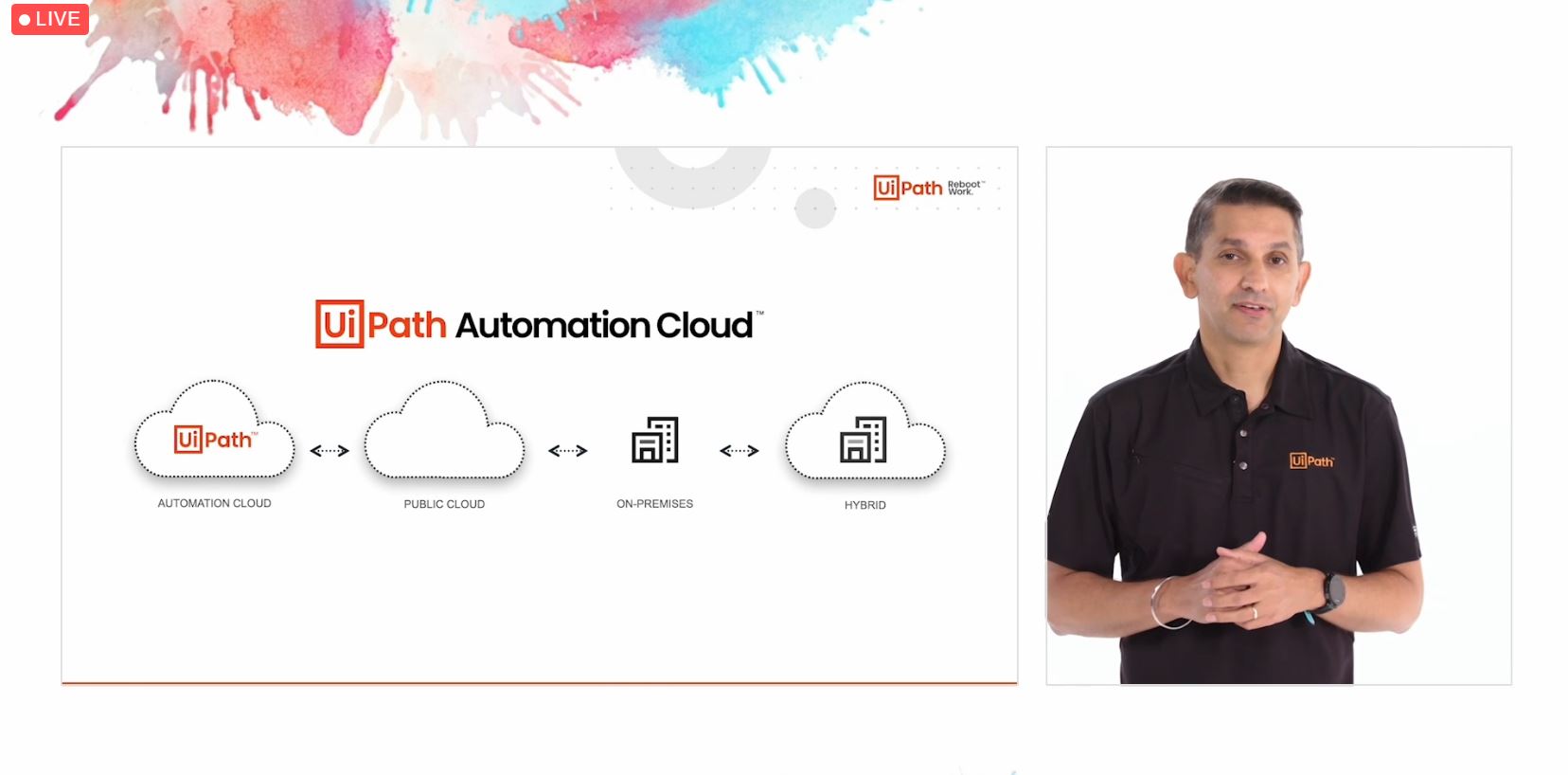 For even more information on this new release, we invite you to watch UiPath Chief Product Officer (CPO) Param Kahlon's keynote presentation from the event (the image above is a screenshot from the presentation).
You can register for access to the recordings on the Reboot Work Festival site. If you already registered for the Reboot Work Festival, you can access the recording in the same place you originally watched the festival (you'll find Kahlon's recorded session in the Big Tent).
In his presentation, Kahlon describes why he believes "20.10 is the best product version UiPath has ever released:"
All of these advances and enhancements remain strategically and mindfully based on customers' and market feedback, and we believe that 20.10 removes all hurdles [any company] to progress on the journey to become a fully automated company.

Param Kahlon, CPO, UiPath
Not only does Kahlon touch on all of the highlights of the 20.10 release, but he gives specific examples for how an organization can use specific UiPath products to become a fully automated enterprise.
That was one theme that really stuck out to me throughout all three days of the Reboot Work Festival: the vision of a fully automated enterprise isn't an abstract concept. The pillars outlined and the lessons shared throughout the festival sessions are not only feasible, many organizations are already using the framework and on their way to turning the vision into a reality.
The smaller breakout rooms with UiPath experts in Expertsville weren't recorded, but you can still access the numerous recorded demos in the Demo Tent to see specific UiPath products in action.
It was also fascinating to tune into all the customer presentations on the third day of the festival to hear the first-hand accounts of how the UiPath Platform has been key to transforming enterprises (I'll take more about that in section four, below).
3. The seismic artificial intelligence (AI) shift
UiPath Executive Vice President (EVP) of Products and Engineering Ted Kummert explained we're currently experiencing a "seismic shift at the nexus of AI and automation."
Kummert's session examined how the advancements in AI are helping solve for the fragmented technology landscape. And pointed out that fragmentation isn't just an IT issue—it's also a productivity drain for employees.
Looking at how AI has advanced and what this shift means for humans and robots, allowing humans to focus on highly cognitive work they enjoy, and enabling organizations to become fully automated enterprises was a theme throughout many of the Reboot Work Festival presentations.
You don't have to look further than COVID to see the role of automation emulating workers. For hospital workers, healthcare providers, government agencies, and humanitarian organizations robotic process automation turned out to be one of the only tools in a toolkit to respond fast to the impacts from this crisis.

Bobby Patrick, CMO, UiPath
UiPath Co-founder and CEO Daniel Dines shared that while automation is as old as human history, its computer vision that has allowed for emulating humans with automation. And that emulation "makes automation economically feasible."
For me, the takeaway here is that there is a massive amount of untapped potential lying in AI. It's potential any organization has the ability to unlock, thanks to technology like the UiPath Platform.
Like the vision of the fully automated enterprise, this isn't an abstract concept. I recommend starting with the following Reboot Work Festival on-demand Big Tent sessions to understand how to unlock the full AI potential available to you:
"The Innovation Engine that Delivers the Fully Automated Enterprise"
Ted Kummert, EVP Products and Engineering, UiPath
"20.10: The Release that Kickstarts Digital Transformation"
Param Kahlon, Chief Product Officer, UiPath
"AI, Automation, and Future of Work"
Pranjal Sharma, Economic Analyst, Advisor, and Author

Rajesh Kumar, Regional Head of Marketing, UiPath
Reminder: to access these recorded sessions, sign up on the Reboot Work Festival page.
4.  Actionable insights
We've already heard from so many attendees that they appreciated that so many of our presentations, demos, and Expertsville sessions gave them strategies they could quickly implement to improve their jobs or deliver better results for their company.
This is always great news to hear after hosting an event like Reboot Work Festival, especially since we hoped to highlight less-than-obvious automation opportunities and provide tips, tricks, and best practices to help users take full advantage of them.
For example:
The European Medicines Agency uses UiPath robots to monitor the pipeline of critical ICU supplies with an automated system that collects data from pharmaceutical companies all across Europe.  

Takeda Business Solutions is working with UiPath to drive its digital transformation efforts, specifically to deliver more innovative solutions, optimize global end-to-end processes, and take advantage of the latest technology such as AI, robotics, automation, design thinking, and analytics.

Dhaka Bank has improved its ability to create and deliver excellence in banking—all thanks to automation that has led to new ways of delivering critical banking services, products, and the customer experience.

Coca-Cola China, Korea, and Mongolia, automated data collection and processing for its entire supply chain to improve decision making.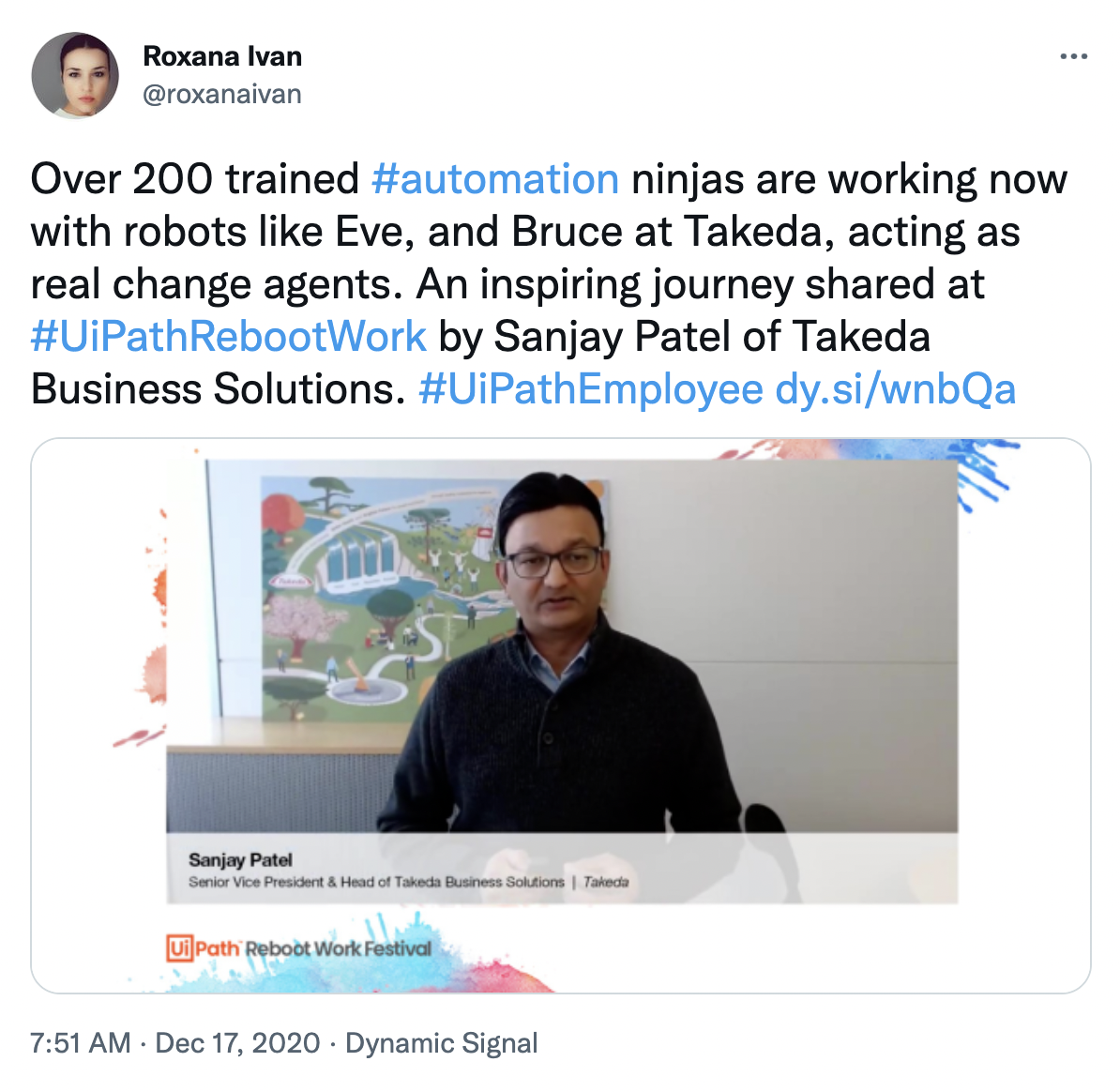 If you missed any of the customer sessions (or want to watch them again to take notes), you can access the on-demand recordings in the Big Tent and Amphitheater. Register for access on the Reboot Work Festival page.
We couldn't have done it without you
Reboot Work Festival was a celebration of automation and a festival of ideas about automation and human achievement. All of the content highlighted so many ways companies in many different industries are using automation to rethink 'business as usual' and free their employees to reach their full potential.
But we couldn't have done it without you, so a true heartfelt thanks to everyone who participated in this event. And while this virtual conference was a success, we're also happy to tell you we've already booked the Bellagio Hotel in Las Vegas for our FORWARD IV event in 2021. It will be great to see you in person, connect, and share even more automation best practices. We hope to see you then!