Thank you to everyone who joined us at FORWARD IV in Las Vegas. With more than 90 sessions over two days, there was a lot of innovation, inspiration, and learnings to take in.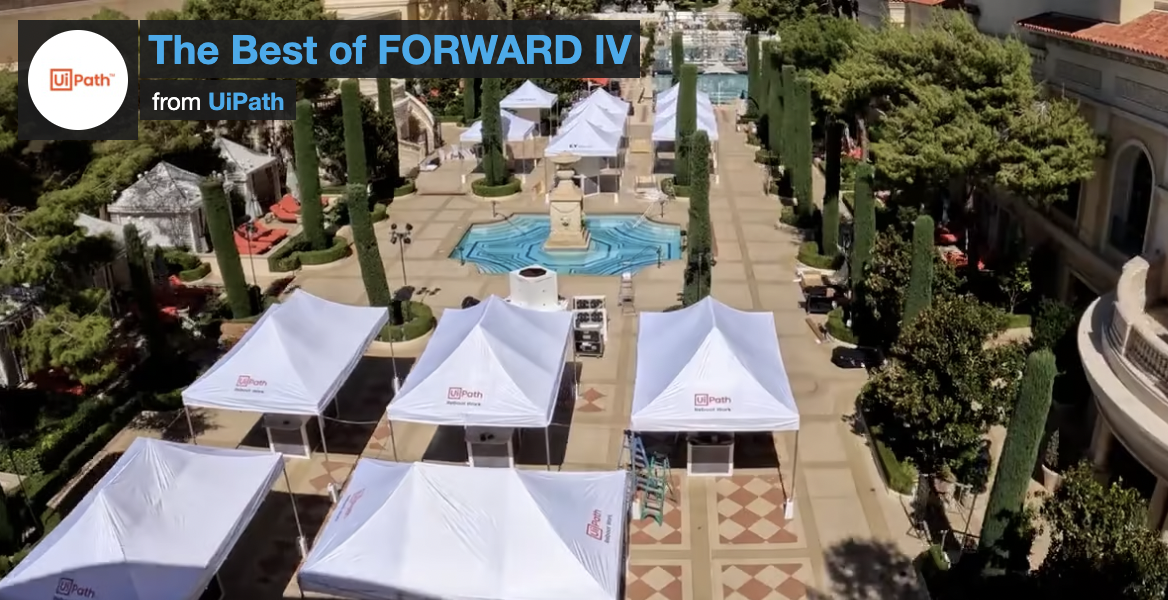 So, while I'm using this post to share my biggest takeaways from FORWARD IV, stay tuned for future posts that will share more insights from numerous stage presentations and breakout sessions that took place at the world's most immersive gathering of automation experts.
And don't forget to sign up for UiPath FORWARD IV 'The Best Bits' to get exclusive content from the conference, conveniently packaged into a three-volume series, delivered right to your inbox.
New automation capabilities make it easier to become a fully automated enterprise™
Years ago, FORWARD attendees were looking to understand what robotic process automation (RPA) was and the benefits of RPA. That's no longer the case—today's leaders know automation and are actively implementing it across departments.
In conversations and presentations across FORWARD IV, it was clear that automation is now a strategic priority for savvy enterprises around the world.
If organizations haven't started [automation], they're too late. The fear of falling behind should keep you awake.

Leyla Delic, Group Chief Information and Digital Officer, Coca-Cola İçecek
And many at FORWARD IV were discussing the path they're taking to become a fully automated enterprise.
UiPath is providing advanced automation capabilities to turn that vision into reality.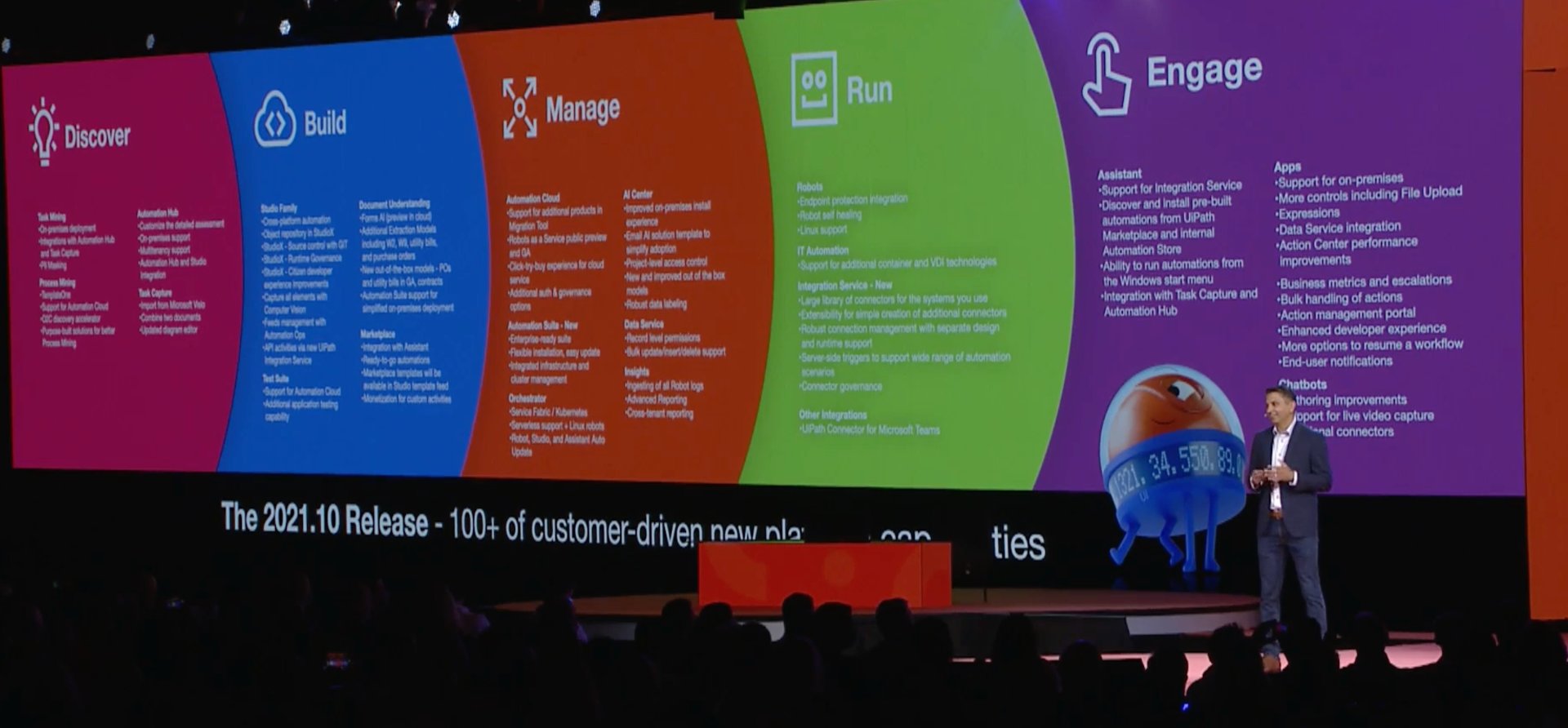 Param Kahlon, Chief Product Officer at UiPath, took the stage for the opening keynote and gave the first sneak peek into the upcoming 2021.10 release. He also announced the UiPath and CrowdStrike partnership, which extends endpoint security to RPA.
With more than 100 new, customer-driven product features and capabilities, previews of the 2021.10 release continued across conference sessions and experts were available for one-on-one conversations in Expertsville.
Here are a few highlights from the new capabilities shared at FORWARD IV:
UiPath Integration Service - A unique integration of API and UI automation-based capabilities delivered together.

Self-healing robots - The UiPath Platform understands robot dependencies to stay ahead of changes and their impact (without requiring human intervention).

Cloud native automation - Automation Cloud™ includes a host of new cloud services. And the new UiPath Automation Suite allows those who prefer on-premises, public cloud, or third-party hosted options to go cloud native.

AI solution templates - These new templates make it easier for developers to incorporate artificial intelligence (AI) into their automations.
Don't have time to watch the keynote right now? You can get more details about the upcoming 2021.10 release in this quick read.
The future is semantic automation
This release is both the most comprehensive automation platform for today and the right automation foundation for the future. We're delivering on making automations easier to build, expanding automation use cases, and ensuring we provide reliability, security, and governance to support enterprise-level, mission-critical processes.

Daniel Dines, Co-Founder and CEO, UiPath
What does all that mean for the future of automation?
"We're laying the groundwork for semantic automation," explained UiPath CEO Daniel Dines.
Semantic automation reduces the gap between how software robots currently operate and the capacity to understand processes the way humans do.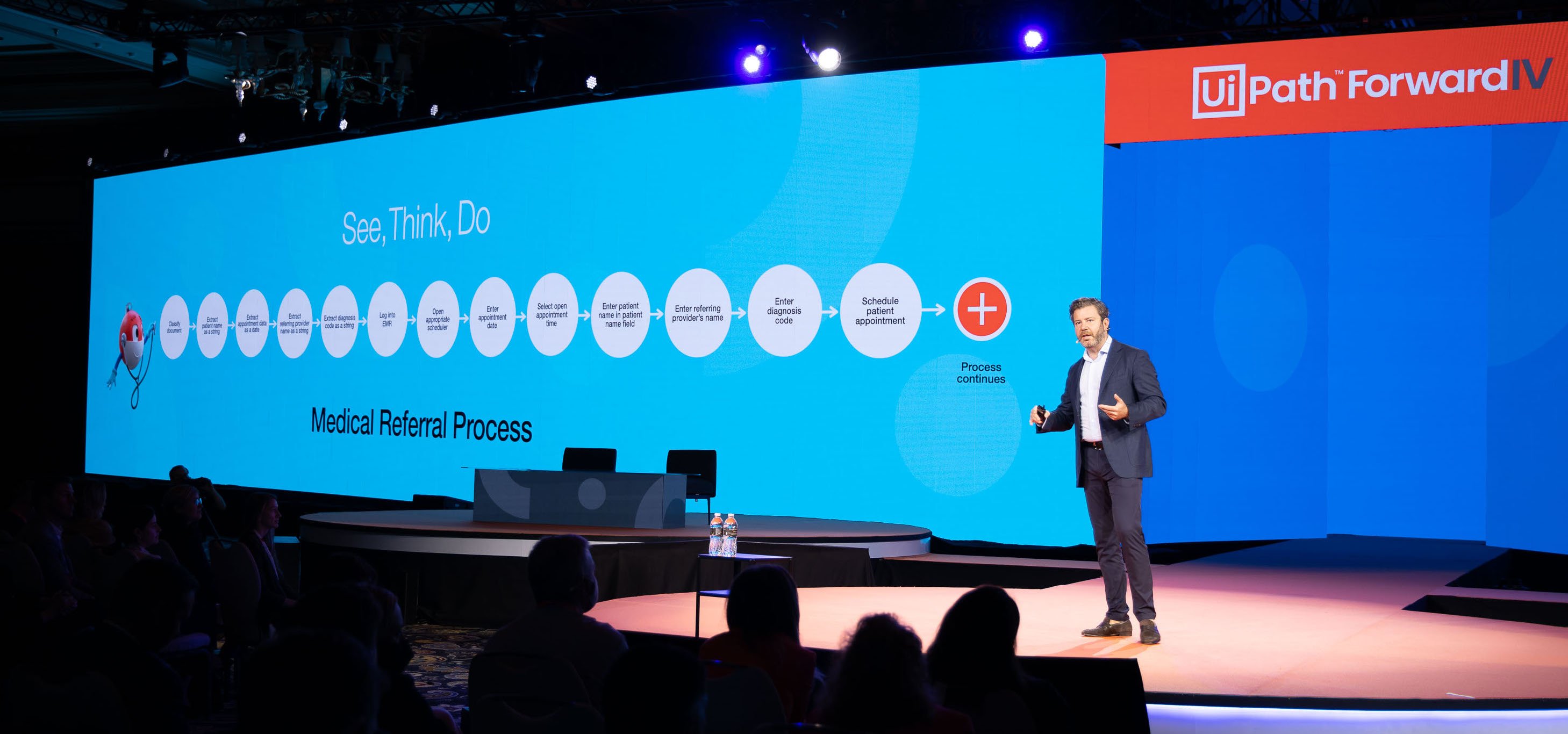 Using the example of a medical referral process, Dines explained how humans can spot similarities and infer how to complete tasks when being taught a process. UiPath robots are evolving to a point where they'll be able to make similar inferences. It's a big leap forward.

You can read more about semantic automation in our recap of Dines' keynote or watch the replay of his full keynote.
Automation is benefiting society
I'll admit that seeing the potential for automation to positively impact society and the UiPath mission to accelerate human achievement were part of what drew me to want to work at UiPath. So I was moved and inspired by the innovative ways UiPath customers and partners are not only upskilling employees but also paying forward the good of automation into larger communities.
In "The State of Automation - The View from IDC" on the second day of the conference, IDC Program Vice President of Intelligent Process Automation Research Maureen Fleming shared new research from IDC:
"68% of 'upskilled' workers had higher salaries than before"

"57% of 'upskilled' workers had higher roles in their enterprises than before"
The research findings were part of the UiPath-commissioned IDC Thought Leadership White Paper, "The Economic Impact of UiPath Robotic Process Automation."
Sidney Madison Prescott, Global Head of Intelligent Automation at Spotify, shared with the audience (and later with SiliconANGLE Media's theCUBE) how the company not only empowers employees as citizen developers but also how they were able to continue upskilling employees throughout the pandemic.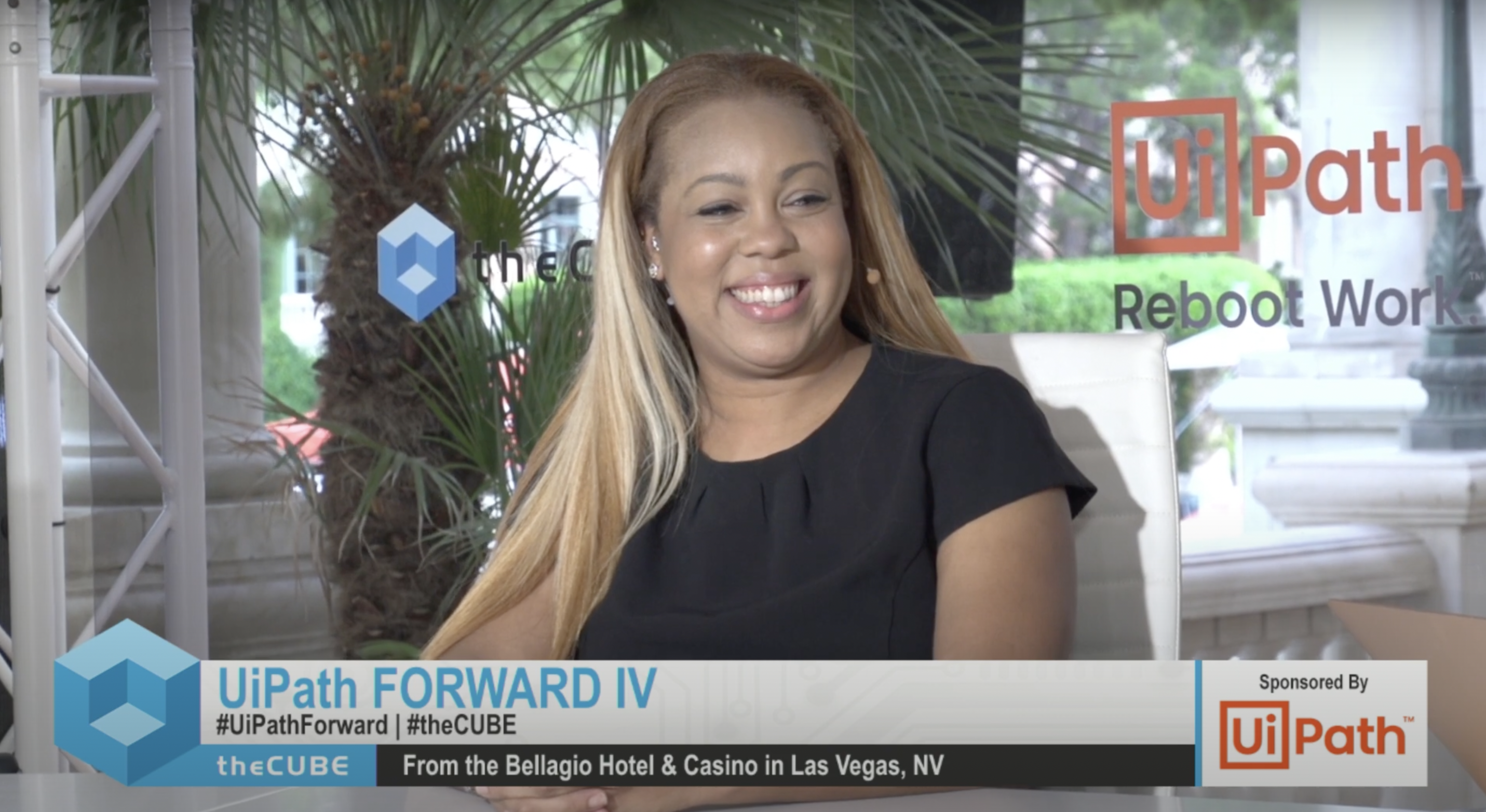 "We have been able to really push this concept of upskilling as a key element of personal professional success and also team success. And that has been a game changer."
Even Spotify employees who are not familiar with RPA are able to build their own bot by the final morning of the company's five-day citizen developer training.
In his keynote, Dines shared examples of customers who used automation to respond to drastic shifts in demand during the last 18 months:
Ecolab worked with UiPath to increase their production of hand sanitizer by nine times early in the pandemic

Mater Misericordiae University Hospital used automation to give nurses back 30% of their time—time previously spent on administrative tasks that is now spent directly with patients

Amazon managed the surge in job applications related to the spike in demand during pandemic lockdowns with automation
On stage with Dines, Delic described how Coca-Cola İçecek is helping women of all ages reenter the workforce and join the economy by providing them automation training. "Technologies like UiPath are removing barriers with low-code tools," said Delic.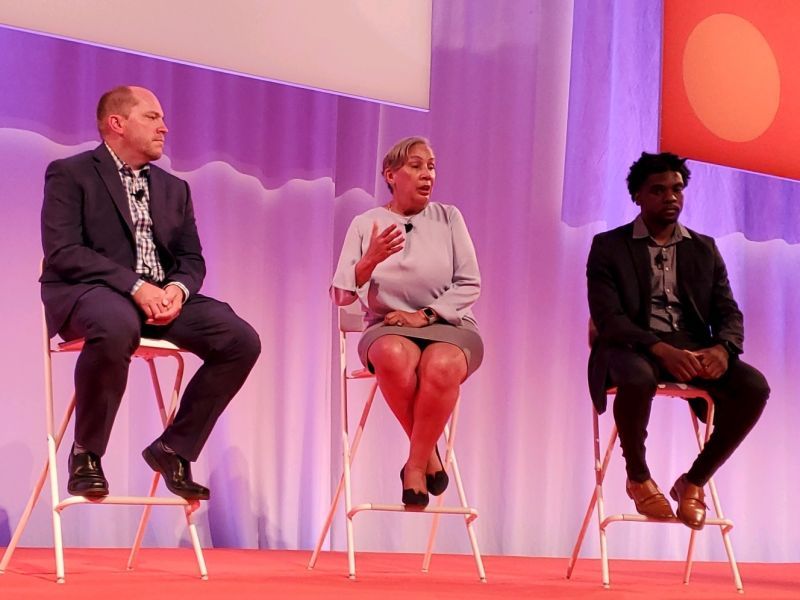 Left to right: Justin Neroda, Jacklyn M. Wynn, Chaz Jenkins
Jacklyn M. Wynn, Vice President of Strategic Programs for the Federal Health Sector at General Dynamics Information Technology, shared that she is co-sponsoring a citizen developer event to introduce young girls to automation.
And Brian Klochkoff, Head of Automation for Americas at dentsu international, detailed how automation is empowering adults with autism with new opportunities for meaningful employment.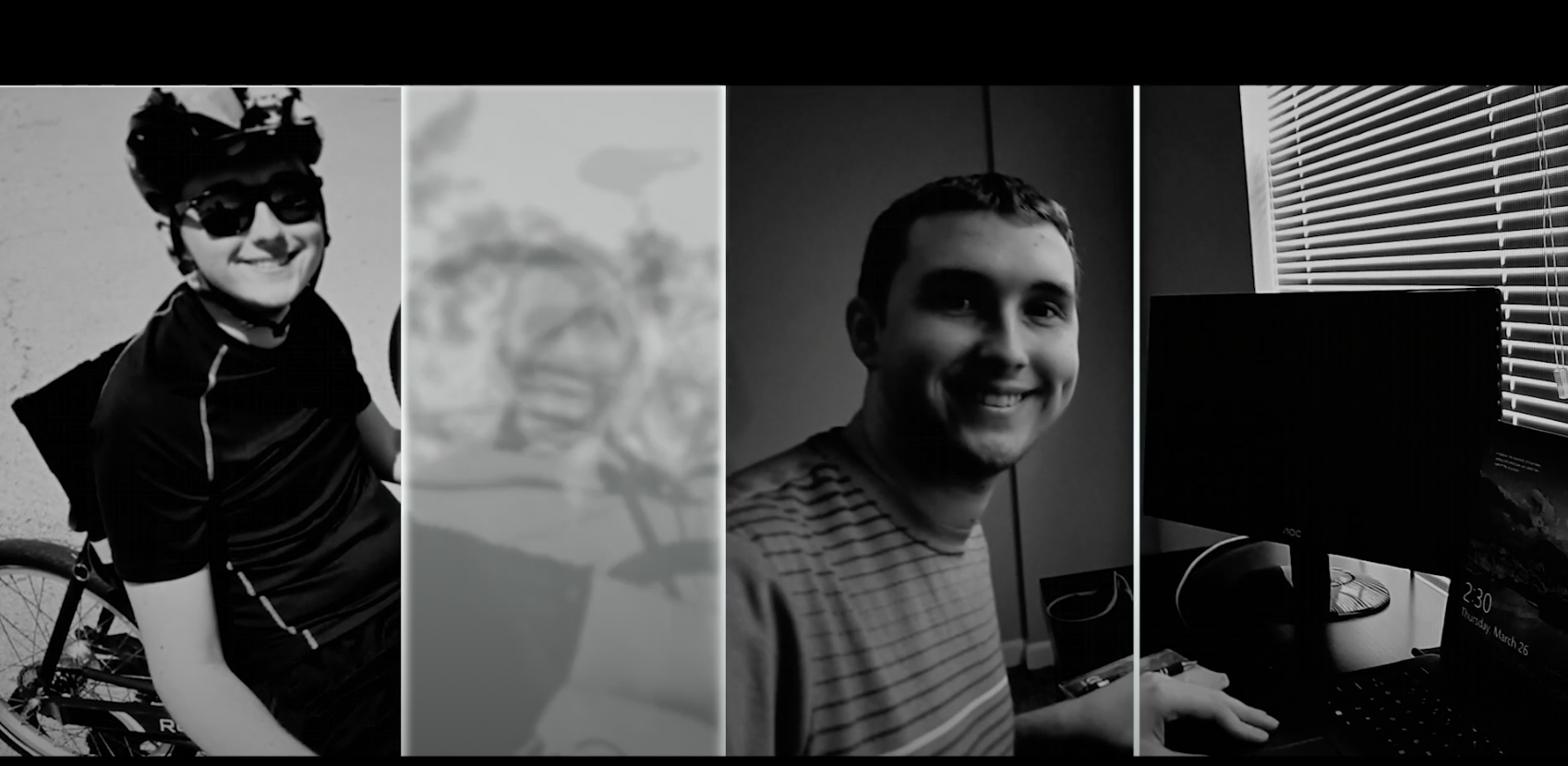 The AutonomyWorks, dentsu international, and UiPath partnership allows "people to do the things they're best at," said Klochkoff. "Diversity of thought is going to rapidly change the way we work."
Community fosters innovation
​Remember, innovation isn't the product of a lone genius in a garage. It's the result of collaboration, conversation, and hard work. It takes a community. And that's what FORWARD IV is all about.

Mary Tetlow, Chief Brand Officer, UiPath
I felt and saw the power of community more so at FORWARD IV than ever before. Perhaps, in part, because I hadn't seen any UiPath colleagues, customers, or partners in person since FORWARD III in 2019.
Or maybe it was that the community our FORWARD conferences bring together gets stronger, larger, and more passionate every year.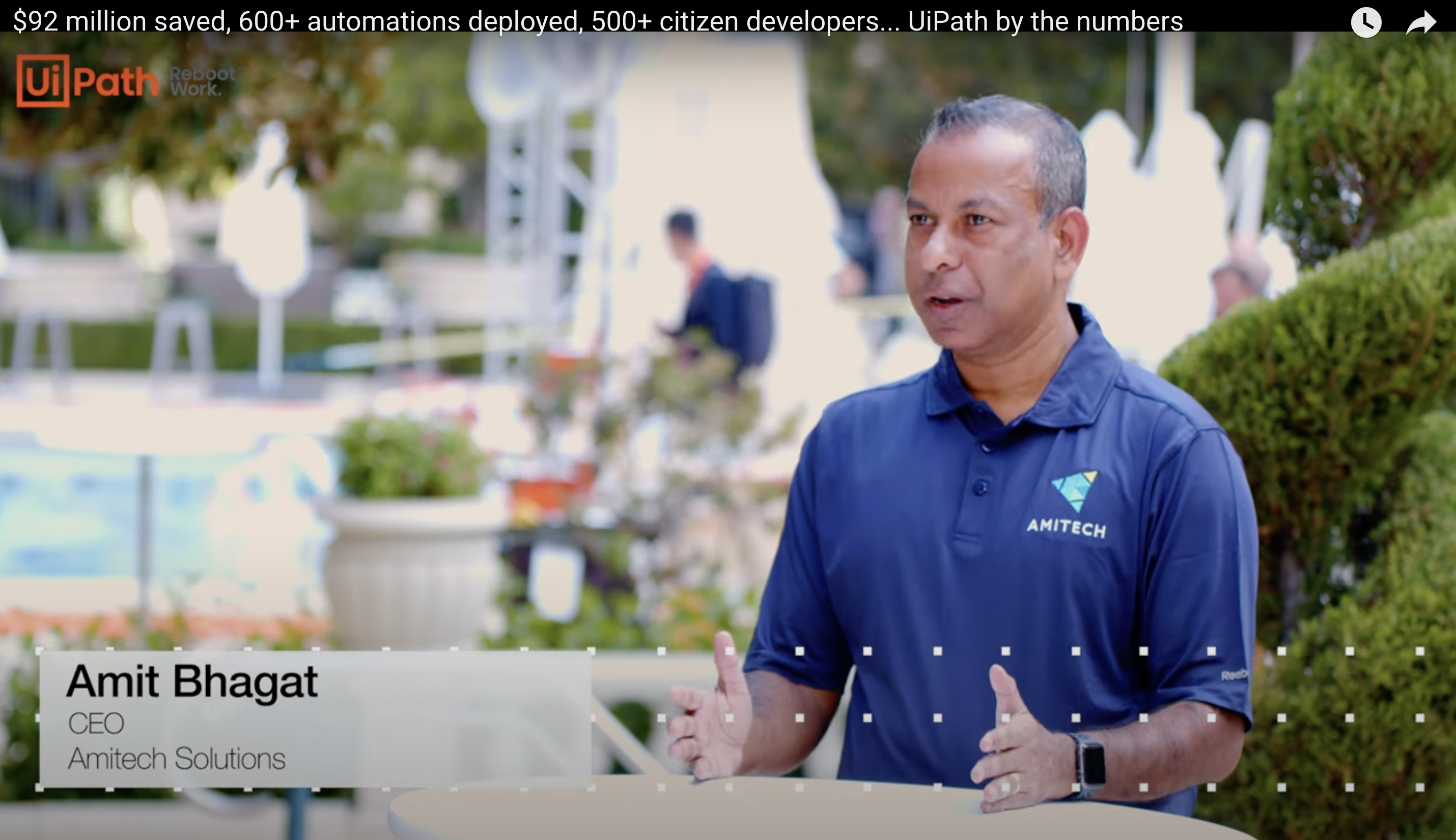 It went beyond the more than 90 sessions with customers and partners sharing their own automation successes and lessons learned, allowing thousands of audience members to put those insights to use in their own automation programs.
FORWARD IV was the most interesting conference I've attended in YEARS. The speakers were inspirational and the lunchtime breakout sessions sparked great collaboration.

Christina Kucek, Director of Intelligent Automation, Computer Aid, Inc.
The lunchtime sessions Kucek mentions were roundtable discussions (with a seated lunch). There were more than 60 roundtables available at lunch both days of the conference, and many saved seats early to make sure they could be part of the discussion of their choice. I saw discussions that started at lunch roundtables and continued afterwards in Expertsville.
Expertsville offered everyone the chance to talk 1:1 with UiPath partners and automation experts, ask questions, and see automations in action. And connect with other people interested in forging a new way forward for work (and life).
I have to admit that after experiencing Expertsville booths and cabanas along the Bellagio pool deck, under sunny skies and balmy breezes, I hope the 'inside-out' concept becomes the mainstay for future conferences.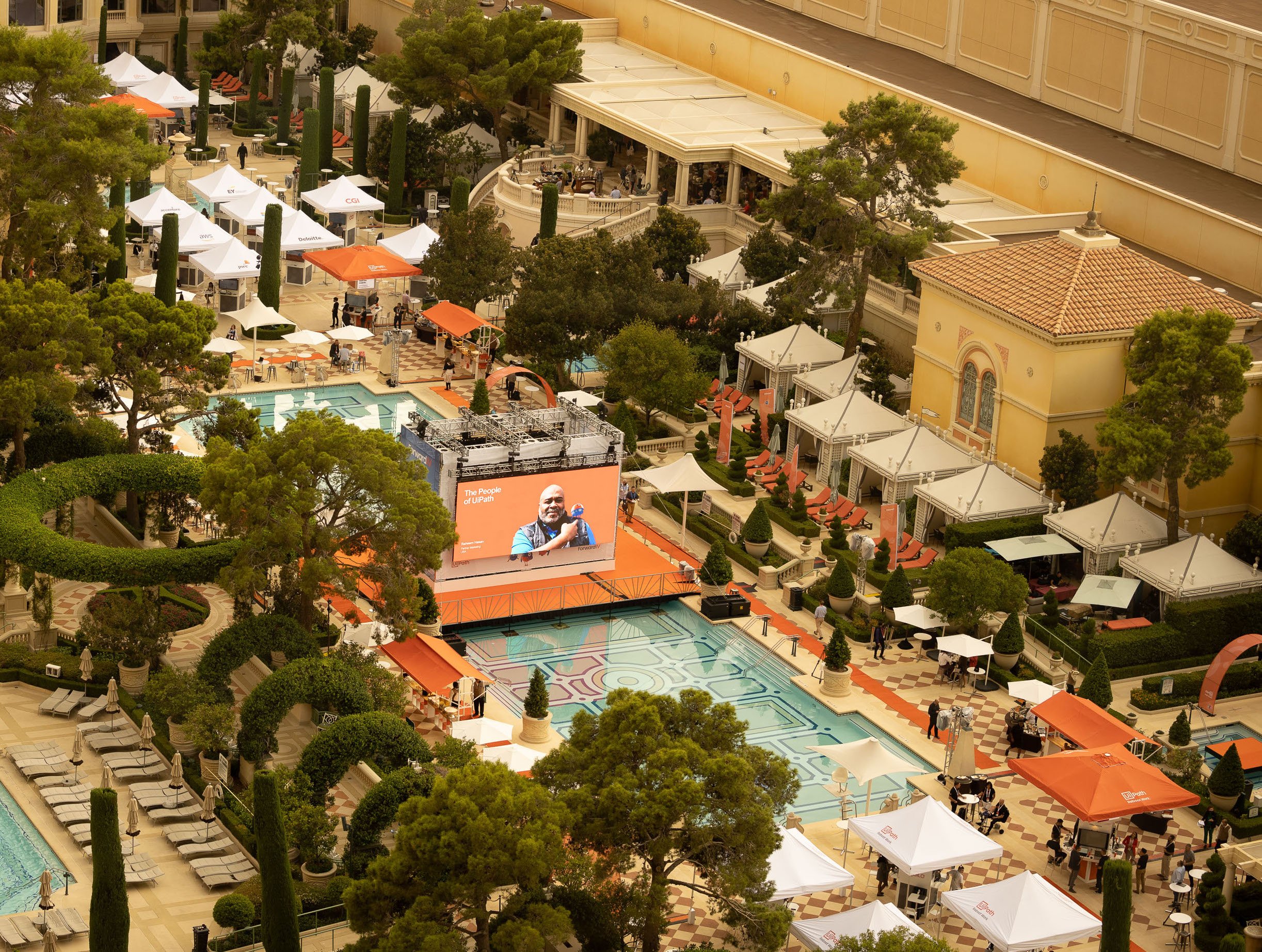 An aerial view of Expertsville before the start of the conference.
Thank you to all our FORWARD IV sponsors. Thank you to all who joined us at FORWARD IV in Las Vegas. Thank you to the thousands more who joined us virtually via the livestreamed keynotes. If you weren't able to join us in person, we've put together the best content from the event into a three-volume series packed with actionable insights you can use to accelerate your automation journey. Sign up once and we'll deliver each volume straight to your inbox.