Janette Hausler is vice president of global partner marketing and Americas marketing at UiPath.
UiPath announces new enablement services, marketing resources, and support for partners
At UiPath Partner FORWARD (the day before FORWARD III, the largest global RPA event), more than 500 business and technology partners gathered to hear about what it takes to drive transformative change for customers in an 'automation first' world. Partner FORWARD kicks off our favorite week of the year because here we get the awesome opportunity to connect with our partners, customers, and UiPath Community members to talk about common interests – the work of the future and Robotic Process Automation (RPA).
The automation first era has arrived. Companies are committing to RPA and doing so at scale. People and robots are working together to drive efficiencies, speed, productivity, creativity, and innovation. RPA robots are doing the work we loathe, so we can do the work we love. Together, we are rebooting work.
During today's sessions, we explored what it means to 'reboot work' for our customers, and how UiPath enables partners to reboot their businesses to capture the massive opportunity that next-level automation brings.
RPA can handle more complex processes than ever before, while AI Skills and AI Fabric provide the ability to handle long-running workflows. Partners are offering services ranging from delivery to transformation to support the RPA scale-out and the path to digital transformation. They are investing in RPA skills with over 130,000 UiPath Academy classes completed and thousands of UiPath certifications achieved.
RPA is the fastest growing software segment worldwide and RPA services are growing at a significant pace with over 100% year-over-year (YoY) growth in the last year. UiPath is the RPA market share leader based on our loyal customer base, partner ecosystem, strong investors, and brand building.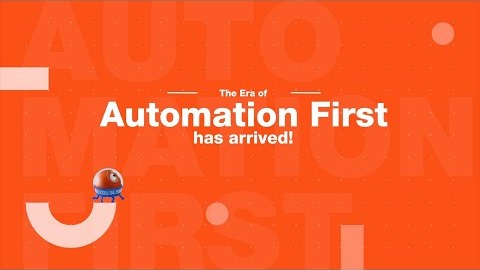 At Partner FORWARD, we also reflected on the tremendous momentum we achieved together this past year with the commitment of our partners. We recognized Cognizant, Deloitte, EY, JOLT Advantage Group, PwC, and Tacstone, who were named recipients of our Partner of the Year awards along with Blackbook.ai, Capgemini, Microsoft, Novatio, Perspecta, and Wipro, who were recognized with our Impact Partner of the Year awards.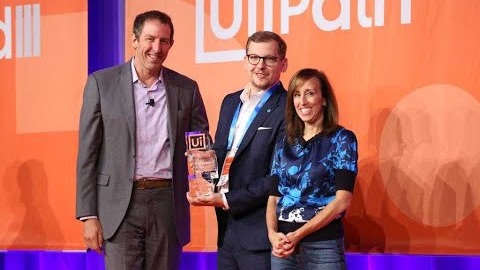 One thing is for certain, the future is bright for partners who capitalize on the transformative power of RPA. Elena Christopher, research vice president of industry research and robotic process automation at HfS, took the stage to share her unique perspective on the opportunity for partners in her presentation "From Robotic Automation to Robotic Transformation."
We're seeing a fairly dramatic shift toward RPA at scale across the enterprise, which represents multi-million-dollar opportunities for partners to transform their customers' businesses. It is clear to all of us that the market demand for digital transformation and the benefits of UiPath automation solutions have never been greater. But, the reality is, we cannot satisfy this demand on our own - partners play a critical role.
We announced a new spectrum of delivery and enablement services offerings launching Q1 2020 to help partners implement RPA at scale successfully. These new discrete services offer partners choices on how they want to engage with UiPath and with their customers. Coming soon:
UiPath Services Network that delivers more opportunities for our most committed and capable partners who invest in rigorous training and certifications,

Partner Premium Support Services that provide white-glove support to partners and their customers,

Project Assurance Services for pre-packaged, fixed-fee services including code and design review, advanced training, and technical account management,

Automation@Scale, our market-tested methodology, designed to help partners successfully identify and sell the largest, most transformative automation opportunities that drive real business impact.
We also discussed the importance of a strong partner ecosystem as key to partner success. With more than 200 UiPath Technology Alliances across nine emerging technologies, our partner ecosystem grew enormously to meet the rising market demand. Our new, deeper technology integrations with leading independent software vendors (ISVs) will accelerate time to revenue and reduce implementation risk for our partners. The growth of our network and our investments in these new programs reflect our belief that our future success depends on partners as an extension of our sales and professional services delivery teams.
Last, but certainly not least, and at the center of all our plans, we talked about what's coming for our platform. Our newest innovations reconfirm our commitment to an open ecosystem, that creates opportunity for our partners to address complex enterprise challenges and unparalleled innovation.
Stay tuned for the exciting product release details that our Chief Product Officer Param Kahlon will share over the next two days at FORWARD III about our RPA platform value proposition for customers.
If you're not with us in Vegas, you can join our Live Stream to hear the news first-hand or follow us to stay tuned.
Now, you can get FORWARD III presentations, videos, and more delivered right to your inbox when you sign up for the event pack.