Last week, attendees from around the world converged on Las Vegas for FORWARD IV, the world's most immersive gathering of automation experts.
Attendees spent their days in sessions focusing on automation governance, security, and scaling, along with updates on the evolution of the UiPath Platform. But one of the most anticipated items on the agenda was the keynote address from UiPath CEO Daniel Dines.
Overcoming adversity
Daniel opened by acknowledging the challenges we've all faced over the last 18 months. Many lost someone they loved or were close to. And we all lost the ability to be together.
But we adapted. We found new ways of doing things—including how we work. And UiPath played a key role in helping many organizations weather the storm. Daniel highlighted how UiPath worked with Ecolab early in the pandemic to increase the production of hand sanitizer by nine times. And Amazon used automation to manage the surge in job applications related to the spike in demand during the lockdown.
Cleveland Clinic used UiPath products to reduce the wait times for COVID tests by 90%. Mater Hospital was another example. Automation enabled its nurses to reclaim 30% of their time from administrative tasks and redirect it to patient care.
Daniel was clear about the focus of his keynote: "How can we stay customer centric?"
Putting the spotlight on customers
For Daniel, these examples illustrate how UiPath is fulfilling its mission to be a customer-centric company. And it's only natural that UiPath customers were literally front and center during his keynote address.
Coca-Cola İçecek
Daniel invited Leyla Delic, Group Chief Information and Digital Officer at Coca-Cola İçecek, to share how UiPath helped the company enrich the customer experience (CX).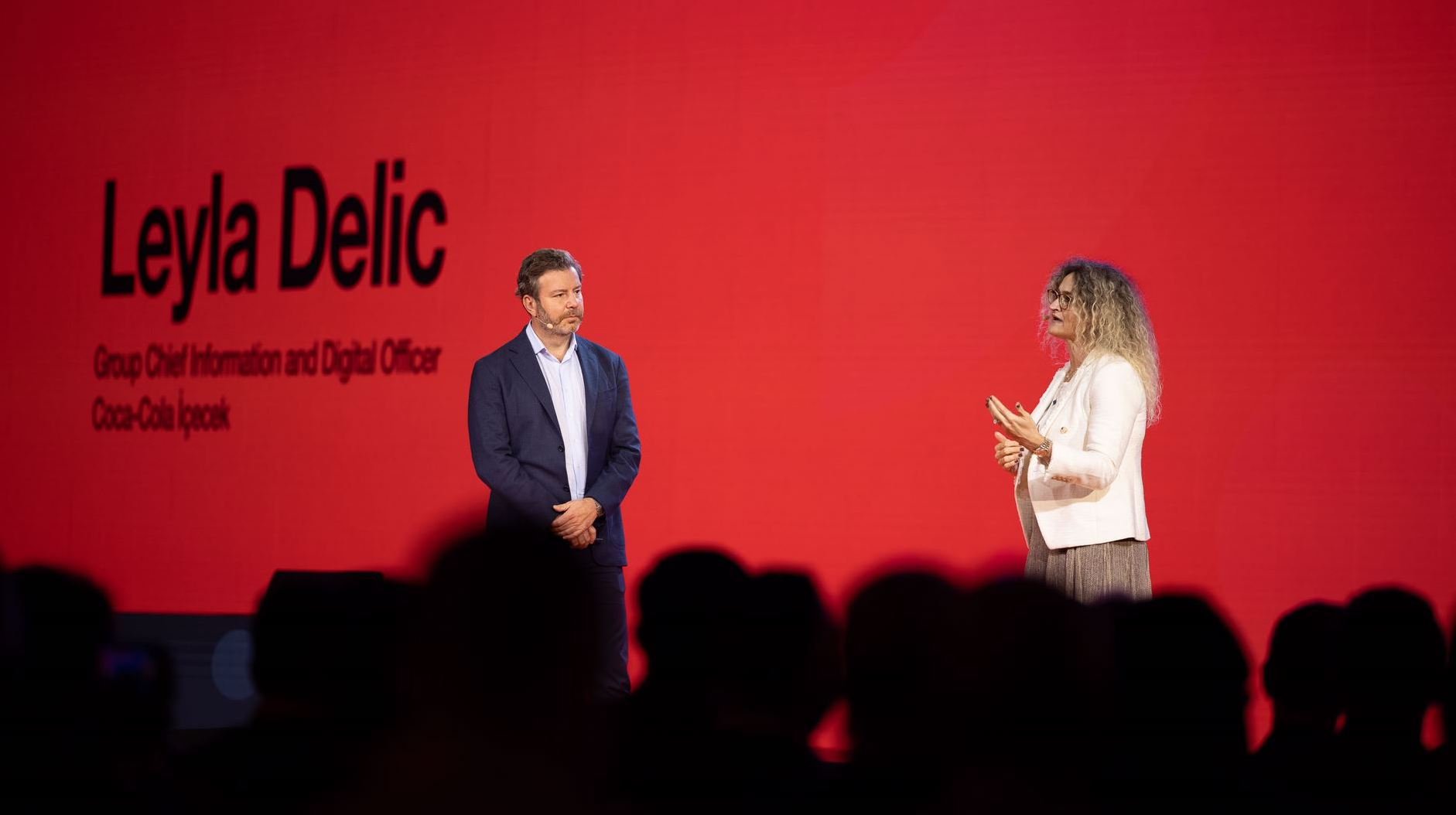 Delic noted how you can't transform CX unless your internal processes are efficient. UiPath helped Coca-Cola İçecek achieve faster cycle times and process efficiencies that freed its people to focus more on customer needs. The company is not only empowering employees with automation skills but also paying it forward to their larger community. They're helping women of all ages reenter the workforce by providing automation training.
Technologies like UiPath are removing barriers with low-code tools. We are training women of various ages who had left the workforce. We are helping them join the economy.

Leyla Delic, Group Chief Information and Digital Officer, Coca-Cola İçecek
J.P. Morgan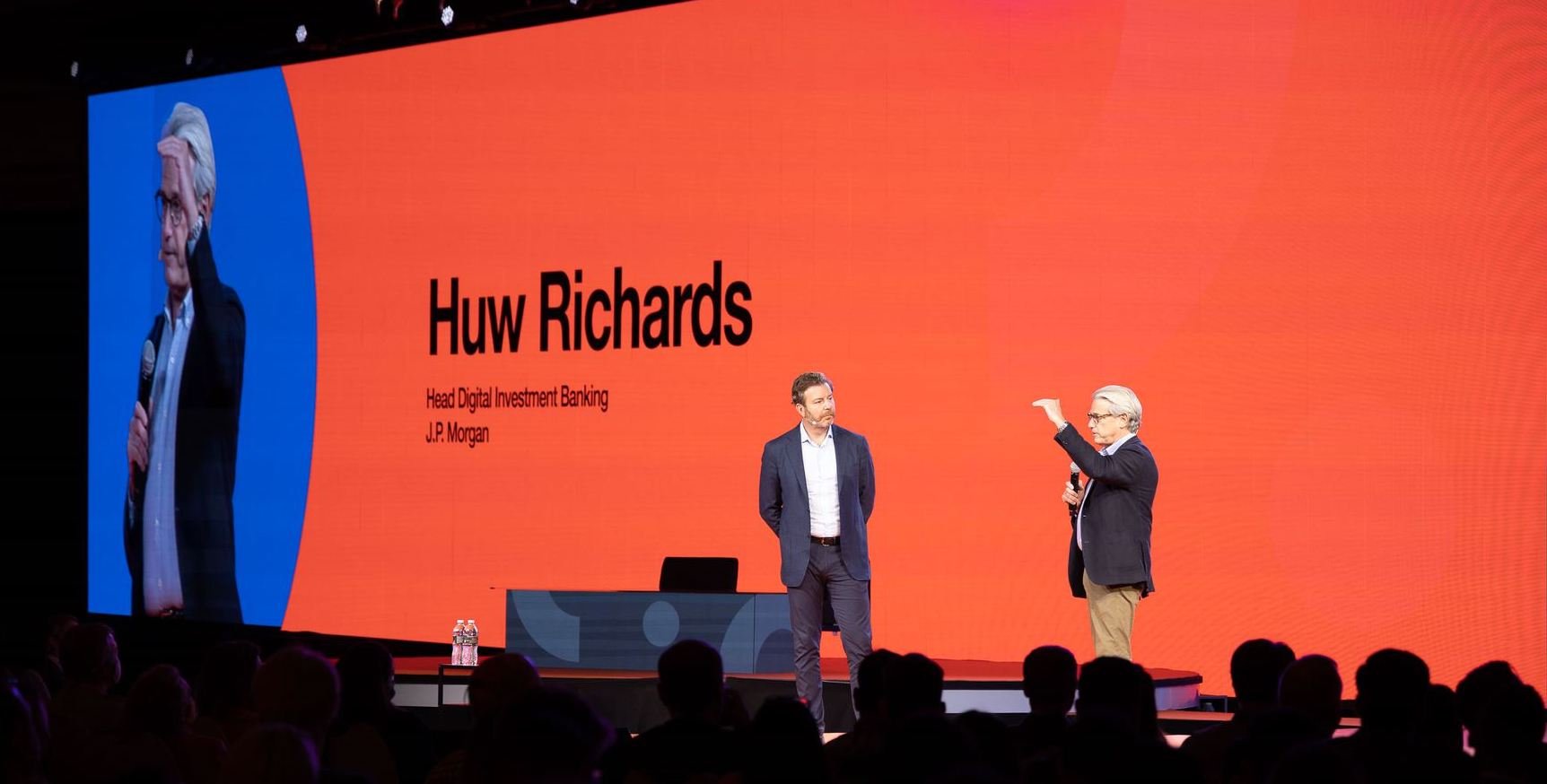 Huw Richards, Head of Digital Investment Banking at J.P. Morgan, also joined Daniel on stage. Richards explained that for J.P. Morgan, human capital is the only resource. Automation helps its people gain more time directly with clients.
Scaling automation across the enterprise will be critical, so J.P. Morgan is focusing on training and development. "Citizen developers are going to be very important," said Richards.
We are building the investment bank of the future, today.

Huw Richards, Head of Digital Investment Banking, J.P. Morgan
Applied Materials
Junaid Ahmed, Vice President of Finance at Applied Materials, took the stage with Daniel to outline how UiPath helped his company embrace agile finance.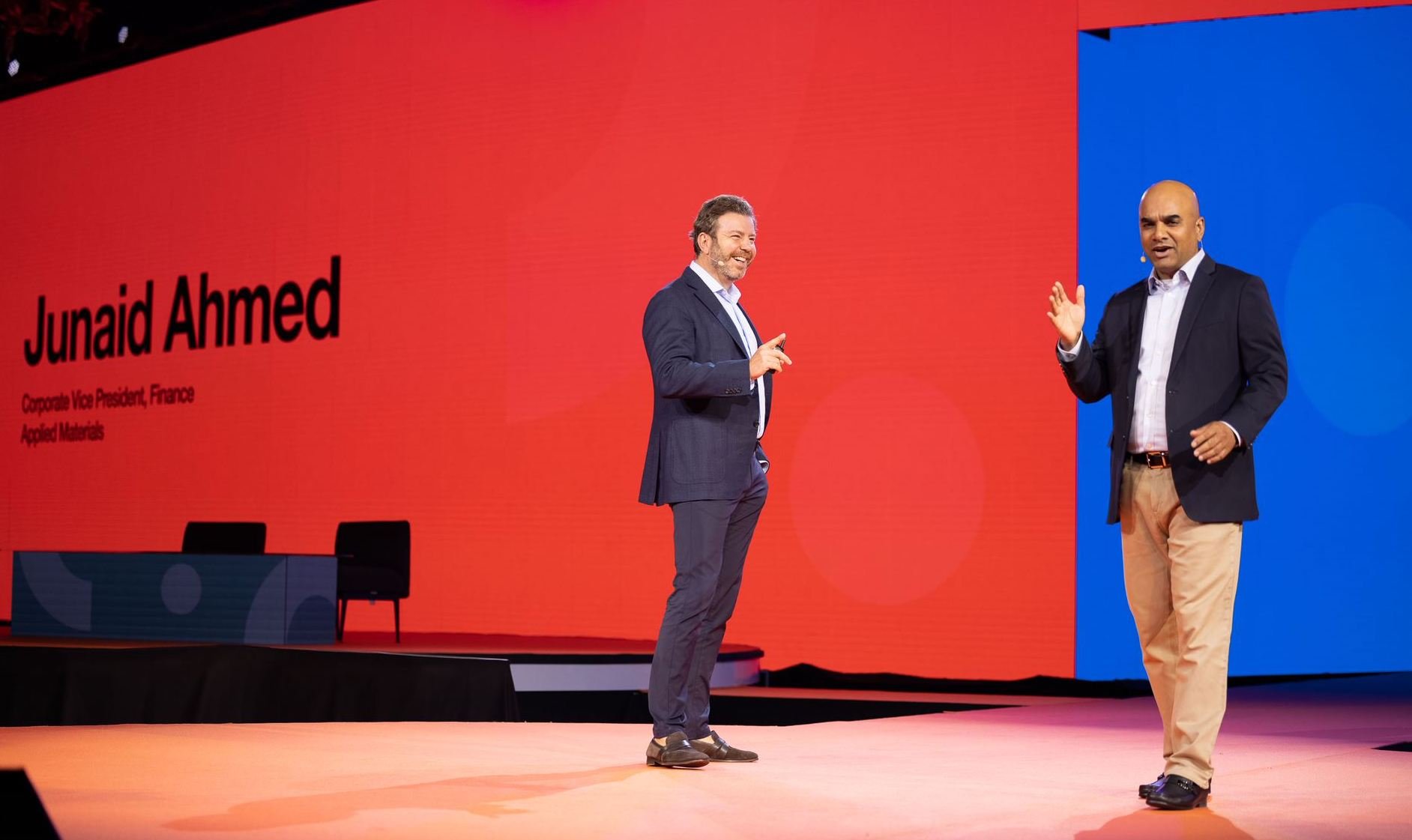 Applied Materials is the global leader in materials engineering solutions. As the company faced a new wave of growth, its finance team needed more bandwidth to support expansion. With tools from UiPath, the company automated more than 275,000 work hours for global transaction processing. It also accelerated the delivery of data and insight to its finance professionals to help them make smarter decisions. UiPath is helping the company make its vision for next-generation digital finance a reality.
The way forward
Two years ago, at FORWARD III, Daniel announced the biggest transformation in UiPath history—from a single-purpose robotic process automation (RPA) platform to an end-to-end automation platform. This year, he highlighted how UiPath has delivered on that promise and how we're continuing to innovate. Daniel called out three areas of focus at UiPath:
Reducing friction in automation adoption: with massive investment in cloud services, UiPath is making it easier and faster to adopt automation and begin reimagining processes. Easy-to-use tools are also allowing more users in every enterprise to unleash their creativity.

Expanding use cases: UiPath is expanding into more complex industry use cases and helping companies reimagine processes that they hadn't previously targeted for automation.

Narrowing the gap between humans and robots: UiPath robots will become increasingly sophisticated and emulate a wider range of human behaviors.
On this last point, Daniel went into greater detail on the concept of semantic automation. As he explained, robots can do a lot today, but they still lack the capacity to understand the way humans do. This gap creates complexity and complicates automation deployment. UiPath will break new ground with robots that can understand higher levels of abstraction in the data, documents, applications, and processes they use. Daniel cited a medical referral process to illustrate the point:

When you teach a human worker the process, they can spot relationships and similarities and infer how to complete tasks. UiPath robots are evolving to the point that they will be able to make the same inferences and complete the same tasks.

Semantic automation will be a giant leap forward. It will accelerate and simplify automation development, improve the reliability of automations, and expand automation use cases.
A value-driven ecosystem
UiPath has always forged great partnerships that allow the company to stay focused on what's best for customers. Adam Burden, Chief Software Architect at Accenture, joined Daniel to explain how. Burden noted that the UiPath/Accenture partnership is helping clients turn a talent shortage into a talent surplus with automation.
Together, the companies are creating better outcomes for mutual customers in several ways:
Capabilities: adding thousands of automation experts to accelerate client journeys

Accelerators: finding innovative ways to automate industry-specific tasks in areas such as insurance, banking, and public service

Innovation and collaboration: continually discovering new ways to deploy automation to address the changing needs of clients
Daniel also discussed the UiPath and CrowdStrike partnership, announced earlier in the day during the keynote "The Innovation Engine of the Fully Automated Enterprise™." The partnership is the first of its kind and extends endpoint security to RPA.
A purpose-driven company
Daniel tied all the strands together by reiterating how UiPath is a purpose-driven company. Everything links back to our mission to accelerate human achievement through the power of automation. But there's more to this mission than just technology. Daniel emphasized how UiPath strives to leverage automation for good. We're using our technology to help tackle society's toughest challenges (such as COVID response).
In addition to helping customers reskill their own employees, UiPath provides free online education to the public. Anyone can access UiPath Academy and learn about RPA, artificial intelligence (AI), how to use UiPath products, and more. We also give back to the community through the UiPath Foundation, which supports children from underprivileged families through equal access to education.
Another area that shows the UiPath mission come to life is the collaboration with dentsu (a UiPath customer) and AutonomyWorks (a company that provides job opportunities for its employees on the autism spectrum).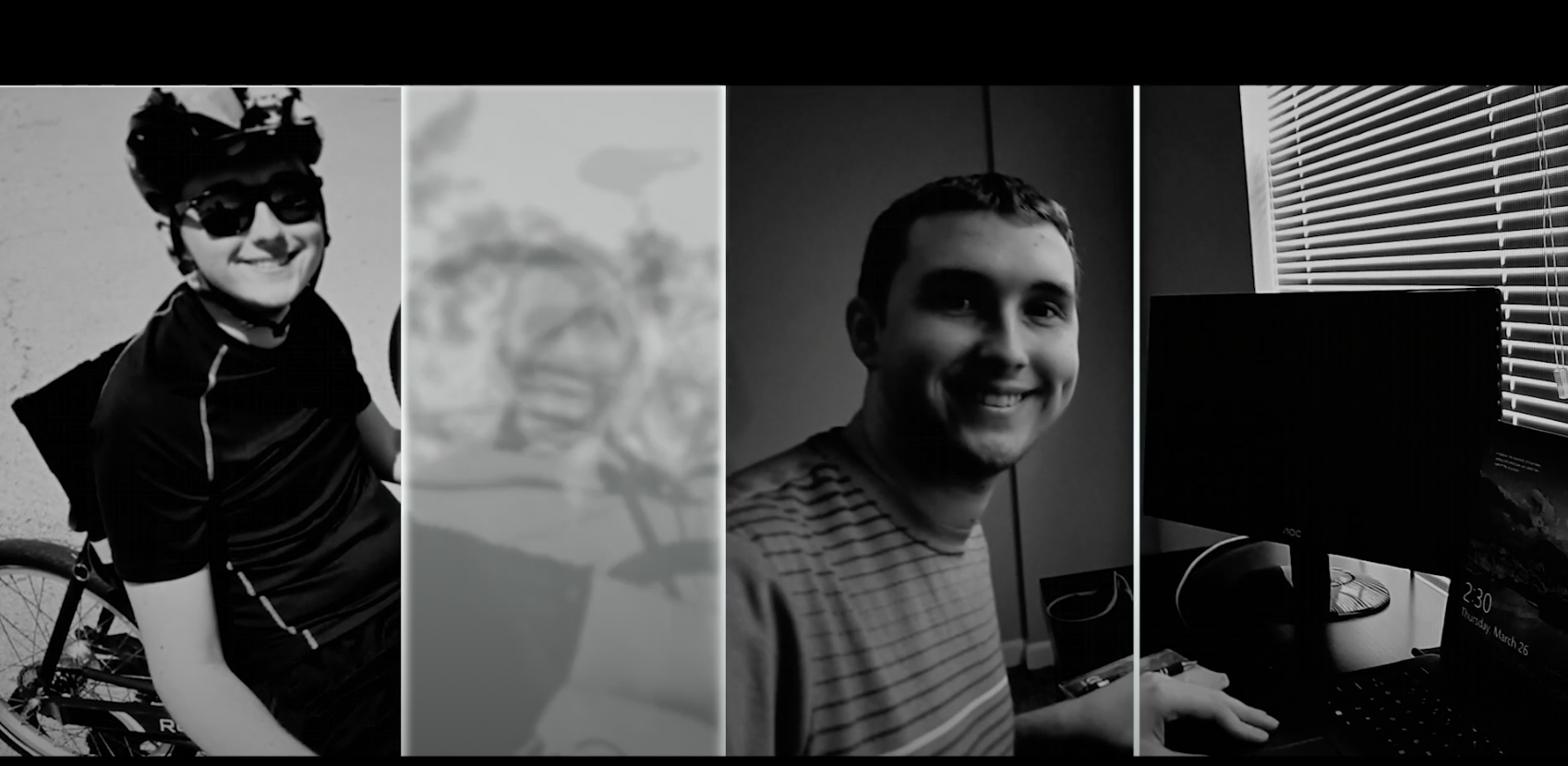 Brian Klochkoff, Head of Automation at dentsu, spoke about how this unique partnership provides people on the autism spectrum with the training to build software robots. It's a mission where everyone wins. AutonomyWorks employees get the skills to compete in a new era, and dentsu clients get some compelling new automation use cases.
Diversity of thought is going to rapidly change the way we all work.

Brian Klochkoff, Head of Automation, dentsu
We're moving into a new world and future of work. And automation will play a big part. Daniel concluded by underscoring how UiPath is committed to making that future a reality. And he thanked employees for making UiPath a great company and for embodying the culture and values that will sustain it in the future.
You can watch the replay of the full keynote.
You can also sign up for FORWARD IV 'The Best Bits' to receive exclusive content and recordings from the event.