Financial services companies are always looking for ways to serve their customers better. But challenges such as connecting disparate data sets and processing countless transactions take up valuable time that could be spent with clients.
As the industry becomes more digitized, leaders are recognizing that automation solutions can help them deal with these obstacles. New capabilities such as intelligent document processing (IDP) and optical character recognition (OCR) are enabling employees to spend more time on their most important responsibility—keeping customers happy.
Leaders at financial organizations around the globe have talked about their experience with automation and the incredible outcomes realized. Here are some of the highlights from those conversations.
Large ETF creation enabled by automation
For Peter Cusick, Director of Transformation at Pershing BNY Mellon, continued innovations across the UiPath Business Automation Platform have helped the bank's automation program flourish over the years. Since starting out with basic automations several years ago, their team is now taking advantage of new UiPath Platform capabilities such as Document Understanding.
In the face of labor challenges created by the Great Resignation, citizen developers have allowed the bank to continue to meet client demands. Christy Chon, Director of Global Clearance at Pershing BNY Mellon, said the way the bank was able to handle large volumes of client requests with the help of robots has been "a success story."
One of these requests was from a client that asked for support on a large electronic funds transfer (ETF) creation. The task was outside their standard system, and would've required more than 4,000 manual security movements. To mitigate labor hours and risk from such a large project, the bank leaned on its citizen developers to create a solution.
In the end, according to Chon, "the client was ecstatic, and it was the largest ETF creation that we were able to solve." Chon credited UiPath developers and the UiPath Platform for the success.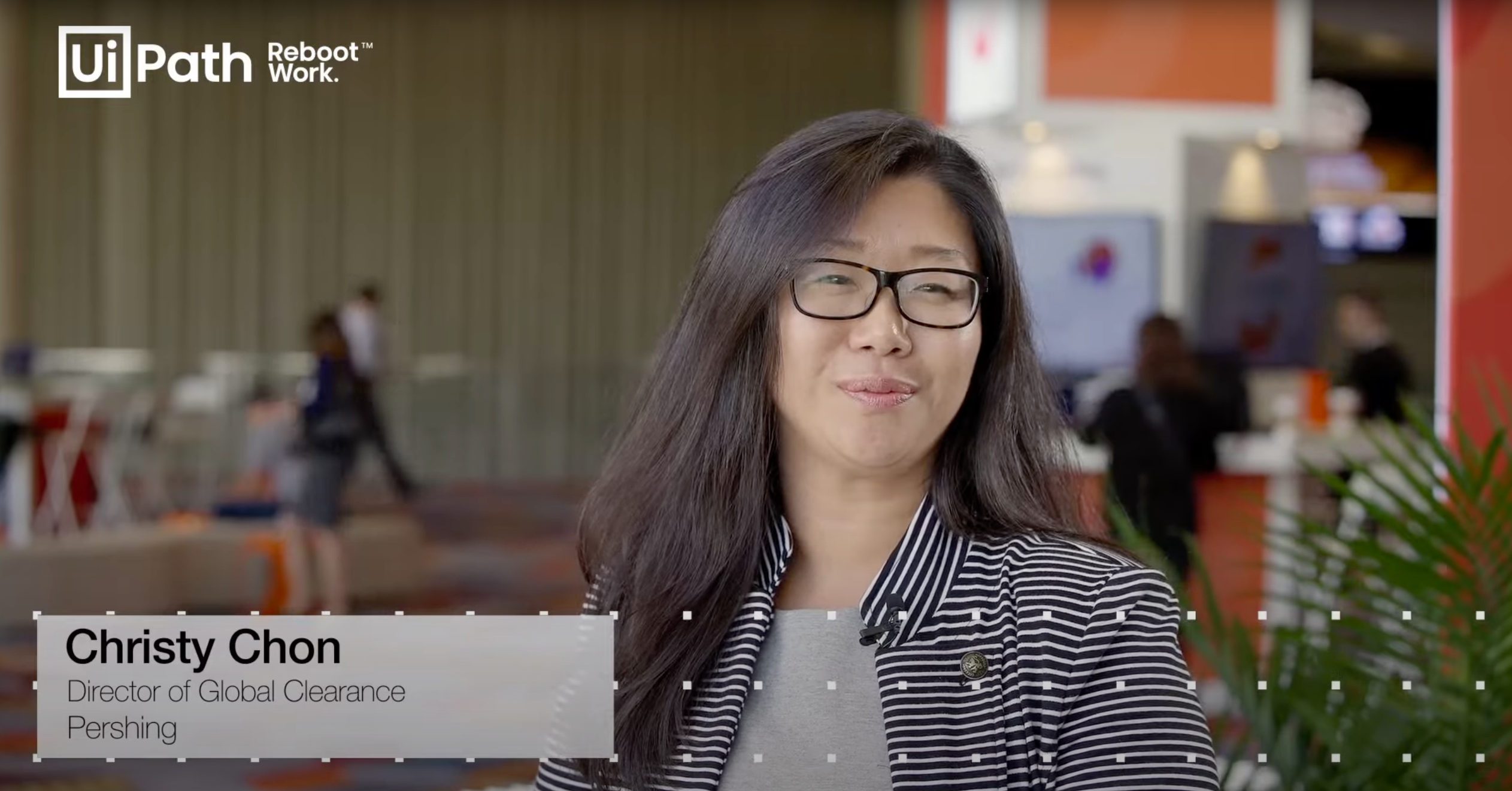 Change management is key to a successful automation program
The amount of work that robots have been able to save the Industrial Bank of Korea (IBK) is staggering. KT Kim, Digital Transformation Lead at IBK, has overseen more than two million automation hours deployed, and 900,000 hours saved per year.
But the benefits of automation extend beyond hours saved.
Before automation, branch tellers and auditors at IBK had to review thousands of transactions manually. With the help of cutting-edge features such as optical character recognition (OCR) and natural language processing (NLP), the bank has been able to automatically categorize 62% of transactions, relieving employees of this tedious work.
Initially, IBK "tried to automate everything only with RPA." Employees were resistant to changes they thought might threaten their jobs.
Now, IBK's automation center of excellence (CoE) works with human resources (HR) and individual lines of business to figure out the best ways to deploy automation across the company. This ensures that employees see firsthand how robots help them do their jobs better. One pilot project featured a bot that took incoming calls from customers and searched internal FAQs to quickly find an answer.
As for his biggest lesson from his automation experience, Kim said that "automation itself is not the end, and change management is as important as automation."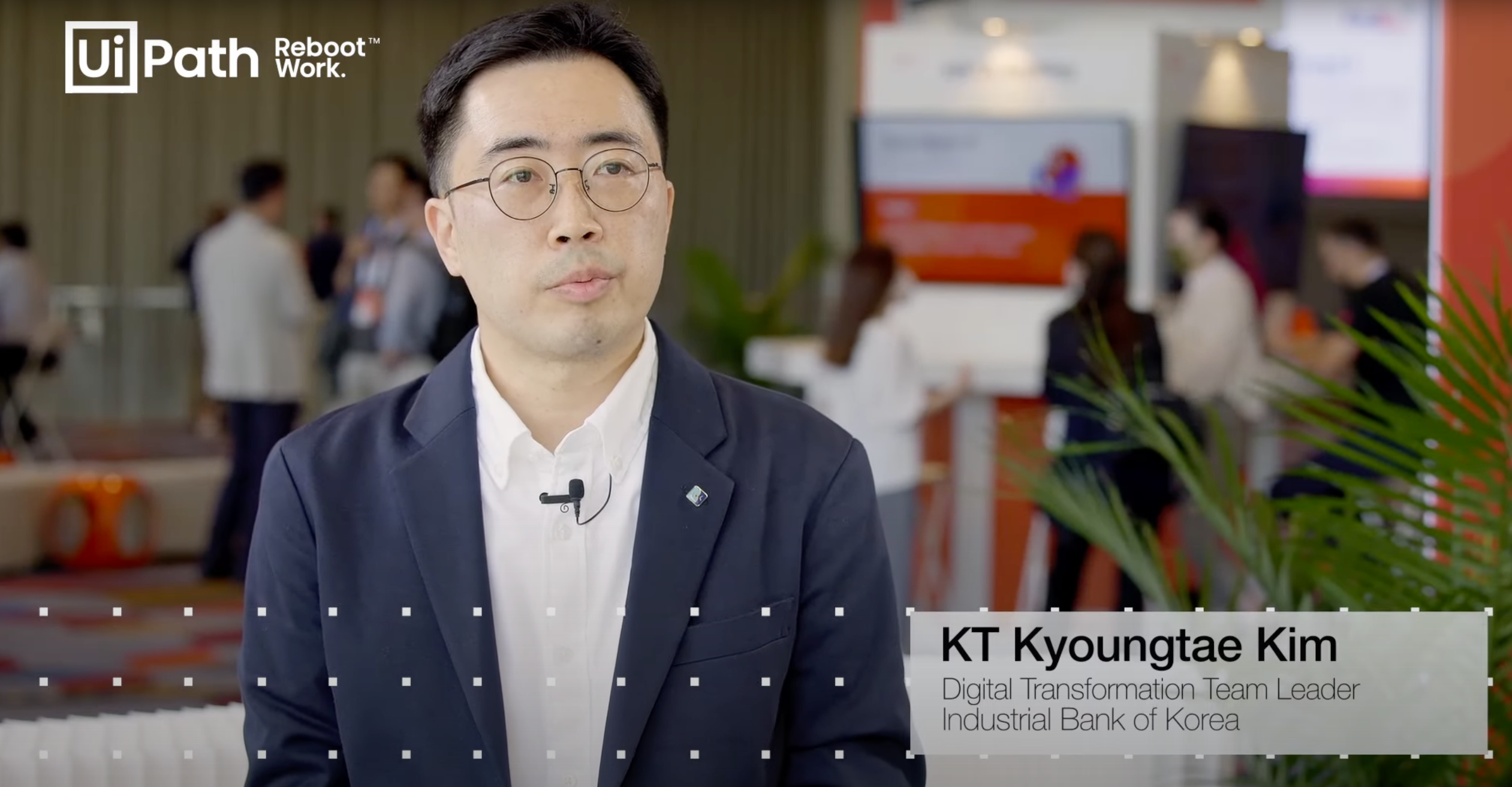 Automating insurance claims processing
In the insurance industry, processing claims can be an unpredictable process that requires lots of manual work. In certain months, high volumes of claims take employees away from other value-added work they could be doing.
For Josh Fetzer, Director of Business Transformation and Automation CoE Lead at Standard Insurance Company, improving claims processing is one of the biggest benefits he's seen from automation. Several robots that his company created (via the UiPath Business Automation Platform) have significantly streamlined the process.
However, getting employees on board with automation hasn't always been easy. Fetzer talked about his experience with a long-time contract analyst on his team that initially had doubts about automation. After just a few months working with a software robot, they were shocked at how much the bot could do for them, and the opportunities it opened up for more time spent with customers.
Citizen developers have also been critical to the company's automation achievements. Instead of going through a lengthy approval process, subject matter experts can create automations themselves quickly and efficiently. Standard Insurance recently wrapped up an automation pilot covering six business units that went so well that the company plans on rolling it out to the rest of the enterprise.
Going forward, Fetzer is keeping an eye on new automation features that will unlock new use cases.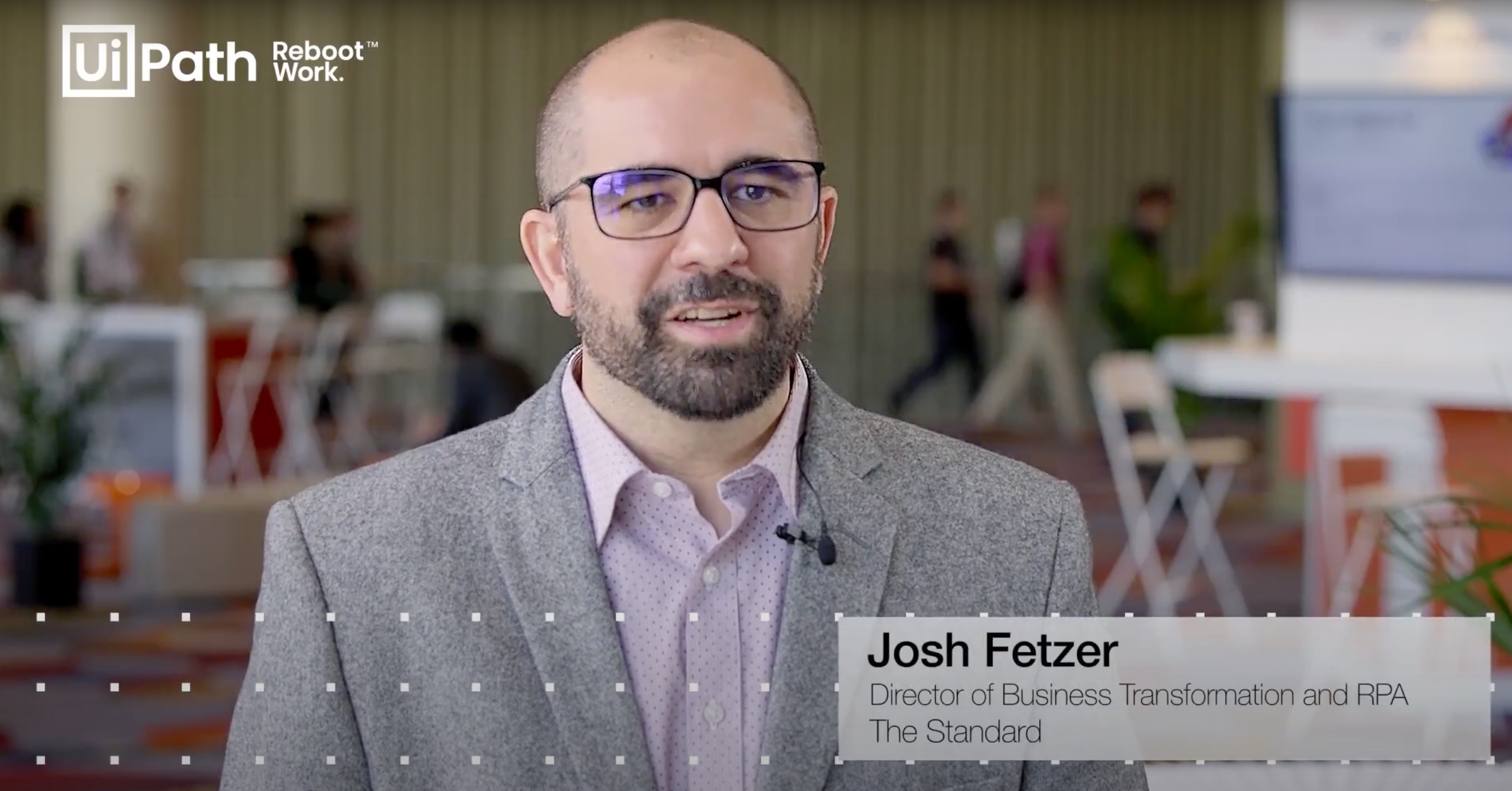 Reducing dispute resolution from 12 days to two days
As the ninth largest bank in Mexico, Banco Azteca has many stakeholders to serve, and numerous processes to complete on a daily basis. Historically, that meant huge workloads for employees, which prevented them from spending as much time with customers as they'd like.
Manuel Delgado, Chief Operating Officer (COO) of Banco Azteca, said that for too long, his employees "stopped being human and started being robots," spending much of their time on tedious tasks. But, once the bank started using robotic process automation (RPA) powered by the UiPath Platform, employees could focus on becoming "customer obsessed."
Convincing C-level executives that automation could benefit the bank was initially a challenge for Delgado. But, by pointing to quantitative metrics such as reducing dispute resolution from 12 days to two, and qualitative metrics such as happier customers, automation's advantages quickly became apparent to the bank's leaders.
But customers aren't Banco Azteca's only stakeholders—the bank also needs to share information with regulators. Being able to integrate automation across different systems is essential. The ease with which UiPath Robots work across systems, both internally and externally, "is a differentiator because we provide faster and better customer service to our clients."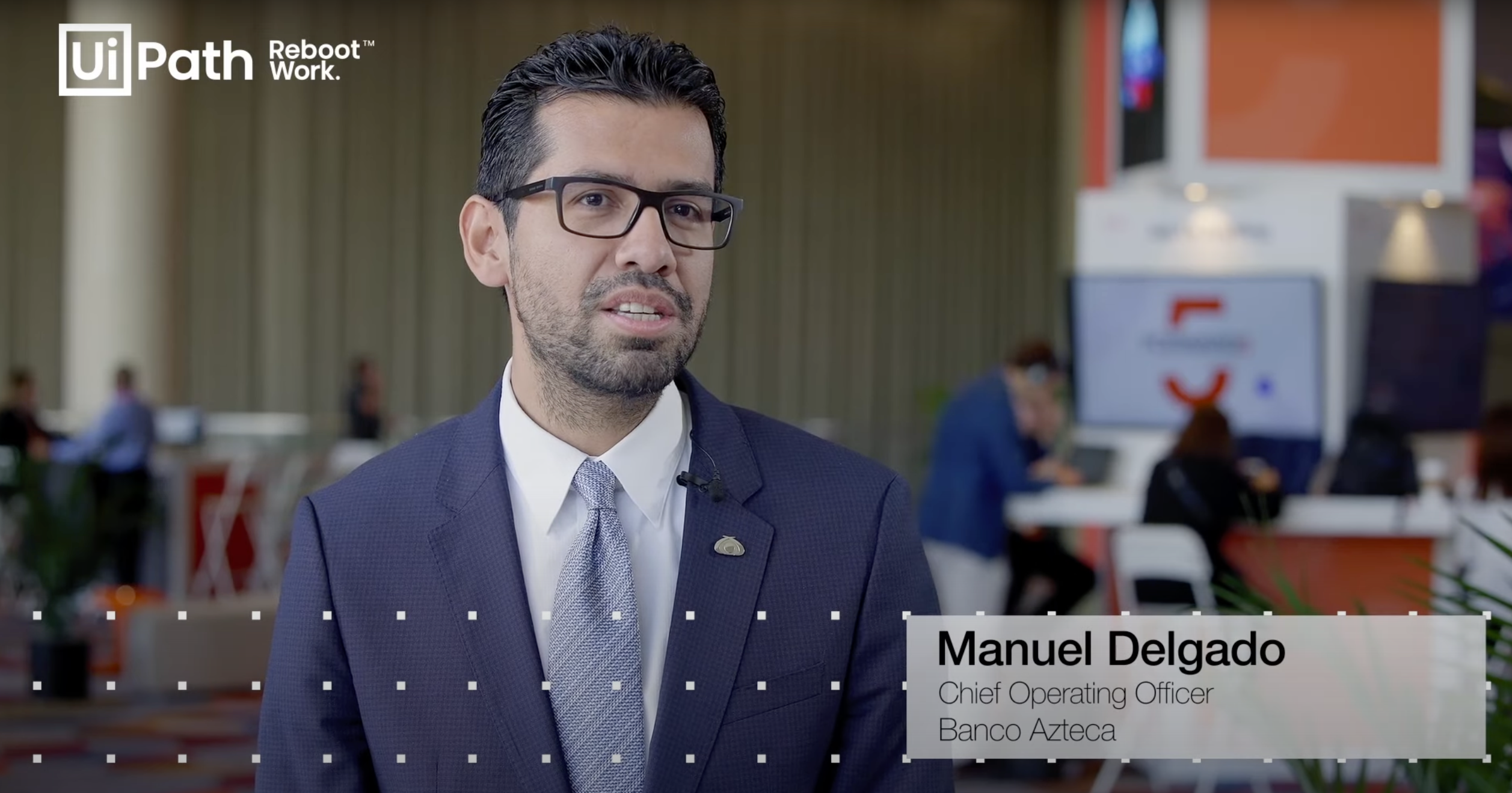 Whether it's helping to process claims, train employees, or resolve disputes, automation is making an impact across the financial services industry. And as artificial intelligence (AI) capabilities continue to increase across business automation platforms like UiPath, the potential for automation in the industry will also increase in the coming years. I couldn't be more excited for what's to come.