An incredible report, The State of Federal RPA, produced by the United States (U.S.) government on the widespread adoption of robotic process automation (RPA) was published today. And it is a must-read report.
The comprehensive survey evaluates 23 agencies, measured against eight, weighted program maturity measures, from the end of fiscal year 2019 (FY20). The report is unquestionably the most detailed view of RPA in the U.S. government that I've seen thus far. It yields incredible insights into how government RPA practitioners are creating innovative automation programs and returning value to their agency's mission at an unprecedented rate.
The automation era in government kicked into high gear with the release of the President's Management Agenda (PMA). In the PMA, Cross Agency Priority Goal 6 (CAP 6) directed agencies to use emerging technologies to move employees from lower valued work (repetitive, boring, tedious, and mundane tasks) to higher valued work. While NASA and the General Services Administration (GSA) started their RPA programs before this directive, the PMA served as a catalyst for other agencies to begin transforming the workplace with RPA.
Policy alone is never enough. People make policy a reality. Assembled by and for the U.S. government, this follow-up report to the RPA Program Playbook (published in January 2020) will help make sure new agency programs grow exponentially faster and bigger over fiscal year 2021 (FY21).
The "State of Federal RPA" report is a credit to the collaborative and voluntary work performed by members of the federal RPA Community of Practice (CoP). The federal RPA CoP is led by the GSA chief financial officer (CFO)—Gerard Badorreck, leaders/practitioners from large and small agencies, and supported by Andrew Stegmaier and his Management Science and Innovation (MSI) team.
The RPA CoP, formed in the summer of 2019 (under former federal employee Ed Burrows) for the GSA CFO, has flexed its muscle under the direction of James Gregory to clear the policy path for smarter and accelerated adoption of RPA.
The "State of Federal RPA" report suggests the CoP has been incredibly successful in sharing best practices and lessons learned. Thanks to the CoP, RPA start up programs have benefitted from lessons learned by initiation pathfinders such as the U.S. Department of Agriculture (USDA), NASA, GSA, the U.S. Treasury, and others.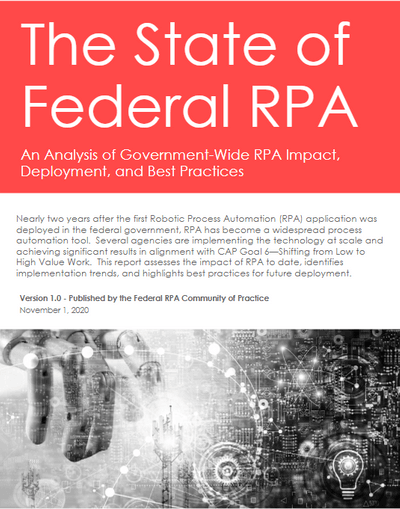 State of Federal RPA report highlights
The "State of Federal RPA" report covers five important areas:
1. A standardization framework for measuring the maturity of RPA across agencies
2. Establishing a baseline to annually measure the growth across the federal government
3. Creating a way to gauge ROI
4. Steps to accelerate an agency RPA program
5. Considers barriers to RPA adoption and the CoP's ability to accelerate additional adoption
Key findings in the report include:
RPA program maturity increased across government by 70% in one fiscal year

The impact (i.e. ROI) of automations being deployed soared 110% in new automations, which resulted in a 195% increase in hours saved

RPA complements (in 18 of 23 agencies) the agency process improvement program

Once robots are deployed to support an agency, demand for more automations increases

RPA with intelligent automation has had limited success

Maturing RPA programs are now formalizing their centers of excellence (CoEs)

Security of robots is still a challenge

Agencies adopting more sophisticated automation platforms are ensuring long-term program success
This eye-opening report shows that RPA is on the path to creating better government. The automation era has started, and government innovators are embracing it with tremendous success  UiPath clients are featured in the report and our work with the agency teams (via our partners and our 'sleeves up' customer success managers) ensure this positive growth continues.
One area the report could look at in its next release is training and reskilling. The myriad of UiPath agencies in the report all have one thing in common: they are actively retraining and reskilling their workforce using our free, online UiPath Academy training. When you reboot the way employees work, you don't just move mundane and tedious tasks to robots to free staff hours. Rather, you create a new workplace with newly skilled workers helping drive your next big automation. You also set the data environment for easier inclusion by artificial intelligence by artificial intelligence (AI) and machine learning (ML) specialist to deliver true enterprise automations and you do not do to with a mix of existing (upskilled) employees and contract support.
The 'automation first' mindset is driving the growth of RPA. The leadership team assembled by the GSA's CFO and the volunteer practitioners are properly called out for their automation first mindset in the new report. They are change agents. Passion for better government shines bright in this power team.
Every automation leader should review this report with their team(s). Government employees consider joining the federal RPA CoP.
This report is about the openness and transparency of good government. We should all grow from it.
What's next for RPA and federal agencies?
The federal RPA CoP has given us an excellent tool to better serve the government. Until this report, like you, putting COVID in the rearview mirror was my reason for wanting 2020 to wrap up. This report gives us another reason—to anticipate the strides to come in 2021.
Our federal UiPath team will use the report to redouble our efforts to demonstrate how successful AI/ML integration are (and that success begins with UiPath AI Fabric). We will show that the road to Office of Management and Budget (OMB) 19-17 implementation starts by incorporating the use of common access cards (CAC), personal identity verification (PIV) cards, or the Thales Luna Credential System (LCS).
If I had to predict findings in the next release, I would suggest agencies will:
Deploy more impactful automations (think enterprise robots)

Be on the road to 'a robot for every person'

Do more retraining and reskilling to create the workforce of the future
The strength of the UiPath Platform and the expertise our team brings to government is quietly on display in this report. We are proud that all the featured agencies in this report use UiPath. We are a  sophisticated platform agencies are using to ensure long term RPA program success.