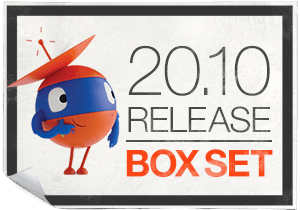 It's here! A culmination of extensive customer feedback, and months of hard work and innovation—our 2020 Long-Term Support (LTS) release (or 20.10, for short).
This is our second major release of 2020. The first was our 20.4 release, which added capabilities across every stage of the automation lifecycle.
With the 20.10 release, the UiPath Platform continues to span the automation lifecycle and includes more than 100 advances to the core platform. All of which is helping turn our vision of providing every company with the ability to become a fully automated enterprise™ into a reality.
What does this release mean for your organization and transformation initiatives?
Although we won't be able to explain everything in person (as we did at FORWARD III last year), we've designed an entire 20.10 release series to give you an in-depth look at this release.
We've got virtual events, blog posts, demos, and more!
20.10 Release blog posts
Many of the advances in this release contain so many updates they need their own blog post. I recommend you start with UiPath 2020: Long-Term Support (LTS) Release, which offers an overview of the release.
From there, you can follow the links in the overview post or go straight to the other posts from here:
20.10 Release series webinars
It's exciting to see all these updates in action! So, we have several webinars related to this release that allow you to do just that. You'll also be able to ask questions to our product team members live during the Q&A session at the end of each webinar.
Bonus: register just once and you're pre-registered for the whole series!
Editor's note: if you're reading this after the webinar dates, don't worry! You can still use the button below to get access to the on-demand recordings.
Once you've saved your spot, make sure to save these dates:
"Product Spotlight: The UiPath 20.10 Release – Enabling the Fully Automated Enterprise"
November 17, 2020

11:00 am EDT / 4:00 pm GMT
"Product Spotlight: Drive Business Impact at Scale with a Robot for Every Person"
November 19, 2020

11:00 am EDT / 4:00 pm GMT
"Product Spotlight: Enterprise-Grade Automation Apps: Low Code at High Speed"
November 24, 2020

11:00 am EDT / 4:00 pm GMT
Interested in the topics but already booked during those times? You'll still want to register for the webinars so that you'll receive access to the webinar recordings to watch at your convenience.
New on the UiPath website
That's right, we've added to our website to give you even more insights into products and updates included in the 20.10 release. In addition to our existing pages, we've added:
Reboot Work Festival: deep dive into 20.10 release
Just because we aren't able to meet in person doesn't mean we can't come together. Next month's Reboot Work Festival includes all the industry leaders, automation experts, and innovative customers our events are known for. But now you can join us from the comfort of your home!
UiPath Chief Product Officer (CPO) Param Kahlon will help kickoff the virtual event with a keynote speech on December 16, 2020*. The presentation will provide an in-depth look at the 20.10 release, including:
The four pillars of a fully automated enterprise

Demos of major updates included in this release

Additional updates (beyond 20.10) to UiPath Apps

Examples of how you can use 20.10 capabilities to meet the unique challenges of operating during a pandemic
The Reboot Work Festival is truly a celebration of the automation community around the world. Be sure to check out the agenda for your area to see the region-specific sessions available.
The virtual festival grounds include Expertsville and the Demo Tent. In Expertsville, you can get live answers to your questions and see new updates in action! Or watch on-demand demos at your convenience in the Demo Tent.
*If you're reading this after the Reboot Work Festival has wrapped up, you can still access the Demo Tent and recordings of the event sessions. Register on the Reboot Work Festival page to get access to the recordings and view at your convenience.
The UiPath Platform would not be where it is today without you. Our excitement about this release comes with a "thank you" to our customers and all of you who use UiPath, share your feedback, champion automation in your own organization, and partner with us.