Whether you're a developer tester, technical tester, or a business tester, AI-infused continuous testing propels your testing practice to the next level. With the 2023.10 release, UiPath Test Suite now offers new AI-powered features that can streamline test automation and boost efficiency more than ever before.
Integrate quality continuously with Test Manager enhancements
UiPath Test Manager serves as your testing center for planning, designing, building, running, and managing your test automation. With the 2023.10 release, you can unlock even more enhanced features and functionalities within Test Manager, including:
Overriding test results for easy test case result correction

Cloning test sets for streamlined test set creation

More control and flexibility over user roles with improved role management

Enabling activity coverage directly in Test Manager for your test sets

Improved search functionality for locating and managing test objects
Write and debug complex code with coded automations
Since 2020, UiPath Test Suite has provided streamlined low-code and no-code automated testing. Now, with the 2023.10 release, developer testers can dive into testing with coded automations. Coded automations represent UiPath automation scripts that are written in code, as opposed to low-code activities. Developer testers can write coded automations directly within UiPath Studio in C#.
Coded automations can be combined with low-code and no-code test automations, enabling all types of testers to share and reuse automation components across their organization. Plus, with an object repository for coded automations, testers can feel confident in using updated, versioned automations from a centralized location. Additionally, by leveraging the power of the UiPath automation framework in their coded automations, developer testers can ensure they're using resilient automations.
Introducing Change Impact Analysis for SAP®
Infused with AI and machine learning, Change Impact Analysis for SAP provides key information for effectively scoping testing around any changes that occur in your SAP system. Change Impact Analysis for SAP uses the power of impact analysis to identify test case execution opportunities, allowing you to focus your testing efforts on impacted SAP functionality. With automated impact analysis, you can analyze the changes made to your SAP applications to develop a deeper understanding of the business impact on your SAP processes and transactions.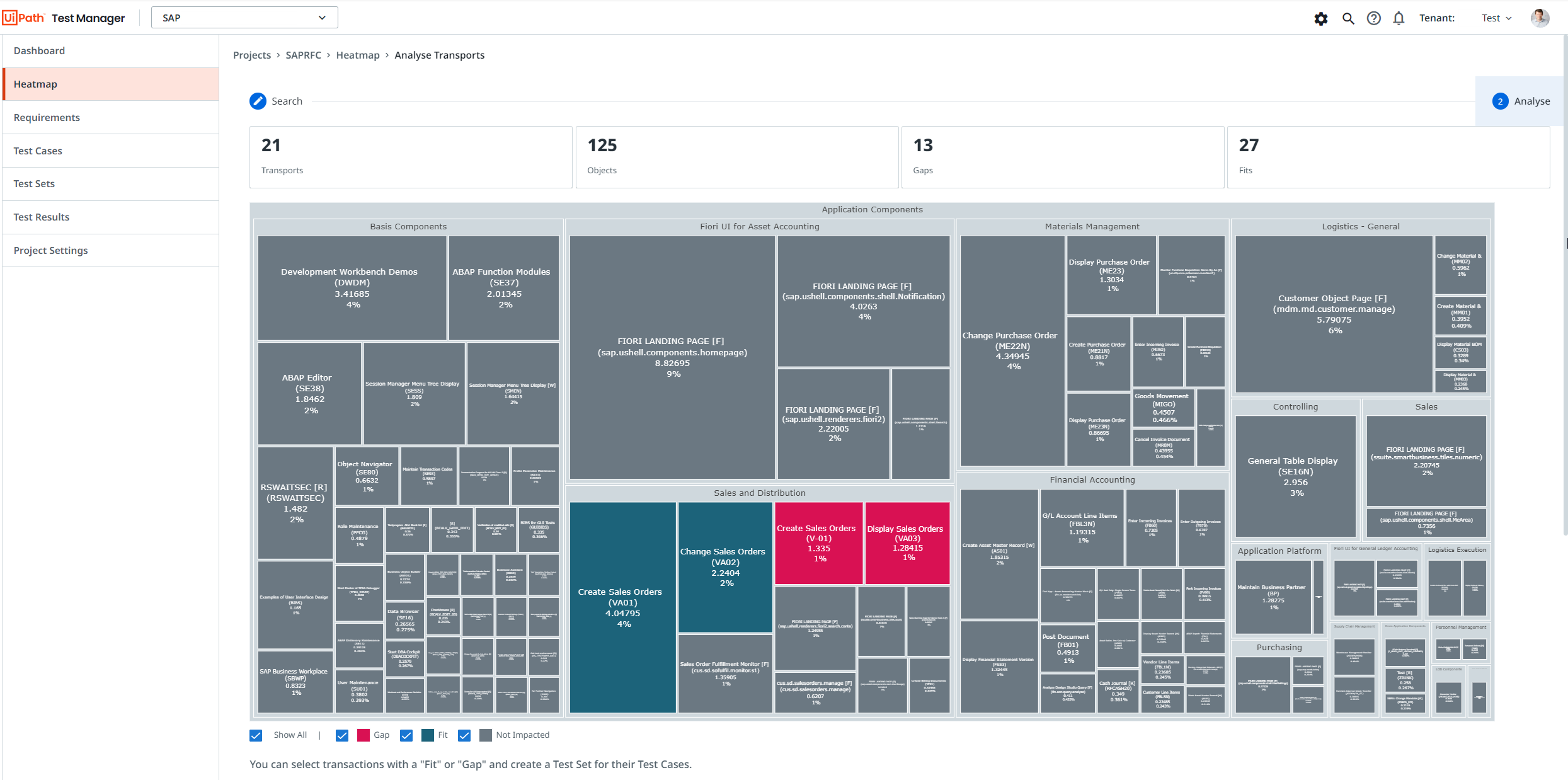 Along with a greater business impact understanding, you'll reap several additional benefits from using Change Impact Analysis for SAP, including:
Streamlining decision making

Accelerating SAP updates

Reducing costs

Prioritizing business-critical tasks
Maximize automation potential with AI Computer Vision for mobile
AI Computer Vision enables you to understand and verify content on any screen. Test robots perform visual identification, understanding, and verification of all onscreen elements. You can drag and drop an activity for use by robots and then build tests that can see every onscreen activity. Then, you can start automating virtual desktop infrastructures (VDIs), web apps, and other platforms.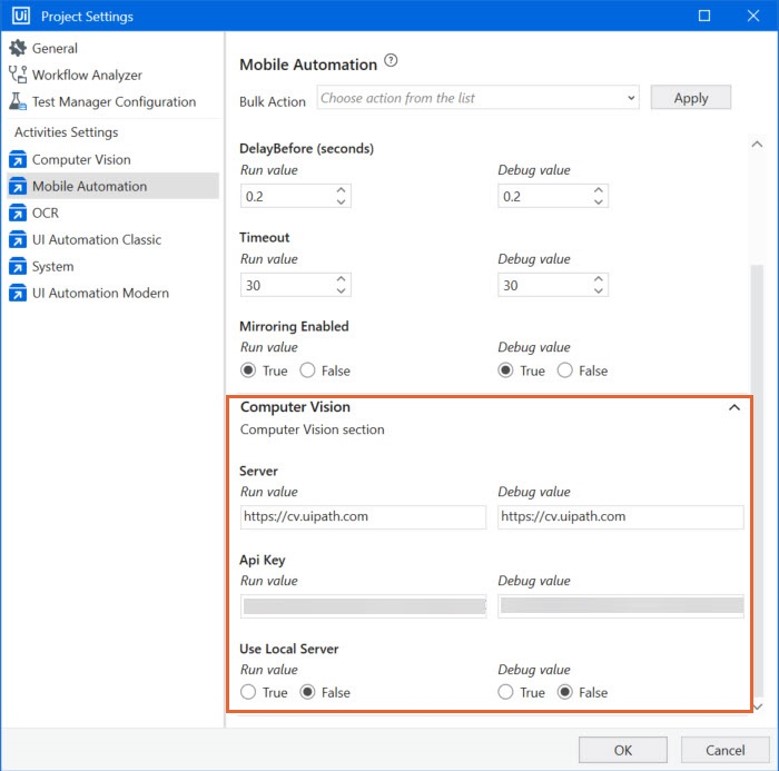 Now, with the 2023.10 release, you can leverage AI Computer Vision for mobile, making it quick and easy to automate custom mobile frameworks. Plus, with the power of AI Computer Vision for mobile, you can use the same automation for multiple devices, rather than relying on technical IDs for each device.
Meet UiPath Autopilot for Test Suite—join the AI testing revolution
With the planned launch of UiPath Autopilot™ for Test Suite in 2024, our goal is to make all your testers as good as your best tester. Equipped with Specialized AI and Generative AI, you can leverage assisted experiences to accelerate every aspect of continuous testing:
Test design: generate step-by-step test cases from your software requirements

Test automation: generate coded test automations from test steps and code comments

Test results: generate real-time, actionable test insights without prebuilt reports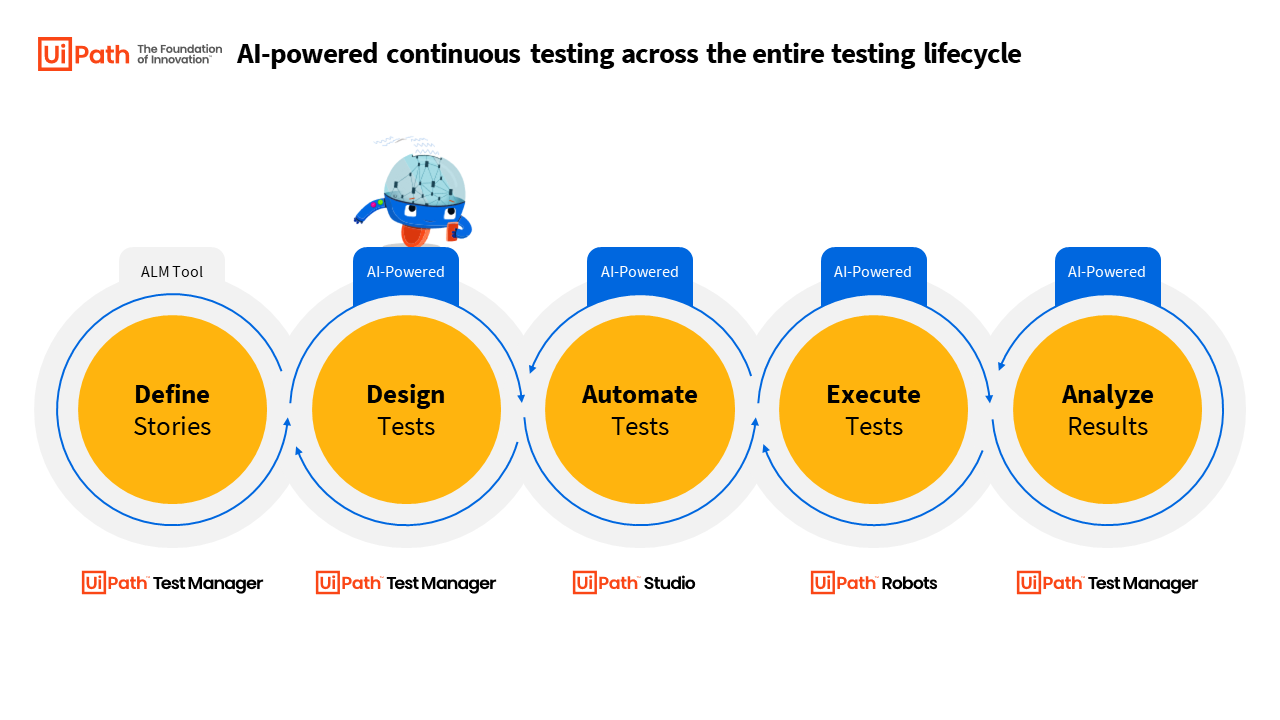 Autopilot for Test Suite is also interactive, enabling testers to refine test cases or drill deeper into quality trends and insights by providing additional instructions or documentation through natural language prompts.
If you're interested in learning more about Autopilot for Test Suite, be sure to join the Insider program.
Transform every facet of work with UiPath Test Suite
The UiPath 2023.10 release equips testers of all kinds with AI-powered continuous testing across the entire testing lifecycle. Ready to get started today? Try out a free demo of UiPath Test Suite.
Get a front-row seat to see the biggest updates and innovations in the 2023.10 release by joining us for a deep-dive session on November 15. Register now to save your spot.