Hi everyone! February sees us making continued progress on the road toward our 2022.4 release and, as usual, we have lots of new capabilities to share. Let's start with some updates to the newest member of the UiPath family: UiPath Integration Service.
Integration Service broadens opportunities for sales/marketing automations
Integration Service continues to launch new key integrations for leading sales and marketing platforms.
Adding to an already substantial customer relationship management (CRM) and marketing connector catalog, the latest integrations include:
GoTo Webinar

Hootsuite

Mailchimp

Salesforce Marketing Cloud

SAP® Concur

SendGrid

Slack

Smartsheet

Webex Teams
While automating tasks in any single application can be challenging, automating across CRM and marketing systems can prove to be even more difficult.
But the latest UiPath integrations help simplify a sales and marketing process by allowing automations to span multiple systems.
Connecting Salesforce Marketing Cloud with Twilio SendGrid (or Mailchimp), for example, enables campaign details to be shared with email platforms.  Adding in Hootsuite further automates your marketing outreach through social media.
And when your marketing campaign has successfully concluded, connecting with SAP Concur will help field teams automate their expenses.
End-to-end marketing automation in action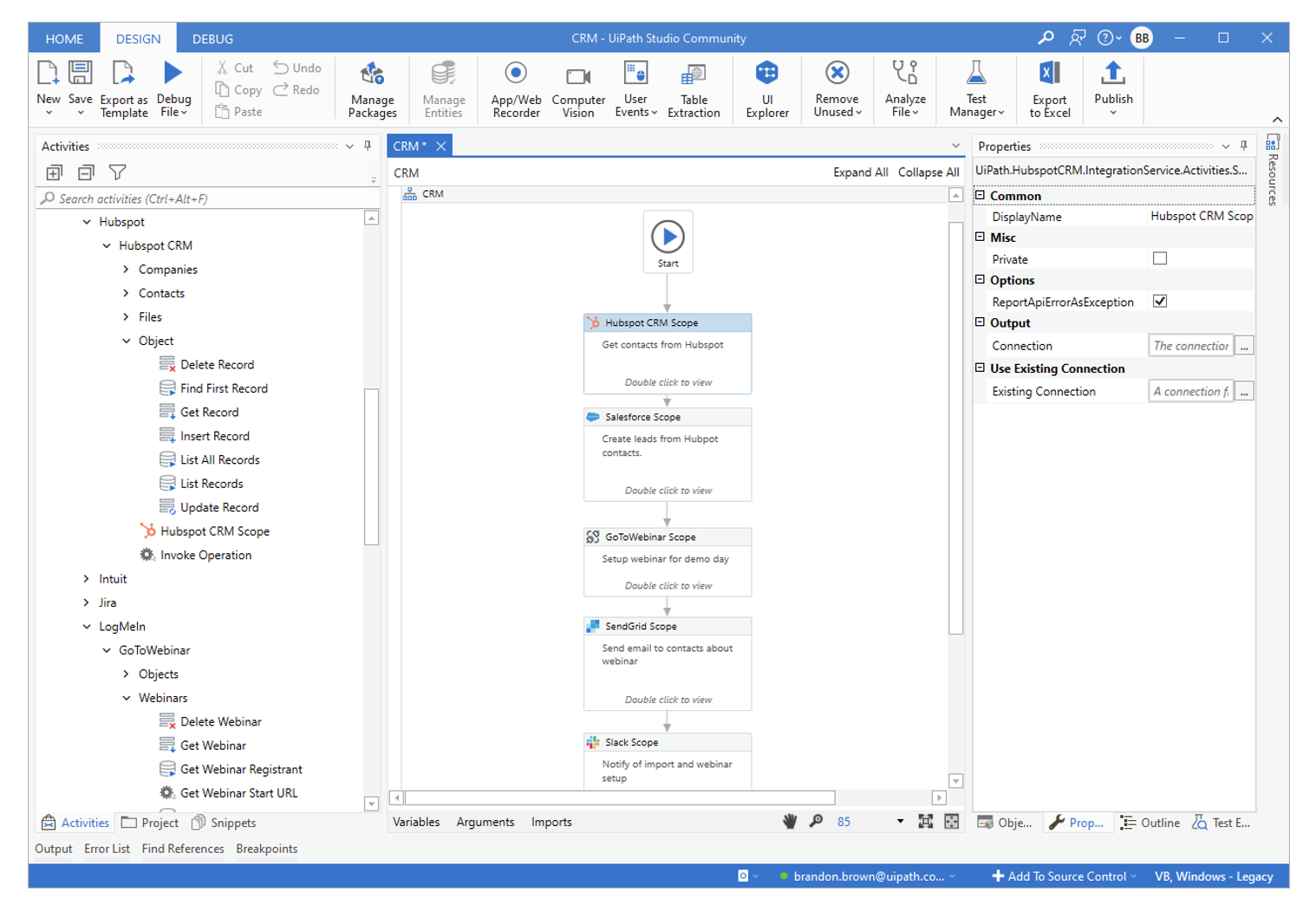 UiPath Integration Service provides combined user interface (UI) and API automation within a single UiPath Studio environment. As shown in the screenshot above, a system-by-system automation for managing webinar attendees can quickly be configured.
Automated process: Managing webinar attendees
HubSpot CRM provides webinar contacts to Salesforce

Salesforce creates leads from identified CRM, webinar contacts

GoTo Webinar stages the marketing webinar for attendees

SendGrid emails invites to contacts, promoting webinar attendance

Slack enables near real-time webinar communications
For more detail about using UiPath API integration to help expand CRM automation, this webinar recording discusses building CRM automations, use cases, and demos: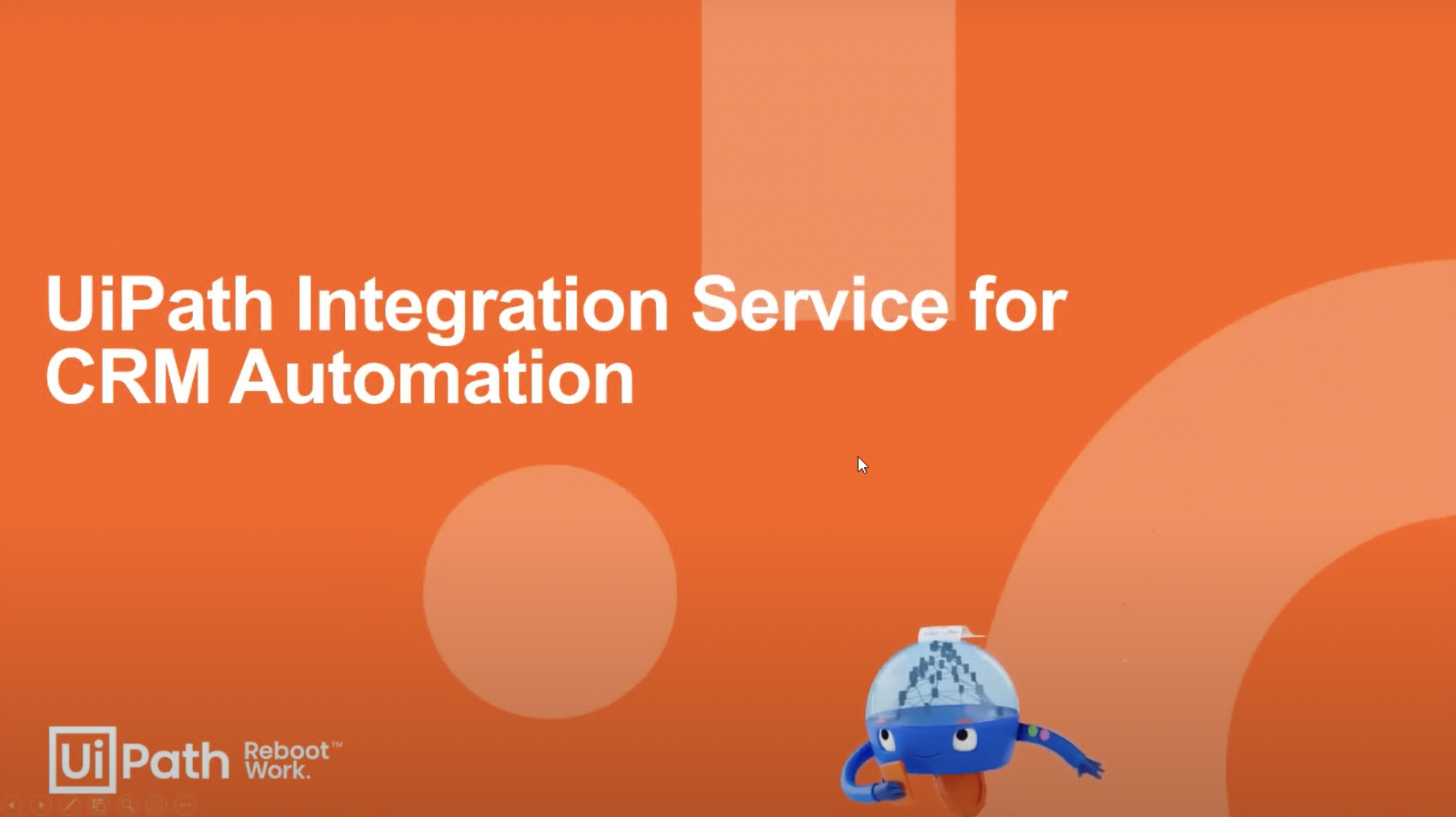 UiPath releases MuleSoft connector
Integration requirements can be unique for every enterprise. The platforms and tools used to address different approaches can also vary.
UiPath has released a MuleSoft connector enabling users to start UiPath automations natively within MuleSoft using Anypoint Studio.
This allows both UiPath and MuleSoft customers to get more out of their existing investments.
UiPath Marketplace updates
Enhanced Marketplace user experience
The 2022.2 release brings several important UiPath Marketplace updates designed to offer an improved user experience.
First, we're happy to introduce you to the new look and feel of UiPath Marketplace. Check it out to experience the redesigned home page, improved navigation, enhanced result and listing pages. We've also made sure all of them are mobile friendly.
Do you work with lots of apps like Microsoft Excel, Microsoft PowerPoint, or SAP? We've enhanced the relevance of Marketplace search results when browsing by specific applications. Following an ontology model, all Marketplace listings were tagged based on the key application they work with. This update will help you quickly find a listing that automates an application of your choice—either via search or through a filtering capability.
Monetized solutions
Great news for the Marketplace vendors: with 2022.2, we open the doors for business solution monetization.
Now, UiPath partners, community contributors, and independent automation vendors can unlock new business opportunities by monetizing their business solutions on UiPath Marketplace. If you've created an end-to-end flow that includes UiPath processes and solves a specific business challenge, submit it here.
Have questions or need assistance? Book a meeting with the Marketplace team.
More ready-to-go automations for faster impact
Companies that are giving employees access to automation unlock substantial benefits at scale. For example, Firstsource boosted efficiency by 95%. And Spotify saved more than 45,500 hours of work by upskilling their people and involving them in the automation initiative.
Our recent 2021.10 Marketplace and Assistant integration made it easy to empower every employee withautomation. Employees can access a library of ready-to-go automations directly in their desktop Assistant—instantly removing the drudgery from their work with no dependency on center of excellence (CoE) resources.
In 2022.2, we're excited to share new ready-to-go automations to help UiPath Assistant users with a variety of tasks, from extracting pages from a PDF to password protecting their documents.
The new automations will help employees:
Add Microsoft Outlook meeting details to OneNote

Clean up their Downloads folder by deleting all the duplicates and archiving the rest of the files

Set up and remove the password from PDF and Excel files

Extract pages from a PDF file that contains a specific phrase or a keyword

Explore new definitions, synonyms, and antonyms

Save the top 10 search results in a spreadsheet
If you are part of the automation CoE, you can centrally govern the whole program and manage employee access to the Marketplace widget. Also, you can easily download and customize this collection to share ready-to-go automations internally with your employees.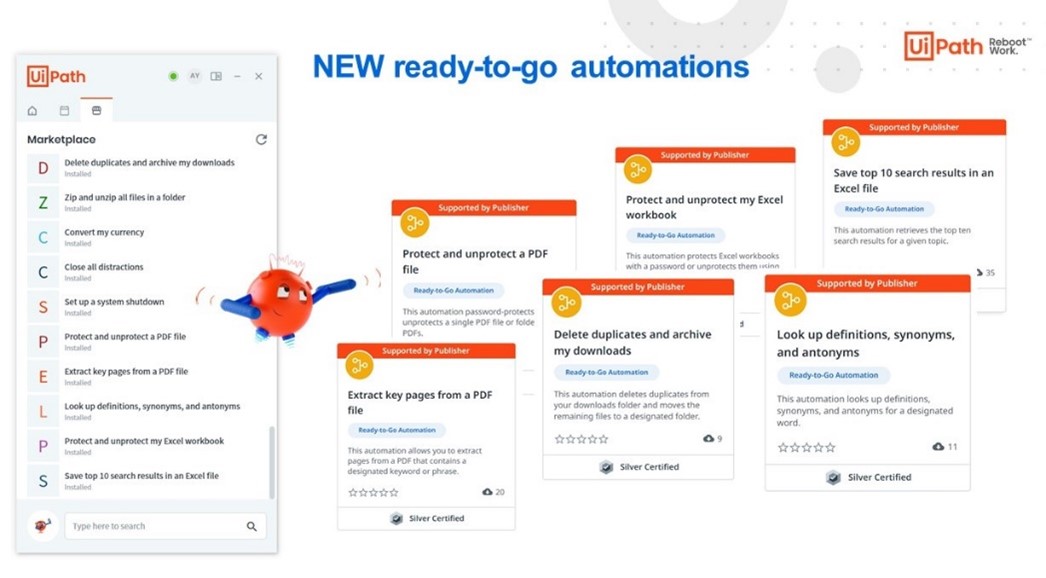 UiPath Attended Framework
All ready-to-go automations are designed with the help of the new Assistant Attended Framework.
It represents a simplified version of the traditional Robotic Enterprise Framework (REFramework) and enables developers to quickly build high-quality and user-friendly automations for Assistant.
The new framework includes key attended automation best practices and focuses on four areas:
Providing an engaging user experience (e.g. guided automation)

Sharing automation context with a user (e.g. displaying automation status throughout the execution)

Maximizing automation performance

Simplifying development process
Find out how to implement the new framework for your own attended automations.
Further simplified Orchestrator default roles
A little over a year back we introduced default roles in UiPath Orchestrator to simplify the creation and editing of roles and permissions. We've seen many of you make use of these default roles in your day-to-day automations, and we're glad they are helping you save both time and effort.
Some customers have customized these roles to suit their automation use cases, and we wanted to let you know about some changes we are making to simplify and clarify roles that will change how this works going forward. There is no immediate action required on your part.
Beginning February 21, 2022, in Automation Cloud™, we will standardize default roles in Orchestrator and make them read only. You will be able to view permissions assigned to the different default roles, but you will not be able to make any changes to the default roles themselves. This means that when you apply the default roles you will also have a known, standard set of permissions. However, you can still use them as a base template to create customized roles—you won't have to start from scratch. Any of the default roles that you had customized earlier will now appear as 'Role name – Custom'. However, the permissions you set up before in your environment will not change at all. You can find more info on our Forum post.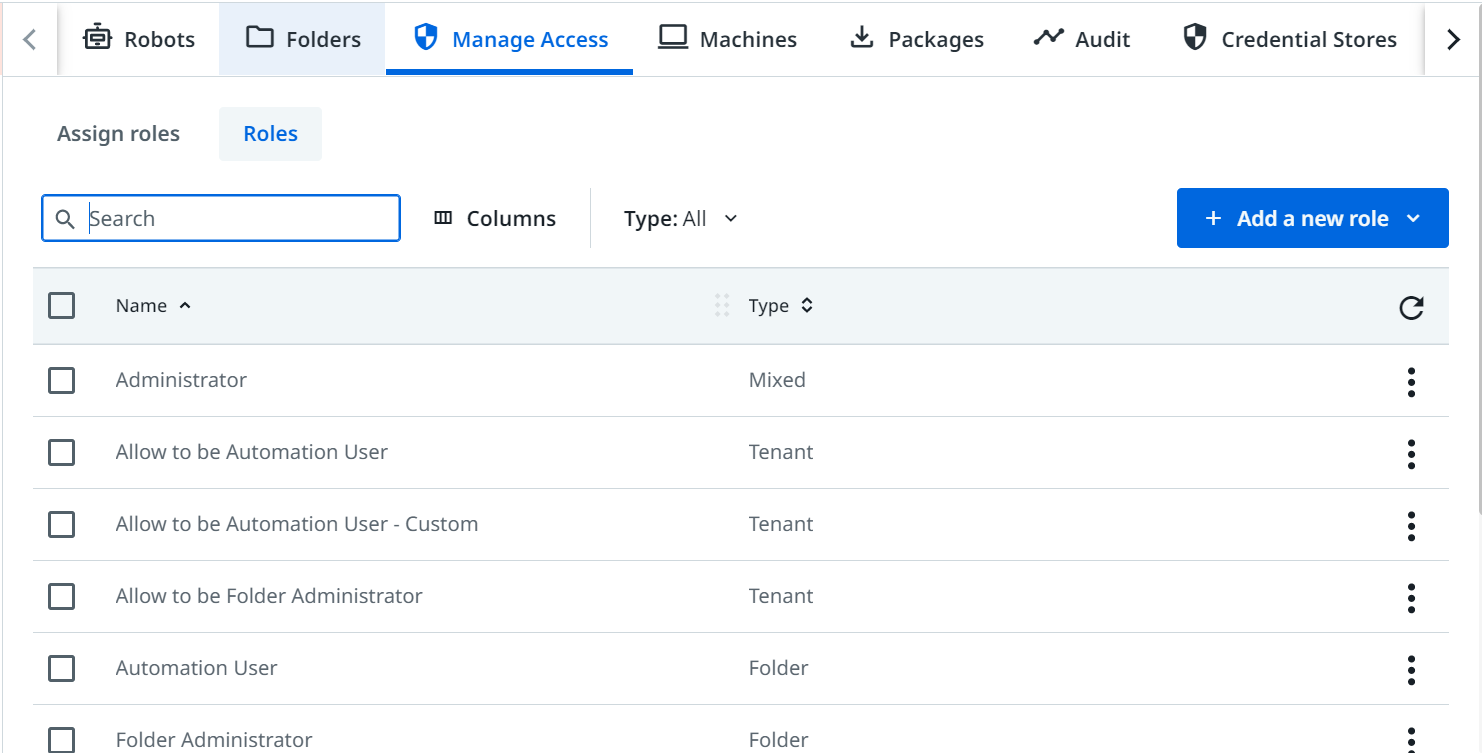 That's it for this month. As always, we are looking forward to your feedback and thoughts on these capabilities. Keep the feedback coming through the Insider program.