Justin Greenberger is vice president of customer success at UiPath.
Hyperautomation demands a unique partnership with a vendor. My name is Justin Greenberger and I lead our Customer Success team globally. We're at a point in time where we believe the automation market demands a different approach to success, and here at UiPath, we're committed to that.
Today, UiPath is enhancing our capabilities for our customer success organization. We're proud to launch the UiPath Unified Customer Success Program, which will encompass our customer success management. This main goal of the new UiPath program is to provide a more comprehensive and programmatic approach to customer success, along with enhanced capabilities. Throughout the next couple of weeks, we will be releasing new capabilities to arm our customers with the perfect content and material to drive their hyperautomation journey.
New to the idea of hyperautomation? Start here.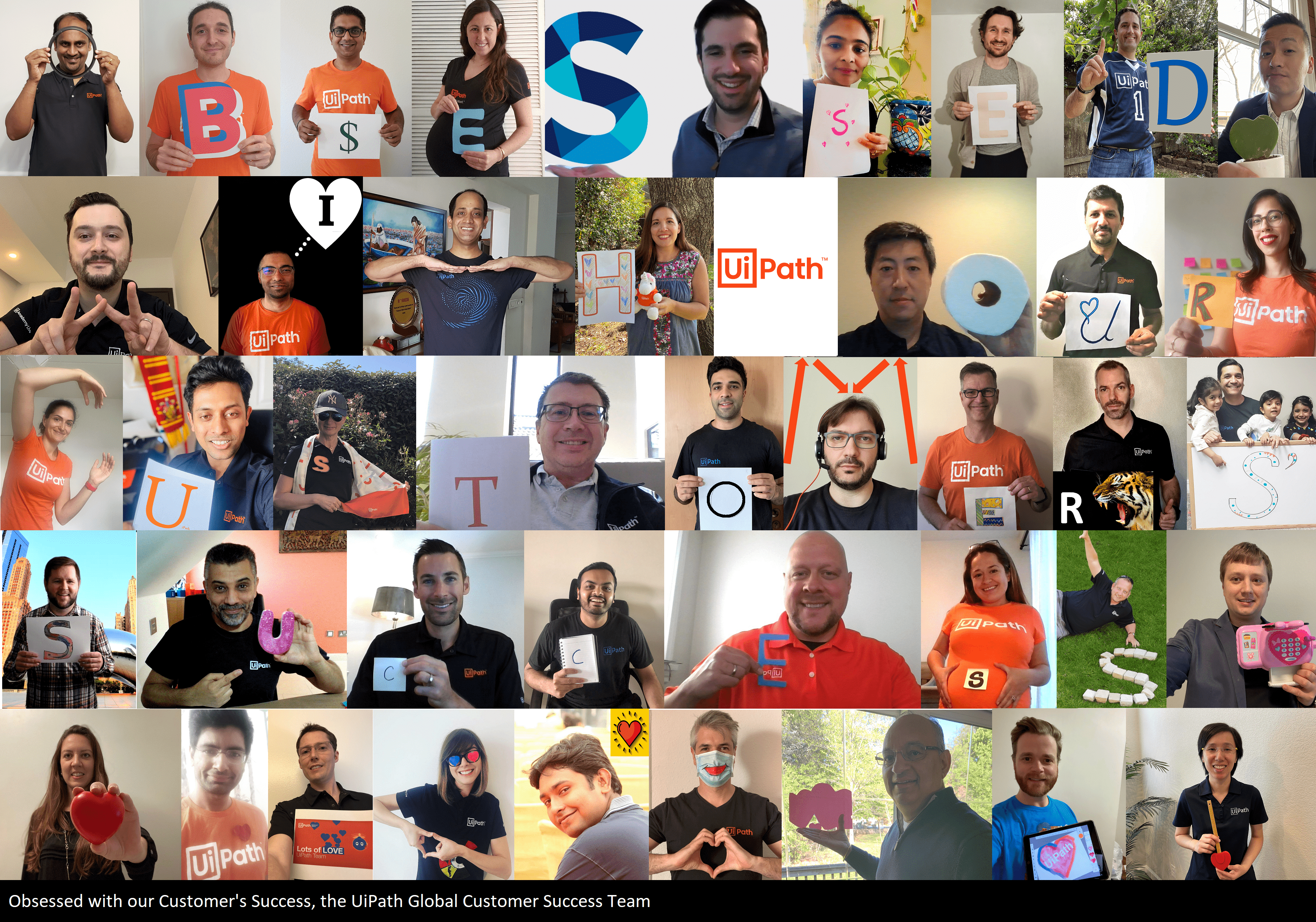 UiPath Customer Success team spells out "Obsessed with our customers' success" in this photo collage.
Customer success management is a growth industry and has developed quite dramatically with the rise of software as a service (SaaS) companies. At UiPath, we strive to provide customer success to all customers as a program, as opposed to just through a customer success manager. We strive to make you successful by giving you the tools—as well as the approaches—you need to be successful. We've already begun partnering with customers and are happy with the results so far:
"Customer success has been a tremendous asset throughout our automation journey – whether it was helping us as we try to grow our automation culture, answering questions, or providing a technical assist – they've been with us the whole journey. I look forward to continuing the journey and having them as a trusty guide along the way." - Tim Quinn, NRG
"In our journey at Ingram Micro to establish and run a global CoE for automation and digitalization, the UiPath team has been a strong and consistent partner. It is great to have a true partner (not a vendor) on your side when you have a global agenda and want to be on an accelerated path. I am glad to say that the UiPath team has been with us as 'one team' in every step of forming our CoE. The team has helped us reach key milestones such as onboarding executives, creating technical standards, and enabling teams to set us on the right path." - Kanishka Kumar Sinha, Ingram Micro
"Customer success is becoming my go-to team when it comes to questions about anything related to UiPath." - Matt Manning, Intel
Highlights of the UiPath Unified Customer Success Program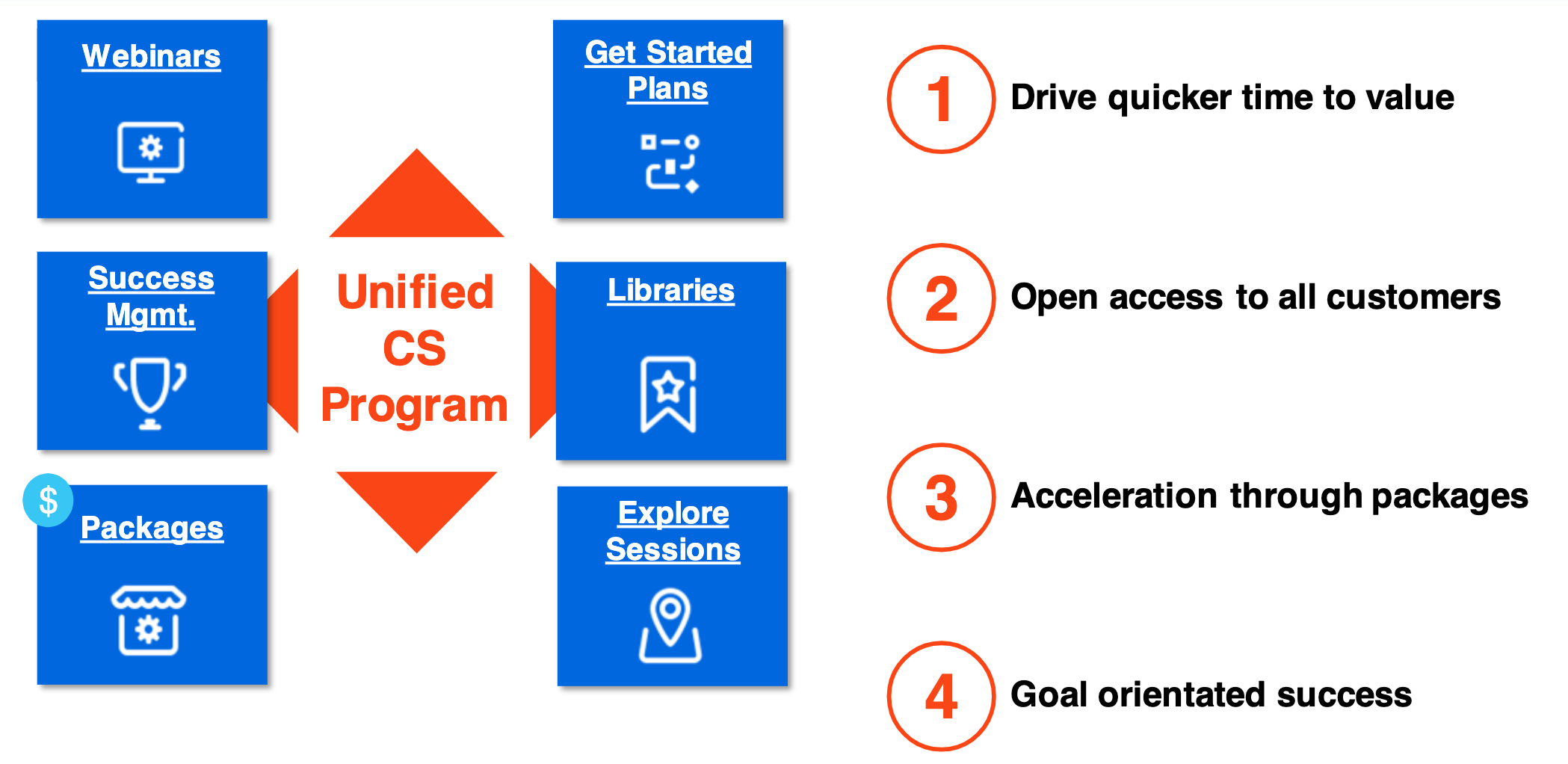 Get Started Plans - Available now
The Get Started Plans aim at helping customers jump start their Robotic Process Automation (RPA) journey in the most efficient way, ensuring faster time to deployment. Easy-to-follow checklists ensure complete RPA readiness while our manuals and best practices provide step-by-step guidance on how to set up your environment, robotic Center of Excellence (CoE), and process pipeline.
Libraries - Included in Customer Portal (July 2020)
The content libraries are structured to leverage the collective knowledge of UiPath industry experts, and to provide tangible best practices and manuals in an efficient and simple medium. Library topics are created based on the most common scenarios customers encounter and the most impactful information to help customers jumpstart, scale, and maintain their RPA programs to enable business value.

Packages - Available to select customers now and all customers August 2020
UiPath customers can fast track RPA deployment via a package of services, training, and expert support, leveraging success factors distilled from thousands of RPA and artificial intelligence (AI) deployments. The packages cover all phases of your automation lifecycle, whether you are starting out or scaling RPA across your enterprise.
Kickstarter Package: A two-day training encompassing idea generation as well as automation awareness for new departments. These sessions allow people to develop RPA skills on their own and gives the automation leaders a quick way of developing ideas.

Champions Package: A customized approach to spreading automation awareness across your company. Our experts will design your marketing assets, as well as your own branded CoE.
We are unbelievably excited to roll this out to our existing customers over the next month. If you're considering UiPath as a partner in your hyperautomation journey, our new Unified Customer Success Program will have you covered as part of our partnership with you.