Modern chief financial officers (CFOs) are experiencing more and more how the worlds of automation and process mining are becoming intertwined. Consequently, they are increasingly interested in how these two technologies work closely together to accelerate the improvement of several finance processes and to achieve higher ROI of their robotic process automation (RPA) investments.
In this context, Gartner recently published the results of their December 2021 CFO survey, and it includes some very interesting insights:
Among the 16 process automation and optimization technologies included in the survey, only three are expected to see an increase in investments over the next 2 years: reporting automation, RPA, and process mining.

80% of finance leaders agree that finance must significantly accelerate its implementation of digital technology, such as RPA and artificial intelligence (AI) to effectively support the business by 2025.

RPA remains the technology most often cited by CFOs in supporting their hyperautomation objectives. When implementing RPA, CFOs see investment in process mining as key to unlocking returns.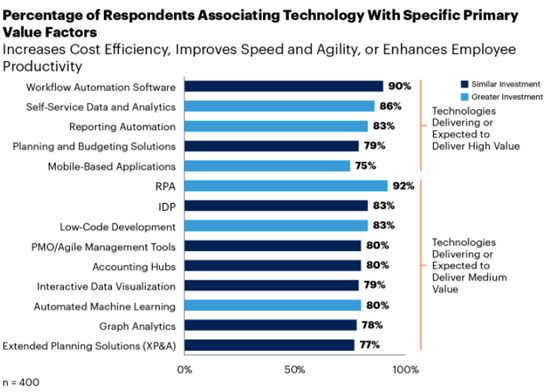 Source: Gartner (April 2022)
Moreover, Nisha Bhandare, VP analyst in the Gartner Finance practice said: "Despite ongoing investment in RPA, CFOs are realizing they need a broader toolkit to realize their full automation objectives. To realize higher value from their RPA investments, CFOs are turning to a suite of complementary efficiency technologies, such as process mining, which will remain a future driver of growth for RPA in the coming years." 
At UiPath, we're continuously building the capabilities of the UiPath Platform to address these needs and opportunities. While we remain the leading RPA offering, we have now expanded the value and reach of our platform to cover the CFO's holistic automation journey towards the fully automated enterprise of the future. Our recently launched offerings like long-running workflows, orchestration of robots and human workers, UiPath Task Mining, API automations, and purpose-built apps are all pillars that further enhance the value creation for the different processes that CFOs focus on.
In this context, we want to thank all our customers since we are humbled to see our efforts also recognized in form of the reviews posted on the Gartner Peer Insights™ by those who get value from our products daily.
Below are a few end-user reviews of UiPath Process Mining that make us proud and confirm how the UiPath Platform is leading the pact when it comes to the convergence of process mining and automation.
Gives us the detailed understanding of our complex business processes & builds a high - ROI automation pipeline with AI powered task analysis. It continuously monitors our processes using KPIs to measure the impact automation has on end-to-end processes. I was very easy for us to understand what to automate first and its immediately address problems by alerting robots to take action. Helped us identify the process pain points, bottlenecks and discover process improvement opportunities in order to increase efficiency, thereby reducing overall business costs."

Consultant – Consumer Goods; size: $50M-$250M
Easily deploys, immediately addresses problems in our processes by alerting people or robots to take action. It reduces the complexity of the process and helps us streamline the complex process"

Data and Analytics, Banking; size: $500M-$1B
Identifies the eligibility for automating a process considering the various metrics based on which we can take decision if the process is fit for automation or not."

Data and Analytics, Banking; size: $3B-$10B
We believe that these recognitions speak to the high value achieved when discovery technologies like process mining and task mining are combined with execution technologies like RPA and API automation. But the best is yet to come. Our recent 2022.4 release is packed with new features that accelerate value for both the automation center of excellence (CoE) and process owners like the CFOs.
What's next?
If you are interested in learning more on how to continuously discover, transform, and monitor your processes while leveraging automation to achieve your business outcomes make sure to also read our latest process mining e-guide.
Gartner Press Release, Gartner Survey Shows CFOs Turning to Process Mining to Drive Better Returns from RPA, April 27, 2022, https://www.gartner.com/en/newsroom/press-releases/2022-04-27-gartner-survey-shows-cfos-turning-to-process-mining-to-drive-better-returns-from-rpa
Gartner, 2022 Finance Technology Bullseye Report, Alejandra Lozada et all., 23 March 2022
Gartner® and Peer Insights™ are trademarks of Gartner, Inc. and/or its affiliates. All rights reserved. Gartner Peer Insights content consists of the opinions of individual end users based on their own experiences, and should not be construed as statements of fact, nor do they represent the views of Gartner or its affiliates. Gartner does not endorse any vendor, product or service depicted in this content nor makes any warranties, expressed or implied, with respect to this content, about its accuracy or completeness, including any warranties of merchantability or fitness for a particular purpose.
Gartner Peer Insights Customers' Choice constitute the subjective opinions of individual end-user reviews, ratings, and data applied against a documented methodology; they neither represent the views of, nor constitute an endorsement by, Gartner or its affiliates.