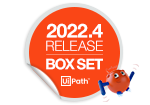 With hundreds of new customer-driven enhancements and capabilities throughout the UiPath Platform and across the UiPath Automation Cloud, the 2022.4 release makes it easier, faster, and simpler than ever before to transform from 'business as usual' to 'business as digital.'
There's a lot to explore! As with previous releases, we've created an entire 2022.4 series to walk you through everything.
Whether you have 10 minutes or an hour, this release set has something for you.
UiPath Live: The 2022.4 Release Show 
Join us for an exclusive, one-hour UiPath Live show focused on the 2022.4 release:
May 18, 11:00 am EDT / 8:00 am PDT / 5:00 pm CET

May 19, 11:00 am SGT / 1:00 pm AEST
Here's some of what you can look forward to:
UiPath Chief Product Officer Param Kahlon will share the next generation of Automation Cloud available via 2022.4 release (and introduce you to the all-new Automation Cloud Robots)

Hear from UiPath customers and what they're most excited about with the release

Forrester VP and Chief Analyst Craig Le Clair will unveil the role of automation platforms in the new enterprise 'automation fabric'
Immediately following the one-hour broadcast, dive deeper into the release with bonus breakout sessions. The deep dives provide participants the opportunity to see demos and ask questions.
Choose one of the breakout sessions from four session options, designed for:
IT professionals

Automation developers

Test engineers

Automation centers of excellence (CoEs) 
Don't worry, you don't have to wait until May 18 to explore the release.
2022.4 release blog posts
UiPath product and automation experts have created a series of blog posts (yep, a series within a series) so you can explore the benefits of the 2022.4 release now.
We recommend starting with this post to get an overview of the biggest release highlights. Then check out the other posts in the 2022.4 release series:
Share your feedback
Want to get early access to try out new products and features before they're available to the public? Join our Insider Program.