Mary Tetlow is head of global brand marketing at UiPath.
UPDATE: FORWARD III has concluded but you can get FORWARD III presentations, videos, and guides delivered right to your inbox when you sign up for your free copy of the event pack!
Original post:
FORWARD III will be the largest collection of Robotic Process Automation (RPA) practitioners ever seen. We're packing two days with main stage keynotes, three tracks, dozens of hands-on presentations, and an experts village equipped with leading experts in RPA and artificial intelligence (AI), fueled by baristas to help keep the buzz going.
To make the most of your time at the event, we wanted to roll out the virtual red carpet and show you exactly what not to miss.
FORWARD III is a chance to stop and look at work as usual, then start figuring out how to work in new and better ways. If you're planning a digital transformation strategy, trying to make day-to-day operations more meaningful, or searching for new ways to reboot work, then FORWARD is for you.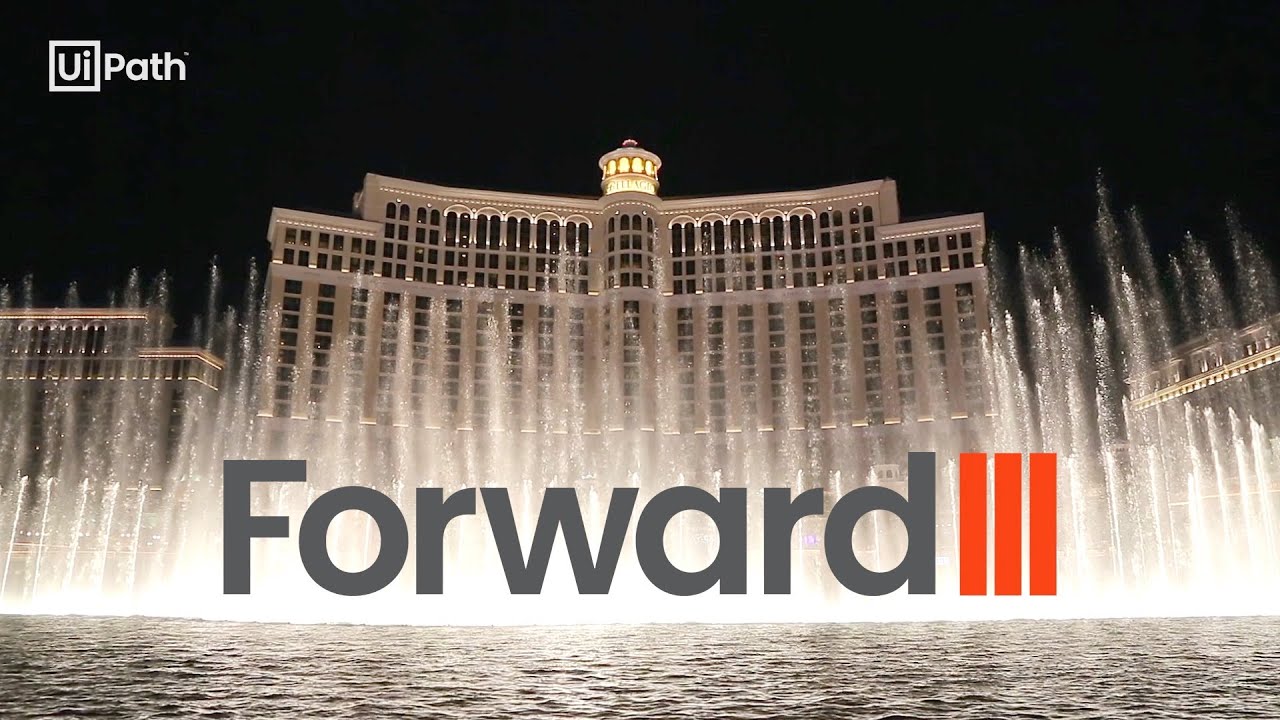 FORWARD III will be held in Las Vegas from October 15 to October 16, 2019.
Here are seven things you won't want to miss.
1. RPA, any way you want it. 
RPA is the gift that never stops giving. When everyone is equipped with software robots, automation is limited only by your imagination. 
At FORWARD III, you'll meet people using RPA in ways you never would've dreamed of and in industries you might not have realized automation could apply.
In fact, we're dishing up RPA in so many ways that you're bound to find inspiration:
Democratize it: Trying to make RPA accessible to more people? Learn about the vibrant RPA community that is enabling careers, forging new academic alliances, and making a robot for every person possible.

Innovate it: Need some inspiration for RPA innovation? Get a sneak peek at what's coming from UiPath. We'll have demos, early adopter stories, and a deep-dive into the UiPath roadmap.

Scale it: Looking for ways to overcome scaling issues? Real customers and RPA experts will share stories and best practices about how they started and scaled their automation programs.
2. A chance to find your tribe.
FORWARD III is the world's largest gathering of RPA experts and practitioners. There will be 3,000 RPA fans in attendance and hundreds of partners to meet. Everyone is dedicated to transforming the way we work, and each has a unique angle on RPA.
If you want to meet, connect, and socialize with people who are interested in making work more inspiring, then this is the place to be. 
At FORWARD, you'll be surrounded by others who share your passions and interests. Our tribe of RPA visionaries, innovators, and evangelists is only growing, and we want you to be a part of it.
3. Get hands-on with presentations and workshops.
Innovation usually doesn't happen in a vacuum. At FORWARD, you'll learn from people who are finding new ways to use RPA—and they'll learn from you, too.
FORWARD III will have over 30 presentations packed with customer insights. Presentations are great, but we know you want to get your hands dirty, so there will be plenty of opportunities for demonstrations, interactivity, and conversation.
You'll have the chance to learn practical skills, tips, and lessons from experts and practitioners around the world.
Live UiPath Academy sessions will also be available for even more skill-building opportunities.
4. Hear the vision. See the future.
We're presenting nothing less than the future of RPA and AI. Numerous speakers, from neuroscientists to C-suite leaders, will be giving keynotes about their visions for rebooting work. Here are just a couple of highlights:
David Eagleman is a neuroscientist and author of The Brain, a New York Times best-selling book that tours the billions of brain cells and their trillions of connections that make up human identity. He will help us understand the effects of tedious, monotonous work on the human brain and our workforce.

Craig Le Clair is the vice president of market research company Forrester. He recently wrote the book Invisible Robots in the Quiet of the Night, a book that'll be immediately relevant to anyone interested in RPA. Le Clair will speak about some of the latest research on RPA adoption and best practices, as well as what we can all do to make the future of automation inclusive.
FORWARD will also offer opportunities for you to meet the experts where you can ask questions and learn even more.
5. Get a sneak peek at the UiPath 2020 product roadmap.
FORWARD III will offer the first look at some of the UiPath product improvements coming down the line. Even better, we won't just be giving you a taste by flashing images on a screen. You'll have the chance to see these new features in action and demo them yourself.
We're leading the way into 2020 with a never-ending stream of RPA and AI innovations. None of that's possible without you, so we want you to share our vision with us.
6. Get immersed in Expertsville.
FORWARD features an experts village area—Expertsville—where you can hold informal meetings and talk with any RPA expert you want about any topic you want. Expertsville will also give you the opportunity to eat premium snacks and get some well-deserved rest.
Expertsville will offer a variety of partner sponsors and UiPath expert booths you can visit to connect, ask questions, and learn between sessions and recharge activities. And the conversation won't stop there, we've built in roundtable discussions during the seated lunch hour to provide even more opportunities to deepen connections and discussions around automation.
Inspiration can be taxing, and as exciting as our talks are, we know will become a highlight: coffee. Experienced conference-goers know coffee is an inevitable highlight, but we want to make sure we beat your expectations. That's why Expertsville will have a Joe Bar with baristas on tap to ensure that every time you get your caffeine refuel, the taste is as good as the boost.
7. Celebrate as we Reboot Work.
To reboot means to stop and start anew. Rebooting work means to stop working how we're working now and start working in a new way. A better way. A faster way. A more efficient, error-free way. A way that unburdens you from dull, monotonous, tedious tasks, freeing you to turn your mental and emotional energy to inspiring, collaborative, and creative work, ultimately opening the door to innovation.
On the evening of October 15, we'll be ringing in the Reboot Work era with our growing RPA tribe. Come join us, and your colleagues, as we celebrate the end of dull, monotonous work and the rise of creative innovation with a night of celebratory food and entertainment.
Change your perspective. Expand your universe.
Innovation isn't the result of a lone genius in a garage. It's the result of collaboration, conversation, and hard work.
At FORWARD III, you can join a community of UiPath customers and partners who, like you, are forging a new way forward for work and life. Join us to get a look at the future of automation and take your next step toward progress.