Before joining UiPath as our Pre-Sales Operations Leader, Ali Sholer had been in the workforce for more than 20 years when she decided to take a year-long mid-career sabbatical. She was feeling a little burned out, and wanted a chance to reset and rethink her plans.
"I was on a quest to figure out what motivators make me feel strong, resourceful and competent outside of my work paradigm," she says, "and I wanted to take on some big challenges that had absolutely nothing to do with work."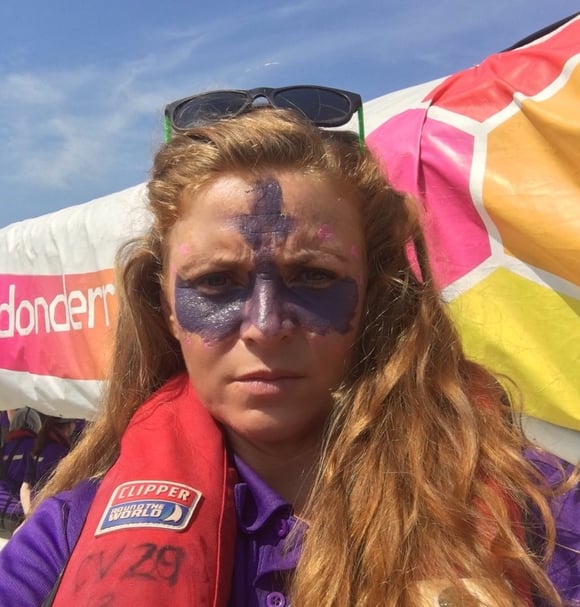 Ali got her team to wear warpaint at the starting line, to intimidate their competitors
The big challenge Ali settled on was Clipper Round The World, an intensive sailing race around the globe where she joined an international 20-person crew representing Northern Ireland. The race turned out to be exactly what she'd been looking for: a 24/7 exercise in hardcore self-discovery, far from the office environment she was accustomed to.
"It took teamwork to an entirely new level," says Ali of the experience. "Because we were in the middle of the ocean, we never had the option to say, 'I'm gonna take some time away from the team' or 'I'll come back on Monday.' We didn't have that luxury—every challenge had to be tackled in real time."
Those challenges included the emotional and physical logistics of living in cramped quarters with 19 other people; fixing the boat's engines and ripped sails; resting in 4 hour shifts, preparing food and dealing with all that Mother Nature could impose from scorching heat to the icy cold of the Atlantic crossing.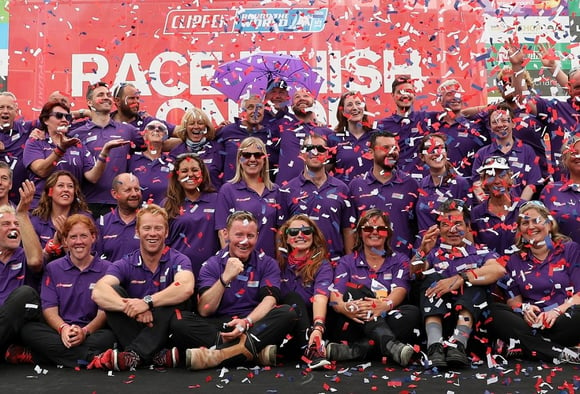 Over the course of the journey, Ali learned she was equipped to handle adversity of a kind she had never before faced, as well as conform to the demands of being part of a team where she was not the leader. This was all new territory for her. It was one thing to demonstrate perseverance and grit in the workplace, but another to do so entirely on the high seas.
"When a wave is trying to knock you down or off the boat and you've got to find a way to get back up, or when you're trying to cook for 20 and pots are flying off the stove as the boat crashes over waves—it was reassuring to know I could put myself into a foreign environment and still rely on the inner core strength I've developed over the years."
It went beyond sailing, too. After she was back on land, Ali treated her time off like the gap years many people take in their late teens or early twenties, exploring new places and learning new things. She lived with a family in France to learn French, worked on a boat in Greece, attended a surf camp, learned to day trade, and much more.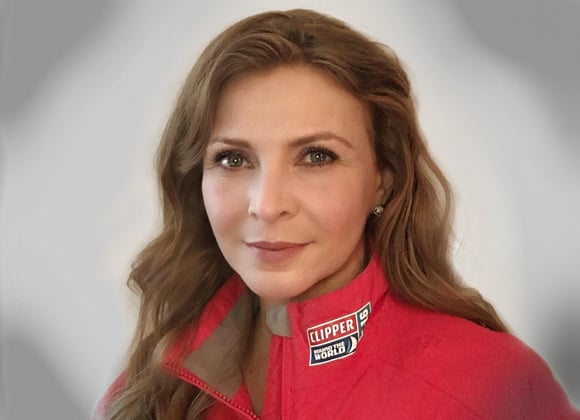 "I would encourage others to take mid-life departures in the way we are inclined to in our youth," she says. "It is just as important to discover, or maybe rediscover, the world and your relationship with it as another version of yourself. Before that trip, I had been with my last company for 12 years. I was basically a workaholic, and I was a little fried and discouraged. The things I learned about the world and myself and the relationships I formed during that year allowed me to approach my work in a new zeal while also in a more relaxed, confident frame of mind."
The mid-career sabbatical is much less common than the pre-career gap year, but if Ali's experience is any indication, more people should consider it. It's easy to grow comfortable in your surroundings over the course of a decade or two of working in the same or similar role and environment. Stepping outside of that can be a fast track to your fullest potential as a human being.
---
Looking for a job?
We're hiring for just about everything, all over the world.
---