As Pride season unfolds, we come together to celebrate the beauty of authenticity, diversity, and acceptance. It's a time of joy and progress, where we unite as a force, making our voices heard across the globe. Beyond mere celebration, Pride inspires us to create an inclusive and equitable world, not only in our workplaces but throughout society. Join us on this journey as we explore the vibrant pulse of our UiPath global offices during this special season!
Strengthening Our Communities
Our Pride at UiPath people unity council (PUC) works continuously to create a safe space for our LGBTQIA+ employees, fostering a sense of community and belonging. Throughout June and July, Pride celebrations took place in our offices, offering exciting opportunities for our LGBTQIA+ community members and allies to connect meaningfully with each other, senior leaders, and local communities.
Kicking off the celebrations in June, we organized a fun T-shirt tie-dying event in our New York, Denver, Bellevue, and Austin offices. Witnessing the collective enthusiasm and creativity as colleagues came together to embrace the joy of tie-dying and share stories truly brought us closer.
Supporting diversity and local businesses, we also hosted our annual Pride trivia event. Colleagues enjoyed rainbow donuts while participating in the trivia challenge, and we were honored to have a special guest, Glow, who brought a touch of magic to our New York office.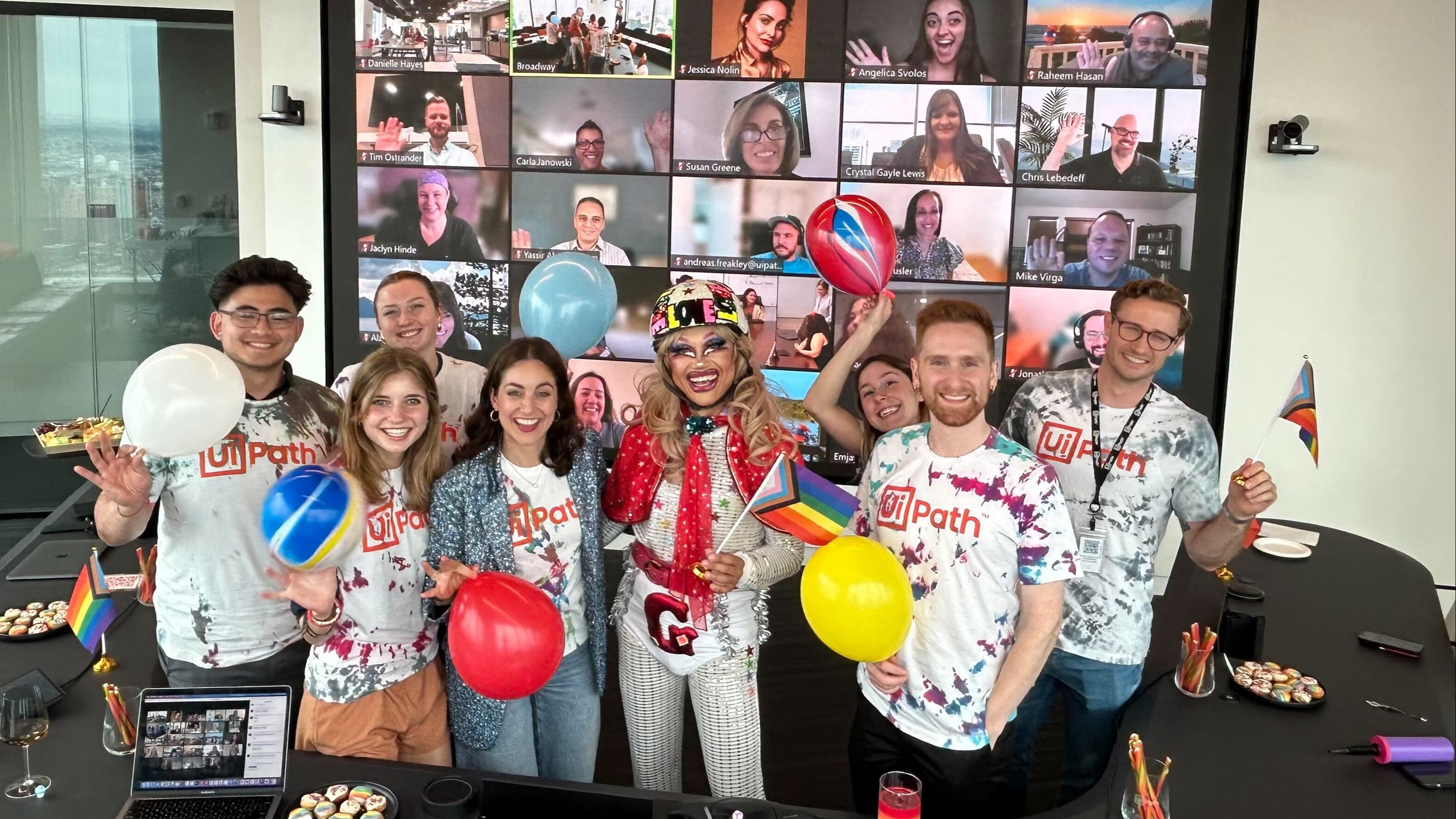 Promoting inclusivity and allyship, we organized an LGBTQIA+ Allyship Circle in the APJ & EMEA regions, in partnership with Modern Health. This empowering session, led by an LGBTQIA+ therapist, provided valuable insights on being supportive allies. UiPathers were encouraged to amplify LGBTQIA+ voices, learn from their mistakes, and continuously challenge their biases. The Allyship Circle showcased the profound impact of learning and taking action to create an inclusive and welcoming environment.
In July, we also marked the start of Romania Pride Week (July 21 to 29) in our Bucharest and Cluj-Napoca offices. Colleagues gathered to celebrate the diversity and courage displayed by our LGBTQIA+ colleagues, reaffirming our commitment to fostering an environment where everyone can be their authentic selves.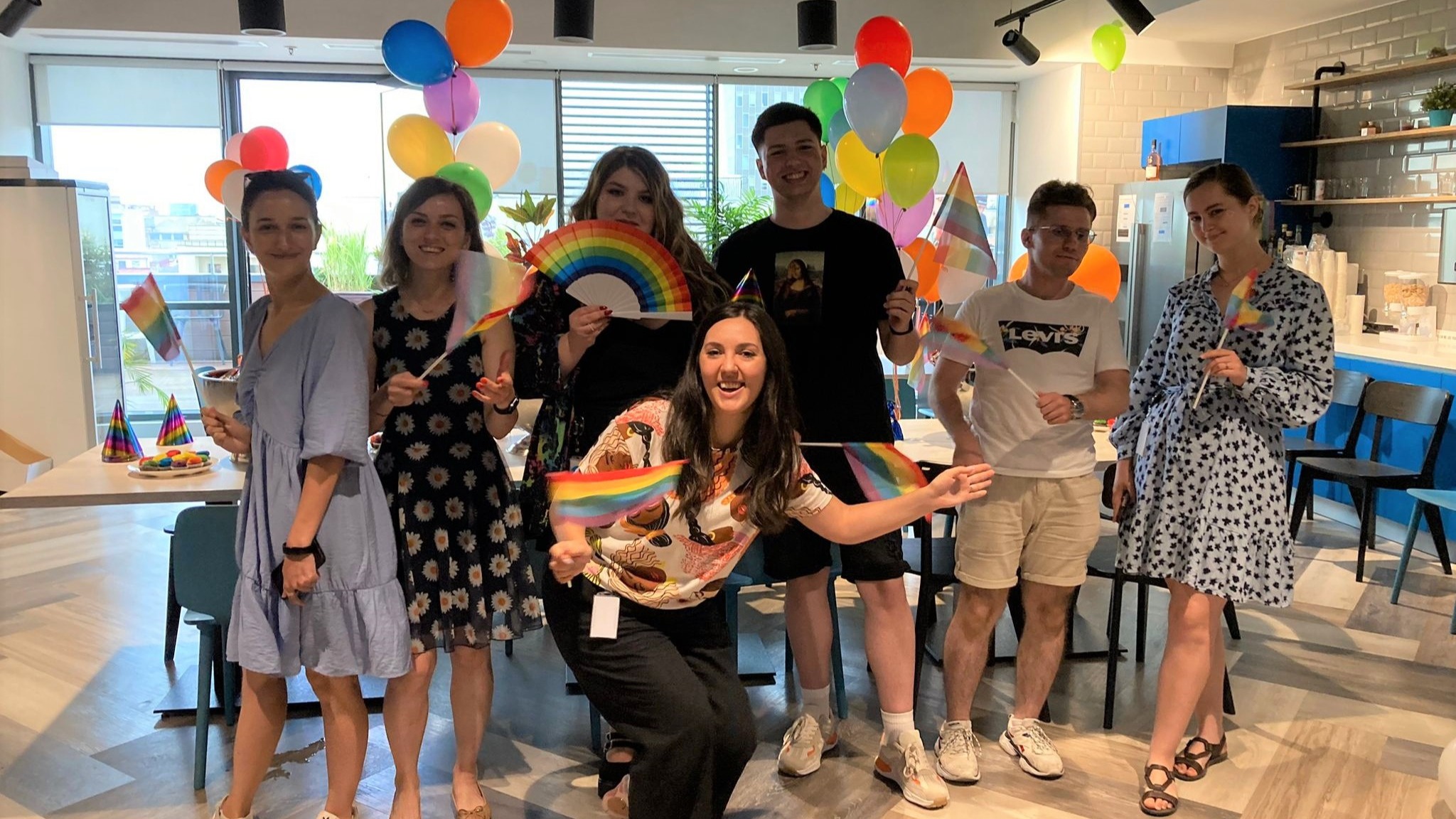 Expanding our global Pride initiatives, Brigette McInnis-Day, Chief People Officer at UiPath, launched global listening sessions. These sessions provide a space for us to come together as a team and discuss how we can further improve our activities, support, and allyship moving forward.
Our ultimate goal is to create a space where our LGBTQIA+ colleagues can flourish and find a strong sense of belonging. By promoting a culture of empathy and support, we aim to empower individuals and drive transformation within our organization and beyond. Together, we celebrate the richness of diversity and strive to build a brighter future that embraces inclusivity for all.
"Pride to me is to live unapologetically my authentic self at all times. Pride is being part of a global community that'll love you and support you even if they don't know you. Pride is letting those who are in the closet know they can choose to come out and live among us vibrantly without regret. Pride is home." – UiPath employee, India
"Pride means everybody has a voice—a valuable one, that they can connect through. We all need to be heard and we all need to have the same space for self-expression." – UiPath employee, Netherlands
"Pride means being your authentic self and expressing what love means to you, Pride conveys that love is love and doesn't discriminate." – UiPath employee, U.S.
We, at UiPath, deeply value diverse backgrounds, experiences, and ideas. Our inclusive workplace provides equal opportunities to all, regardless of age, race, color, religion, sex, sexual orientation, gender identity, and expression, national origin, disability, military and/or veteran status, or any other protected classes. And we're committed to learning and growing every day. Happy Pride season!