College students today are faced with the challenge of preparing for a future that is increasingly influenced by automation and AI. To gain valuable insights into these digital technologies, students from George Washington (GW) University recently had the unique opportunity to visit the worldwide headquarters of UiPath. The students are part of George Washington Women in Business (GWWIB), an undergraduate student organization and affiliate at the GW School of Business that aims to bridge the gap between academic and professional life for undergraduate women.
We were excited to host the George Washington Women in Business students at the UiPath global headquarters to give them a glimpse of our incredible growth journey and how our employees are core to our continued growth", Janette Hausler, Head of Customer Advocacy, UiPath
The organization takes an annual trip to New York City to visit companies across industries to connect with business professionals. This year, the organization aimed to unleash the brilliance of George Washington Women in Business attendees by broadening their perspectives and providing pathways to cultivate connections through a visit to UiPath.
A glimpse into the rocketship
The event began with a warm welcome and an overview of the remarkable success of UiPath from Series A to IPO in four years, and the transformation of the company from a robotic process automation (RPA) product leader to an AI-powered automation platform. The students also learned about the role that automation and AI play in the rapidly evolving job market.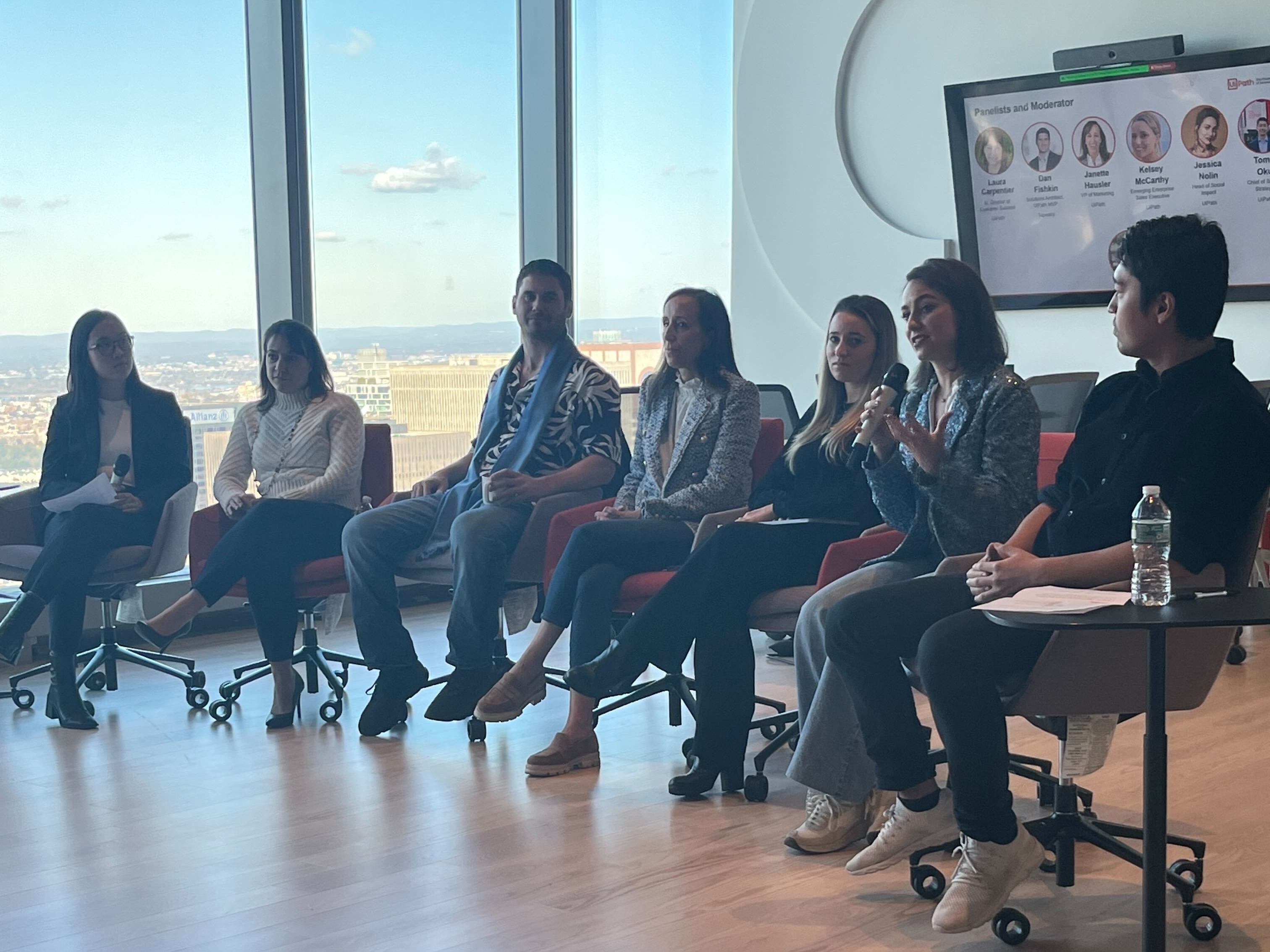 The panel of experts
The panel comprised a diverse group of employees from different departments, each with unique experiences and perspectives. They included UiPath employees: Laura Carpentier from Customer Success, Janette Hausler from Marketing, Kelsey McCarthy from Sales, Jessica Nolin from People, and Tomo Oku from Strategy. In addition, Dan Fishkin, a UiPath Community MVP and Solution Architect, participated in the panel to share his perspective on his role. This panel's diversity was crucial as it allowed students to learn about a wide range of functions and career journeys. The panel was moderated by co-chair of the George Washington Women in Business NY Trip, Emily Chin.
Our visit to UiPath was so special to me and George Washington Women in Business as a whole. It was my first time moderating a panel so it was a great experience for me professionally, and I am so glad that our group could learn more about AI and automation", Emily Chin, student at George Washington University and co-chair GWWIB NY Trip
Key takeaways from the panel discussion
Lean into new opportunities and challenges
The panel all agreed that to advance your career, you need to lean into new challenges and be a lifelong learner. Always say yes to new projects. For example, don't be afraid to take on a (sales) quota, accept a new role you never held, or make a move across the world. Break down your opportunities and challenges by seeking to understand them, assessing how they align to your values, and getting coaching from your leader or mentor to figure out the best ways to lean into new paths.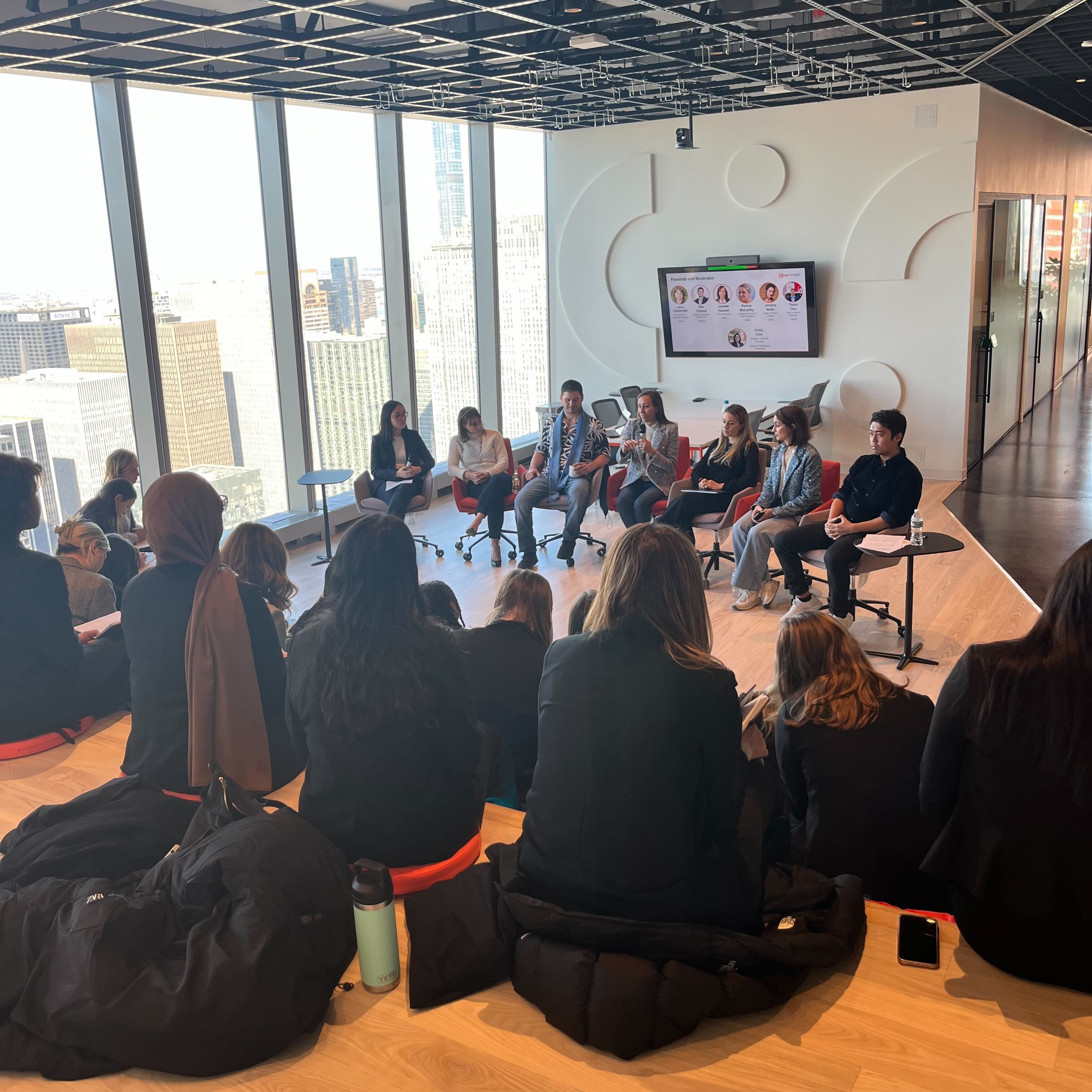 Manage your career trajectory up and across
The panelists all experienced upward growth in their careers and explained that moving laterally can also be a growth opportunity. A lateral move can provide new experiences and skills. It can also be an opportunity to expand your network by interacting with a new leader and different teams. An increased professional network gives you an opportunity to increase your social capital.
Connect what you do to the company's goals and values
Each of the panelists explained their distinct objectives and key results (OKRs) and how they tie to the overall company's OKRs. Having a common set of OKRs at UiPath ensures employees have clear direction and a unified focus. Connecting individual and team goals to the company's OKRs helps employees understand how their work matters and motivates them to add value to the company's priorities. In addition, all the panelists discussed how UiPath cultural values of being humble, bold, immersed, fast are crucial to the way they work and get stuff done every day and their performance evaluation.
The UiPath site visit gave me a deeper meaning into automation and AI and a closer look into how different departments within the company work alongside each other towards a wholistic goal. It was truly evident that UiPath was a community of flowing, innovative ideas in the workplace!", Laila Ebo, student at George Washington University and co-chair GWWIB NY Trip
The UiPath visit and the panel discussion provided George Washington Women in Business students with invaluable insights into the world of work in the era of automation and AI. The key takeaways underscored the importance of leaning into new opportunities and challenges, managing your career trajectory up and across, and connecting what you do to the company's goals and values. As the George Washington Women in Business students prepare to take on internships and embark on their careers, they are better equipped to face the challenges and opportunities presented by the automation and AI revolution, thanks to ‌the insights shared by the UiPath employees. We hope this experience has undoubtedly left an impression on these future professionals and equipped them to thrive in a world of evolving technology.