Dean Mauro had been working at UiPath for about a month when, on a trip to our headquarters in Romania, a person he had never met before approached him with a project. "This guy came up to me," says Dean, "and said he had a project for me. He had seen something I had done, and had a similar project called Node-RED. It was this networking tool where you could connect Internet of Things and third-party stuff. I signed on with him, and he said, 'For the next three weeks, you're mine.'"
This was a great opportunity for Dean, who had always been a go-getter. In college, he built a piece of personal finance software, incorporated a small business, and started doing door-to-door sales. Later on, he moved to Rome and taught English for a year, but ultimately found that, as a fast-paced guy from New Jersey, he couldn't handle the slow pace of life in Italy.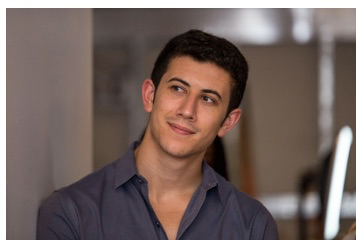 Back stateside, he signed on with a telecom company, doing backend development. After a few months, he realized that role wasn't right for him, and was in the interviewing process for a tech evangelist role with one of the big companies people always want to work for, when UiPath sort of happened by accident. "I had already signed up for this UiPath interview, so I said, 'Ok too late, I have to take this call, but the dream job is waiting.'"
During that UiPath interview, though, he found that the line of questioning was more focused on who he was than his accomplishments, which he found refreshing. "It really struck me," he says. "There was clearly something special going on in this place. I think they got me through in a week—just made a hard sell. I couldn't say no."
Fast forward to a month later, when he had been doing Delivery work and was approached by the man in Romania who assigned him to Node-RED. That man turned out to be Boris Krumrey, UiPath's Chief Robotics Officer, who became a mentor to Dean, and helped him find his way to his current position as Integrations Lead. "We had project after project together," says Dean. "He's a fascinatingly creative man. The things that he finds and the way that he sells them to you would inspire anyone. He could inspire a rock."
At some point, Dean was doing very little Delivery work, and was given the opportunity to lead the new Integrations team, building wrappers that allow third-party software and languages to interact with our robots.
When asked his favorite part of working at UiPath, Dean says it's the people. "Everyone appreciates the trust that's been given to them, and they're go-getters. You wind 'em up, let 'em go, and they're going to produce something that's good for the company. And they're just a load of fun."
---
Looking for a job?
We're hiring for just about everything, all over the world.
---