RPA can automate repetitive processes so that employees spend their valuable time on more creative and impactful tasks. This is the message that we keep on sending with any occasion. It is our CEO's vision for UiPath – "A Robot for Every Person".
Because we strongly believe in this vision at UiPath, we are using robots for different types of tasks. We also have a Global Center of Excellency for Internal Automations – a group of talented engineers who help all of us automate repetitive tasks or processes, to make our work more creative and inspiring.
But some of our colleagues in APAC had an interesting idea on how to align with the company vision of having one robot for every employee and inspire our customers to follow us in this automation-first mindset era and make it fun at the same time.
"One day in a meeting I had finished presenting to a customer about this vision and how organizations will need to adapt to robots", says David Neo, Vice President Pre-Sales APAC. "The customer turned to our sales manager and asked him 'What's the name of your robot on your computer?' That question totally stumped the sales manager and caught him by surprise. It was the moment of enlightenment for me that we could not honestly tell customers that we had One Robot for Every Person in our company yet … and we had to change that if we are, to be honest with ourselves", he adds.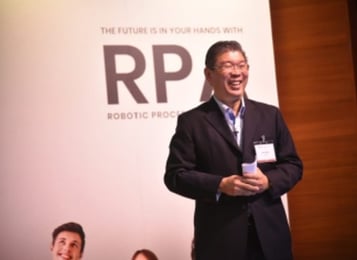 "We wanted to prove it to ourselves and live the vision in APAC, internally first", says Alex Dragoi, Director Pre-Sales APAC Enablement. "Our strategy to get leaders and all the teams on board and adopt the digital assistant for everyone was to organize this friendly competition between the 4 regions: China, Korea, Australia & New Zealand, and Southeast Asia", he says.
"We began by sharing this idea of having One Robot for Every Person in APAC with Tom Chin and his APAC Sales Leaders, and they were all highly supportive of the initiative", adds David. So they kicked off the plan and challenged leaders and staff in each region within APAC, to see which region would be the first region to be truly living our vision. Being naturally competitive, it was an element of fun to communicate progress to show how each region was performing against that goal and to get PAL9000 to every person and department in every region. "As of today, we're pleased to say that we can truly and honestly tell our customers within APAC that we have One Robot for Every Person here. We hope that as a company, we can live out the message and values that we preach to all our customers when we speak about this", says David.
PAL9000 is a robot that includes several very useful features: checking birthdays for the upcoming days, seeing latest files updated in SharePoint in specified sites, showing meeting conflicts, finding UiPath colleagues on LinkedIn and many others. There are also other ideas for PAL in the pipeline like responding to meeting requests with proposed new times when the slot is taken or seeing new Go components added recently.
"The objective was to get all the regional teams to connect to our dedicated Orchestrator for PAL and get the package on their laptops," says Alex. "We also suggested a local Pre-Sales engineer that the individuals from each office could have as a technical buddy. I kept a tracker of all employees from each region and when the PAL robot got connected, my small robot updated the tracker to set the person status as "Done". Things got really accelerated and within a few weeks everyone was onboard."
When the APAC team decided to start this project, they had at least 3 goals in mind. The first one was to help each other with small tasks, save a bit of time, improve productivity and team morale, as fewer admin tasks were done manually. The second one was to have an army of digital assistants and their use cases as proof and examples for our customer-facing teams to use in pitching sessions. Last but not least, they wanted to live the UiPath vision day by day.
"Getting PAL9000 onto every PC is the realization that we are a company that has the moral authority to tell our customers about One Robot for Every Person … because we've done it ourselves. Imagine if a Sales Leader could speak in a conference and confidently show how they were implementing this. Imagine if a Sales Manager spoke to a CXO and could quickly help him imagine what One Robot for Every Person meant. That is our hope and aspiration", says David.
It took only 3 weeks for the ANZ team to reach 100%. They became the first APAC region to celebrate this significant status with 62 people! When the rest of the APAC regions saw this, they picked up the pace and around one and a half weeks after that, the rest of APAC also crossed the finishing line. "Once we started seriously going for it, we moved very quickly. And we had the strong support of Andrew Philips who leads the ANZ Sales team", remembers Luke Kelly, Director of Pre-Sales ANZ. "David Neo further challenged his Presales Leadership Team to ramp up quickly and make APAC the first theatre to hit this objective. Always tricky trying to tie down sales representatives for a few minutes as they're always with clients!", he adds.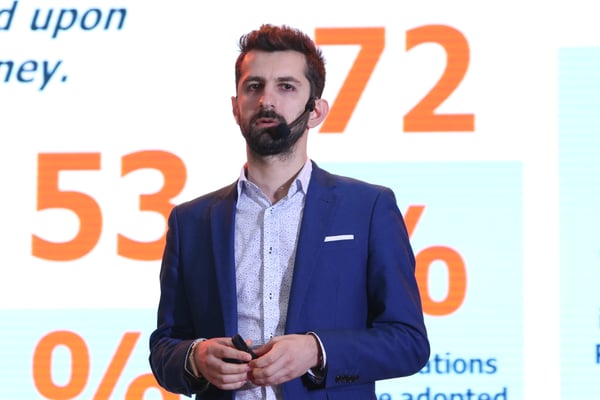 And it was the automation that improved the reach of this goal too. "I made some research, planned it, presented it and got leaders' sponsorship for the program, all in about 5 weeks. Then I made scripts to make it easier for everyone less technical who can't configure UiPath Robots to run all the steps with a double-click. The actual time it took for people to run it, get the robot on their laptops and compete as regions were less than 4 weeks - adoption went very fast since I made it so easy to connect", Alex remembers.
And they don't plan to stop here. This is, as David said, just Phase 1. "Phase 1 was so that our staff could start using PAL9000 and also enable sales managers to show PAL9000 to our customers on-demand", says David.
In the second phase, Sales Managers would be enabled to run full-proof and self-contained automation demos through PAL9000. This would mean more confident and productive sales managers who could independently run demos in introductory sales calls, without drawing on the limited time of our Presales team. This, in turn, would release valuable time back to Presales to provide better support specifically for accounts already properly qualified by the sales managers.
An aspiration in Phase 3 is to enable sales staff to perform demos using voice-and/or text activated commands on their mobile phone, to interact with and run robots on the back-end in PAL9000. This would showcase the power of RPA on the move, to demonstrate simple tasks that are kicked off from the mobile phone.
"My colleagues are all smart, capable people and we all contribute to change how people all over the world work and how to use their time better, for more creative, inspirational and value-creating activities. I think our teams would also benefit from having a digital assistant to make them more efficient and bring even more innovation to the world. Plus, a better work-life balance. In 3 words, to Accelerate Human Achievement!", David enthused.
Stay tuned to learn more about our progress in getting our vision to reality. We will continue to share other projects our colleagues work on.
---
Interested in working alongside all the people quoted above?
---