Adaeze Enujioke Egwuatu deeply understands the power of AI, the importance of data, and how measurability leads to more representation. She joined UiPath over two years ago as Public Sector Channels Director, developing partner relationships for state, local and federal government. After settling into her position and seeing the adaptability of RPA, Adaeze quickly saw some untapped markets.
"At my previous company, I had worked with federal system integrators and system government contractors and we didn't really have that defined at UiPath. About a year ago, I proposed the idea to leadership and they were always warm to the idea but just waiting on the right market conditions to implement it." 2020 actually created the right conditions for this idea and she officially began transitioning into her new role of Federal Partner Director just a few weeks ago. "My new team is focused on converting those partners that we spent years building partnerships and go-to-market strategies with and help them start to consume and build out their own automation practice internally."
Before joining UiPath, Adaeze spent 15 years developing her career in sales at IBM. In her last role at the company, she was driving AI sales strategy for their state and local government and education sector. "I found that when you look at AI specifically, a lot of customers were not taking advantage of its capability and not gaining value quickly. They just had so many low-level things they needed to do first, like automating simple tasks or accessing data from models."
When Adaeze first interacted with RPA, she knew that this was the missing link that so many of her clients needed. "I was blown away when I saw what RPA could do and how quickly you can get return on investment. I spoke to customers and partners who said that they got ROI during their proof-of-concept period. I saw that at some point there was going to be a convergence of AI and RPA and there was opportunity to drive value very quickly in the marketplace." Propelled by a desire to get into a company at an early stage and having obtained enough data to know that the technology would be successful, she began researching RPA companies that would lead her to UiPath.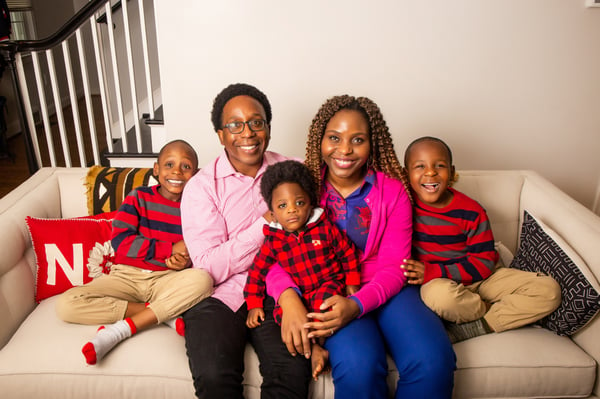 When speaking with Adaeze, she will let you know that data and analytics have driven most of her career moves. "When I was going into sales, I wanted something that was quantitative and measurable. As a woman in technology, it can be a little difficult because you are not in the majority, especially for me being a woman of color and from a different culture. I might not speak the same idioms but if I can show what I can accomplish is quantifiable and measurable, then we can't argue with data. We, as women, want to prove ourselves in technology and data is our best friend." Her conscious efforts to help get more women and women of color into technical sales have also defined Adaeze's career. Whether it is being a part of recruitment efforts or being a member of mentorship programs that help remove the glass ceiling, she is a dynamic force in helping change the landscape of tech companies, including our own. "All my career, especially when I was in leadership, I have tried to bring women into technology sales. That is one of the biggest areas that I have always been vocal about."
---