"I talk about UiPath all the time with my friends because it is really fantastic here," says UK&I Inside Sales Rep Olivia Meadowcroft, one of the youngest employees at UiPath. "On my first day, I grabbed my laptop from the office and flew to Bucharest to join the Sales Bootcamp. People should know UiPath has amazing offers to its employees including the travel opportunities!" Olivia started here in December of 2018 and looks after private company accounts.
In July, Olivia had the opportunity to visit our Tokyo office for a week and work with the team there. UiPath encourages employees to travel and engage with our international colleagues, as meeting face-to-face is crucial to cultural sharing and understanding.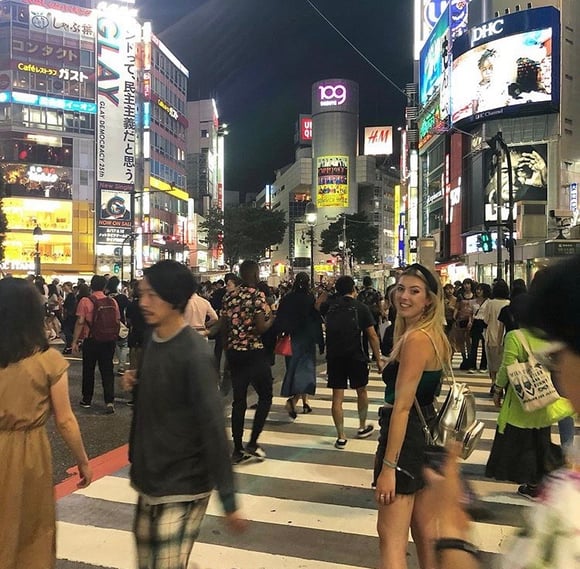 "Even though we do similar work, my Japanese colleagues' approach to their work was quite different from mine. For example, Japanese Inside sales employees get general performance-based bonuses, rather than commissions like we do in the UK. I was told this encourages them to work more collaboratively and harmoniously. Another thing I noticed was most Japanese employees dress formally. It was very helpful that my colleague who arrived in Japan prior to me advised me to pack suits!"
Olivia has found UiPath to be a friendly place to work, and describes her colleagues, many of whom she views as role models, as humble and hard-working. "While many of my friends feel stuck where they are," she says, "I feel that managers in UiPath are very open to expand my potential career path and happy to talk about it."
Being a young woman in the male-dominated sales sector can be intimidating, and Olivia sometimes finds that older male clients automatically see her as inexperienced. She approaches these and other challenges head-on, building up her confidence by dressing in a mature, sophisticated fashion, over-preparing for meetings, and being polite but firm when faced with adversity. Outside of her individual efforts, she sees a broader opportunity to combat sexism.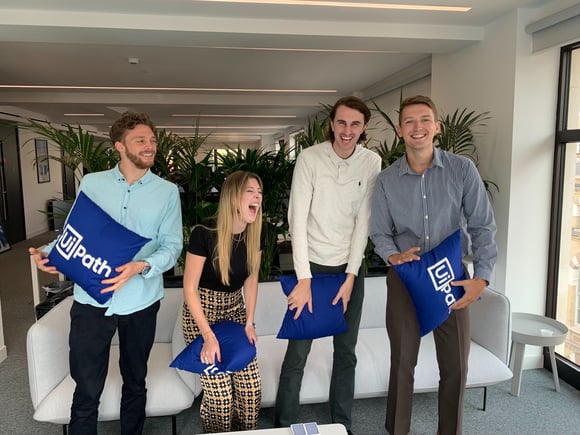 "I think as a company, we can make a change by reducing stereotypes and prejudice. For instance, people very often automatically describe C-Level clients 'he' and PA, receptionist or lower level clients 'she.' This might sound insignificant, but terminology is very important. If we do not change our own way of thinking, we cannot expect others to do so."
Currently, UiPath is creating an inclusive, open and female friendly company culture in order to increase gender equality. For instance, the recruitment team makes sure to present diverse profiles to hiring managers and emphasizes the importance of having various mindsets and skillsets in their teams. Also, the company provides related trainings such as unconscious bias course to employees to promote the awareness.
Additionally, UiPath France, alongside other companies, has co-signed the "Increase Women in Leadership" pledge, to have 30% of leadership positions held by women by 2020. The goal of this pledge is to prevent female talents from being overlooked and give them enhanced voice and visibility.
Olivia also points out that UiPath has an opportunity to increase our racial and ethnic diversity. "One of the things I love about London is its diversity," says Olivia. "When I am on the tube, I see people from all kinds of backgrounds, and I believe this is what makes London brilliant."
Recently, our UK office has 21% BAME (Black, Asian, and minority ethnic) and 25% female colleagues. Considering that the UK technology sector is made of average 15% BAME and 17% female, UiPath is ahead of the UK industry trend. However, there is still much to be done before our company and industry are truly reflective of the world we live in, which is why our People team is investing heavily in diversity outreach, alongside UiPath's global efforts to make education around automation more accessible.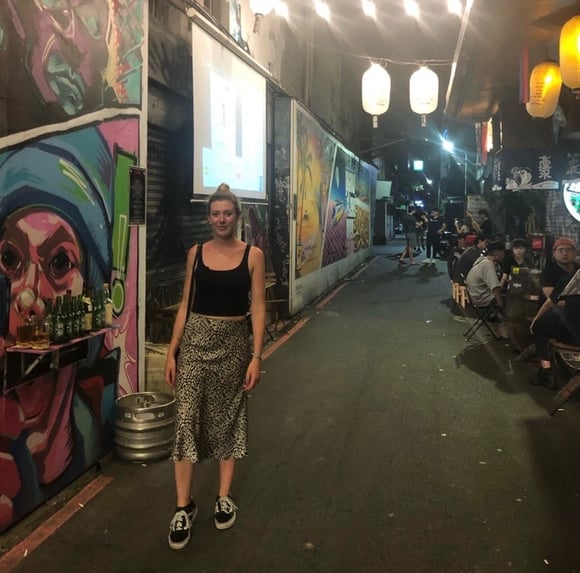 Olivia feels she has grown, both professionally and personally, within UiPath these past 9 months. "Since joining, I participated in the Sales Kickoffs in Miami and Berlin, and met people from all around the world. These opportunities have broadened my perspective. UiPath also has taught me how to be tough and strong as a person, in order to overcome the challenges I encounter. I look forward to the next steps and I am ready to learn, absorb and challenge."
---
Looking for a job?
We're hiring for just about everything, all over the world.
---