Everyone's path to success is different. For some, it's mostly linear. Others encounter more twists, turns, and bumps along the way. But some start their path from very young ages. Meet Paul Bricman, one of the interns who worked in the UiPath R&D office in Bucharest, during the summer before his very first year of university.
"My official role at UiPath over the last few months was software developer intern. I initially saw the job opening on a platform for local university students, but because I wasn't enrolled at an eligible institution, I contacted a recruiter through an internal reference. Two online programming tests followed and then another two on-site," says Paul about his first encounter with UiPath.
Since he was in primary school, he had the vague notion of video games being somehow esoterically connected to programming. He took some basic courses for children, only to learn that there was a long way to building real games. This passion went on and when he was 16, Paul came over a presentation about a class of algorithms which can learn to solve tasks by themselves. "It was so mind-boggling that I decided to venture into machine learning next. Several online courses and personal projects later, I managed to get on the awesome AI team of one of the fastest growing AI companies."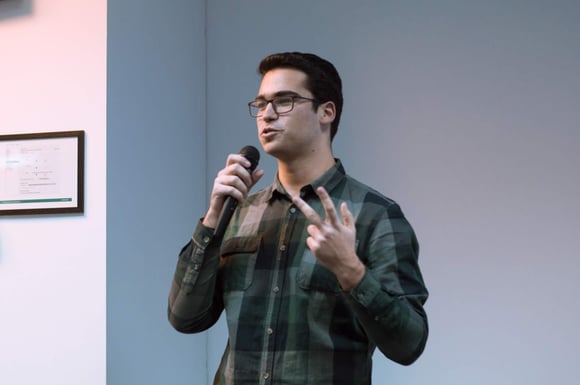 Unlike other interns, Paul only got 7 weeks at UiPath. And the reason why that happened, is that Paul started his first year at the University of Groningen, in Netherlands, earlier than the students from Romania.
When asked about how his days at UiPath were, Paul said that his weeks in the Bucharest office have been quite dynamic; he never quite found himself settling into a routine. "A typical work day would start with a meal at 10 o'clock in the common kitchen and chit-chat with colleagues. For the next three hours, I would improve an AI model, see how it behaves, and probably ping one of my colleagues for some tips. We'd then have lunch with the team outside around 14. After a call or a meeting, I would go on and make some more tweaks on the model, and possibly make a pull request. The day would end with a console game or a drink."
One of the reasons why Paul enjoyed his time at UiPath is the product itself, from both a technical and a social point of view. "At the beginning, I didn't quite understand the real potential of the product, but once you get to see what this technology can do, it blows your mind. You start looking at every task as a possible candidate for automation, and the Accelerate Human Achievement motto eventually starts making sense."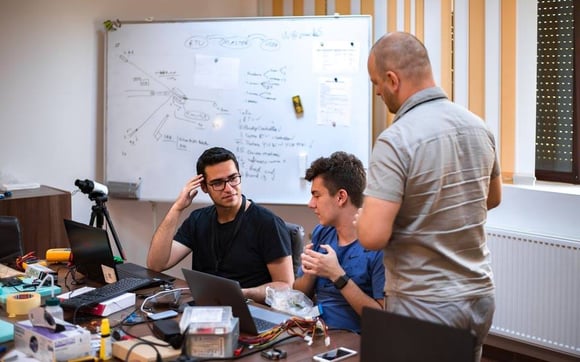 Outside of work, Paul is part of an NGO that develops civic technology solutions in order to address issues in education and infrastructure. They are in the midst of publishing the largest collection of open data about Romanian schools, which will help guide system-wide policy decisions and nurture research in the field. "Fun fact: after going through some trainings at the beginning of the internship, I figured that we could use UiPath Community Edition in order to accelerate the process of aggregating data from institutional reports and web platforms, which we did actually end up doing. The amount of social impact which can be exercised with free technology has always fascinated me."
From a technical standpoint, the project Paul's been working on has been quite straightforward. He had to find and clean data, train models, deploy and integrate them into RPA flows. But it's something else that he found exciting about working at UiPath. "I think the most valuable learning has been to quickly get to work with people I never met before. In a sense, repeatedly getting from a Slack handle to collaborative results has been a task I never quite encountered before," Paul said.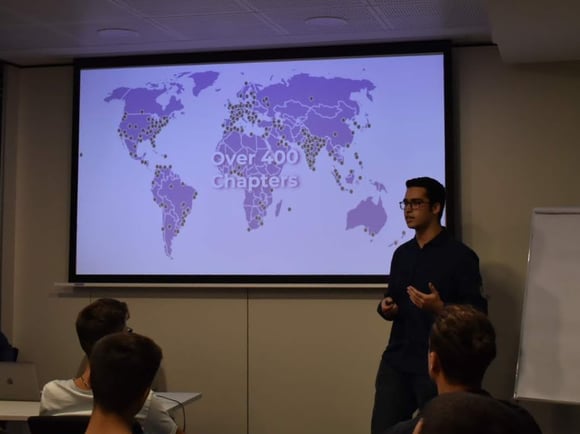 For 7 weeks, he's been working on a project that includes both ML and RPA and in the final days he had to present his solution in front of tens of people who were so eager to listen to an 18-year-old intern. And it was amazing. "Let's imagine you own a store and you sell products to customers. Business is going great," he started, "but you would like to know which particular customers will provide you the most value in the future in order to focus your customer retention and satisfaction efforts there. What I worked on during the last few months was an algorithm which uses the historical transaction data of a customer in order to forecast the future provided value. After several incremental improvements, I reached an order of magnitude boost in performance over the traditional approach and integrated the algorithm in an RPA flow based on the UiPath environment."
Looking back on his internship at UiPath, Paul is very excited about his time spent at UiPath. "The overall experience was quite amazing. I worked on something I find genuinely exciting, together with people I could talk with for hours without getting bored, and surrounded by the best perks I've ever seen, like infinite work from home or great lunch."
---
Looking for a job?
We're hiring for just about everything, all over the world.
---