"I have two little kids and they impacted my decision to come to UiPath. When they ask me about my job, I will be able to say that it is challenging and I am contributing to society."
Yasuhiro Momita is a Pre-Sales Engineer Manager in our Tokyo office. Being a manager of nine is a role that Yasuhiro takes very seriously. "There is a huge difference between being an individual contributor and a manager. Everyone on my team is looking to me so I must exude professional behavior and role model how to engage with the customer. Being in a leadership role, I have a lot of impact and influence both internally and externally and it is an honor to be a manager." Yasuhiro and his team of nine covers multiple industries including manufacturing, communications and the public sector.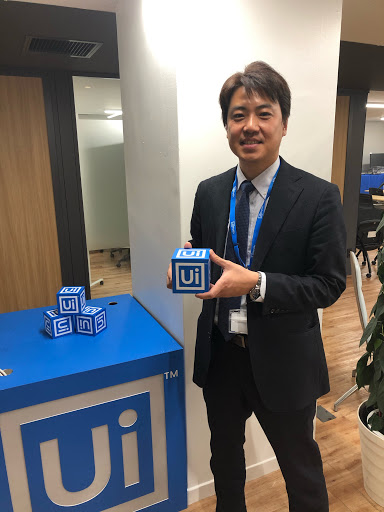 Pre-Sales engineers have a unique role in the overall growth and success of UiPath. Their job is like a sales role however, Pre-Sales engineers have a technical background and can use that knowledge to figure out the customers precise needs and offer recommendations. Recently, the Tokyo office made the decision to fully separate the Pre-Sales and sales department because previously the two departments were hard to distinguish from one another. "Now that we are divided into two specific roles, this has helped to define responsibilities and will allows us to reach our goals and better serve our customers."
As they continue to refine their processes, the Tokyo office is strategizing on how they will accomplish their 2020 goals. "We have done an excellent job with early adoption customers and it has been very successful for the past three years. Our challenge this year is to offer more solutions for our customers and expand within the Japanese market. In the Pre-Sales department, we are good at creating relationships with our customer and this is important as we figure out how to better serve our community."
Our Tokyo office continues to be an example of ambition, community and leadership within our company. That energy is felt within the Tokyo's employees. "This is the perfect role for me right now. I feel that I am contributing to society in Japan and that is the most exciting feeling. I really love that about UiPath."
---
Interested in becoming an UiPather? Check out the available jobs!
---