"Whilst we are finding ourselves working from home during this period, we would love to hear about your ideas for staying connected both with internal colleagues and teams but also with customers. Please share your plans and ideas!"
This is the description message on our Slack channel dedicated to staying connected during these times. It started in the very first days when UiPathers started working from home and it became one of the most popular places people go to share great ideas on how to spend time, how to be productive or how to keep your kids busy.
We all know that slowing the COVID-19 spread is important, so we took all the measures we could to do our part. We also know that this social distancing practice will result in less face-to-face social encounters, potentially raising the risk of loneliness. That's where the wonderful people of UiPath come in. Check out some of the things we do these days to stay connected and keep our culture spirit up.
We do Pilates, HIIT, yoga, and meditation sessions
We now face a new normal: you spend most of your time at your home office, you rarely go out, and you can no longer do your regular activities. All these combined can be bad for your health. That's why you need to keep yourself healthy and try to adapt your days to a somewhat normal schedule.
There are studies that show that when people work from home, they tend to spend most of their time at their office, forgetting to take breaks or just walk around a bit. Adding this to the fact that these days you might not be able to go outside that much, take a walk or a run, you know it can turn very bad for your body.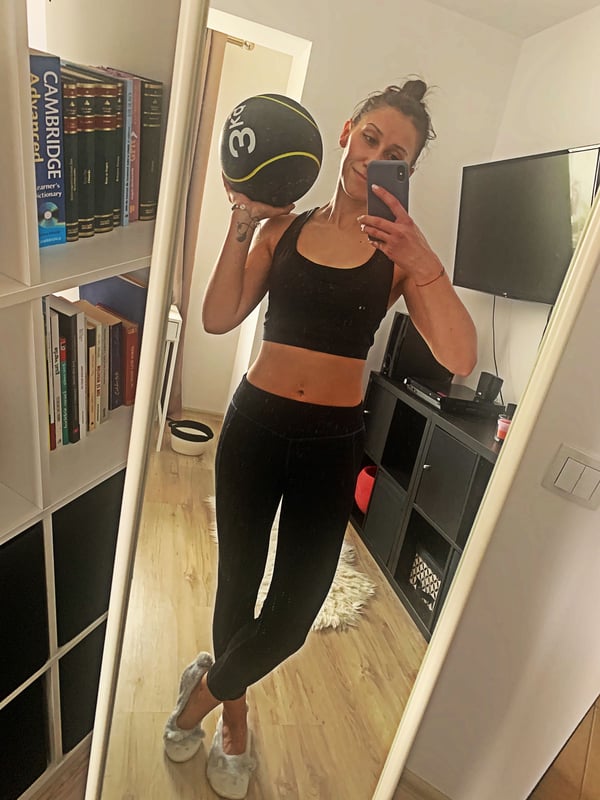 That's why people need to stay healthy. Pilates can help with a better awareness of the body and help you learn breathing techniques. The meditation classes incorporate effective and practical techniques in the daily work and person lives. High-intensity interval training (HIIT) sessions are a combination of strength, conditioning, and intense cardio. Vinyasa Flow Yoga is the most modern style of yoga. During these sessions, people move from one asana to the next in one continuous and graceful fluid movement together with breath.
Each of these virtual sessions happen twice every week and some of them are available for both beginners and advanced. We do them via Zoom, with (almost) everybody keeping their camera on. And the good part is, most of our instructors are also our colleagues 😊.
We organize daily art competition
Things can be a little harder for some of the UiPathers who are also parents. Every day, kids get a new theme and submit their drawings on a dedicated Slack channel. Pets, doctors, robots, or castles are just some of the themes.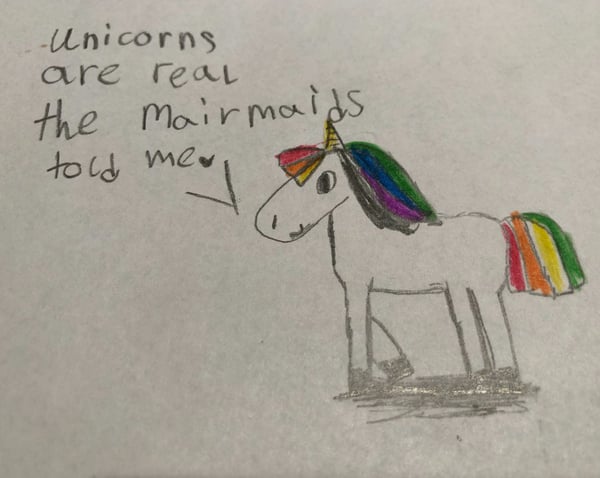 We share all the free courses we find
A lot of universities, including some from the Ivy League universities, offered more free courses these days. You can easily join free online courses from Brown, Columbia, Cornell, Dartmouth, Harvard, Penn, Princeton, and Yale from various domains like business, computer science, personal development, data science, and many more.
We also share a lot of articles on different related topics like managing remote teams, hosting engaging virtual meetings, or productivity hacks when working from home.
We started a photography challenge
Surviving a pandemic can make you feel anxious from time to time. Because "Idle minds are anxiety's playground" one must keep occupied during the quarantine/social distancing phase of the whole ordeal. Photography can help you focus a lot of attention and effort on anything other than the recent tolls of infected. That is why UiPathers created a challenge between the photography lovers inside the company. The winner gets their photos on the UiPath global social media channels. And printed, when better times will come.
We use project management & collaboration tools
Some of the UiPathers are more used to working from the office and that's why project management and remote working tools come in handy these days. Trello, Sococo or Miro are some of the tools people mentioned.
Keeping in touch with your peers and being able to collaborate remotely is incredibly important for us, being a debate first culture. Which brings us to our next initiative.
We have frequent team meetings
Operating from home may help you concentrate on your job in the short term, but it may also make you feel cut off from the office's larger activity. Tools for instant messaging and video conferencing will make checking in with colleagues simple and remind you how your job relates to the big picture. Zoom is the most popular place to meet now for us. Either 1-on-1 or in groups, calls happen a lot more than before. Some are dedicated to a certain task or subject, whereas others are just for socializing. Which is so, so important!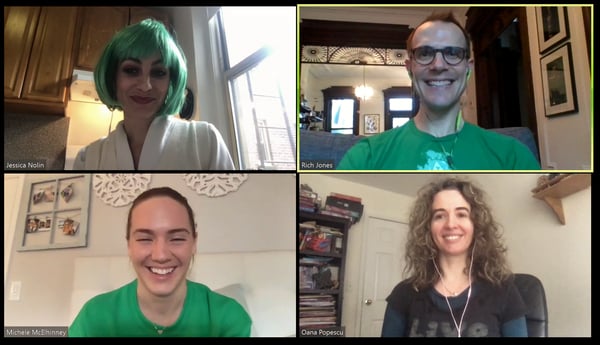 We do regional or global all hands, team meetings at a departmental level. We also have moved all the random hallway conversations online, so we have coffee or lunch breaks via Zoom or even meetings set just for small talking. And sometimes we have unexpected visitors like kids and fur babies who usually have very important things to share.
Other than the stuff mentioned above, people are also sharing movies, music, playlists, tv shows, books, food recipes, and many more. There's a strong sense of community in which people are closer to each other, even though they never physically meet. The new circumstances are new for everyone but going through this together makes it a lot easier. And UiPathers are very connected these days.
---