Matt Middleton, a developer from UiPath's Delivery team, has always been passionate about computers, but his career trajectory had a rocky start. He went into Northwestern University as a Computer Science major, and on the first day of class, realized he wasn't prepared. "I had done a bit of light coding, and was surrounded by people who had built full stack applications already," he says. "I went to office hours after the first day because I had no idea what was going on. I asked the professor something simple, and he told me that if I didn't know that, I couldn't study computer science there."
In light of this disappointing news, Matt transitioned to Economics, setting himself on a path towards a career in finance. He did an internship at Merrill Lynch, but realized that finance wasn't necessarily for him. "It was this long, droning 'what is this charade?'" he says. "I had this realization that if I went into finance, I would do ok, but I wouldn't be driven to read about it all the time."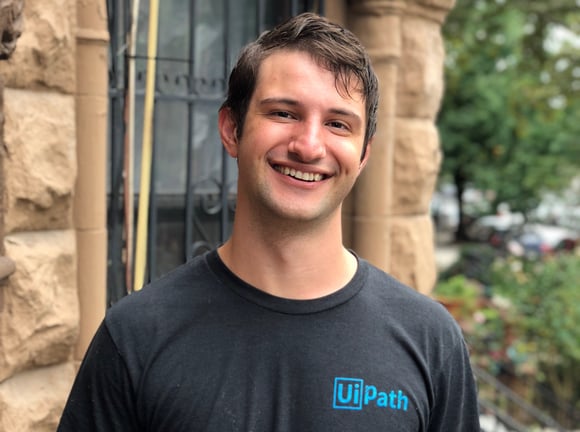 In contrast to that, he was energized by computer science, pursuing it in his free time. He found himself drawn back to web development, learning to code and studying computer science, and after his internship ended, he spent a semester studying abroad in Spain. It was a reset of sorts, and he made a friend that worked in web development.
Matt returned to the US and did a coding bootcamp, and then had the chance to go back to Madrid and work at his friend's company for the summer. His job was to keep things afloat at the company while the majority of the staff was away on vacations. That step sealed his fate, and after the summer, he found himself back in New York looking for a job.
When he interviewed with UiPath, Matt could see instantly that this company was different from the others he was talking to. "They were saying the exact same things to me as the other companies I was interviewing with, but they had this demeanor in the way they talked about the company. They were super humble and answered my questions honestly, instead of trying to sell this golden image. It felt like a place where I'd fit in."
Now, having been at UiPath for ten months, he's found a culture of collaboration that stands in stark contrast to the "alpha" culture he saw during his brief tryst with finance. "I feel plugged into this hivemind," he says, "surrounded by intelligent people who help me every step of the way. As long as you're chasing something, people here will lift you to where you need to be." He's found what he describes as "every developer's dream"—a role where he's given free reign to observe what UiPath's clients want and need, and then design solutions to those problems as he sees fit. "You do good work, and you just let your passion figure out the holes in what we're offering. The company recognizes that, and they give us a lot of responsibility and trust."
When asked to speculate on the future, Matt sees RPA technology and AI drastically changing the workplace over the next five to ten years, and is hungry to see how his work will shape those changes. "That's the coolest thing about UiPath—it's this new company in this new industry, so if you're ambitious and you're connected to the company, the world is your oyster. There's so many different things you can do."
---
Looking for a job?
We're hiring for just about everything, all over the world.
---