This series will give you the opportunity to get to know some of the Leaders at UiPath. They are the ones who carry a lot of extra responsibilities on top of overseeing projects and processes. They make sure to hire the right people for their teams. They act like coaches and they support you to become the best version of yourself.
We have some talented colleagues in UiPath. They are passionate, they are resourceful, and they are willing to create something that is never done.
We are happy to introduce Manish Bharti. He has been with UiPath since November 2016 and he says that this has been an exciting journey for him so far. At the time he joined UiPath, the company had almost 40 employees globally and he was the first sales guy in India. He remembers his interview with Daniel, back in July 2016. It was supposed to last one hour, but by the time they finished it was already past midnight. 😊
Tell us a bit about your career journey so far. How did you get to where you are today?
It has been more than 22 years now since I started my career in the tech industry. Most of my experience has been international. I have worked in the US and APAC, and a bit of EMEA as well, but most of it was in the US.
I started my career as a Developer using the IBM stack, then I learned other technologies such as Java and jQuery. I spent quite a few years in different roles, growing from Developer to Architect and to leading teams. I also worked on some exciting projects, especially one which was with United Airlines. It was a complex project covering just about everything you see in an airport. The United Airlines was at that time, the first airline ever to introduce the voice check-in and the interactive check-in functionalities.
After this, I changed my role to Consulting, working a lot on enterprise integration platforms. I've been working as a Consultant in the US with big companies like DHL Cardinal, Cardinal Health or USPS. This role gave me a lot of customer insights. It helped me get better at talking to the end users and customers especially in the US. It also made me gain more confidence in myself and in what I was doing.
After these years in the US, I decided to return to India to join a US based start-up, which was trying to setup its operations in India. They hired me as an APAC and India CEO, a role in which I spent almost 7 years and a half. It was quite a long journey. This was happening in 2007 and I left this company in 2014, when I realized that I needed a change.
I then started a job with Automation Anywhere in the US, and they moved me in Bangalore to lead the APAC and India Professional Services organization. I had this role for almost 1 year and a half. It was a good opportunity for me to learn more about the automation and AI industry.
In 2016 I decided to become part of UiPath. It has been almost 6 years since I joined this industry, and I am happy that I had the opportunity to see some of the early large-scale implementations and see the evolution of the RPA sector.
What made you choose UiPath out of all the other tech companies out there?
When I first started in this industry, it was with Automation Anywhere (AA). For the first months it has been very hard for me to digest all the new information. I was coming from a mainstream technology background and I always felt that this is just like building a macro and attaching a glorified UI to it. But after meeting so many customers, especially on the B2B side and some of the end users, I realized that this technology has a lot of potential as it gets deployed quickly. You don't have to spend six or eight months to automate a process. By the time I left AA, I truly believed in this technology and I knew this is the future.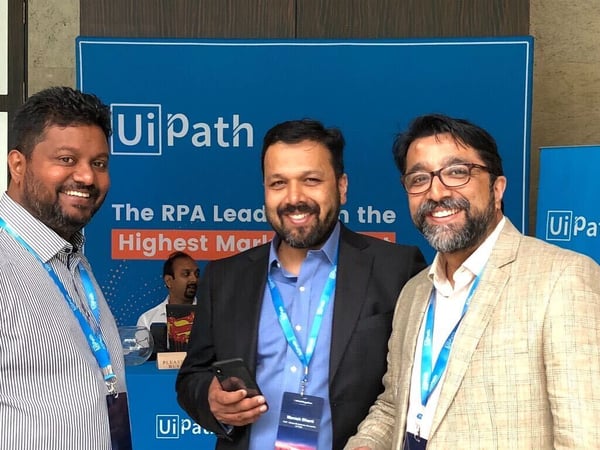 Then I met Daniel and some of UiPath's investors and I realized this company would be a good place for me. There was a big cultural alignment with all the people I met during my interviewing process. I felt that this is the company where I should be, and Daniel gave me a lot of confidence. The culture and Daniel himself inspired me to join UiPath.
What was one of the most important turning points of your career? What did you learn from that experience?
There were a couple of turning points, but I think one of them was switching from a developer mindset to a consulting mindset. I am thankful to God that I had some good opportunities from a very early age and some great people who surrounded me all the time.
The last major turning point for me was meeting Daniel, years ago.
Knowing what you know now as an experienced professional, if you could give the "early career you" a piece of advice, what would it be?
The way I look at my two decades of experience, I could say that competency is the first thing that you need to build. To know what you need to do and be thorough with it. You need to have the expertise and you need to think that you are going to be the best at what you do.
I also believe that planning your career path early on in life is extremely important. And that having great people around you can help you a lot.
So, this is what I would say to a younger me? Build competency, take the right decisions, keep the right people around and have a mentor to guide you.
How would you describe your team? Think of people, projects, mission, anything that somebody looking to join your team should know.
This industry is growing at super-fast speed. For me these last 4 years felt more like 20 years of work. I was the first Sales guy in India, and we were only six or seven of us in the world when I joined UiPath. We were all working at a very fast pace to sell everywhere and build our territory from scratch. There was no day or night for us, and we knew that this was how we could build our ecosystem.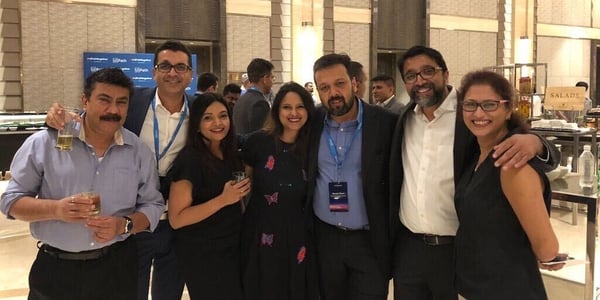 All our Go to Market (GTM) teams work very hard and there is no barrier in communication — anybody can talk to anybody, we all work as a team. I personally do not believe in hierarchy and I like to have an open-door policy. I focus on fostering an open and unbiased environment where everybody can share their thoughts.
I do believe that you do not need to have a sales background to be a great salesperson. If you have all the skills and you like meeting with customers, you like to discover their needs, and you are communicative, collaborative and hardworking, then you might be the person I need in my team. 😊
What's your team's main goal?
Our GTM team includes the Customer Success, Pre-Sales and Professional Services teams. And of course, we partner with the Product and Engineering team. Our main purpose is to make sure that we deliver on our agreed numbers. While we deliver our numbers, we need to make sure that customers are happy. I think these are the two primary goals we have.
How would you describe the connection between our values and vision with the market and clients/customers?
I think our values are fundamental. They connect all the dots.
Our sales process does not end after selling the licenses, the journey goes on afterwards and is guided by our values. That is what our team does. If you think of our Customer Success and Pre-Sales teams their whole intent is to drive the adoption of our platform and support the customer. We want to make sure that our customer is happy with the acquisition of our product. That is why we build our Professional Services team.
We are humble, supportive and listen to our customers' or partners' needs and be fast to act upon them.
---
Looking for a job? Check out the available jobs around the world!
---