This series will give you the opportunity to get to know some of the Leaders at UiPath. They are the ones who carry a lot of extra responsibilities on top of overseeing projects and processes. They make sure to hire the right people for their teams. They act like coaches and they support you to become the best version of yourself.
We have some talented colleagues in UiPath. They are passionate, they are resourceful, and they are willing to create something that has never been done.
We are happy to introduce Murli Mohan. He has been with UiPath for more than two years now. His experience with UiPath is refreshing. Compared to other companies he's been with, this is a place where there's a lot more autonomy, more encouragement to try something new and to make an impact. For Murli this is an opportunity to make an impact in our customer organization.
Nothing is more fulfilling than to be able to say that he can change the lives of our customers for the better.
Tell us a bit about your career journey so far.
My career journey started about 25 years ago, in the early 90's. I had different roles and companies like IBM, Quest Software or Dell Software. Most of my career I've been a General Manager in the software domain. I've had the privilege of working for a good bunch of leaders who have, in a way, shaped my individual leadership styles. For 11 years I've been with IBM, managing Software, Operations, Marketing, Sales and Brand. Then, I moved to Dell Software as a Managing Director and spent here about five years of my career journey in India. At some point Dell Software was acquired by Quest Software and I remained in the same role for another one year and a half. During my time at Quest Software, I got a call from UiPath and here I am, 2 years and a half, still writing history as a VP and Head of India Domestic Sales.
Who has had a tremendous impact on you as a leader? Maybe someone who has been a mentor to you? Why and how did this person impact your life?
It's been a long journey but if I look back and outside my corporate life, I need to mention my 6th grade teacher. She is now the Principle of a college which used to be a school in Mumbai, India. We keep in touch and she knows everything that I'm doing. I can say that she influenced me back in the time, when I was just a teenager and helped me in different situations then.
Once I got into corporate life, I had the chance to work with great companies and great leaders and I got a nugget from some of them. I will tell you a short story about a situation that happened in IBM.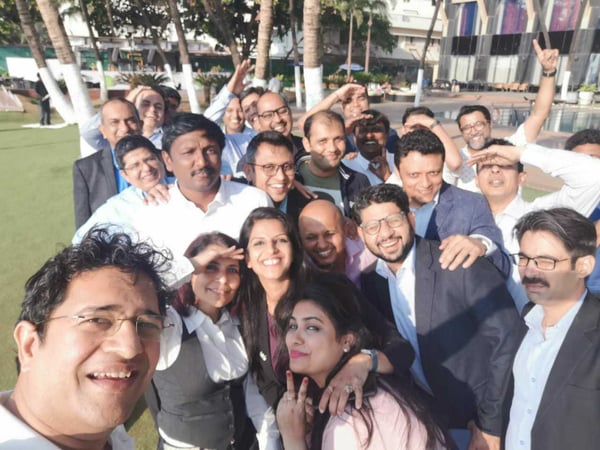 I was in the financial sector, as a Software Account Manager and I was taking care of the Reserve Bank of India. It was 3 a.m. and I was sitting at my desk in our Mumbai office, trying to figure out a difficult situation I had. I picked up the phone and called my boss. He was a Croatian guy, based in our Bangalore offices. He picks up the phone and I start to tell him about the situation I have and that I am a bit stressed and don't know what to do. What he said next gave me so much energy that I felt I could solve anything. All he said was 'If you are up there at 3 in the morning, trying to service our customers, I have no right to be sleeping right now. You now need to step aside, you've done all the right things. I think you should just take a little break and go home. I will make sure to get one of the other guys and get this to the finish line.' This whole notion of empathy that I saw from my boss, it's something that I will carry with me for the rest of my career.
Like I said in the beginning, I've had this kind of experience with great leaders in many organizations. I learned about humility from a lot of them, about integrity and having a skin in the game, and about working along with your team, rather than just giving instructions.
What was one of the most important turning points of your career? What did you learn from that experience?
I remember I had an opportunity to move to Middle East. It was a professional opportunity, and I reviewed it and said no. Some of my colleagues took the chance and moved. I decided to stay because I realized that the value that I have inculcated and the skills that I developed over the time are more suited in India, for Indian customers. I had two more similar opportunities, to move either to Dubai or to Canada, but I refused again because I'm an enthusiast for taking on tasks that others refuse. For me, having an impact is more important than just doing a job for a while and then moving on just to be able to check that another box.
I believe that after you become more experienced, having an impact becomes more important than what your compensation shows at the end of the day.
What made you choose UiPath out of all the other tech companies out there?
I was the MD of one of the top 20 software companies in India. It's easier when recruiting calls find you in a place where you feel the need for a change. It gets tougher when what's going on is relatively ok, which was my case. It took me four months to decide whether I want to join UiPath or not. I had so many questions and everyone I interacted with, from recruiter to hiring manager, were so genuine and generous enough to accommodate all the queries that I had. The turning point in my decision was when I was asked to fly in Bangalore for a big conference. That was also when I had my discussion with Daniel. I was expecting a business talk about revenue, customers, and all of that. But it was all about the culture and how I would fit. For me, that 30-minute discussion with Daniel was the last nudge I needed to accept the job.
Knowing what you know now as an experienced professional, if you could give "early career you" a piece of advice, what would it be?
As a matter of principle, you shouldn't try to over correct your past. Some of those bad decisions might shape your future. Don't think too much of how things could have gone differently. You learned something from those experiences and that is valuable.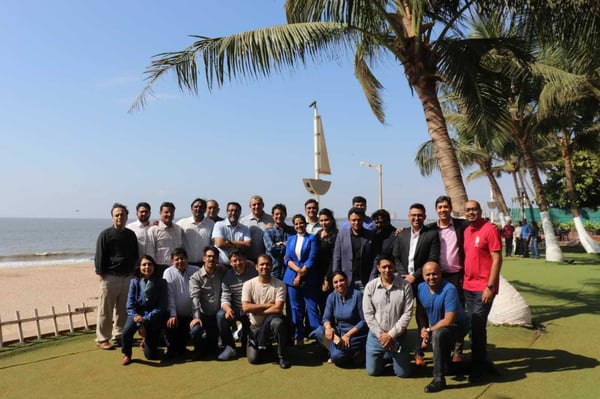 If I were to pick the one thing that I should have done more consciously and better is to build your networking capabilities early. This is my advice to all the teams that I work with, and the students that I speak to on a regular basis. Your network is the one that carries you forward, apart from your achievements on your job. Networking is a must have if you want to become a leader and it takes an effort. It doesn't happen automatically.
How would you describe your team? Think of people, projects, mission, anything that somebody looking to join your team should know.
There are two main teams I lead in my role. One is handling direct selling, connecting with enterprises and selling directly. Explaining our product value proposition to partners. The other is taking care of indirect selling, which means they help build the ecosystem, so that we get more reach and coverage in India. So, anybody who is looking to start their sales career, needs to decide whether they'd like to be in a more relationship and customer-oriented role or a partner facing one.
The average experience in our team is around 14 years. We have a very diverse range of people across these two teams. They're all young people who have a common goal and with a great sense of humor. We laugh a lot, and we enjoy each other's success. So, having a great attitude and a hunger to make a difference in the market are the two fundamental qualifications. If you qualify, let's talk. 😊
Tell us about some of the customer wins you are most proud of?
Here in India we were a new company and RPA was new for the market. I remember the first time we sold an Orchestrator, our first unattended automation sale, the first sale in Sri Lanka or the first sale through a distributor in India when we set up the distribution. For me all those firsts are milestones. It's like that little moment in history that nobody can take away from us.
Rather than saying 'I close a million-dollar deal', these kinds of milestones are the ones that I find very special. These are the wins each person in our team takes a lot of pride in. Being the first in achieving something. Right now, we're competing to see who will make the first Process Mining sale in India.
---