You might have noticed that every November some of the men around you are growing mustaches for the entire month. This is a symbolic gesture to raise awareness around men's health issues. The event is run by the Movember Foundation. Their goal is to change the face of men's health.
The facts are scary. Men die younger than women do. They have higher death rates for almost all of the leading causes of death and at all ages. They often adopt lifestyles which are responsible for many chronic diseases. And they present themselves later to health services, which often leads to several problems becoming untreatable.
Francis Donohue is based in Dublin and works in Customer Success at UiPath. He's been with UiPath for over two years now, and together with a group of wonderful UiPathers from UK decided to create a challenge for our employees, customers, partners, and men in general.
Francis talked about the scary facts and the state of men's health during the UK and Ireland weekly meeting. "A high percentage of people in the general population will either have had direct experience or know somebody who has had direct experience where there's either been a physical or a mental health issue. Very often, people avoid seeing their doctor and sometimes it is too late. Other times, the outcome would have been better if it was diagnosed sooner. And men are stubborn. Men tend to ignore physical and mental issues."
The team's plan is to raise awareness around men's health by challenging people to run or hike or walk 60 kilometers during November. They picked 60 for the men who lose their lives to suicide every hour across the world.
Arif Khan, Senior Customer Success Manager is one of the first to join the team. "I was shocked to hear that a man dies of suicide every 60 seconds. I wanted to support the work done by the Movember Foundation to try and tackle this, and other issues, affecting men's health and wellbeing. I was pleased to know there were other ways of raising money outside of growing a moustache and signed up for the 60km challenge. This helps with staying fit as I continue to work from home, and raise money for a great cause at the same time – what is not to like about that?"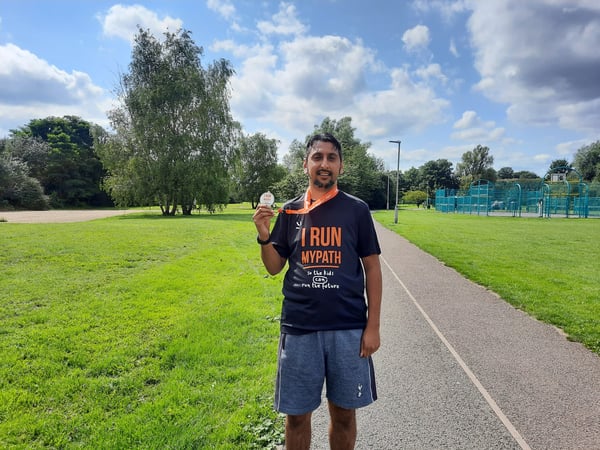 Roxana Dascalu, who's also part of the Sales team in UK and Ireland, has joined the team, too. "I joined the UiPath Movember team because I discovered a cruel reality of our world today - a man puts an end to his own heartbeat every single minute of every day. This is a topic that doesn't just impact men, but also their families and friends. I care about this movement deeply and at UiPath I will play my part in improving the wellbeing of those I care about."
What can you do to support their cause? Join the UiPath Movember team. If you're willing to contribute UiPath Movember, here's a link to the cause. Use our office address if you are outside the UK - 4th Floor, Spaces, 79 New Cavendish St, London W1W 6XB, UK.
And most importantly, take care of the men around you.
---