When Tejus Venkatesh joined UiPath in 2016, we didn't have an office in India yet. He was interviewed in a hotel in Bengaluru, and although we had little to no local presence at the time, he saw the product's potential and decided to sign on.
When he accepted the job offer, the company asked where in the city he would like the office to be. India's tech space is dominated by large IT outsourcing firms with rigid corporate structures, so the fact that UiPath immediately wanted Tejus' input on something so important felt like a breath of fresh air. He was 25 years old, and had been working in RPA for almost four years, since before the term had been coined.
Before long, he and a few others were set up in a tight coworking space with four seats. Tejus began delivering online trainings for customers, since he had some RPA experience, and it quickly became clear that they would need a bigger office. Quarters were so cramped that his colleagues couldn't take calls while he delivered trainings, as it was impossible to talk over each other.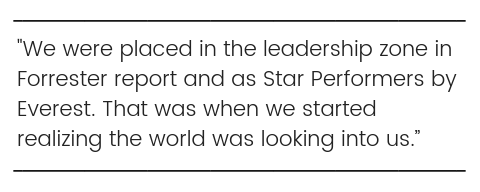 The company grew fast, and part of Tejus' role, along with the other early employees, became the preservation of UiPath's culture. "We were very conscious about hiring people who understood the value of open culture," he says. "You can't expect a person who has worked for a large, hierarchical company for 15 years to change immediately, but we looked for the quality of wanting change, being ready to embrace it."
They were careful and strategic, taking candidates through a lengthy hiring process that balanced technical qualifications with cultural fit. It was easier than expected to find people who were energetic and interested in a more democratic style of work, and the team grew from four people to twenty and then thirty.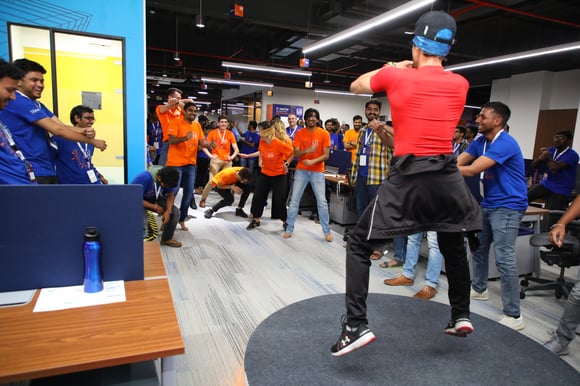 There were celebrations as they started landing deals with major clients, but the real clue that UiPath would succeed, according to Tejus, was "when we started to appear in research reports. We were placed in the leadership zone in Forrester report and as Star Performers by Everest. That was when we started realizing the world was looking into us."
A bottom-up approach kept the company from becoming bloated, and as the product grew in popularity, we were able to hire for increasingly specialized roles. Fast forward to today, and there are over 200 UiPath employees in a powerhouse office at the center of Bengaluru, not to mention several offices in other cities around India.
Unlike many people who live there, Tejus grew up in Bengaluru, and talks about the city with the fondness of a proud native. He went to school locally for computer science and graduated early. Some Indian universities allow companies to poach their students, and it's common to be placed in a role at a large firm before even graduating.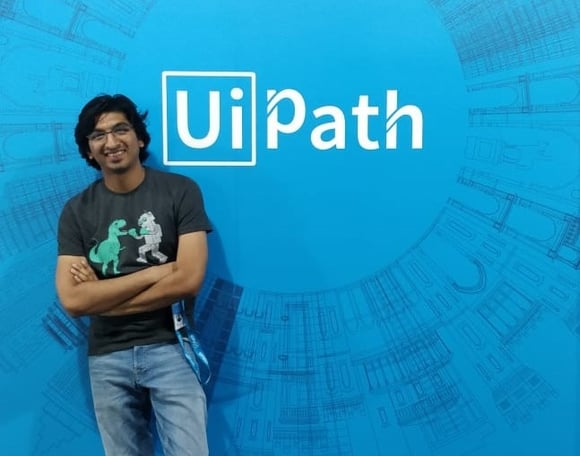 This was the case for Tejus, but he decided to pass on his original placement at one of India's largest IT service companies, as he was more interested in a smaller, product-oriented organization. He took a few months off, wrote and published a book of poetry, and then began his job search in earnest.
At the time, he probably wouldn't have guessed that six years later, he would become a key component in growing a company like UiPath into the unicorn it is today. Now, one of the biggest challenges he sees is how to maintain a culture of openness in the face of growing specialization of roles.
"I cannot be the same person I was two years ago," he says, "deciding everything, wearing multiple hats. Now it is better to specialize in a particular piece, and then you have experts in each area that carry out the day-to-day activities. However, we shouldn't put up a rigid wall—we should still be open enough, irrespective of team, to keep challenging each other and giving feedback to each other."
---
Looking for a job?
We're hiring for just about everything, all over the world.
---