There are a lot of things we could say about working at UiPath. You could hear UiPathers talk about our culture and values and how they are not just words on a wall for us. You could learn about our story and how we are still finding inspiration in those first years of work. You could also hear us talk about the impact our work has. And maybe about how exciting it is to work in a global environment.
The essence is that working at UiPath feels just different. We strive every day to improve our work environment, so that our colleagues can become the best versions of themselves. That's why we are always humbled to be recognized for our efforts.
This October Comparably awarded UiPath in three categories: "Companies where employees feel happy and fulfilled", "Best-paying companies" and "Best companies for perks and benefits".
"My dream was to build a company that I'd love to work for. My belief is that our workplace should be our playground, and we have made concerted efforts to ensure that UiPath is a place where employees feel inspired, engaged, and happy." says Daniel Dines, CEO.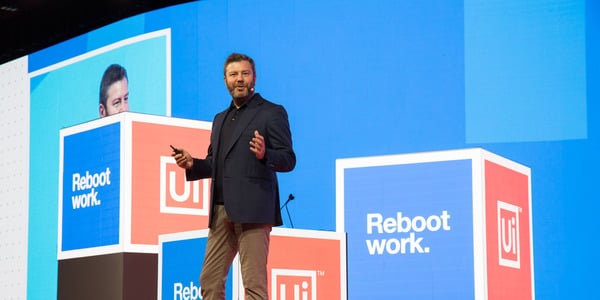 We're still building on that vision of making this company a playground for our employees. We believe in listening to everybody's voice "We don't have an overly hierarchical management mindset. Everyone is encouraged to share the good and bad, question decisions, and push the company and the market forward". And we do our best to let our culture guide us in all we do. We are humble, bold, immersed, and fast.
Many people today are motivated by an interest in meaningful work, not just economic rewards. At UiPath we feel our work has impact. And the best part is that through what we do, we help other people experience meaningful work too! We help them do more, learn more and have more fulfilling careers. We give them back some of their precious time, allowing them enough space to be creative and efficient.
"The difference I see here is to most people, UiPath is part of their real life—they love the people, they love working here, and what they're doing is making an impact. I had never really loved my job until I came here." says Feiran Hao, Senior Director Strategy and Operations
Accelerating human achievement by shaping the future of work is why we get out of bed every morning. It's what drives us. "I love the vision of UiPath and the solution we can offer to customers. But the most important factors in my decision to join were the people, the culture, and the leaders. All these make UiPath the best place to work for. On top of that, at UiPath our work has an impact: it changes the way people will work in the future." adds Ofer Rahum, Country Manager Israel
Our Benefits team makes sure we have all we need to be able to take care of our physical and mental health. Before the pandemic, we all had access to an employee assistance program through a company which provides access to counselors, therapists, and help with childcare. This became even more helpful in the context of COVID—19.
"The whole world changed in March and we had to quickly adapt to better support employees through this difficult time. When COVID-19 hit, it became much harder to disconnect and find time for your own wellbeing. We added a wellness learning series along with new app-based benefits for mental and physical health to help meet employees' new and changing needs." says Alyssa Perlman, Senior Global Benefits Manager
For example, as we couldn't go to the gym anymore, we had online yoga or HIIT classes and different offline challenges to nudge our colleagues into being more active and mindful. And now we just gave all our employees free access to the meditation app Headspace and to a fitness service app called Aaptiv.
We are grateful that Comparably offered us this recognition and we promise we'll continue to challenge ourselves to get better and better.
Before you go, here's a message from our colleague, Kruthika Ravi, Data Scientist and Engineer—"If you want an opportunity to learn everything in the space that you want to work in, this is the place for it. You get to pick your own battles here. The products are big, and your ideas and solutions will be too—you get to be involved in the development phase. You're just going to be pushed ahead with the wave, you know?"
---