'With our technical knowledge and compassion for volunteering, we all have an opportunity to make a real impact during this worldwide time of need. We started UiPath Unite to rally UiPathers worldwide to help' Bobby Patrick, CMO at UiPath.
UiPath reacted quickly when the crisis began. Some of our customers had to respond to drastically changing demands due to COVID-19. Here are some examples of customers who turned to automation in this new context. Apart from supporting our clients, there was something else that the UiPath team started doing.
It's in our nature to feel good after helping someone out. It can also help us gain valuable new skills and experiences and boost our confidence. And this can be confirmed by the many volunteers at UiPath who joined different causes in their communities during this crisis.
We called it UiPath Unite. And here are just some examples of what UiPathers did.
"Along with four friends from my Business school, we decided to start this initiative after a simple phone call, within 2-3 days since the beginning of this crisis in India", Rajesh Kumar, VP & Head of Marketing India. They put together bots that helped tracking quarantine information, building dashboards, managing health equipment distribution and patient testing workflow, leveraging technology from companies that made it available for free.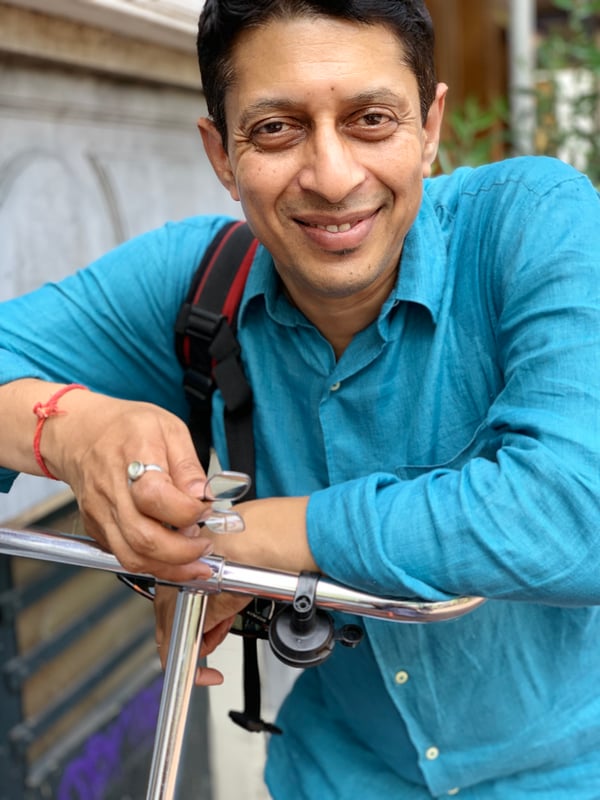 When asked why he started this initiative, Rajesh mentioned they all understood the size of the crisis and realized that management expertise and digital technologies can help ease the tremendous pressure it will put on all systems. "I was fortunate that UiPath wholeheartedly encouraged all its employees to step up. I have been contributing about 2 hours on weekdays and 3-4 hours on weekends for the last one month."
Driven by the same belief that technology will help us win this fight, some other UiPathers, from all around the world, joined the efforts of Folding@home. Their mission is to simulate the folding of proteins with their CPUs and GPUs along with the 1 million active devices worldwide crunching the data that will pave the way to new medications (including against SARS-COV-2). Our team started small and grew organically as the weeks passed. Now our team ranks 1187 out of over 252K other teams globally.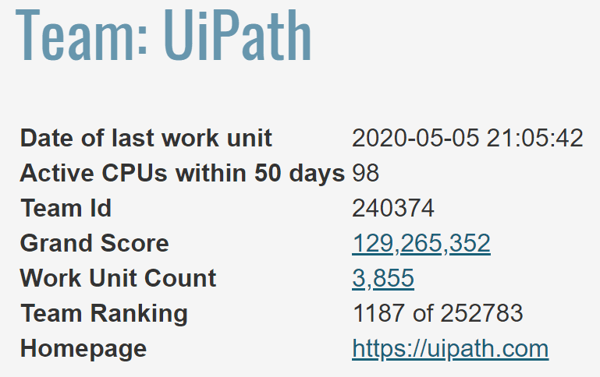 Another example from India is Amit Bhangde and his incredible work with an NGO called Maheshwari Welfare Foundation. He's been a volunteer for more than two years now, and some of his work involved blood donation camps, tree plantation, or access to education for the remote villages' kids. "In recent times, we are working tirelessly to distribute food packets in and around Kharghar and nearby areas of Mumbai. This is an ongoing exercise and until now we have distributed meals to over 2500 families", he says. They even created 200 masks for police & medical personnel. Just like most of our volunteers, Amit is proud of his work. "I feel like we can make a difference in our society."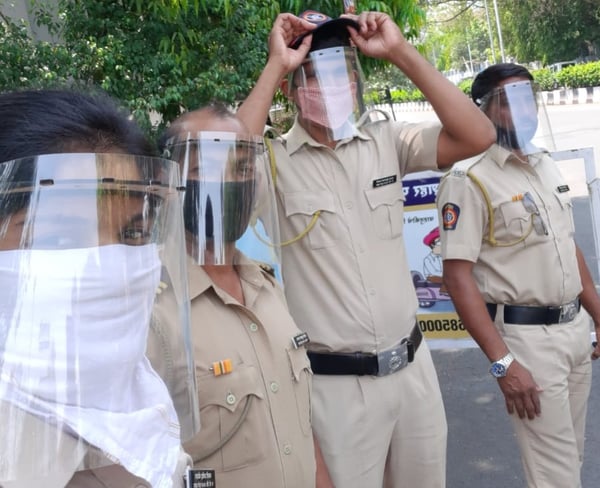 But there was some volunteering done for colleagues as well. Yoga was one of the creative ways to help people at UiPath keep their mental and physical health. Raluca Ene, one of the UiPathers based in Bucharest started yoga sessions for her colleagues. "My idea was quick and straightforward - yoga is a big part of my life right now & I am more than excited to be able to share it with my UiPath community, especially during these uncertain and maybe scary times," she says.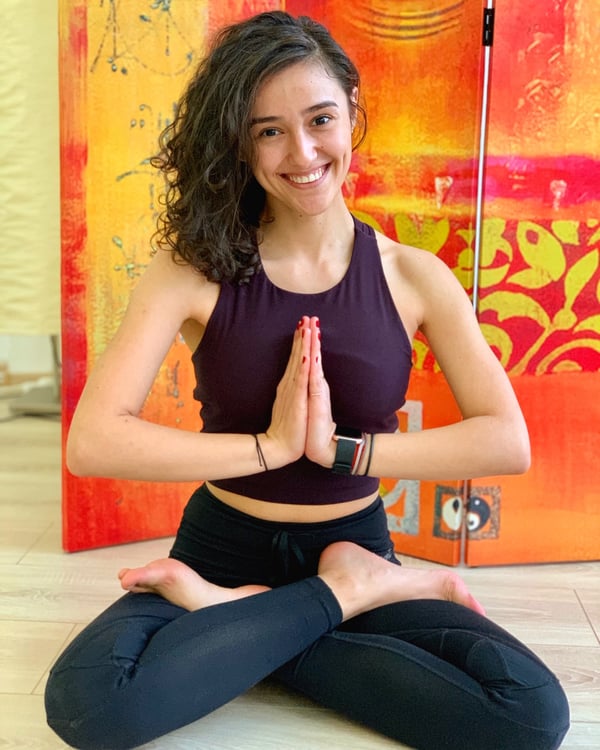 There is no doubt that parents of young children take the brunt of it while they keep the balance between the needs of their little ones and the job tasks that seem more pressing and accelerated amid the crisis. With that in mind, the EMEA Customer Success team in partnership with the UiPath Learning Team has initiated the Academy Live Kids Edition, targeted at the youngest of UiPathers across the world – employees' children between the age of 7 to 14.
Some of our colleagues in Lviv helped the social services' hotline of the city with the automation of their processes like submitting new requests of those in need of new volunteers and sponsors willing to help, or monitoring duplicate requests, saving a lot of precious time. Others in Singapore assisted their church to pack and distribute necessary kits (mask, hand sanitizers) to needy people & hang hand sanitizers in apartment lifts for public use. Some created activities for their children and other children, helping parents have more quiet time to work. Others donated blood.
There's a very large list of nice things that UiPathers did. Their response to the global crisis was fast. They were immersed. They were humble. They were bold. And we want to give them a big "Thank you!" for everything they've done. #uipath-unite
---