---
Our COO, Guy Kirkwood, will give a speech on RPA's future-proof extensibility and its beyond doubt competitive advantages at the Digital Transformation Europe 2017, on 8th and 9th of June.
This edition of the event aims to look over the re-invention of products, processes, technologies and cultures through digital transformation. With today's technology enterprises can easily increase efficiency and agility while creating a customer oriented experience to grow revenues.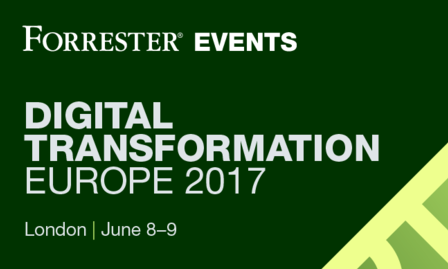 The Digital Transformation 2017 event will showcase a series of success stories focused on the most common issues that affect businesses today. Discussions will touch subjects like: how to achieve customer satisfaction, choosing the right business model, preparing your team for the digital transformation, picking the right tool and creating the best future strategy roadmap.
"Success in Digital Transformation is not about strengthening or bettering your company, but exposing new business opportunities and opportunities for growth."
Here are the agenda highlights:
June 8
The Future Won't Wait - Reinvent The Rules Of Business: Digital Transformation Now
Speed Is The Key - Customer-Obsession Is Not Just Marketers' Turf
From Plan to Action - The Hard Realities Behind Your Customer Experience Dreams
Deep Dives - Transform Digital Engagement With Insights / Opportunities For New Data-Driven Products And Services / Reap The Benefits Of AI Without Paying The Price
Implementing A Digital Vision At The London School of Hygiene & Tropical Medicine / Cognitive Search And Analytics: Infinite Possibilities Of Extracting Value From Data
Deep Dives - Rewiring For Fast Marketing / Adopt IoT For Efficiency — Keep It To Transform Your Business / Build The Right Digital Platforms
Key Digital Technology To Power Transformation - The Rise - And Risk - Of Magical Thinking In Emerging Tech
June 9
From Vision to Operational Reality - Digital Transformation: No Alternative For The Automotive Industry! / Understand Customers' Privacy Preferences To Win Their Trust / How Artificial Intelligence Is Refashioning The Retail Industry / AI is the next big thing. Will you disrupt or be disrupted?
Deep Dives - Use Mobile As The Connective Tissue Between Your Online And Offline Customer Journeys / The Power Of Trust: Leverage Security And Privacy To Thrive / Financial Services Customers Are Ready For Personalization
Everyone Needs Friends - Measuring Business Outcomes In A World Of Digital Transformation / From Feature-Selling To Value-Delivery
---