NIIT Technologies has partenered with UiPath under their newest initiative to launch intelligent automation as part of their digital services. Through this partnership,

NIIT is positioned to offer best in class business solutions for its clients at global level.



---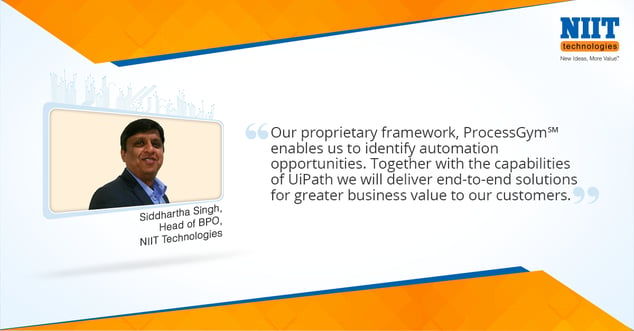 "Our proprietary framework, ProcessGymSM enables us to identify automation opportunities. Together with the capabilities of UiPath we will deliver end-to-end solutions for greater business value to our customers," said Siddhartha Singh, Head of BPO, NIIT Technologies.
For Daniel Dines, CEO & Founder at UiPath, NIIT Technologies' commitment to excellence in digital services has established them as an innovative leader and UiPath is pleased to have them as a strategic partner.
"NIIT Technologies is an integral part of our plans for continued global expansion and we look forward to continued mutual success." said Daniel.
---