By implementing the UiPath Enterprise RPA Platform, Clariant has been able to save time, money, and materials in its invoice and shipping processes.
Almost 50% of invoice processing in Clariant's pilot region is now automatic and a more efficient shipping process has eliminated 40,000 printouts per quarter.
Clariant is a focused and innovative specialty chemical company based in Muttenz, near Basel/Switzerland which operates in 53 countries across the globe. In the financial year 2018, Clariant recorded sales of CHF 6.623 billion for its continuing businesses. The company reports in four business areas: Care Chemicals, Catalysis, Natural Resources, and Plastics & Coatings. Global Business Services (GBS) is an internal organization within Clariant and consists of a growing team (currently more than 800 employees) based all over the globe. Global Business Services was established to accelerate the creation of value in services. Every day, the Global Business Services team focuses on improving the efficiency and effectiveness of end-to-end processes, supporting Clariant's local organizations by delivering end-to-end processes at a competitive cost to agreed service levels and ensuring compliance. Global Business Services operates Shared Services Centers (SSC) in Lodz (Poland), Mumbai(India), and (in partnership with service provider Accenture) Dalian(China) as well as local service desks across operations globally.
The scale and scope of its operations leads to intricate supply chains that entail a huge number of vendors and complex logistics. Companies at this scale depend on accurate data and rapid communication. Small errors and delays accumulate, costing significant time and energy. Clariant manually processed invoices and shipping documentation, which made these errors easy to make and hard to catch.
Clariant had been looking for ways to streamline and digitize its invoice handling process and logistics management process. The company saw an opportunity in robotic process automation (RPA).
Vendor invoices to accounts payable could be in images, PDFs, or—depending on the vendor—hastily handwritten pages. Employees in Clariant's Global Business Services Center extracted and double-checked relevant data, but it was expensive and labor-intensive. Communicating about shipments was similarly slow, and manually pushing updates created costly delays.
With the UiPath Platform, Clariant has been able to save time, money, and materials, all while ensuring accurate records. Based on this success, Clariant will expand RPA-based operations to other regions and sectors, scaling efficiency throughout the organization.
Reducing the manual labor in data processing
When companies are as large as Clariant, different vendors and regions create complex invoice systems. Furthermore, invoices need to be as accurate as possible, so manual processing is resource-intensive, requiring employees to carefully input, match, and check data.
Clariant's Global Business Service Center supports around 52 business units in accounts payable function with a volume of greater 800,000 invoices. The process is mainly a manual one, involving around 80 Clariant employees.
Every time an employee entered invoice information into SAP, they had to first pore over PDFs, images, or physical documents. Images and PDFs required optical recognition software and materials needed scanning. Employees typically extracted about a dozen fields per invoice, which included company name, company code, amount, rate, quantity, and type of invoice.
Once extracted and input into SAP, employees compared this data with the purchase order to check that the information matched. They also checked legal requirements that vary from country to country and tax codes that vary depending on shipment origin, destination, and material.
This process was strenuous and required careful, tiresome work. The nature of manual labor meant despite the employees' effort, errors were likely to occur.
Automating invoice posting with UiPath Robots
As a global manufacturer, shipper, and processor, Clariant depends on a multitude of vendors. Each vendor adds unique complexities to the invoice process, including different languages and tax codes.
Clariant selected a region that covered Germany, Australia, Switzerland, and Belgium for its initial RPA pilot.
In most cases, the UiPath Platform now automates all the previous steps after the initial documents are scanned or digitized. Employees do not have to enter invoice information because UiPath Robots automatically extract and input the relevant fields.
Almost 50% of invoice processing in Clariant's pilot region is now automatic, with an 80% success rate.
Employees enter at specific points to complete more complex invoices that require human levels of judgment.
Invoice automation has been so successful in this region that Jitesh Agarwal, leader of the robotics initiative in Clariant's global project management team, is planning to expand it.
Currently, all of the steps after the invoice has been pushed to SAP are being done by Robots. Almost 50% of the processing for the scope is being done automatically, with an accuracy of more than 80% which is really good.

Jitesh Agarwal • Global Lead–Robotics, Global Business Services
By expanding invoice automation to more regions, they'll be able to boost their efficiency and ensure data accuracy exponentially.
Ensuring immediate shipment updates
When orders and shipments cross and re-cross borders and time zones, a massive, detailed logistics operation is necessary to deliver products and materials in a timely, accurate manner.
Clariant coordinates shipments across the world, and each order requires collaboration and documentation. Manual processing made this process slow, and costly delays likely.
Previously, if a customer based in one country ordered material from a facility in another, a chain of manual processes would occur.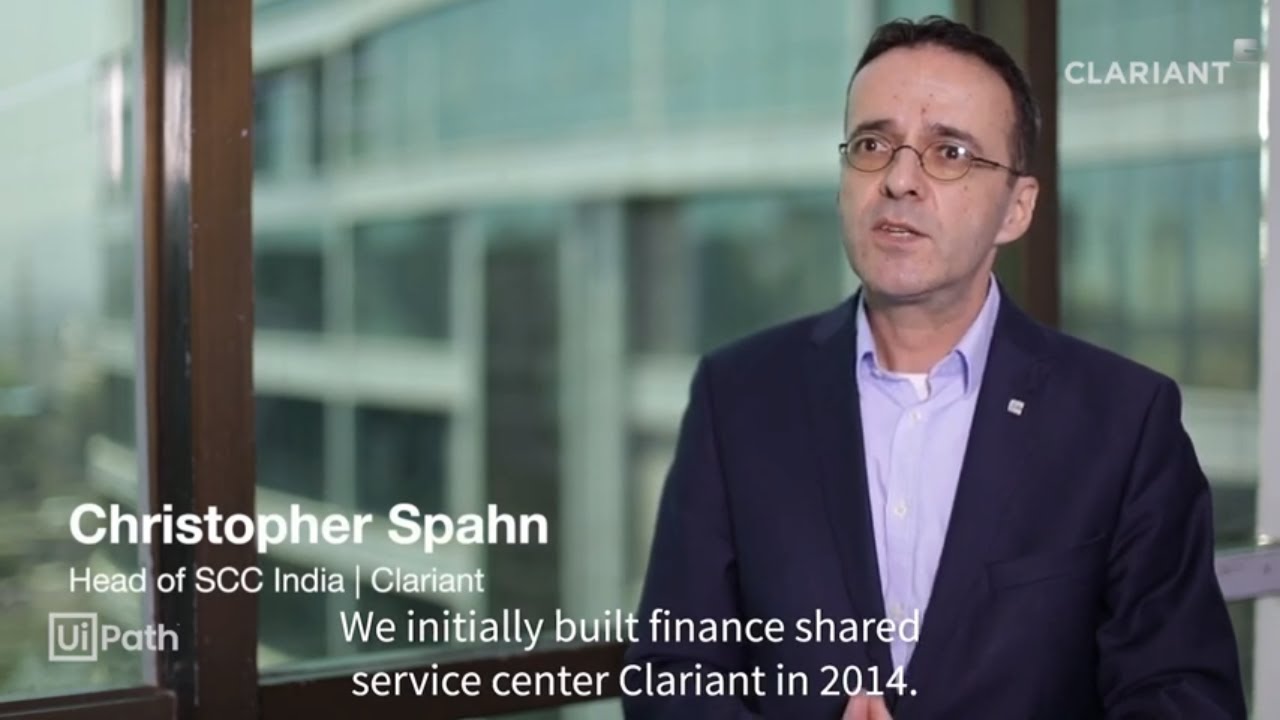 A finalized order prompted the creation of a shipment with an assigned delivery date. The logistics team in the shared service center in India would then receive an email from Clariant's business unit or plant that indicated the shipment was ready. At that point, the logistics team would create a shipment record in SAP to reflect this.
From there, the information would circulate from the service center, the warehouses, and the customers.
In a given shipment, the service center would receive a delivery note from the customer service desk and proceed to print and send it to the forwarder for processing. Once the service center received a booking confirmation, they'd update the details in SAP, including vessel information, booking confirmation, and arrival time and location.
Due to the processes manual nature, some emails and updates wouldn't be seen immediately. Inefficiencies compounded into delays, creating a cumulative cost that slowed the entire process.
Saving on time and materials
To address this, Clariant piloted a project in Singapore that uses UiPath Platform to improve shipping logistics.
After the initial order is received, UiPath Robots now automatically scan the delivery note and email a PDF to the forwarder. Once the forwarder responds with a draft bill, robots automatically update the SAP record with all the information from the available documents.
The manual labor from sending the delivery note to receiving the final shipment dispatch is now eliminated. The export process is automatic, the data is more accurate, and vendor payment information is processed more accurately.
Robotics has definitely changed our life.

Meghana Karpe • Operations Manager
Clariant has since saved 0.8 full-time equivalents (FTE) and ensured that important notifications and updates reach relevant parties without delay.
Scaling RPA to new business units
Change management proved to be an initial challenge for Clariant, but they communicated consistently and transparently about the productivity benefits RPA offered, and the manual labor RPA would eliminate.
After buy-in, Clariant was able to automate almost 60% of the invoice processing in its pilot region. The region they were testing received as many as 17,000 invoices every month, and now about 2,500 of them are completely automated— resulting in a 10% overall gain in productivity.
On the shipping side, Clariant has saved almost 100 hours of work per month in its pilot program using RPA. Including UiPath Robots in the process has also ensured that important updates are always delivered to stakeholders. Clariant has even been able to save around 40,000 printouts per quarter.
The 2018 deployment of the UiPath Enterprise RPA Platform was so successful that other Clariant business units are taking note.
After successful establishment of centralized service centers in Clariant, robotics has been helping us in renovating our processes, and has become an integral part of our Lean and Transformation journey.

Dirk Hamm • Global Head – Service Management, GBS
Clariant is building out a multi-year vision whereby 2022-20% of the productivity in its shared service centers will be the result of RPA. There are plans on continuing to scale the value of RPA by adding AI, cognitive technologies, and chatbots to their robots.