Automation and OCR bring in huge winsfor the first Internet shopping mall in Korea
In 2017, as the 52-hour workweek began, people started to think they should improve labor productivity, rather than recruit more workers. This led to the introduction of RPA into various fields, such as medical, logistics, transportation, manufacturing, and human resources, all of which require a lot of repetitive work.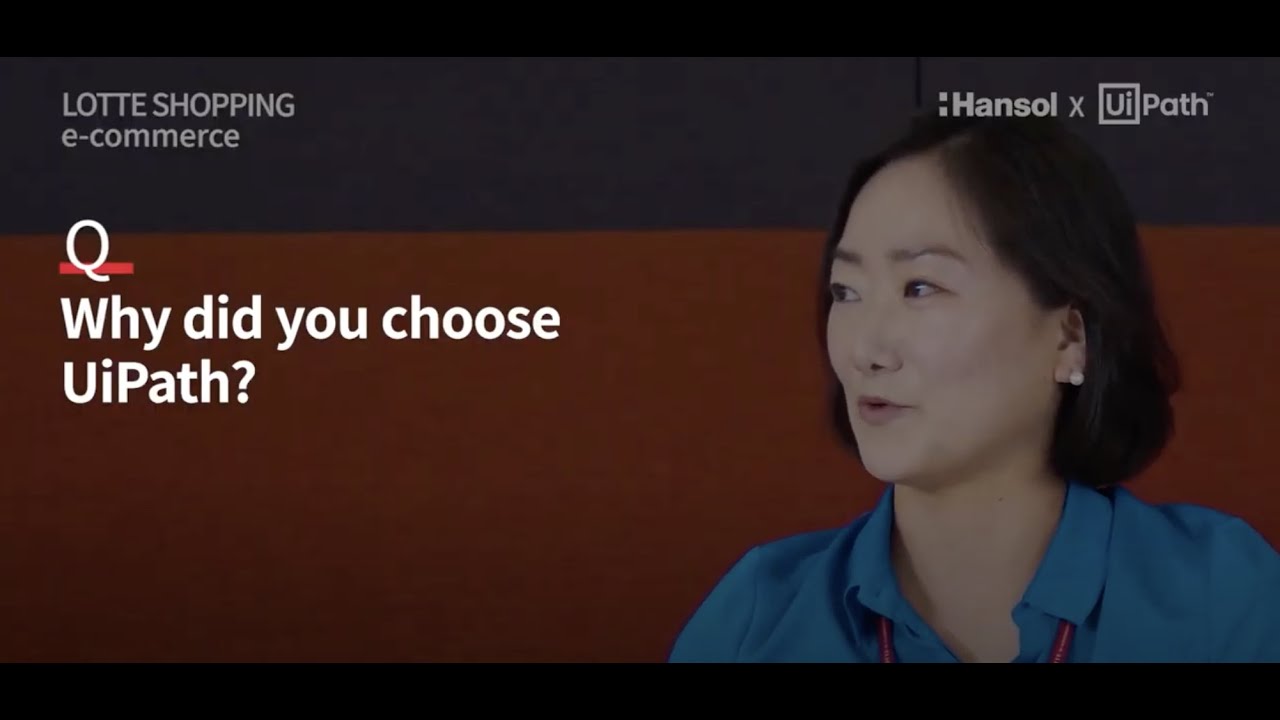 The e-commerce industry, which has been based on computer work ever since its foundation, is also busy introducing RPA. In 1996, Lotte Shopping's e-commerce business division, which established the "Lotte Internet Department Store," the first Internet shopping mall in Korea, is also one of those cases where work efficiency has been improved by leveraging the UiPath Enterprise RPA Platform . We will go through the beginning, progress, and result of Lotte e-commerce's introduction of RPA.
The Lotte e-commerce Seller Support Team supports Lotte.com product sellers, but they are also in charge of filtering out products that violate e-commerce law or false and exaggerated advertisements. RPA was introduced to verify descriptions for cosmetics and food products. When we usually buy something online, we scroll down to see the product description. However, because most of the description is made up of image rather than text, two people or more had to manually review almost 200 products per day.
By replacing this monitoring process with UiPath Robots combined with Google Optical Character Recognition (OCR), a single robot now automatically processes more than 350 products per day. As a result, where people handled about 4,400 cases per month, one robot now processes 9,000 to 10,000 cases alone allowing employees to focus on higher value tasks.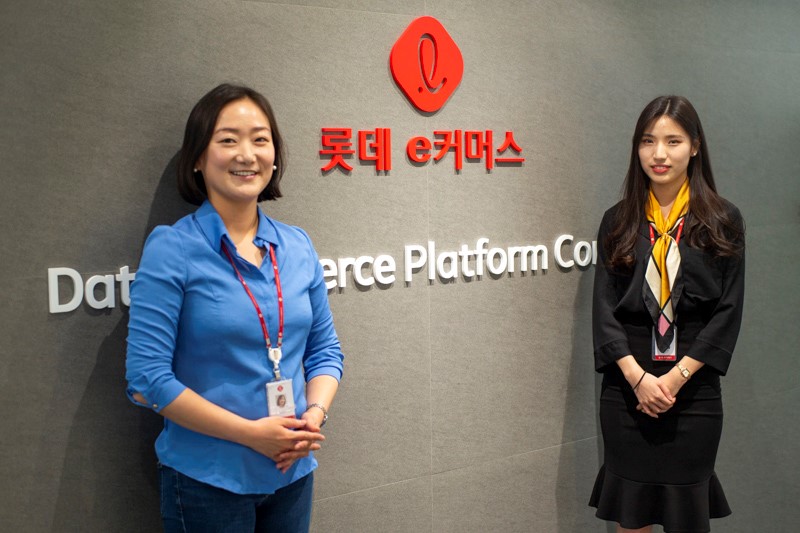 (Lotte e-commerce seller support team Kim Dain and Kim Jiyeon)
Finding the right partners for automation
So, how was it possible to use a robot for this work? Kim Dain of the Seller Support Team says, "RPA is a difficult topic to approach if you're not from an IT department." Our Seller Support Team has also been trying to come up with ways to automate the product verification process for years but had to do it manually because we didn't know about RPA. However, after a suggestion made by an executive in the department, the introduction of RPA rapidly took off."
The reason why they chose UiPath among many other different RPA companies was clear. Dain says, "UiPath is not all that hard. The manager bot is not essential, and it is relatively easy to use, as well as to design the process. I didn't know anything about this, but since Hansol PNS's digital innovation team, a partner of UiPath, presented positive examples of RPA application, I was convinced." UiPath provides the RPA solution, and Hansol PNS provides the RPA logic and application requested on-site.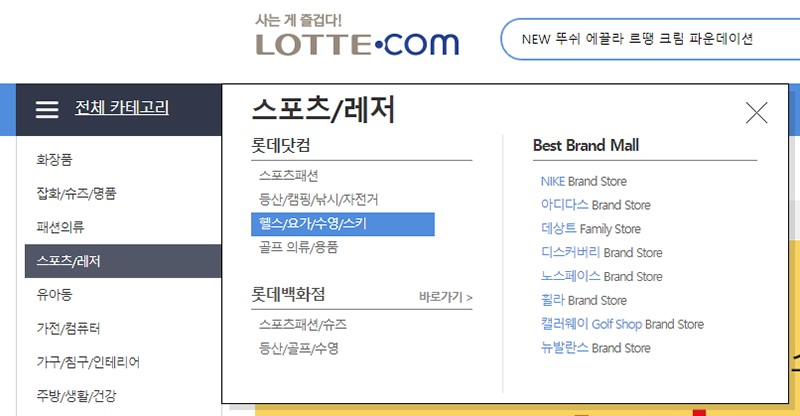 The process of entrusting the monitoring task to RPA wasn't entirely smooth sailing, though. RPA offers advantages in areas where the data is structured, such as accounting and logistics. However, it has difficulty in handling unstructured data like monitoring. You have to make clear standards for judging what is good or bad for a specific phrase. Also, people's perception of RPA has an impact. Dain says, "Since RPA is a robot, a lot of people think it can immediately replace other people's tasks. So, it was difficult to convince them that the result won't be immediately produced for tasks such as product monitoring that are difficult to replace with a machine."
In the case of Kim, Jiyeon, "We also had difficulties with the accuracy and judgment part. However, as we worked on the results of the RPA together, and thanks to constant upgrades and improvements, we're seeing satisfactory results now." She went on to further emphasize that, "The accuracy differs, depending on the logic formation and the circumstances, but I feel that the influence of the user's creativity and ability makes a big impact."
Reaping the benefits of RPA
When asked to compare what it was like before and after using RPA, she answered, "After the introduction of RPA, the Seller Support Team can now invest about three hours that was used on monitoring into other work. Work hours have become more valuable to each team member, and we are improving our capabilities by carrying out upgrade work or new planning." Since three hours per day exceeds 60 hours per month, this improves work efficiency. This also gives people the opportunity to improve their competencies.
The UiPath robot works twenty-four seven. When I get to work on Monday and check the number of cases and results monitored by RPA, it feels like I have a team member who's just dedicated to the monitoring task. From our perspective, it's rewarding because we can do more planning and thinking of upgrading work.
"We've gotten more flexible since we can look at some tasks and think 'This could use RPA'. Considering the convenience for team members or competency improvement, I'm certain it's a worthwhile investment."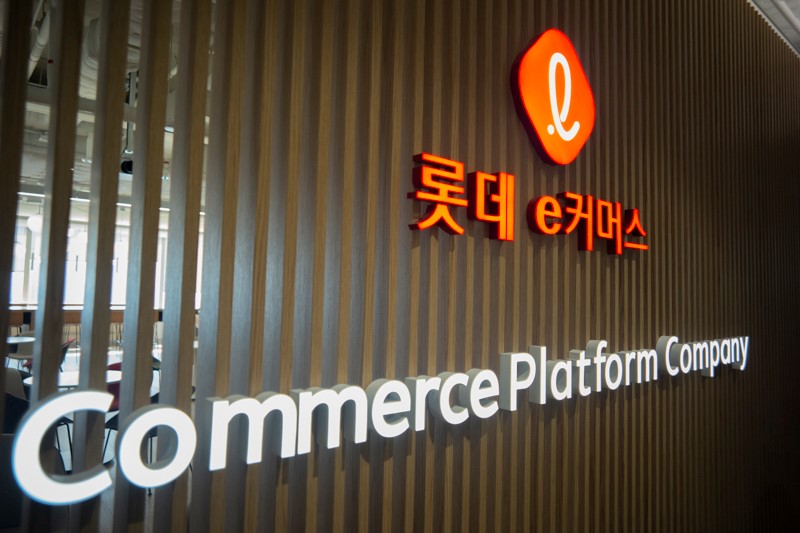 Lotte e-commerce is also planning on introducing the product monitoring task, which is currently limited to cosmetics and food, to other fields. There's no problem in expanding it to other fields if the simple logic becomes more sophisticated and advanced. Of course, there should be discussions on areas where RPA can be applied and areas where RPA can be effective, but the company-wide introduction of replaceable parts will lead to improved labor productivity in the long run.
BY THE NUMBERS
OCR + RPA to filter through false or exaggerated ads

10,000 product inspections per month