Dedicated to innovation at the service of customers and staff, technology forms a core part of İşbank's strategic goals and it has leveraged numerous solutions, including blockchain, among other technologies. İşbank pioneered using robotic process automation (RPA) as early as 2016, starting at the core of their center of operations before gradually expanding RPA into branch and headquarters functions.
Lightening the load
İşbank was one of the first banks in Turkey to embrace RPA in an effort to reduce the existing burden on the bank's employees (it is now one of the largest adopters of RPA in the country). Repetitive, manual tasks that employees were doing at that time served as a demotivator and an operational burden, and so RPA was leveraged to free them from these tasks, enabling them to be more creative and release their potential.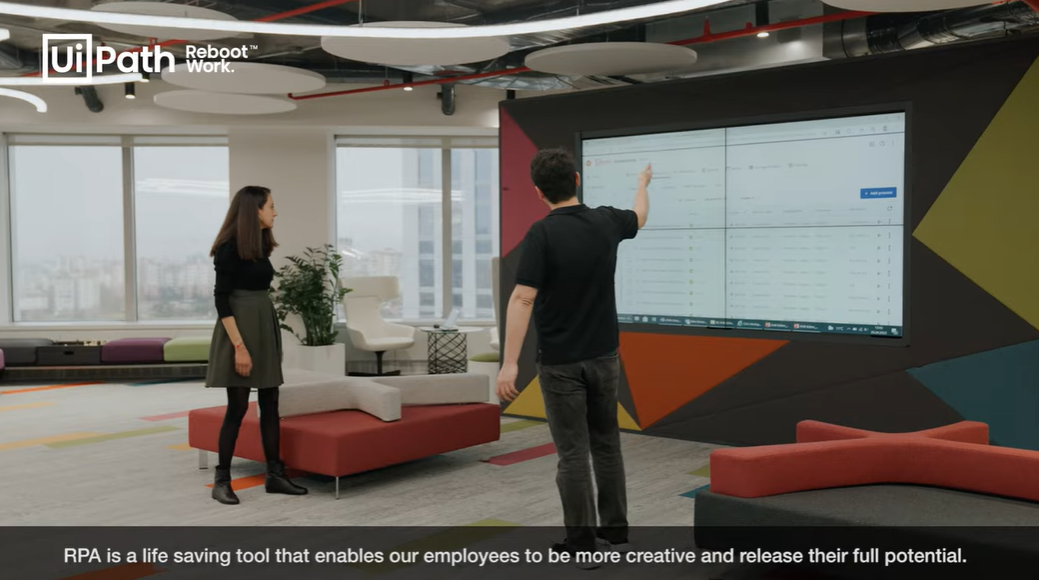 For instance, the deposit pricing process took İşbank employees up to five months to complete manually by themselves, taking up significant time and resources. Furthermore, when it came to customer requests, the entire process was lengthy and involved multiple stages. Customer requests came in via the branches who would, through their business process management (BPM) system, send it to the operations team, who would manually input it into the core banking system, who would then address the customer request. The complexity of this process, as well as the existing legacy IT systems, made it expensive and difficult to make the process more efficient.
The bank had also started testing RPA to reduce deployment times for various processes, and reduce errors and risk, in addition to testing the technology for wider use within the bank. In the early days, as İşbank increased their RPA testing, they realized that they needed an RPA technology that was more flexible, intuitive, and able to work across different departments—not just the IT department. Furthermore, they also saw that they needed to change their own internal organizational structure to be able to leverage RPA more efficiently and effectively.
Building an agile tribe
They decided to change their organizational model to one that was more agile and turned to the UiPath Platform as their main RPA vendor for this new structure, as the UiPath low-code technology was easier to learn and operate, making it possible for business users to work with it.
We believe that employee experience is key to customer experience. RPA absorbed a massive amount of operational tasks from employees so that they could improve their skills and spend more time on customer solutions.

Sezgin Lüle • Deputy Chief Executive
İşbank created an 'automation squad' consisting of multiple teams that brought together business, IT, and RPA developers that could identify processes to be automated and develop the automation solution, rather than separately, as had been done previously. The business users themselves could develop this technology and this significantly sped up the development cycle, making the time that processes could be automated faster and reducing the costs of doing so.
This team initially focused on the banking operations, automating banking processes throughout the large company. The deposit pricing process was reviewed, and the team conducted their own analysis, completed the testing process and within a fortnight could present an RPA solution that would cut the process down from five months to a matter of weeks.
The team also looked at how customer requests were handled and saw an opportunity to make this process more efficient. They turned to UiPath robots to extract the relevant information from the BPM system and put it directly into the core banking system automatically, saving both time and employee resources.
We soon realized that, rather than looking for large volume processes to automate, actually RPA technology can be used anywhere regardless of the size of the process. UiPath is agile and flexible enough for this and, thanks to its ease of use, we were able to connect different technologies together, decrease operational costs, and free up employees across the bank to do more value-added tasks.

Meltem Vural • Tribe Leader
Scaling RPA throughout the organization
As more and more processes were automated and the success stories grew, İşbank decided to create a center of excellence (CoE) to provide a coordinating and supporting role for the different development teams. The CoE set about developing standards, providing training (including the CEO), and offering assistance to the various business units who were starting their RPA journeys.
As the bank passed the 10 million transactions automated-per-year mark, it became clear that this RPA technology was a game-changer. More training requests started to come in, including from non-operational business units who both needed processes to be automated but also wanted their own employees trained in RPA so that they could do their own optimization rather than wait for the IT teams.
For instance, the Head Office units started applying for RPA training so that they could automate their own reporting processes, especially the reports destined for upper management, which took them a long time to complete.
Automating through the pandemic
As with almost every other company in Turkey, the COVID-19 pandemic disrupted the way the bank worked, but also created opportunities to leverage RPA and provide better service for its customers. At the height of the pandemic, the government passed regulations that allowed customers to postpone loan repayments.
What really stands out about RPA technology is that the robots are creating more time for İşbank employees, which now are able to use their creativity, innovation, and human skills.

Boğaç Devrimci • Head of Agile Management Department
Almost overnight, the bank had to reconfigure large parts of its processes to be able to handle this change, as well as the large number of customer requests that had started to come in. The new agile teams worked quickly, and by the next day had deployed 28 robots which processed 8,700 loan repayment transactions overnight.
Furthermore, it wasn't possible to send physical letters to customers due to the ban on employees working from their offices. Hence, the team leveraged RPA robots that automatically sent mails to the Registered Electronic Mail system, had them officially signed, and emailed to the customer. This method, while developed quickly in response to an emergency, was later adopted permanently and integrated into other areas of the bank, who now send almost 250,000 emails a year in this way.
To date, İşbank have automated over 300 tasks, processing over 11.2 million transactions per year, and saving employees 500,000 working hours.
Building an automation ecosystem with RPA
Looking to the future, İşbank will continue to expand its use of RPA, including spreading the use of attended robots throughout the departments. The bank is also exploring new technologies. They plan on conducting a proof of concept (POC) using UiPath Process Mining with the UiPath Platform that will help them identify new areas that can be automated that they may have missed previously. The bank is also in the midst of conducting a use case using artificial intelligence (AI), integrating the technology within their chatbots.
"I can say for sure that our branches—those who interact with our end customers—are very happy with the RPA technology. Audit reports which would previously have taken them a long time to develop, are now produced very quickly (in 15 minutes, completed overnight), customer transactions and demands are being resolved much faster among other benefits. Thanks to RPA, we are taking over some of the operational burden from the branches, allowing them to concentrate on the end customer, and we are very pleased with this."