Using UiPath, Security Benefit saved 40,000 labor hours in 2020 by automating business processes and workflows identified by employees across the company.
Security Benefit specializes in managing annuities, money markets, and funds for retirement planning, including overseeing more than $41 billion in assets under management. Security Benefit has been working with robotic process automation (RPA) for nearly four years, working to automate time-consuming financial and business processes, and with help from UiPath, the company continues to automate workflows to optimize efficiency and increase accuracy.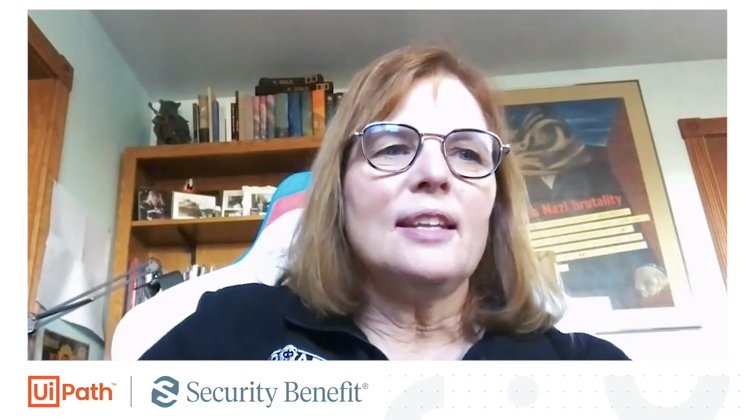 Automating Legacy Processes
Security Benefit considered adopting RPA to automate workflows as early as 2016. The company outsources many of its business processes, but investments, finance, and some operations are still managed in-house. Many existing manual processes were creating operational bottlenecks and Jean Younger, Vice President and Six Sigma Leader for Security Benefit, determined that at least 100 existing processes could benefit from automation. For example, manual processes were extending the time required for a financial close beyond 48 hours.
Having recognized the potential of RPA, Younger decided to initiate a proof of concept using UiPath and another vendor. It was clear from the pilot program that RPA did, indeed, offer the potential to automate many existing processes and workflows and could save thousands of work hours. 
"We have a lot of legacy systems that cost a lot of money to fix," said Younger. "We saw RPA giving us a huge lift; to actually get rid of legacy systems and put in new systems. We felt RPA might be an opportunity for us."
Following the proof of concept, the Security Benefit Six Sigma team determined that UiPath had the right automation capabilities to meet their needs.​
We have a lot of legacy systems that cost a lot of money to fix. We saw RPA giving us a huge lift; to actually get rid of legacy systems and put in new systems. We felt RPA might be an opportunity for us.

Jean Younger • Vice President, Six Sigma Leader, Security Benefit
Transformation Through Automation
Since adopting UiPath, RPA has been able to transform business processes across Security Benefit. As more workflows are automated, the power of RPA continues to prove itself, not just in automating simple processes but in transforming end-to-end systems.
"Look at the asset reconciliation process in our investment department, " said Amy Chandler, Second Vice President, RPA COE, Six Sigma Master Black Belt at Security Benefit. "When we initially looked at this process there were approximately 110 asset reconciliations and the team could only complete 3 per day due to staffing levels. We were able to build a bot that compiles all the applicable data, completes the reconciliations, and identifies variances daily. Now the team focuses on reviewing that variances each day and fixing outages immediately, saving time and effort on the fixes and ensuring delays are avoided during our monthly close process. Since the process was implemented the number of asset reconciliations has more than doubled to over 225, with minimal impacts to the reconciliation team."
Automating manual processes also revealed the interdependencies of workflows. For example, the team received a request to automate the updating of rate sheets. Originally, this was a manual process that was performed every two weeks by updating data in a PDF; a simple task to automate that would save this worker considerable time and labor and also as important, it would remove the opportunity for error which occurred from manual entry.
As the team prepared to automate the rate sheet process, they traced the data upstream and downstream to see how that same rate data was being used by different departments. The result was the creation of multiple automations using the same rate data, so rather than saving one worker a few hours every few weeks they were able to save time and resources across multiple departments.
Now, the Six Sigma team collaborates with staff in every department, tapping their expertise and understanding their business processes to determine which processes can be automated to maximize efficiencies throughout the company. One RPA project alone saved the company 17,000 work hours per year. 
While hours saved are important to the company, there are other non-financial benefits that the team measures, such as optimization of controls facilitation, customer experience, and accuracy. For example, when working on manual processes that are related to controls, the Internal Controls team was brought to the table to discuss changes that could be incorporated that would strengthen the control environment. When a RPA process facilitates a control, it not only saved time for the process owner, time savings will also be captured by the Internal Controls team as they are able to reduce the amount of testing completed. Additionally, the external auditors can also reduce testing efforts for those processes as well.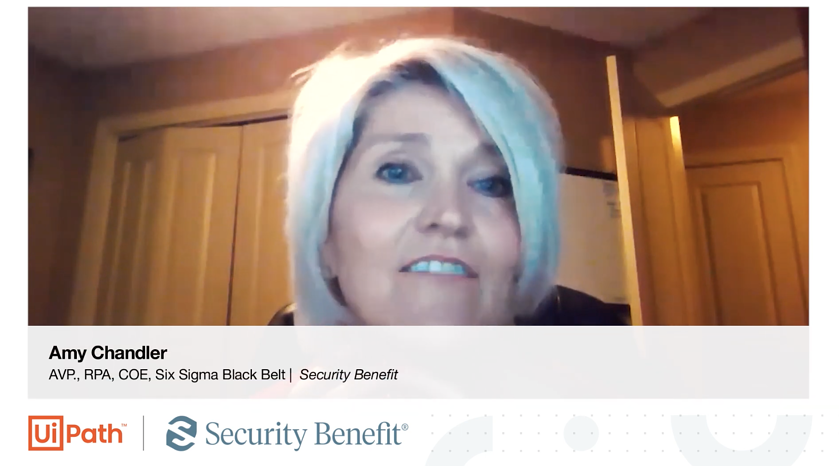 RPAs Become a Companywide Mission
As more senior managers and department heads recognize the potential of automation, RPA implementation has become a companywide initiative.
Security Benefit maintains an Innovation Hub where employees can submit ideas outlining processes that can be automated. On average over 150 ideas are in the Innovation Hub backlog at any time. At one point in time during 2020, over 190 ideas were in the Hub. Some of these ideas can save an hour a day while others can save thousands of hours a year or more.
To encourage employee participation, Security Benefit developed a program for 2020 called ROAR20K. ROAR stands for Review, Optimize, Automate, and Reward, and the goal was to remove or gain 20,000 annualized working hours. The idea was to have employees review existing processes, identify ways to optimize those processes, automate them, and reward those responsible for innovation. The program was so successful that the company surpassed their 20K goal in the third quarter and ended 2020 with almost 55,000 labor hours saved or gained through automation and a staff participation rate of over 50%. Building on the success of the ROAR20K campaign, ROAR21K was launched in January and over 12,000 hours have been removed/gained through June 2021.Learn more about Security Benefit's ROAR20K program from Jean Younger and Amy Chandler.
Empowering Process Owners
The Six Sigma team has additional plans for UiPath in the months to come, including expanding the usage of StudioX. They see value in adopting StudioX to put automation in the hands of finance, investment and other staff members that own the process.
The Security Benefit team also knows that UiPath will be there with the support they need to continue to make RPA a success. One of the selling points during the proof of concept was UiPath's online training support and forums. An intern was tasked with developing a use case to see how user-friendly UiPath could be. The fact the intern could find the help needed from UiPath Forum and Training Modules was a deciding factor. As Security Benefit brings on new interns and programmers, they know they can rely on UiPath for training and customer support.
Hear more from Security Benefit on what's in the future and their thoughts on women in tech.
We were able to build bots so they can review 125 reconciliations a day. Now they can look for variances each day and at the end of the month which speeds up our financial statement process.

Amy Chandler • Second Vice President, RPA COE, Six Sigma Black Belt, Security Benefit