Tech Mahindra partners with UiPath for a solution-led Robotic Process Automation (RPA) approach to solve complex business problems for its customers and enable them in their digital transformation journey
Tech Mahindra represents the connected world, offering innovative and customer-centric information technology experiences, enabling Enterprises, Associates and the Society to Rise™. We are a USD 4.9 billion company with 125,700+ professionals across 90 countries, helping 941 global customers including Fortune 500 companies. Our convergent, digital, design experiences, innovation platforms and reusable assets connect across a number of technologies to deliver tangible business value and experiences to our stakeholders. Tech Mahindra is the highest ranked Non-U.S. company in the Forbes Global Digital 100 list (2018) and in the Forbes Fab 50 companies in Asia (2018).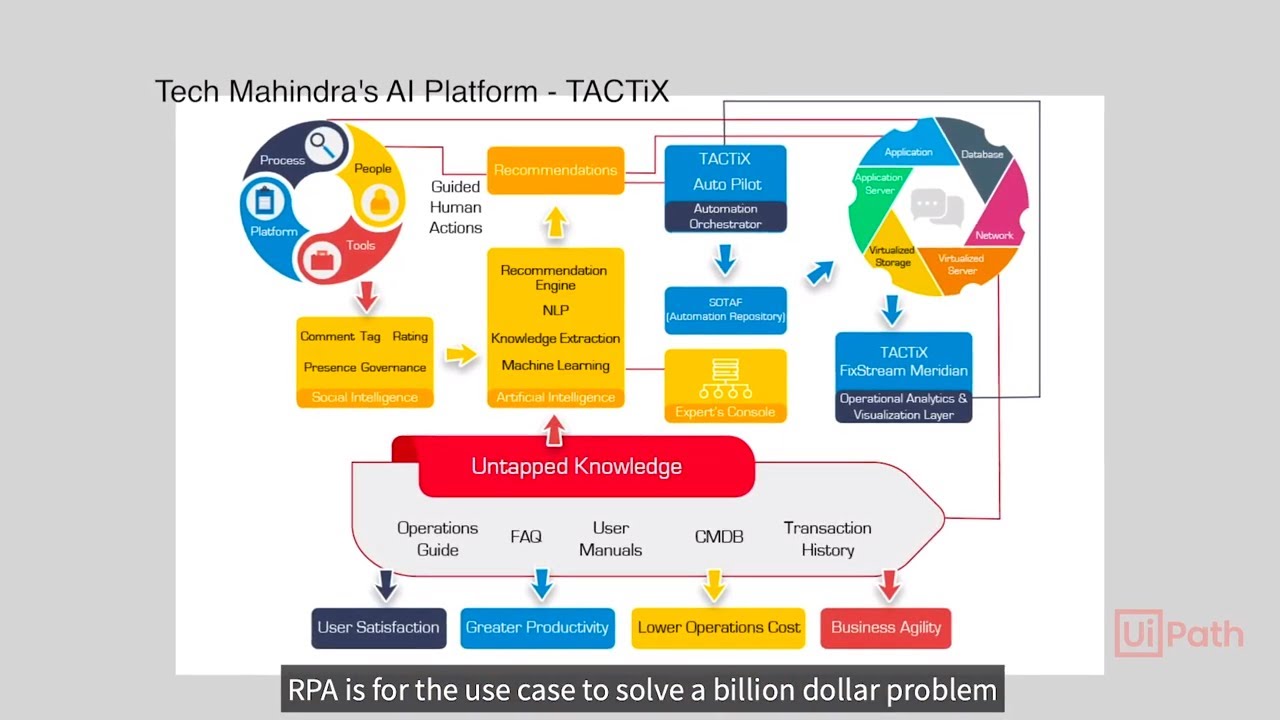 The IT services company has been enabling businesses in their digitization journey through its AAA trifecta offerings of Automation, AI and Analytics. With automation at the core, it engages with its customers to accelerate their business transformation, unleashing innovation and tangible business value.
Tech Mahindra's integrated suite of automation offerings covers the entire continuum of intelligent automation, starting from process automation and moving all the way to IT and networks. It has created an Intelligent Automation Framework, TALL – Talk, Act, Listen and Learn.
The partnership between Tech Mahindra and UiPath is built on a strong foundation sustained with mutual synergies. There is a huge amount of congruence on how we see technologies enabling resolution of problem statements with customers. Most importantly, there is a congruence of DNA. Our approach to work with UiPath is more of a solution-led approach. This is the typical example where the intelligent automation continuum comes to bear.

Sameer Dania • Global Head, Business Development - Platforms, Tech Mahindra
The joint automation solution offerings from Tech Mahindra and UiPath, supported with AI/ML and cognitive capabilities, go beyond traditional rule based RPA to drive next generation of intelligent automation lever, enabling customers drive down costs, improve process efficiencies and enhance experience.
With the support from UiPath, Tech Mahindra has already enabled over 3,000 of its associates who are all certified on UiPath and delivering meaningful business results for their customers.
Addressing Service Desk Challenges with End-to-end Automation
Tech Mahindra has identified service desk operations as one of the focus areas for driving cost optimization and process efficiencies for its customers through automation. While service desk is a key process area for today's modern enterprise considering it directly impacts customer experience, it is also emerging as one of the biggest pain points needing resolution. With organizations stepping up their digital transformation efforts, service desks are not only facing a spurt in customer request volumes but are also required to support a wider and complex range of offerings.
In case of manual service desk support the cost goes up by 3X with increase in the number of tickets logged and every escalation. Further, the limited service desk capacity further leads to high average wait and response time, adversely impacting customer experience. The comprehensive cognitive automation solution from Tech Mahindra and UiPath addresses this business challenge around service desks faced by its customers.
Tech Mahindra has developed a joint solution offering along with UiPath to provide end-to-end automation of service desk operations. The solution integrates TACTiX, Tech Mahindra's flagship AIOPS platform, powered by Artificial Intelligence, Machine Learning and Natural Language Processing capabilities with UiPath's in-depth knowledge in RPA to provide deeper automation across the Service Management activities for enhanced operational efficiencies, business agility, leading to improved customer experience.
Combined with self-service capabilities, the solution supports the entire life cycle of a service desk ticket from creation to closure, including categorization, triaging, resolution and knowledge management.
"With the synergistic capabilities brought in by UiPath we are able to help our customers minimize the growing costs of manual service desks, address high volumes of customer requests efficiently as well as reduce the average wait and response times. While improving the speed of service desk resolution it also helps identify the root cause of the issues, bringing down the number of service requests. This, in turn, is enabling our customers enhance the overall experience for their end-customers," explained Dania.
Partnering to Accelerate Customer Automation Journey
Tech Mahindra's partnership with UiPath has resulted in success stories globally, solving complex business problems and enhancing business value for organizations cutting across verticals and technology components.
"A typical case of service desk operations automation, we are talking about improving accuracies by close to 40%, zero touch automation and driving efficiency gains close to 80%. In case of back office automation, we have a combination of RPA and text extraction bearing fruit in driving efficiencies, accuracy, time to time to resolve as well as driving down costs," explained Dania.
While continuing to bring joint solution offerings to the market, we plan to further strengthen our relationship with UiPath both from a technology offering and global footprint standpoint. UiPath is our partner of choice to move towards enablement of a digital workforce for our customers using RPA.

Sameer Dania • Global Head, Business Development - Platforms, Tech Mahindra
Moving forward, Tech Mahindra will be engaging with UiPath to integrate and automate core applications such as SAP to bring about a meaningful difference to its end customers.
Customer Success Stories with UiPath
RPA implementation for Discrete Manufacturing Major
Description
Discrete Manufacturing major had plans to migrate Parts data from legacy systems to IBM PIMS (Product Information Management System)

They resorted to Tech Mahindra for performing the complete data load of over 8 million parts information.
This involved automating below steps:
Running Mainframe Job

Downloading the file to local

Preparing the file for data model design of PIMS

Login to PIMS and upload data file

Run the data load and share update via mail to offshore team.
Tool Used
UiPath was utilized for all of the tasks listed.

VBA Macro for processing the data population information within excel
Estimated Savings
Effort Reduction of 8 Hour per Division data load on an average
(8 hr/division * 200 Divisions=1600) -> (1600 Hours * $150) = $240000
Automating Tax Filing Process for Global Beverages & Packaged Foods Company
Description
Global beverages & packaged food products giant's existing Brazilian tax filing process was subjected to an exhaustive process mapping to streamline and standardize it and also to identify tasks that could be automated using RPA. The existing process was unstandardized and executed through 13 different processes.
Some of the key aspects of the solutions deployed were:
Process consultants were on boarded for a detailed analysis of the existing tax filing process. Several processes were streamlined and standardized to have a more efficient workflow that could be automated with RPA.

With UiPath as the technology partner, the client was able to deploy a blend of unattended and attended bots for complete and partial automation of the entire tax filing process respectively. This improved the process completion time by over 80%.
Tool Used
UiPath was utilized for all of the tasks listed.
Estimated Savings
Manual effort elimination of over 80%, 30% efficiency improvements through Process Standardization and most importantly 100% compliance to statutory commitments on or before tax filing deadlines. An estimated $1Mn +/month savings on direct cost savings contributed by this automation.
Automating Invoice Processing in Procurement for Oil & Gas Major
Description
Oil & Gas major had plans to automate invoice processing in procurement function being carried out form their Manila GCC.

They resorted to Tech Mahindra for performing the completely automate the process.
This involved automating below steps:
BOT downloads the report from Ariba and makes a consolidated report of the reports downloaded. It then performs the prioritization process.

BOT downloads the PO report from Ariba.

BOT then downloads the report from SAP.

Performs validation checks on consolidated report and then saves the results in Ariba.
Tool Used
UiPath was utilized for all of the tasks listed.
Estimated Savings
Manual Effort Reduction - 32 FTE effort was transferred to Robots
(8 hr * 32 FTEs=128hr) -> (256 hr * $35) = $8960/day
RPA Implementation for a Global Enterprise
Description
Global enterprise with procurements from 50000+ vendors across the globe had invoices in different file formats - pdf, pdf images, docx, xlsx, rtf.

English and 14+ other languages, Monthly volume ~ 15000.
This involved automating below steps:
Monitor six mailboxes, Read and download emails and invoices, Parse email & invoices into text files, extract and classify.

Upload in Sharepoint, Scan in Enterprise Scanner, Archive in SAP.

Move email to Processed or Unprocessed folder.

Send EoD summary.
Tool Used
UiPath was utilized for all of the tasks listed.

KNIME - ML
Estimated Savings
70% Reduction in AHT, 90% Reduction in manual efforts
(1 hr/Inv * 15000 reports=15000hr) -> (15000 hr * $35) = $525000/month
RPA Implementation for Operating Company in Singapore
Description
Tier 1 operating company in Singapore, Fixed Network Engineering operations area had to download and append reports from WFM on a daily basis for one product.

3 hours / day were spent daily on downloading 190 reports and append it to a master file.
This involved automating below steps:
Automated steps involved in downloading reports for given set of dates.

Create a master file. Master file will then be stored in shared folder where user will access.

Scheduled to run of Bots on daily basis for:

Read the inputs from excel file.

Enter into WFM system to download reports.

Additional product details can be added to input file where bot will pick & run to create the master files for the specified products.
Tool Used
UiPath was utilized for all of the tasks listed.
Estimated Savings
220 Man Days Saved, 40% Lower Operational Cost
(3 hr/report * 190 reports=540) -> (540 Hours * $150) = $18900/day