UiPath Studio Enables Business Users with No Coding Skills
to Design Robotic Processes
UiPath Studio - Automate Any Process Faster
The UiPath process designer tool helps you create process automation with a graphical Visio-like interface and drag-and-drop functionality.
New features – such as a start screen that lets the user begin by using best practices templates – make it easier than ever for business users to create automation with their process knowledge, not code.
Highly Intuitive Process Design
UiPath Studio is an advanced visual process modeling tool that the business user can learn to use effortlessly and without any programming knowledge. Straightforward drag-and-drop functionality and a built-in library of predefined activities greatly enhance the user's experience and speed up the learning curve. Alternatively, a simple "record" button click chronicles the user's actions on the screen and translates them into logical steps to create application or web-based workflows.
The tool introduces a visual, declarative way of describing how to automate a process, and business people can use it in the same way they use a Visio diagram. When working with the presentation layer of other apps, you simply indicate on the screen what operation you need to perform. UiPath understands the UI at the logical control level and does not rely on the position of elements on screen. This makes automation much more reliable and independent of screen-size and resolution.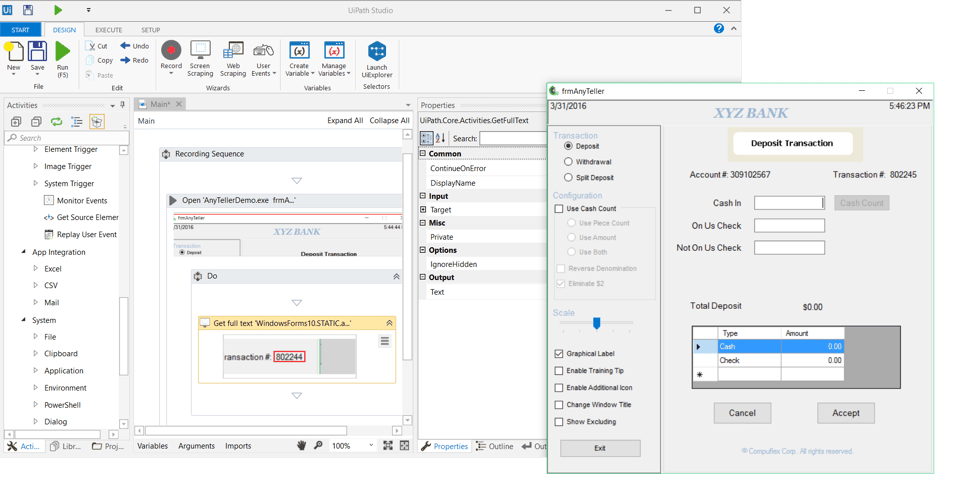 Working with UiPath feels natural. You can design a process by assembling its steps into a flow-chart diagram. The recorder is a highly efficient solution to create automations at the application interface level and bypass scripting impositions.
UiPath "senses" the UI controls like a human does. It records your mouse and keyboard actions on the screen and converts them into automated sequences.
Great Productivity with Integrated Recorder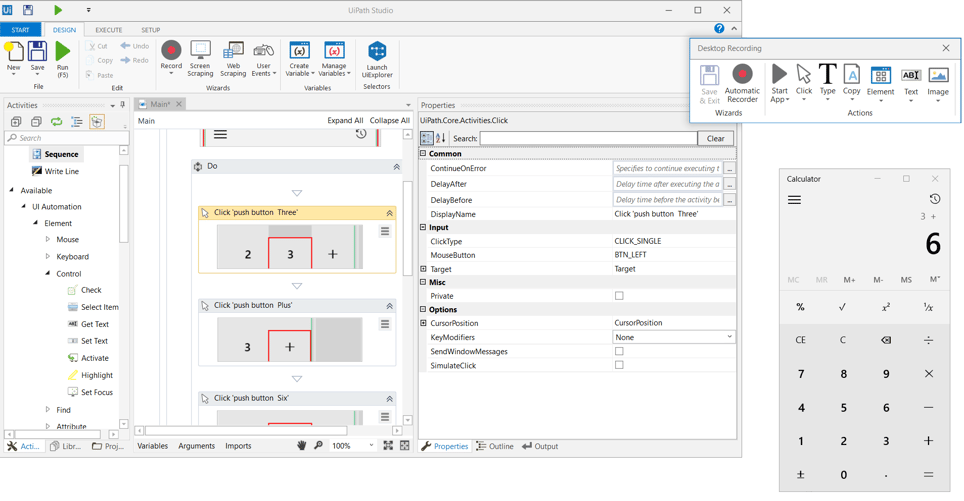 The recorder is the best illustration of how productive you can be with UiPath. The regular way to create an automation is to configure one action at a time. This can be time-consuming and a novice might not always figure out which UiPath action models the real action on the screen. Using UiPath, during recording, your actions on the screen are observed and translated into logical steps in a workflow.
For example, you can record a whole sequence, such as logging into Salesforce.com, doing a search, and generating a report in two minutes, in just one recording session. UiPath lets you record most of the actions that are possible on presentation layers, including clicks on buttons and links, typing into editable controls, and selecting a dropdown menu. It also enables advanced actions such as waiting until an image appears on the screen or extracting structured data from a web page.
What Our Customers are Saying
"I lead the Global Technology Innovation team for Capgemini Business Services and I became familiar with UiPath after their RPA product surpassed five other vendors in the selection process of our RPA programme, becoming a Capgemini automation technology of choice.
Their product's robust intuitiveness, and unsurpassed ability to seamlessly integrate with Citrix at the presentation layer, were absolutely essential to the success of the project. UiPath's refreshing spirit of collaboration was equally vital to our development of innovative RPA implementation and deployment solutions for Capgemini Business Services. Both contributions led to Capgemini and UiPath signing a three year technology partnership agreement."
Dr. Marcus Esser,
Global Lead Technology Innovation, Capgemini Business Services
"Volvo operates SAP and found that processing supplier invoices through the system required a number of manual interventions, in terms of reading, validating, registering and posting invoices. As part of the efficiency drive, it was decided to try out automation in one of the accounts payable (AP) teams which processes around 2,000 supplier invoices every day. Volvo managed to almost completely eliminate human intervention from the AP process. UiPath is a front-end automation software, which mimics human actions. It operates on top of the existing applications in a non-invasive way, which means there is no impact on the core applications used. The robot logs into the necessary systems, reads the invoice image, registers the invoice in SAP, performs all the necessary validation, including cross-checking against other systems, and ultimately decides whether to post, park or block the invoice. Having the same robot following the entire process flow and communicating with all the systems involved brings much higher automation benefits than the traditional mix of humans and partial automation."
Case Study, Robots in finance: Volvo leads the way,
Joakim Abeleen, KPMG: Strategic Visions on the Sourcing Market 2016
UiPath Studio Features:
High Productivity Integrated Environment
An environment in which process modelling is highly visual and supported by an integrated framework of tools, wizards, templates and pre-built actions for process automation.

Process Mapping
Use a Visio-like designer to map the steps of a business process into a flowchart diagram.
Screen Recorder
Recording is a highly efficient, error-free alternative to manually diagramming process steps and user actions (e.g. copy/pasting text or selecting checkboxes).

Visual Business Rules
Modelled business processes visually depict business rule decision points such as diamond or multiple choice branches.
Built-in Process Actions
Actions are the building blocks of process modeling. The Process Designer includes a robust library of pre-build actions, which can be dragged and dropped into process diagrams.

Online Store
Additional pre-built workflow actions, built by the Process Designer developer/user community, can be installed from UiPath's online gallery. You can design your own actions and add them as custom packages.

Integrated Debugger
Provides visual step-by-step execution, breakpoints and the highlighting of target elements, useful for error checking.

Automatic Deployment
Distributing your processes is now easier. You can publish them to a shared location or to UiPath Orchestrator with only one click. Robots will afterwards receive the processes from UiPath Orchestrator or collect them directly from the shared location.

Revision Control
UiPath Studio integrates with TFS to help teams work at the same process from different locations. Real-time collaboration, access to centralized data repository, history visibility, better project monitoring and easy rollbacking are the key to increased productivity.
STARTER
Edition
Workflow designer
Recorder
GUI Explorer
Browser automation
Web Data Extraction
CSV support
Desktop automation
PRO
Edition
Workflow designer
Recorder
GUI Explorer
Browser automation
Web Data Extraction
CSV support
Desktop automation
Allowed to deploy runtime
Create self deployable executable
Screen Scraping
Workflow API
PREMIUM
Edition
Workflow designer
Recorder
GUI Explorer
Browser automation
Web Data Extraction
CSV support
Desktop automation
Allowed to deploy runtime
Create self deployable executable
Screen Scraping
Workflow API
OCR
PDF
User events
Excel automation
Email automation
Image recognition
Citrix automation
Java automation
S/FTP automation
Logging to Windows application log
Console/green screen automation
Database automation
XML and JSON support
Invoke Powershell scripts
Invoke COM/.Net
Invoke web services -SOAP, REST
Auto-login Windows session
Start workflows on a schedule
Note: All licenses are perpetual. On a server you need a separate license for each interactive user session that uses the client runtime.
Read the entire licensing agreement.