What is Robotic Process Automation?
Robotic Process Automation aims to use a computer (a.k.a. robot) to manipulate existing application software (CRMs, ERPs, help desk and claim applications) in the same way that a person works with those systems and the presentation layer to perform a specific task.
The use of the word "robotic" to describe this rapidly growing field is somewhat misleading. These are not the robots of science fiction with artificial intelligence. Currently, the phrase "robotic process automation" is used to refer to the use of sophisticated computer software that automates rule-based processes without the need for constant human supervision.

Why Robotic Process Automation?
For enterprises, BPOs and shared services that use large scale, high-volume human labor with an intrinsic exigency for productivity and cost efficiency, RPA technology adds impetus to business innovation and profitability. It enables organizations to configure software robots that automate manual and repetitive
rule-based tasks at a fraction of the cost of their human equivalent and to integrate without disrupting the legacy system. Robots are easy to train and see the interface like a human. They can act as automated assistants and are designed to collaborate with humans while permanently reporting on progress.
Benefits of Robotic Process Automation
Cost and speed
On average, an RPA robot is a third of the cost of an FTE (although different models may vary between vendors). Beyond the obvious rate of pay, an RPA does not need to take breaks or require benefits. In fact, your robots will work 24/7/365, even when everyone else is sleeping.
Scalability
A robotic workforce can be as large or as small as you need it to be, and additional robots can be deployed quickly for no extra cost, or at worst minimal expenditure. Better still, you can train tens, hundreds or thousands of robots at exactly the same time through workflow creation.
Accuracy
RPA eliminates human error, as robots have unlimited attention spans, and don't make mistakes in their calculations. When a robot encounters a transaction that does not fit its rules or parameters, the transaction is set aside for a human to complete later.
Analytics
RPA software is designed to return a great deal of performance data in the form of key analytics. You will know what your robots are doing at all times, how many transactions have been processed, how many exceptions were set aside, and so on. This data can help you to identify bottleneck areas or ways to streamline a process.
How It Works
RPA allows for smooth collaboration between humans and robots. First of all, the robots interpret and use structured data, which they fetch from different systems. A human agent can then review this data at key points in the process. The robots also manipulate the user interface and perform required tasks. When they encounter process exceptions, they can either rule them out or transfer them to a cognitive agent for approval
and decision, thus updating the system and completing the process. Robots are manageable from a single web console. Better still, everything is in one place and there is no software to be installed. Scalable design allows you to deploy and run an army of robots business-wide, with a management platform that is built on Cloud technology. Both auditing and role-based active directory authorization are fully addressed.
From a POC with one of the leading BPO Providers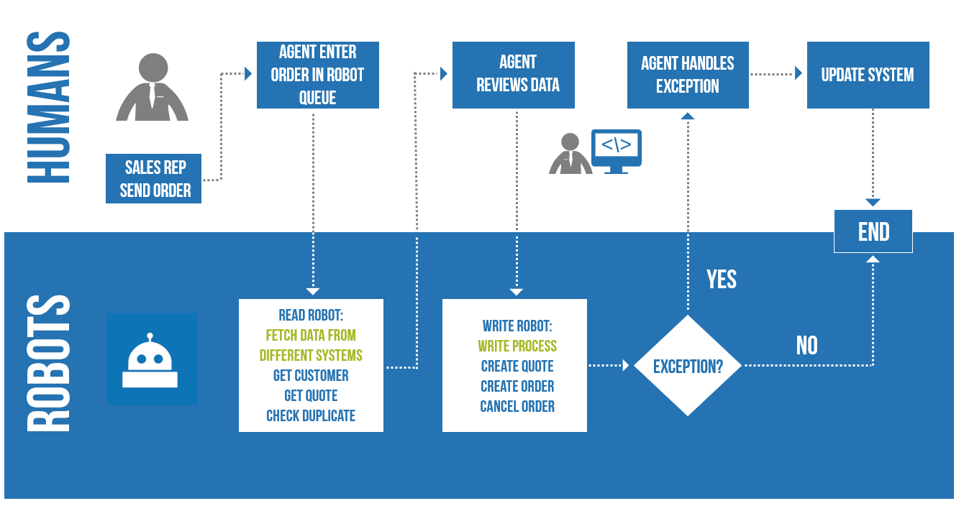 Order Management
800 FTEs work done with 50 robots. Reduced AHT from 30 minutes to 10. 6 months ROI. 80% cost reduction.
UiPath – RPA Designed for the Needs of Global Enterprises and BPOs
UiPath RPA is an enterprise computing platform dedicated to automating business processes. It provides process modelling, change management, deployment management,
access control, remote execution and scheduling, execution monitoring, auditing, and analytics in full compliance with the enterprise security and governance best practices.
UiPath Studio is the highly visual productivity environment where business users can model end-to-end business processes into a process diagram with simple drag-and-drop functionality.
Advanced error checking and history visibility ensure flawless execution and detailed project monitoring.
UiPath Orchestrator is a scalable RPA server, fully integrated and equipped with centralized instrumentality for enterprise class management, security, compliance, support, and auditability.
Our Orchestrator records everything the robots do through log files and transforms them into advanced analytics.
UiPath Front Office Robot is the agent-assisted robot that shares the same workstation with human employees and assists them to automatically execute business activities.
UiPath Back Office Robot is the autonomous software robot programmed to run unattended, independent from human interaction.