As a business unit leader, you have limited resources. Yet, the work is unrelenting. The front office must keep up with servicing and delighting customers. The back office must scale operations because it is not able to add headcount at the same pace the company is growing.
As you grow, people find different ways to increase speed, innovate to achieve a business outcome or drive a better customer experience. There inevitably comes a point when these variants result in people doing similar rules-based work in different ways across multiple business units or regions. Sometimes even within a single business unit, there are multiple ways to do a process.
At the same time, you want to unleash your teams' potential, so you actively seek out repetitive tasks to offload from your people to software robots for automation.
Which leads to the question: Should you standardize those processes and then automate them or should you automate them straight away?
This is a major 'Y in the road' for a business unit leader.
Some business unit leaders are looking for the one 'golden process.' The idea is to keep searching your organization until you find the process flow that everyone can agree is the best. Others feel that if there are acceptable variants that take into account geographic or departmental "local" conditions than there is no reason to change them.
Which way you go depends on whether it is appropriate to automate acceptable variants of a process in your organization. Typical considerations include:
Are the process variants creating poor performance or compliance issues?

What is the level of effort for automation versus coming to a consensus on a single process flow?

Will standardizing the process negatively or positively affect the people that came up with the variants?
Which road should you head down? Read on.
Standardizing through automation
In theory, process standardization is always a good thing because it means there is a validated and accepted set of procedures to accomplish a business outcome. In practice, however, fixing a global process is expensive and not always the most effective approach. Important customer and employee experience efforts can be stymied by waiting for standardization.
In many cases, you don't have the luxury of waiting.
As Junaid Ahmed, Corporate VP of Finance for Applied Materials, says in the video below, "Standardizing processes in large global, complex companies is difficult. It is difficult because it is complicated and a very time-consuming effort. Everyone agrees we should do it, but no one ever gets time to get it done. The approach we took here was a different one, we went the route that we should standardize through automation, to give the benefit faster."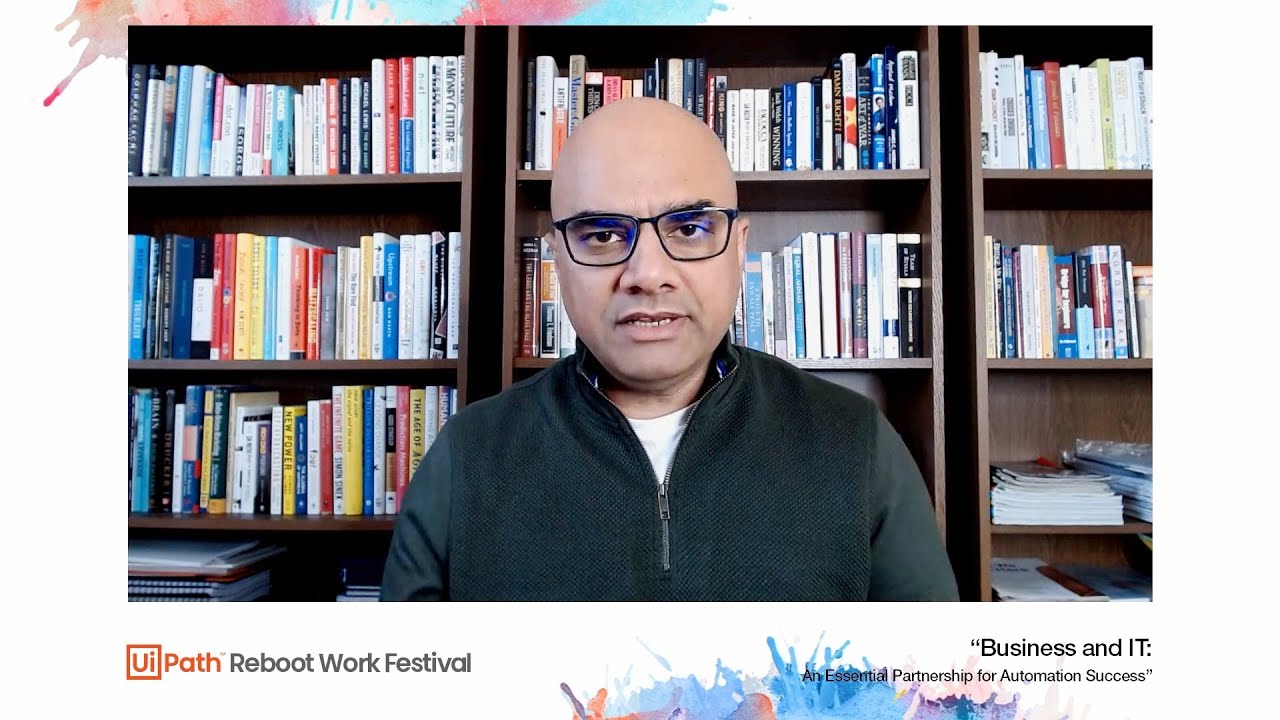 Applied Materials found surprising benefits of automation which were momentum and consensus. They could get people to the table with the intention to automate—which had immediate total cost of operations (TCO) benefits regardless of if there were slightly nuanced processes by geography.
The momentum was tremendous because most everyone could agree on the benefits of automation even if they could not agree on one way to do a process. Now, with robots as reusable assets they were able to look for ways to standardize and further improve TCO. As Ahmed says, "They came for the automation, and then we packaged in the standardization when and if it made sense."
People want automation and are willing to come together for these projects. One side benefit of getting people together to build automation is their processes become well documented by the software. Understanding the process steps, tasks, and data better through automation lays out the opportunity to optimize and standardize plainly for everyone to see. Consensus was built because the activities needed to build automation brought everyone to the table. When the software robots perform the process steps they leave an audit trail which can be an important part of a business continuity program—the process is well documented so in an event where humans need to intervene, its clear which steps to perform.
Here is the learning: people are more apt to contribute to the automation project than one of process standardization. This is because they know that at the end, they are offloading work to software robots. This is a more practical approach to standardize through automation.
Put people first
Here is a rule of thumb: people want to have a greater impact, and anything that delays people getting more time for higher-value time is detrimental. To retain talent, don't delay automation just to build perfect processes. Your employees want automation to replace the repetitive, rules-based work as in the diagram below. This frees them up to work on higher-value work and allows them to be more productive.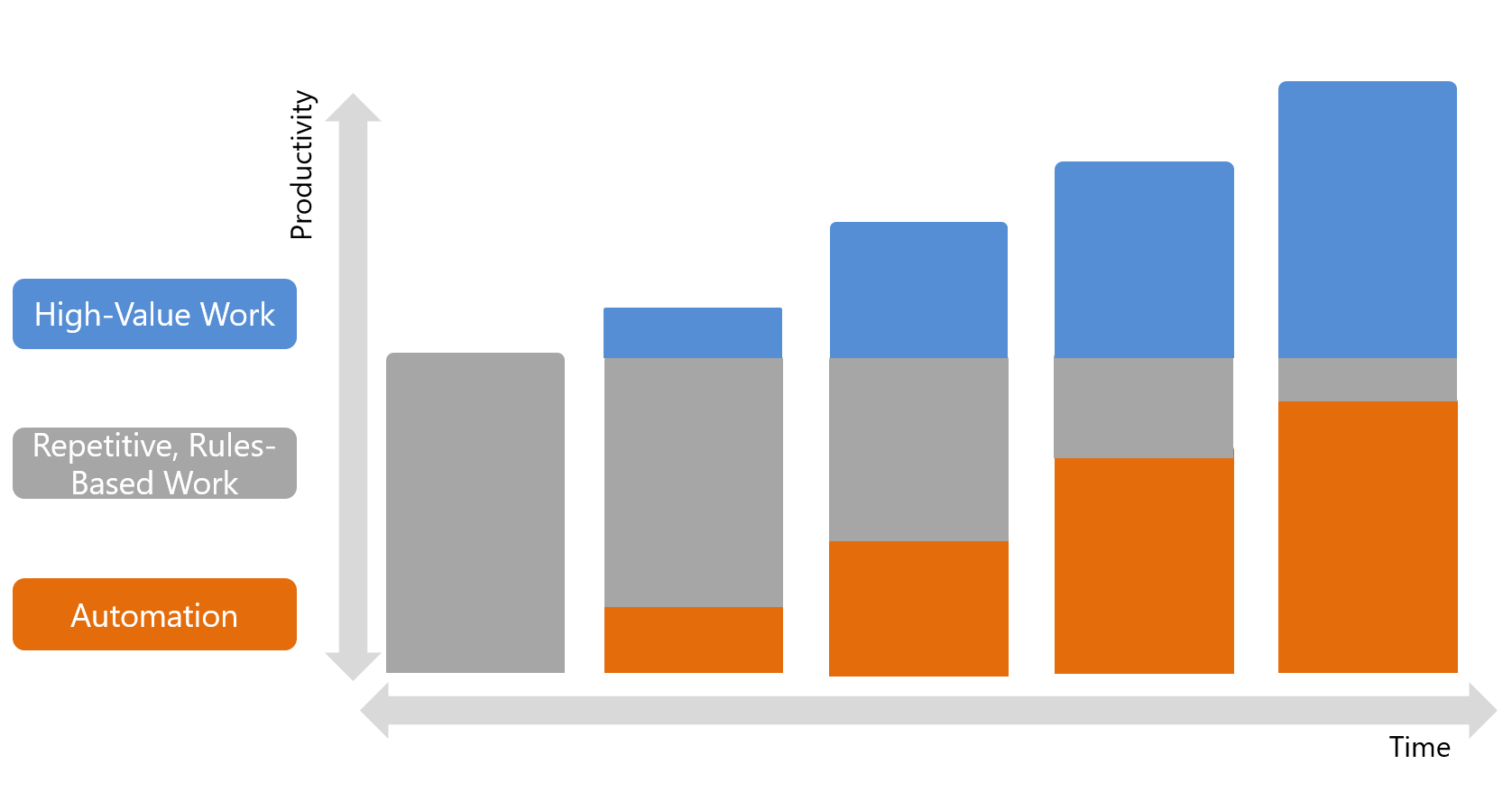 The problem with focusing first on standardization is that you may end up with only process consistency, not freed up time for the associates involved in the process. You are better off leapfrogging standardization to focus on delivering the business outcome, such as:
Reducing customer wait time

Onboarding a new supplier

Resolving an employee payroll dispute

Identifying a fraudulent transaction
When the priority is to ensure the process delivers the business outcome and gives time back to employees, you stop worrying about the number of variations. Instead, you follow this simple formula:
Step 1: Invest your time in understanding which path you want to automate.

Step 2: Automate it.
Step one can be greatly enhanced by using process mining and artificial intelligence (AI) to discover the best path to automate. For instance, you can choose the process path that has the greatest volume of transactions flowing already. Some choose the path where the greatest number of errors are found. Others start with the path that has the greatest number of manual touches—aiming for straight through processing with no manual interventions.
Whatever criteria you choose, focus on what triggers the process to start and the end outcome you want to achieve through the process. It is less critical to focus on consolidating the individual variations of process paths if they each are getting you to the business outcome. The robots can automate any of those with relative ease.
Instead invest your time automating one way of performing the process and start funneling the volume through that path. Any deviation or exception can be addressed through a simple change to the automation.
The more important part of change to focus on is how your people upskill and pivot into higher-value work. As a business unit leader, you know that there is a different skill required to gather data than to assess data for example. You are going to challenge your people to give insights about the future direction of the team, form a perspective, and influence a decision. Freeing up time is the first step, re-orienting people to more impactful work is the ultimate goal.
Business unit leaders I talk to tell me that the people on their teams are having more impact because of automation. Their workforce wants to be more influential, and by working on higher-value activities they can have a greater impact.
Let's standardize through automation. Design the automation to achieve the desired business outcome versus trying to standardize all the intermediary steps. This approach puts people first.