Editor's note: this article was published in 2017. For a more recent article on automation projections, check out Six Predictions for RPA, AI, and Automation in 2021.
Original post:
The year 2016, called the "year of the robot" by The Institute for Robotic Process Automation, was a big one for the advancing development and adoption of automation technologies like robotic process automation (RPA). While RPA was implemented by companies around the world, a significant number were BPOs and originated from the manufacturing, insurance, and financial services. The technology also saw robust growth within the EMEA (Europe, the Middle East, and Africa) region and North America.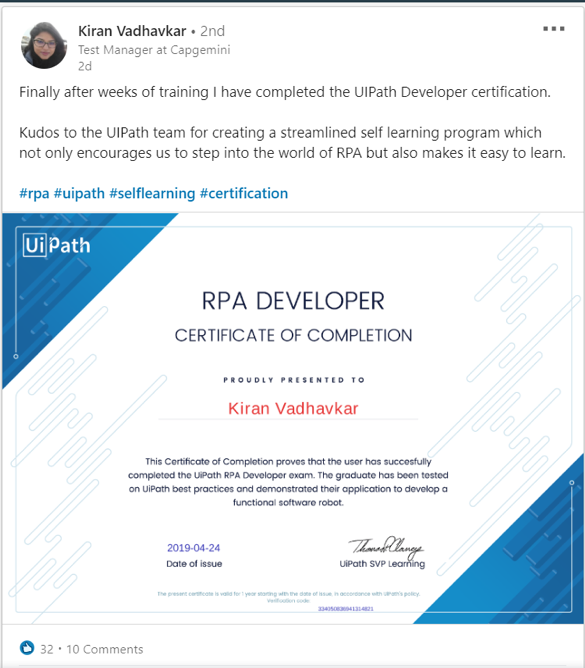 According to a 2016 figure by the research and advisory firm Gartner, the "demand for RPA tools is growing quickly, at about 20 percent to 30 percent each quarter." And this growth is only expected to continue throughout 2017. In fact, automation is expected to be one of the top technologies trends this year.
Some predictions for the new year have already suggested all jobs will be impacted by automation, that more processes will become fully automated, and that artificial intelligence personal assistants will grow in popularity. These forecasts aside, let's consider the facts, opinions, and truths behind the top projections for automation in the year 2017 in order to understand where automation is headed during the next year.
Projection #1: The adoption of automation technologies, like RPA, will significantly increase in the coming year across a wide range of industries.
The implementation of automation is not entirely new, but 2017 has the ability to shift adoption patterns. Currently, adoption of automation technologies is still somewhat an opportunistic act by early adopter companies. This trend, however, will soon lead to more widespread, systemic adoption.  Adoption is increasing among industries already seeing benefits from RPA, and more and more industries are adopting RPA for the first time. This projection, for example, is noted to be the case among manufacturing and supply chain companies.
In a 2016 report that surveyed the adoption of eight new technologies—including robotics and automation—the professional services firm Deloitte suggests that more companies "are increasing investments in these technologies. New technology investments over $1 million have increased…[and some companies are planning to] spend at least $100 million on new technologies over the next two years."
Rather than just being a way for companies to streamline their business operations, RPA and other automation platforms are becoming inevitable. In order to have a competitive edge and remain relevant among industry leaders, more and more companies will be compelled to make use of RPA in their workspaces.
Projection #2: Automation technologies will contribute even more to the growth of Big Data and the Internet of Things.
The Internet of Things consists of various connected devices — mobile phones and tablets, industrial equipments, wearable devices — and allows for increased generation of unstructured data, also called Big Data. Forbes predicts that "The Internet of Everything in both the consumer and B2B market will continue to rise, especially in North America, connecting data, things, processes and people. Intelligent systems will grow rapidly in 2017."
As part of the Internet of Things, automation technologies have been a significant catalyst in the emergence of this Big Data. RPA software robots generate large volumes of data on customers and business operations because they record and monitor their own steps as they execute automated workflows.
More importantly, however, RPA can contribute to the analysis of this Big Data and uncover valuable business insights and trends. RPA can, for example, reveal transaction process times as well as the number of automation activities processed and still outstanding. From this information, RPA can inform financial forecasts and budgets and reveal bottlenecks in business operations. As the Internet of Things, Big Data, and RPA become more widespread in 2017, these technologies have the ability to drive improved data management, streamlined internal workings, and positive business operations.
Projection #3: Automation will replace more responsibilities, but not necessarily job positions, in the workplace.
The emergence of automation has recently caused a certain degree of panic over the possibility that these technologies could replace the need for human employees in the workplace. These worries, though, are mostly unfounded. Automation certainly has the ability to place certain tasks, especially those that are tedious, repetitive, and time-consuming: in fact, that's what it is meant to do. However, this doesn't mean that the entire workforce will be replaced by robots.
A 2017 publication by the McKinsey Global Institute suggests instead that "The right level of detail at which to analyze the potential impact of automation is that of individual activities rather than entire occupations...Given currently demonstrated technologies, very few occupations—less than 5 percent—are candidates for full automation. However, almost every occupation has partial automation potential."
This kind of automation paints a hopeful picture for the future, one where humans and automation work side by side. Going forward, human employees will be able to focus on higher-level tasks that are meaningful and interesting, and automation technologies will be able to take care of the rest.
Projection #4: Artificial intelligence and machine learning technologies, with the help of RPA, will be able to more rapidly advance.
It has long been discussed how intelligent technologies, like artificial intelligence, cognitive computing, and machine learning, are expected to develop in the coming years and decades. In a discussion with Forbes, Ash Ashutosh, the founder and CEO of Actifio, predicts that "Just as most companies evolved to include cloud capabilities and features, 2017 will bring machine learning to almost every aspect of IT…[these technologies] will usher in a new era of data understanding and analysis." What's less often considered, though, is how RPA solutions will combine with intelligent technologies to deliver even greater automation potential.
Intelligent technologies are able to learn and make decisions beyond their initial programming. This means they are able to learn from previous actions and deal with unforeseen exceptions in a business process. Because RPA is able to quickly generate and gather data, combining RPA with intelligent technologies means that the "learning" process can take place at accelerated rates. While these two technologies are only starting to be used together, the smart automation they can produce means that companies will be able to foster both increased productivity and creativity going forward.
RPA in 2017: Fact or fiction?
We can't know for certain what exactly will happen in the realm of automation technologies in the next few years, let alone the next months. Only time will tell. Still, these projections help to reveal what is possible for the future of automation technologies — now in 2017 and beyond. While the unfolding of these projections may face obstacles throughout the development of automation, automation technologies are positioned to make a great impact on workspaces worldwide, eventually even becoming a reality in the smallest companies.
For now, only the most pioneer and trendsetting of companies are fully leveraging the complete benefits of these technologies. However, as automation becomes more widespread, the implementation challenges will subside and the benefits will both increase and diversify, something which we'll be able to see the start of already in 2017.