Kate McDaniel is the blogs editor at UiPath.
For years, I've started my day by reading the news while enjoying my morning cup of coffee. Currently, reading the news can feel a bit overwhelming—especially when trying to follow the latest 2019 novel coronavirus (COVID-19) news and stats. So, I have a robot do that for me.
Thanks to UiPath Customer Success Manager Jenny Man and the software robot she built, every morning I have an email waiting for me that summarizes the COVID-19 stats for my community (based on my zip code) and it includes links to the top national stories about the virus.
Why am I writing a blog about a robot that sends me an email every morning?
Because it is a great example of the benefits of automation and an example business leaders can learn from when implementing Robotic Process Automation (RPA) and introducing employees to automation. The robot was created quickly, has had a big impact, and has introduced many non-technical business users to the advantages of having a robot as a digital assistant.
I talked with Jenny to learn more about the robot and the impact its having around the world. 
What got you started building your COVID-19 robot?
Jenny: I am a big fan of delegating tedious and repetitive tasks to software robots whenever possible. When I first learned about RPA two years ago, I built a UiPath robot to check in for Southwest Airlines flights for me. Using the robot, I get a seat in the A boarding group instead of the C boarding group and never again have to set an alarm to remind myself to check in.
When COVID-19 became a pandemic, I found myself (along with many of my friends and family members) constantly checking various websites for updates and news. There's a lot of uncertainty and panic. I think that access to reliable information in a timely manner can alleviate some of that stress and reduce the time spent looking for the latest data and disease progression.
I reviewed a few websites where I thought a bot could easily and reliably pull data from and compile a daily report to share the information automatically.
After assessing the accuracy of those data sources and the feasibility of building the bot, I found that a robot would actually be quite easy to build. So, I decided to put something together, with the hope that it could become something people can benefit from during this challenging time.
How long did it take you to build the robot?
Jenny: I came up with the idea on a Sunday morning and by Sunday evening the same day I had the first working version of the bot ready to send daily COVID-19 updates to myself, a few friends, and family members. The initial effort was minimal, especially considering what the bot is able to do.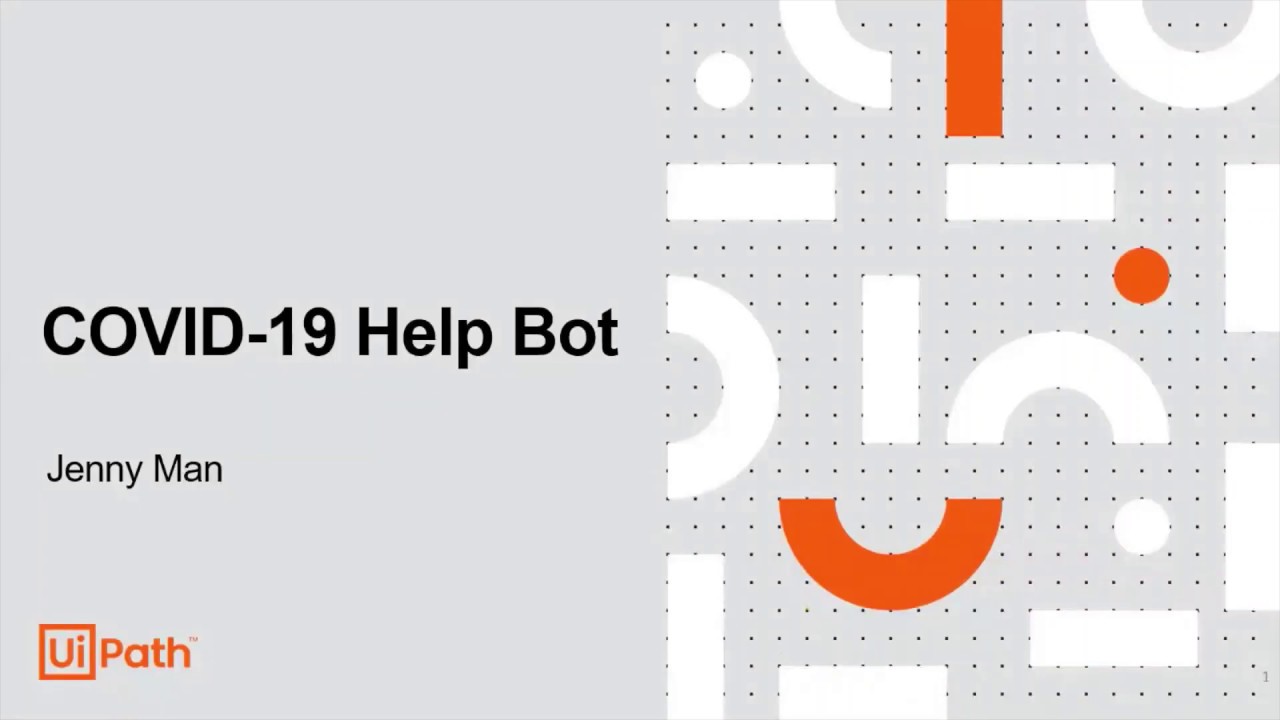 After the project gained traction and the subscriber list skyrocketed, it has taken up a lot of my spare time as I'm adding continuous improvements to make the bot more efficient, enhancing its features, and reporting content (based on feedback and suggestions from many enthusiastic subscribers all over the world), validating the accuracy of data for certain regions, expanding the bot to cover more countries, supporting requests, addressing questions from the many subscribers, etc.
Despite needing to devote lots of spare time to this project, I have really enjoyed doing it and consider the initiative a labor of love rather than of reward.
What robot feedback have you received from subscribers?
Before sharing Jenny's response, I want to point out that this is a point that is important for business leaders implementing RPA—feedback from users is crucial! Let employees know you're interested in their feedback on robots and really take feedback into account to further improve robots and processes.
Dive deeper: How Change Management Strategies at Cision and Morgan Stanley Drive Automation Adoption
Jenny: The positive responses really surpassed my expectations. I first began by telling my colleagues about the robot and wrote a short post on social media. Within two days the post went viral and was reshared 37 times with thousands of views and downloads. Some people have also spread it to additional social media channels and through word-of-mouth to their friends and families.
Within a week, I had close to 1,000 subscribers using this little software robot that just runs on my laptop every night.
The initial bot focused on updates primarily relevant to the United States (U.S.) because I had found quality data sources readily and publicly available. Since the initial launch of the robot, many people asked me to expand and cover other countries, including Australia, Italy, Spain, United Kingdom (UK), Canada, Romania, India, and Hong Kong. The bot has now been expanded to cover Australia, and I am considering expanding it to cover additional countries and populations.
I have also been approached by a few of our partners wanting to use this robot for a bot-building educational exercise for RPA beginners. The simplicity and applicability to our current daily life needs makes this bot a great candidate for those new to RPA to replicate.
Many of the subscribers have kindly sent me personal notes to say thank you for the work and the free service provided to them.
"An incredible tool that provides everything I need to know about COVID-19 affecting my area. With daily information, I can review local and national trends on a daily basis. I find it so useful. I posted the tool on my Facebook page so that my friends could receive the daily information of knowing how the disease is spreading in their area. It was very easy to set up and I'm grateful for the power of information."
- Erika Cramer, corporate board director and executive in mergers and acquisitions (M&A)
"In the mad information age we live in, it is almost impossible to keep things in perspective. Especially living so close to NYC [New York City], it has become a daily routine for me to check how many cases of COVID-19 have been reported near me. More importantly, as information was being released hourly it was getting increasingly difficult to keep track of progress of the disease in my neighborhood. You created a very nice bot that has made this all easy for me. Not only does this bot provide a nice personalized view into the statistics of cases near my home location, it also provides a quick overview of local news headlines. The best feature I find very helpful is the statistics of symptoms reported. Keep up the good work Jenny."
- Ahmed Zaidi, chief automation officer (CAO) and managing partner, Accelirate
"Thanks Jenny and UiPath for providing a clear, concise, data-driven view into the cCoronavirus global pandemic. This bot provides a view of total cases and rate of recovery i.e. hope. What I find most useful are the links to reputable sources and data for how the state and county I live in are affected. The Bing Tracker provides that and updates continuously for real-time information. The email report is clear, concise, and so easy to follow. Thanks for doing this for America! Can this help international countries? Asking for a friend."
- Courtney Jamille, Fortune 50 executive and UiPath Community member
What are your takeaways from this experience?
Jenny: My biggest takeaway from this project is how a simple bot can have a tremendous impact on a large number of people within a short amount of time.
Frankly, when I first came up with the idea, I was unsure whether or not it would be valuable to pursue. After all, the data is already out there and people already have access to that data. So, does it add that much value to people that this publicly available data gets compiled into a concise report that gets delivered to everyone's inbox daily? I was skeptical of the value but since it was such a simple bot to create, I went ahead and did it anyway. The impact and value turned out to be much greater than what I had anticipated.
In the 'automation first' era we are in today, we often hear about the goal of having a "robot for every person." For people unfamiliar with this concept and those not used to enlisting a robot's help in their day-to-day activities, "robot for every person" can be a foreign and distant phrase.
I had the pleasure of catching a glimpse of this vision in action through this COVID-19 help bot project. It was started as a small way to help my friends and family in these trying times. Within days, it turned into a community project that nearly 1,000 people are using and benefiting from. I believe that's the essence of "a robot for every person."
The technology is ready. People are also ready. The reality is that everyone is ready to adopt a robot if given to them.
We just need to find those great ideas, create the automations, and they will gain traction. And the impact will be phenomenal—beyond what we can imagine.
What's next?
Jenny: Once the code stabilizes, I plan to make it available on the UiPath Connect Marketplace for people to freely download the source code directly. For anyone wanting to customize it further for their own needs—to modify or add to the code to expand into more regions—they will be able to do that easily.
You can also sign up for the robot now or dive deeper into the business context and use case for this robot.
Companies around the world are using RPA to respond to drastic shifts in demand during the COVID-19 pandemic.