"Give me a lever long enough and a fulcrum on which to place it, and I shall move the world"—so said Archimedes, Greek mathematician, physicist, engineer, and, if you listen closely, business adviser. Hidden in this physics lesson is a framework that C-suite leaders can use to solve the eternal problem of getting more done with less.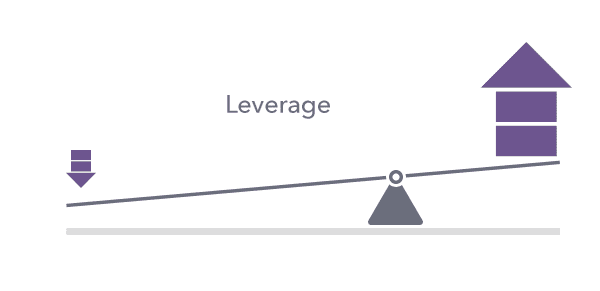 (Source)
Leverage is a grade-school physics problem. A lever lies across a fulcrum, and it's up to you, on one end of the lever, to lift a heavy object on the other end. How? Pressing down harder won't do it. The trick is to move the fulcrum closer to the heavy object, giving you more of a lever on your end. The more lever, the more leverage, and the more likely you'll be able to lift even a heavy object with a light force. 
That's why, given a long enough lever, the world itself is moveable.
Enterprises require world-moving strategies. Which demands that enterprise leaders invest in high-leverage opportunities that deliver outsized returns.
We turned to real-life examples from enterprise leaders at industry-leading organizations to share how they've done it...so you can do the same.
By pattern-matching with the three business leaders in this article, you can learn how to find leverage in your own business.
1. How Experian leveraged technology architecture
Brian Cassin, CEO of Experian, says that if business leaders can invest in their technology architectures, then they can leverage the abilities of their technology teams to advance their companies. Technology architecture, the framework and infrastructure that supports technology development, ages over time.
Cassin ran into a problem many enterprises inevitably encounter: Experian had accumulated technical debt over its many years of operation, and its technology architecture wasn't ready to support digital transformation. 
Experian had, according to Cassin, credit information on hundreds of millions of consumers and businesses, but despite that, "We found ourselves in a position where some of our businesses were not performing, and we had a lot of work to do."
With the pressing challenge of digital transformation confronting him, Cassin challenged his team to start thinking like a software company. Many people consider Experian a credit bureau ("Rightfully so," Cassin says), but they're also "one of the biggest software vendors in the world." Experian provides systems and analytics software for financial services companies, so many companies, particularly banks, are using Experian software for their credit decisions.
And there it is: leverage. 
Cassin had an underutilized advantage that "put us in a pretty unique position to start thinking about how can we look at our role and how it can expand in that new world."
The problem? Experian had outdated technology architecture. Cassin notes that, like all enterprises, Experian had, in its long history, made acquisitions, developed siloed business units, and built technologies that had once worked but had aged.
Cassin uses Ascend, a big-data platform it launched in 2019, as an example. Experian launched Ascend to help tier-one banks perform analytics in ways that were previously impossible, making banks' analytics cheaper, easier, and more effective. Cassin cites Ascend as an example of a product that succeeded because it required interoperable technologies.
"Ascend," Cassin admits, "just wouldn't have been possible" in 2015. It became possible because Experian identified a high-leverage opportunity—its outdated technology architecture—and invested in its improvement. That meant enabling developers to work across cloud and hosted environments, developing an API estate, upscaling their talent, and changing the perspective of their product development teams.
How to find leverage in your organization
This high-leverage opportunity isn't for the faint of heart. Remember, the high-leverage strategy is all about finding efforts that pay off with disproportionate rewards. That doesn't mean every effort will be easy. Cassin said it's a "huge job to do to really make what seems like a simple thing on paper really work."
The key is to focus on building compelling proof-of-concepts. As we've written regarding automation, companies like Amazon, Uber, and SiriusXM/Pandora have successfully justified big technology investments by creating "quick wins." Quick wins help your company build momentum toward ever bigger technology initiatives, even ones that involve moving beyond legacy technology architectures.
2. How Upstart leveraged speed
Dave Girouard, CEO of Upstart and former president of Google Enterprise Apps, says that most companies settle for slow velocities, meaning that if enterprise leaders successfully challenge their companies to move faster, then they can beat the competition.
The problem is that decision making is slow at most companies. Collective delays can cause organization-wide inefficiency, compounding as a company builds to enterprise-scale size and enterprise-scale slowness. Luckily, Girouard had someone to learn from at Google: Larry Page. From Page, Girouard learned decisions could be made faster than people tended to assume.
"When a decision is made, Girouard concluded, "is much more important than what decision is made."
Girouard noticed a subtle but high-leverage opportunity. Employees habitually delayed decisions, causing slowness, so if Girouard could reverse that habit, he could create a faster company. Girouard learned to constantly challenge his team to move faster.
Speed became an expectation and a cause of celebration. Girouard writes, "When enough members of a team exhibit this set of habits, and are rewarded with reinforcement, compensation, and promotions, the organization itself will gain velocity."
The potential of this speed is hard to overestimate. "All else being equal," Girouard writes, "the fastest company in any market will win. Speed is a defining characteristic—if not the defining characteristic—of the leader in virtually every industry you look at."
How to find leverage in your organization
Organizations are built on layers of expectations and assumptions—start looking for ones you can question. You may find, as Girouard did, that you can set new expectations and build new habits. The beauty of expectations and habits is that they scale, and once you scale, you have leverage.
3. How NXP Semiconductors leveraged smart divestments
Kurt Sievers, president and CEO of NXP Semiconductors, says that enterprises can be easily distracted by their own size, meaning that enterprises that can intelligently divest become more flexible than competitors.
The NXP portfolio stretched across many different businesses when Sievers took over. Many, however, were unsustainable. "Those were good businesses from a market perspective," Sievers said, "but we felt that sustainable growth with reasonable profitability was impossible."
This is a hard problem to see, much less address. If your businesses are operating well in markets with demand, what would even cause you to start looking for problems? Looking for high-leverage opportunities is one framework that can help you catch these problems before they worsen.
When Sievers realized which businesses were unsustainable, he divested. "We deliberately went away from mobile communications on the modem side and from products for digital consumers, including TVs, optical storage, and even audio offerings."
Divestment enabled NXP to focus on its core businesses, allowing it to leverage both the full attention of the organization and the market potential of the businesses that were most likely to succeed.
"We instead focused on building automotive, even though the sector wasn't a given in those days. We also built a position in industrial, which was a well-kept secret but is now becoming more popular, and we're now a major player there."
Smart divestment resulted in a business that has "only two large segments" and "a few very well-defined focused plays."
How to find leverage in your organization
Focus is the ultimate form of leverage. When your mind and your business are entirely focused on one thing, you can move worlds. How is your attention split? What's distracting you? Learn from Sievers and divest where possible so you can invest in what's necessary.
Get more done with less effort using high-leverage opportunities
By focusing on high-leverage opportunities, the results of your work can take on exponential benefits. Assess the leverage potential of every opportunity that comes across your desk:
How much work will it take to accomplish?

What are the results of that accomplishment?

What is the ratio of effort-input to result-output?
Here's one high-leverage opportunity you can start to tackle today: automation.
When you automate, software robots take over your low-leverage, repetitive, tedious activities, giving you (and your employees) the freedom and time to tackle high-leverage opportunities.
To get started, check out "Overview of RPA for the C-Suite: The Quick Guide to Getting Started."
Editor's note: the examples and quotes in this blog post were sourced from third-party, public interviews and resources.