UiPath software robots are now used to help fulfill over 10% of the United States (U.S.)  federal government stimulus.
Banks are racing to handle the massive influx of loan applications from small- and medium-sized businesses (SMB) across the United States. In the very first few days administering its small business relief program, banks had hundreds of thousands of customers apply for over $30 billion in loans.
This is great news. The faster banks can give businesses government-backed loans, the faster these businesses can bring back employees that have been impacted by the global crisis.
The challenge for banks is one of massive scalability fast, while also delivering on the audit requirements that are necessary to ensure longer-term loan relief and government forgiveness to support their customers. The answer for banks is not another application platform or lengthy software development effort. Banks need additional workers to provide throughput.
The solution is to deploy an army of software robots to work alongside bank agents. Robots can use UiPath UI (User Interface) Automation to reliably manage, move, and audit data between a bank's proprietary platform and the U.S. government's Small Business Administration (SBA) application and approval portal.
Over the past week, we have worked with two of the top-tier banks to help automate the processing of applications received from small business customers for loans tied to the Coronavirus Aid, Relief, and Economic Security (CARES) Act and the Paycheck Protection Program (PPP) for relief from COVID-19 impact.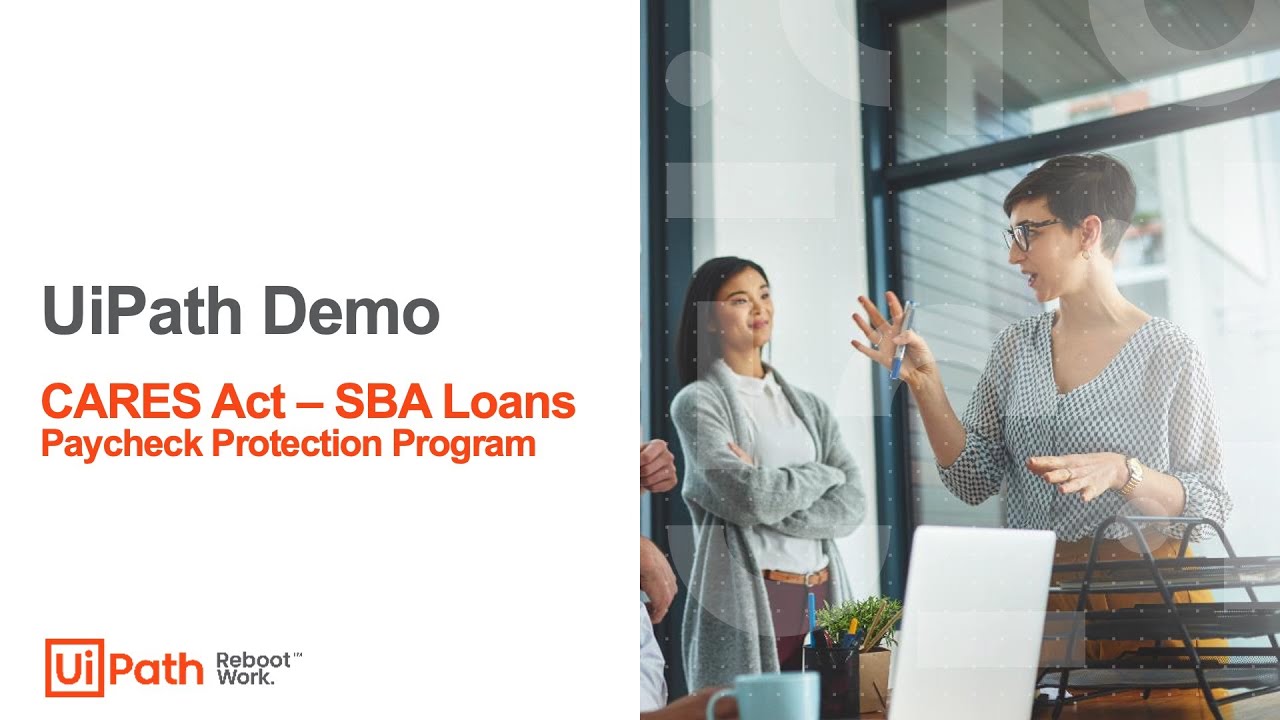 The actual automation was set up in less than 24 hours so that bank workers could improve their throughput with lightning speed, reducing loan processing from 30 minutes to just three minutes. While it takes significant time for bank processors to manually process an application, UiPath robots working for the banks—and assisting their agents—are dramatically accelerating this process. 
"Software robots are now assisting banks across the U.S. to fulfill well over 10% of the U.S. federal government stimulus," said Daniel Dines, co-founder and CEO, UiPath. "The SBA loan program is a very real example of where our customers needed a fast solution that scaled across their existing systems, processes, and the SBA. Banks do not need to purchase and deploy yet another traditional application platform. Instead, they simply deploy capacity to work with systems as they exist. I am profoundly humbled by the speed at which our employees supported our banks over the last few days. This is highly repeatable across the country right now. Working together with urgency, we can deliver on the government's historic stimulus in hours, not days or weeks, helping us all through this unprecedented crisis."
UiPath is determined to help deliver the relief businesses and their employees need now. With software robots, UiPath can help banks and credit unions:
1. Optimize inbound loan processing,
2. integrate and streamline an existing underwriting approval process, and
3. automatically submit accurate data into the SBA approval portal. 
This can be accomplished in less than 48 hours. UiPath will provide free consultation services on how to execute automation in your bank.
Every bank or credit union in the U.S. is eligible to leverage UiPath pre-built components to accelerate their lending for SBA loan requests in compliance with the CARES Act and PPP.
For more information, please register for our upcoming UiPath webinar: Delivering Lightning Fast Scalability for Your Bank to Deliver Maximum SBA Loan Approvals. The webinar will be held on Wednesday, April 15, 2020 at noon EST / 9:00 a.m. PST.
To request UiPath assistance immediately, please contact us directly anytime and we can help your bank move very quickly.
Be safe. Be healthy.