Federal government and defense agencies are on the verge of a breakthrough in digital transformation and IT modernization thanks to AI-powered automation. Automation provides the enterprise scaling function and security guardrails that apply both general artificial intelligence (AI) and Specialized AI in government mission contexts for breakthrough results.
At the UiPath TOGETHER Public Sector conference, over 700 government and defense leaders gathered to share new use cases and insights on how automation is the solution for agencies to transform mission performance and operations, improve employee and citizen experiences, contribute to career advancement, and achieve mission outcomes.
The summit also highlighted recent partnerships announced by UiPath to bolster automation delivery for public sector agencies. UiPath announced an expanded partnership with SAP to offer the UiPath Automation Platform to customers, which builds upon the strong momentum of SAP Build Process Automation. The expanded partnership enables customers to execute business transformations, migrate critical business systems to the cloud, and augment existing business systems with the UiPath Platform. The customer benefits include faster time to value for end users through digital assistants, an ability to flexibly optimize the systems and technology surrounding SAP and an open platform that leverages existing customer enterprise IT investments, all while preserving the ability to take advantage of the continuous improvements made available by SAP for the core ERP system.
In addition, UiPath announced a new partnership with Peraton, a leading mission capability integrator and transformative enterprise IT provider, to deliver the UiPath Platform as a cloud-based managed service to high-security environments within U.S. intelligence, defense, and civilian agencies. Peraton specializes in helping essential government agencies overcome daunting challenges that require fast, reliable, and secure technology solutions. These valued customers require the highest levels of compliance and security to complete their missions. This partnership enables them to take advantage of the AI-powered UiPath Automation Platform in sensitive environments as a managed service—either via cloud or on-premises with expert support in automation scripting, implementation, and management.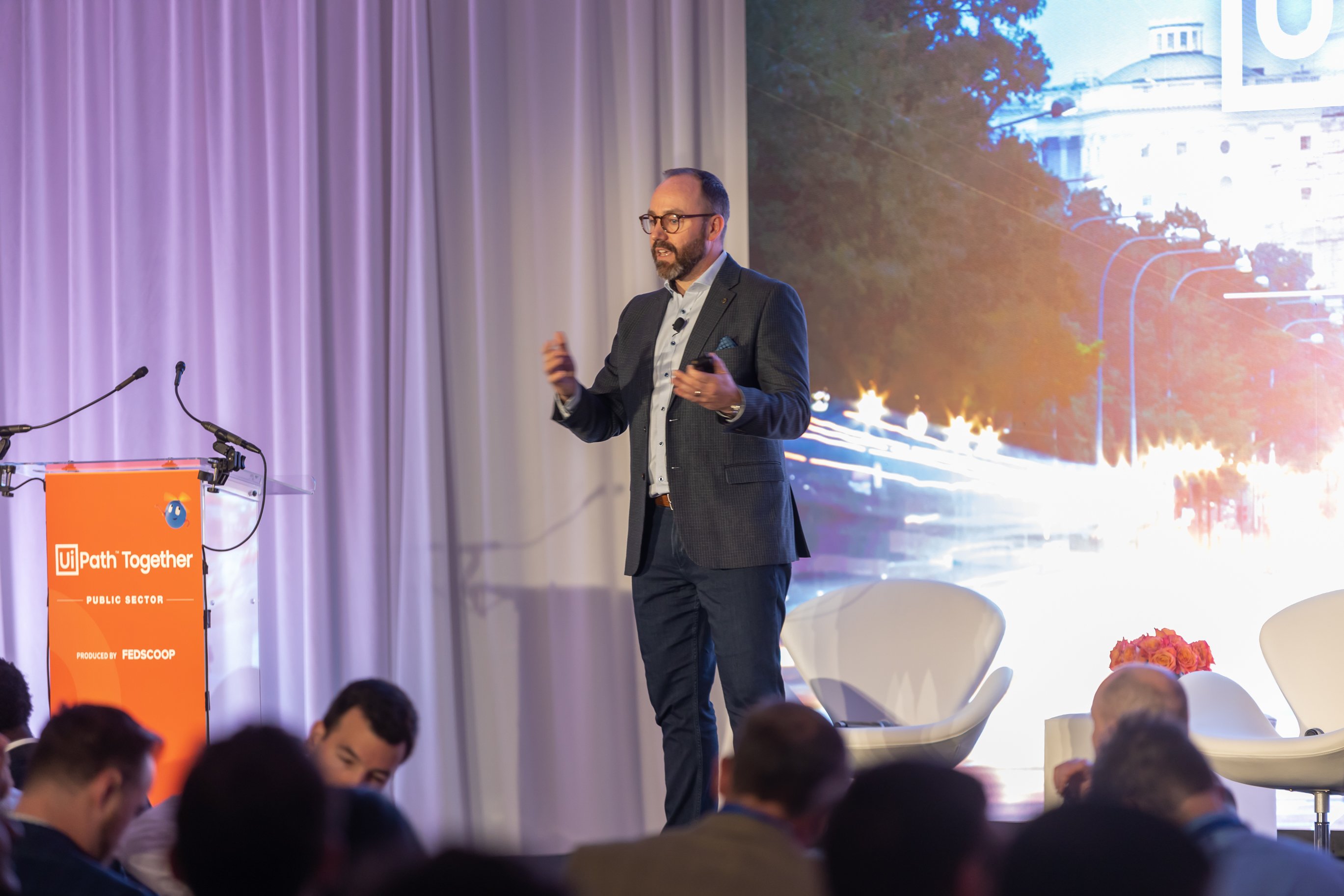 We're seeing an urgency within the public sector to apply AI-powered automation to modernization projects at every stage of maturity. Speakers at TOGETHER Public Sector artfully detailed how the UiPath Automation Platform understands how processes work across people, technologies, and systems to achieve more, faster, and meet the mandates of their missions. Their stories of using the UiPath Platform to move automations and digital assistants closer to the edge—where users and workers are tasked with critical decision making and delivering services—are inspiring.
Improving government performance for national security
The United States (U.S.) Air Force saved 80,000 hours of time by applying automation to tasks in acquisition, finance, and logistics, according to Venice Goodwine, Director of Enterprise Information Technology for the U.S. Air Force. Automation is a time saver, freeing up personnel to focus on more high-value work and a catalyst for attracting top talent. 
"We're in a talent war. We can compete if we provide innovative tools for our talent," Goodwine said during her remarks at the conference. "[Automation] is now a recruitment tool, a retention tool. If [employees] believe they can automate their work, we give them a place to do that."
Goodwine also emphasized the importance of creating a culture of innovation within agencies and how change management is essential when implementing automation.
Creating an agency culture surrounding AI-powered automation
Understanding an organization's culture and educating users about the benefits of automation are critical factors for successful implementation, according to Krista Kinnard, Director of Innovation & Engineering at the Department of Labor (DOL). 
DOL uses automation in its procurement divisions, saving thousands of taxpayer dollars annually. After seeing that automations are excellent tools to help them get their jobs done, DOL employees are now advocates of automation in other agency functions. Today, DOL has expanded to deploy automation in its human resources department. 
According to Elizabeth Chirico, Acquisition Innovation Lead within the Office of the Deputy Assistant Secretary, U.S. Army, automation is helping the Army's contracting workforce streamline processes, saving time and increasing cost avoidance. 
To build an automation program, decision makers must understand an agency's culture from a centralized perspective to move automation as close to users as possible. Educating the workforce and change management are essential, Chirico noted.
Speeding up disaster relief and government assistance
Chris Kraft, Assistant Administrator, Financial Systems Division and Chief Financial Officer (CFO) at the Department of Homeland Security (DHS), discussed how DHS is using automation to improve emergency management processes and process payments for disaster relief. During a panel discussion, Kraft and Theresa Hunter, CFO of the Internal Revenue Service (IRS), stressed that developing a governance and security model is essential for implementing automation across their agencies.
The Health Resource Services Administration (HRSA), which manages compliance risks, realized automation's potential to scale its financial warehouse and pull its data into other systems. Joseph Roach, Director of Financial Policy and Analysis Division within HRSA's Office of Financial Policy & Controls, also spoke at UiPath TOGETHER Public Sector.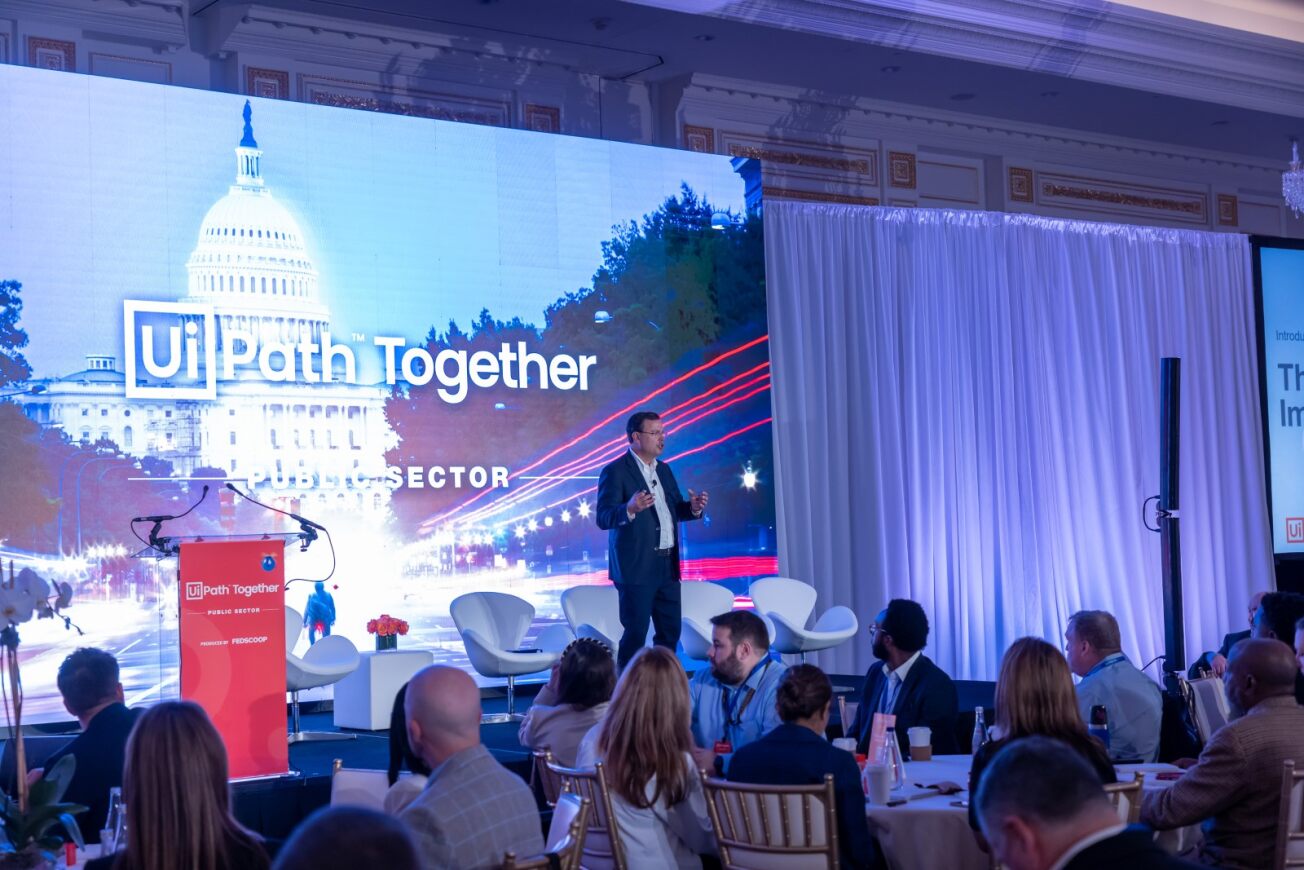 Until recently, agency employees handled compliance and auditing, both manual and time-intensive tasks. Since then, HRSA has deployed automation to maintain program integrity, ensuring that payments reach those who are eligible for various agency programs without error. For instance, a task that previously took an employee six to 10 minutes to complete, a robot can do in less than five seconds. As a result, employees can spend more time on complex, higher-value work that contributes to their career development.
Protecting U.S. borders
The U.S. Coast Guard (USCG) is looking to ramp up "automation-as-a-service", according to Commander Jonathan White, Cloud and Data Branch Chief at the USCG. The program will be based on a virtual desktop infrastructure where AI-powered bots will operate. The Coast Guard wants to build a platform with open doors where individuals can enter and service themselves. The solution would also enable senior leaders to extend automation capabilities across an enterprise.
The U.S. Customs and Immigration Service (USCIS) is turning to automation to accelerate processing immigration forms, according to Suzie Rizzo, Acting Deputy Division Chief at U.S. Systems Delivery Division. USCIS processes millions of paper-based documents to adjudicate immigration applications and other benefits, creating a processing backlog. Since Title 42 expired, officials have seen an influx of immigration at U.S. borders. USCIS is turning to automation to expedite requests and ensure accurate and timely document processing.
Ensuring AI-powered automation is included in zero-trust security frameworks
During his panel discussion, David McKeown, Deputy Chief Information Officer for Cybersecurity and Chief Information Security Officer (CISO) at the Department of Defense (DoD), laid out specific areas where automation is essential to building zero trust frameworks within the DoD. Zero trust is a security framework that requires all users, whether inside or outside an agency's network, to be authenticated, authorized, and continuously validated before granting them access to applications and data. McKeown emphasized that "automation and orchestration" are essential components of the DoD's zero trust pillars. Automation use cases, such as data logging and analytics, account provisioning and Identity, Credential, and Access Management (ICAM), remain critical to protect DoD networks and U.S. infrastructure.
Rebuilding trust in government and accelerating career advancement
From streamlining business operations to improving employee and citizen experiences to strengthening cybersecurity, automation is helping agency leaders reimagine how work gets done. This work includes using automation as a catalyst for improving citizen experiences, which rebuilds trust in government. 
As the U.S. Army's Chirico noted during a panel discussion, using automation should not be a "one-time conversation." The workforce must experience how automation enables themselves and their career development. There must be communication and partnerships across different teams to build trust, she said.
"Innovation is good, but perseverance is better," said Chirico. 
Interested in learning more about the UiPath TOGETHER Public Sector conference? Head to our website to view the on-demand speaker sessions now.