We are excited to announce that UiPath has acquired Re:infer, a natural language processing (NLP) company focused on unstructured communications. Founded in 2015 by Ph.D. scientists from the Centre for Artificial Intelligence at University College London, Re:infer uses machine learning (ML) technology to mine context from communication messages and transform them into actionable data. 
Today, over 80% of enterprise data is unstructured, meaning that it cannot be easily analyzed and used to improve business operations or outcomes. This data is stored in many forms, from emails, documents, chat logs, to social messages and more, growing at the rate of more than 55% per year. Organizations must address these forms of communication, as they are the main means customers use to engage with them. Every customer conversation contains valuable information about the customer's preferences and needs, and the organization's products, services, and processes.
Communications mining: intelligent prioritization and action
Communications mining may be a new concept to some of you. So let's start with some examples of real-world use cases customers have implemented with Re:infer to see the value it can bring to your business.
Customer support – email to case: 95% of customer service teams use email to communicate with customers. Re:infer reads and understands incoming support emails and can automatically trigger the creation of a new case, or addition to an existing case in a customer support system. The result is saved time and less mundane work for busy customer support agents.

Customer experience – voice of the customer: $62 billion is lost by United States (U.S.) businesses annually as a result of poor customer service. Understanding what your customers expect and what they have to say about your brand, products, and service is key to retaining them for the long term. Re:infer can provide understanding and visibility into the intent and sentiment of multi-channel customer feedback, at scale, across each stage of the user journey.

Customer support – communications auto triage: 129 billion business emails are sent yearly—that's a lot of emails. You probably have people somewhere in your company triaging incoming emails and deciding who needs to respond. In high-volume communications channels, such as shared mailboxes and chat channels, Re:infer enables customized categorization, prioritization, data extraction, and routing (to the appropriate department or individual) of each message. Which frees your employee to do more productive work instead.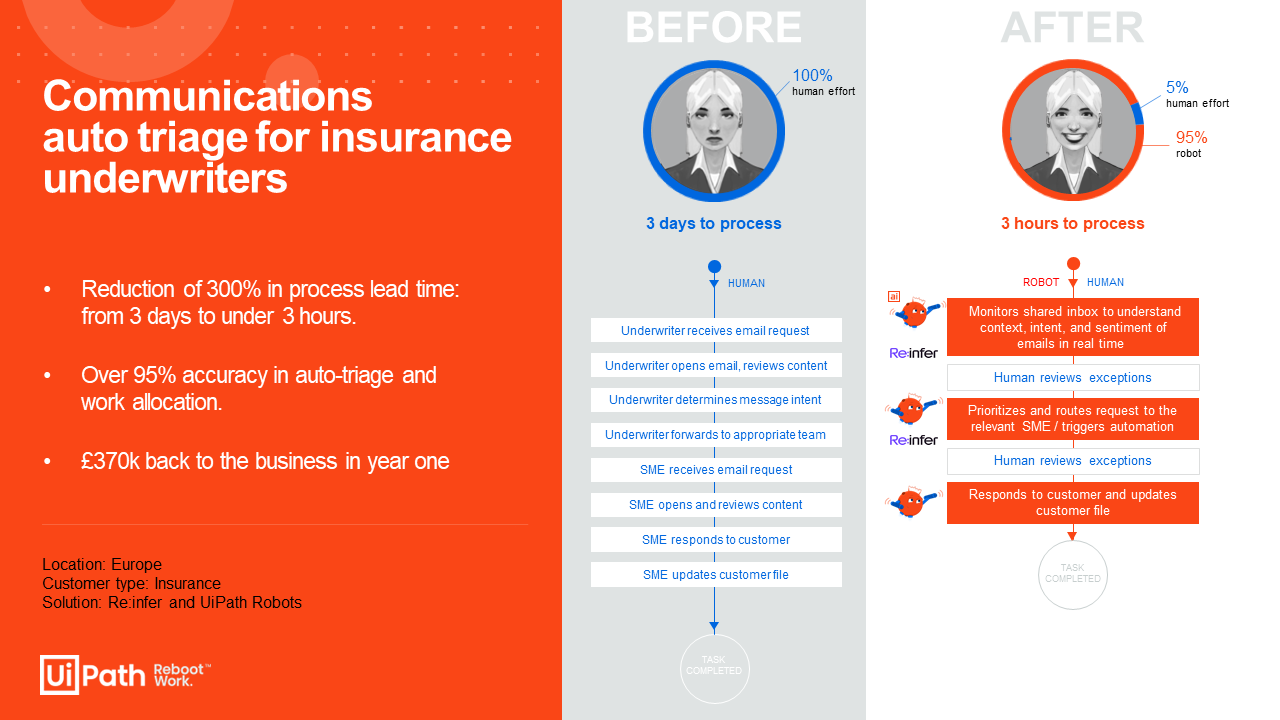 Enhancing everyday customer conversations through automation
Now that you understand what Re:infer does and the value it can add to your business, let's talk about how it does it.
Re:infer unlocks the value in business communications by mining, monitoring, and extracting context and semantics from the unstructured data found in a variety of communications methods. Then, using ML and NLP technologies, Re:infer turns those messages and documents into actionable business data. Re:infer is an industry agnostic no-code solution and it is easy for non-developers to rapidly train and deploy the optimized data models for your company's communications messages.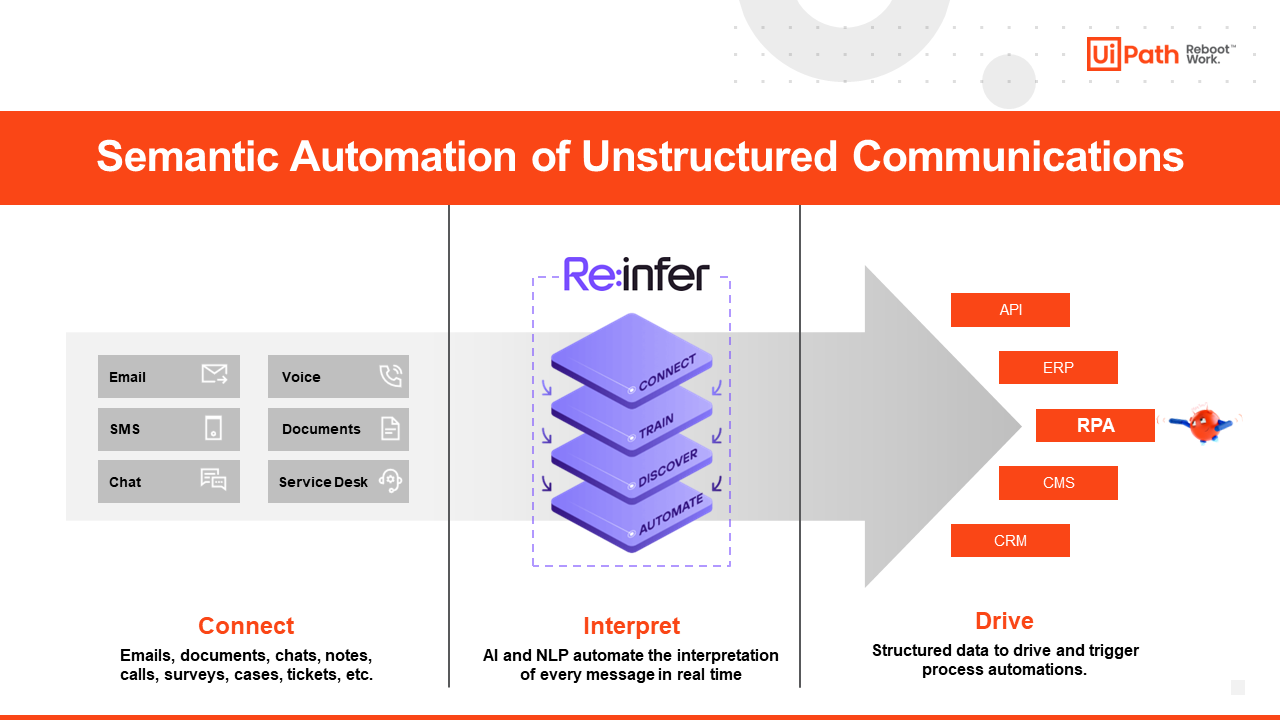 When combined with the UiPath Automation Platform, developers can now easily build automations that optimize the customer experience (CX) and operational scalability of contact centers. Developers can also enhance existing automations that work with email to make them smarter with Re:infer.
Re:infer also includes customizable dashboards to monitor and analyze business communications data and workflows, down to the individual message. This provides both historical and real-time reporting allowing you to track communications trends.
Last, but certainly not least, for our friends in IT, Re:infer has been built from the ground up to be enterprise-grade to meet your most exacting IT requirements. It is ISO 27001:2013 certified and has support for single sign-on (SSO) and role-based access control (RBAC).
We have long believed that automation and AI are the technology power couple that, together, empower the vision of the fully automated enterprise™. As our customers scale automation, we are committed to expanding the UiPath Platform capabilities that support them on their journey. The acquisition of Re:infer expands on these capabilities by further unlocking the value of the vast amounts of unstructured data within an organization. Today, Re:infer is helping organizations like Paychex and Farfetch gain insights and action from every conversation in real –time—bringing teams together and businesses closer to their customers. 
Re:infer's product capabilities are available to UiPath customers in private preview. Further details will be announced at the UiPath FORWARD 5 conference taking place September 27-29, 2022, at the Venetian Resort in Las Vegas. Register now to save your spot.