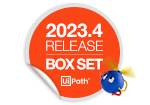 We believe that artificial intelligence (AI) can take automation to new heights, which is why we have infused every aspect of the UiPath Business Automation Platform with AI over the years. As such, the UiPath Platform is designed to be open, flexible, and enterprise-ready, enabling customers to tap into the innovation of the AI ecosystem and take advantage of the latest foundational models and generative experiences.
We are excited to share with you the latest updates on how we are helping you operationalize AI in this new release.
Discover new possibilities
We have now completely integrated the powerful AI and large language model (LLM) technology of our 2022 acquisition, Re:infer, into the UiPath Platform as UiPath Communications Mining. You can now mine, monitor, and automate business conversations—like emails and support tickets—to automate more, enhance efficiency and productivity, and transform the customer experience. Thanks to an intuitive, no-code user interface, it's fast and easy to tailor AI models to your exact business requirements.
UiPath Communications Mining is now available for all UiPath Automation Cloud™ enterprise customers, with activities available in UiPath Studio. In this release, we have also launched Guided Training which guides users with specific, next-best actions to take to improve the quality, reliability, and performance of their models.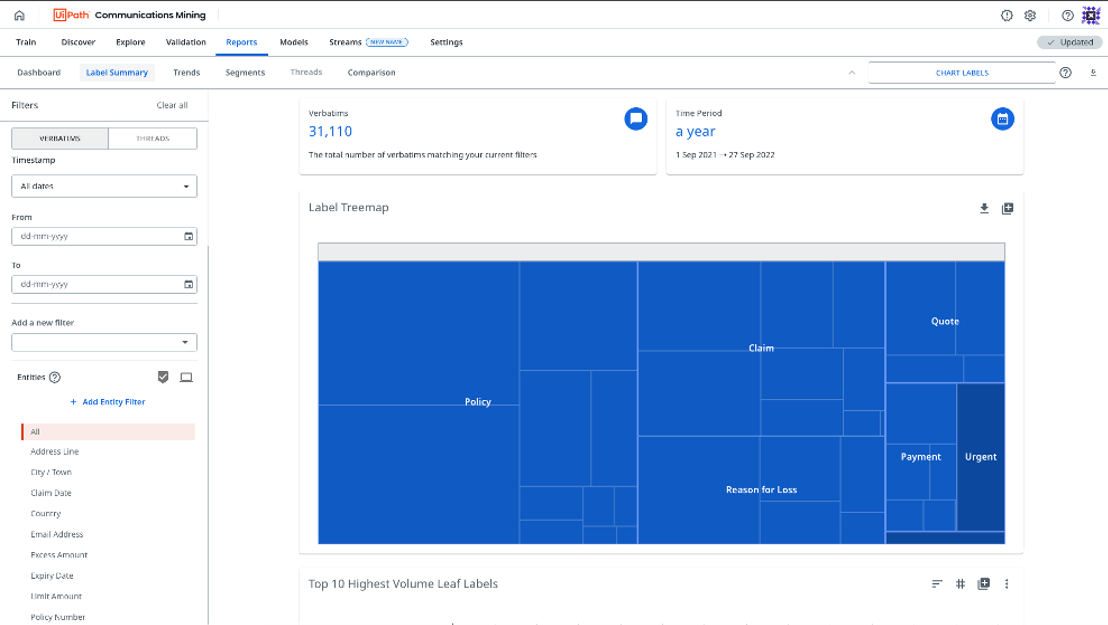 UiPath Communications Mining extends AI-powered automation into entirely new business areas, enabling the automation of the most common business requests and time-consuming conversations—from beginning to end.
Automate a greater number of processes
UiPath Integration Service has expanded its library of prebuilt connectors to include OpenAI for ChatGPT, and Amazon SageMaker for quick workflow deployment of LLM applications.
OpenAI Connector for GPT
Now in public preview, the new OpenAI Connector brings the power of ChatGPT into your automations. The connector enables GPT generative text completion, as well as intelligent queries for most business records. OpenAI connectivity can trigger text prompts in systems like Jira, Salesforce, or Oracle NetSuite, to name a few.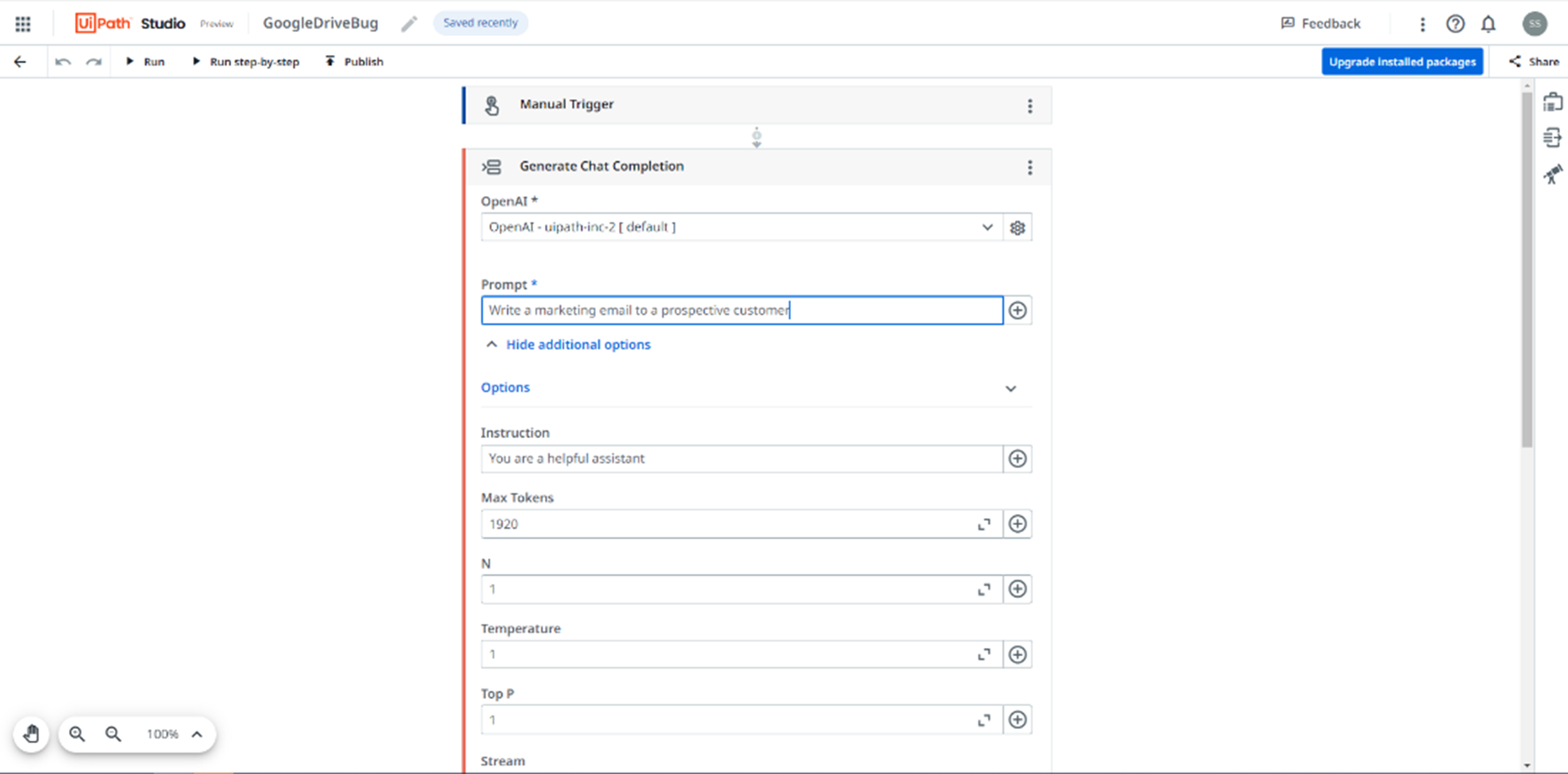 Users can choose from a series of GPT models based on use case, including LLMs such as DaVinci, Curie, Babbage, Ada, and more.
Enterprise-wide text generation use cases are potentially unlimited. Consider process content requirements for sales, marketing, social media, customer support, human resources (HR), and onboarding workflows.
Amazon Web Services (AWS) SageMaker Connector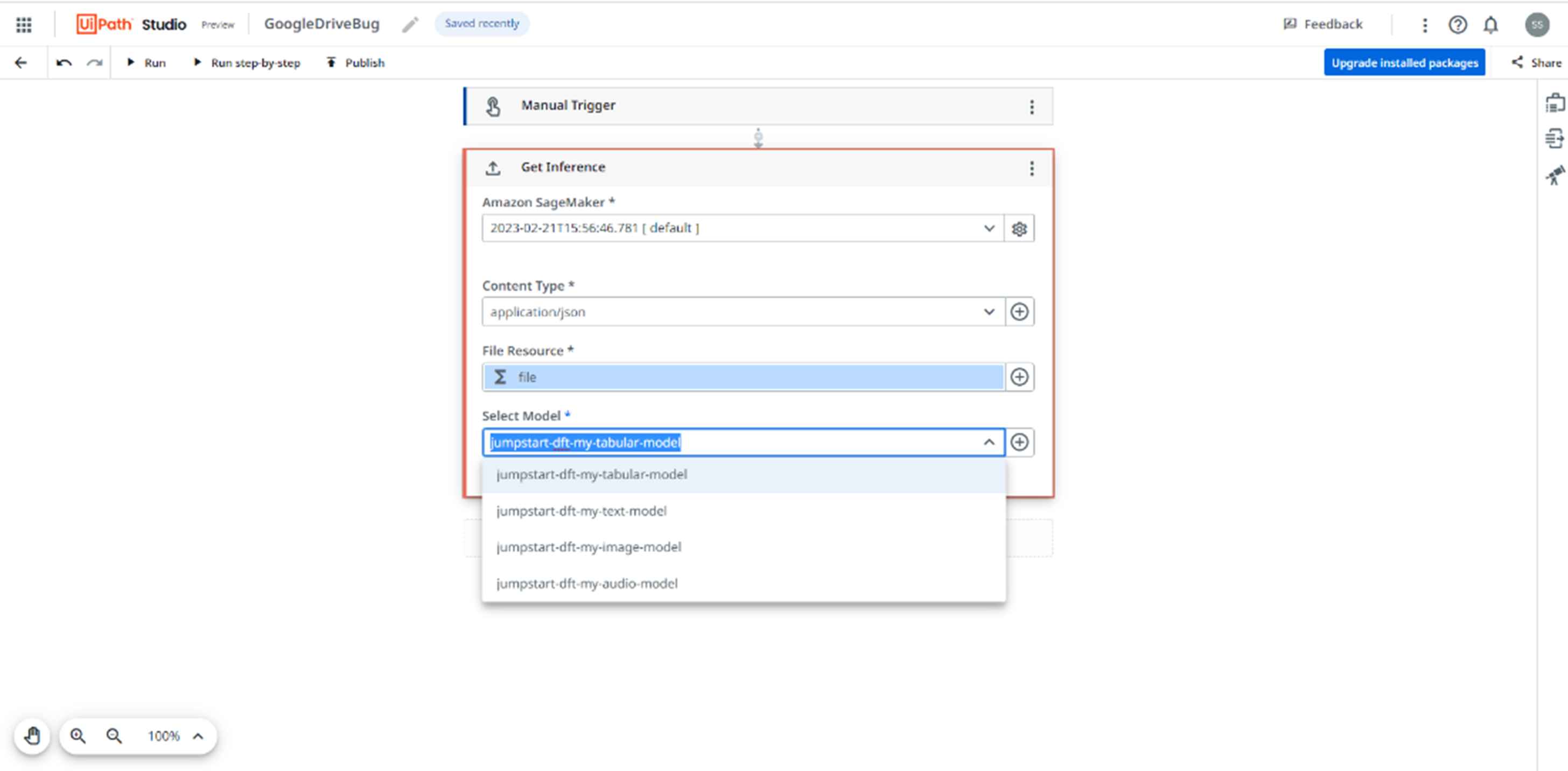 The new SageMaker connector quickly integrates custom, Jumpstart, and AWS models into UiPath Studio production workflows. The connector eliminates the need for code and time-consuming scripting, meaning SageMaker helps provide even greater time-to-value for business decisions based on:
Insurance policy underwriting: automate real-time policy application data via an insurance risk machine learning (ML) model. Analyze your model's risk calculation score to make an approval decision.

Churn prediction: integrate customer behavioral data (e.g., customer support chat logs), into a risk ML model. Identify high-risk customers for subscription or service cancellation.  

Credit application approval: deploy data into a credit risk model that returns a calculation score determining risk levels for application approval.  

Fraud detection: create models based on monthly financial transaction data. For example, use an Oracle NetSuite connector to send tabular data to the fraud detection model in SageMaker.
We at Redesign are committed to democratizing the use of machine learning and RPA in the world. Connecting Amazon Sagemaker to the UiPath Platform will simplify data science usage and reduce implementation efforts while adding value to our customers' use cases. Working together with AWS and UiPath, we can further leverage your return on investment by delivering end-to-end processes.

Dani Soares, CEO, Redesign
The AWS SageMaker connector is currently in public preview. 
In addition to OpenAI and AWS Sagemaker, we've also released connectors for Google Vision, Microsoft Vision, Sentiment, and Translator.
Amelia partnership: Seamless digital experiences for employee service desk experiences 
Conversational AI has revolutionized the way that businesses interact with their employees, enabling chatbots and virtual assistants to understand and respond in natural language. The partnership between UiPath and Amelia's enterprise-grade Conversational AI ushers in the next generation of employee help desks, playing a vital role in enhancing IT's overall efficiency.
With this native integration, Amelia can help understand employees' requests and kick off corresponding automated processes, such as access requests and account administration tasks. This integration ensures that agents have more time to focus on complex cases that require more human touch and in-depth problem solving.
UiPath customers can now purchase this self-serve help desk solution with an Amelia Digital Agent directly from UiPath, enabling every employee to have access to an Amelia help desk agent for their requests.
Document Understanding: Reaching more use cases and higher accuracy
We're excited to announce the release of seven new pre-trained models, covering a range of use cases including pay slips, Certificates of Origin, EU Declarations of Conformity, Children's Product Certificates, Certificates of Incorporation, shipping invoices, and CMS1500. These models will enhance the capabilities of our customers' automations while accelerating the ROI of their document-heavy processes. And our commitment to enhancing our AI and ML capabilities doesn't stop there. We're delighted to introduce one-click ML extraction and classification (public preview), which allows you to train an ML model with just a single click.
We've also released the general availability of business rules. This empowers our customers to achieve more accurate results with custom rules tailored to their specific business requirements. The rules for UiPath Document Understanding processes include formatting and mathematical rules as well as external system lookups (coming in preview soon)—reducing the need for human validation and increasing the straight-through processing rate.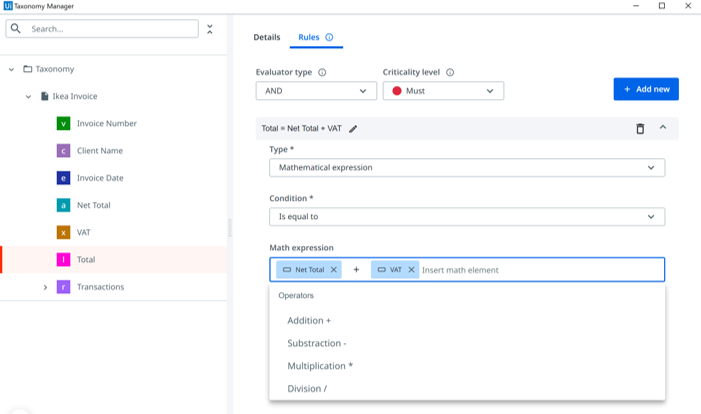 Another important update is that we now offer Document Understanding as a service (public preview). Now you can use basic UiPath Document Understanding capabilities standalone—enabling seamless integration with external tools and systems via APIs. This release includes Discovery, Digitization, Classification, Extraction, and Validation APIs.
Enablement of UiPath Document Understanding as a true API-based service opens a broad avenue for integration of UiPath AI-based intelligent document processing within workflows. This new functionality will allow organizations to utilize Document Understanding capabilities seamlessly, directly from within enterprise applications or through enterprise application integration platforms. We have loved the UiPath Platform since its inception for its open integration capabilities and we are extremely excited to see the evolution of the UiPath Document Understanding product.

Ahmed Zaidi, CEO, Accelirate Inc.
AI to boost employee productivity
AI Computer Vision integration in Unified Target
With this integration, you can now create UI-based automations with just a simple point and click, making the automation experience even more effortless. This innovative integration eliminates the need for complex selectors and ML packages, allowing you to enjoy a reliable and resilient automation process that adapts to changes in your application interfaces. 
Clipboard AI
Clipboard AI is a desktop tool that harnesses the power of advanced AI to simplify the process of copying and pasting data for users of all levels. With Clipboard AI, users can effortlessly extract data from various sources such as spreadsheets, documents, apps, and photos, and seamlessly insert it into different formats, labels, and data conventions. At the moment, Clipboard Al is in private preview—see it in action and join the waitlist now.
Hear more about the breakthrough innovations happening in AI-powered automation during UiPath Live: The 2023.4 release show. Edward Challis, Head of AI Strategy and GM for Communications Mining at UiPath, will cut through all the AI buzz and the buzzwords to zoom in on practical use cases during the must-see broadcast event. Save your spot.
And we'll be unveiling our biggest updates during the UiPath 2023.4: Platform Spotlight virtual event on May 23, 2023. Be sure to join us for the "AI-powered Automation and Faster Time to Value" session. Register now.