Another month, another exciting batch of product updates across the UiPath Business Automation Platform as we gear up for our 2023.4 General Availability launch in May. In this post, we'll look at several new features aimed at making automation discovery, development, and deployment easier, more efficient, and more user friendly. So, let's dive in and see what's new!
Automate smarter and faster with UiPath Dev Dives
Make sure to join UiPath Dev Dives, our monthly hands-on webinar series packed with demos and real-life examples of how to build better, faster, and more reliable automations with the UiPath Business Automation Platform. Explore Dev Dives and pick your preferred sessions.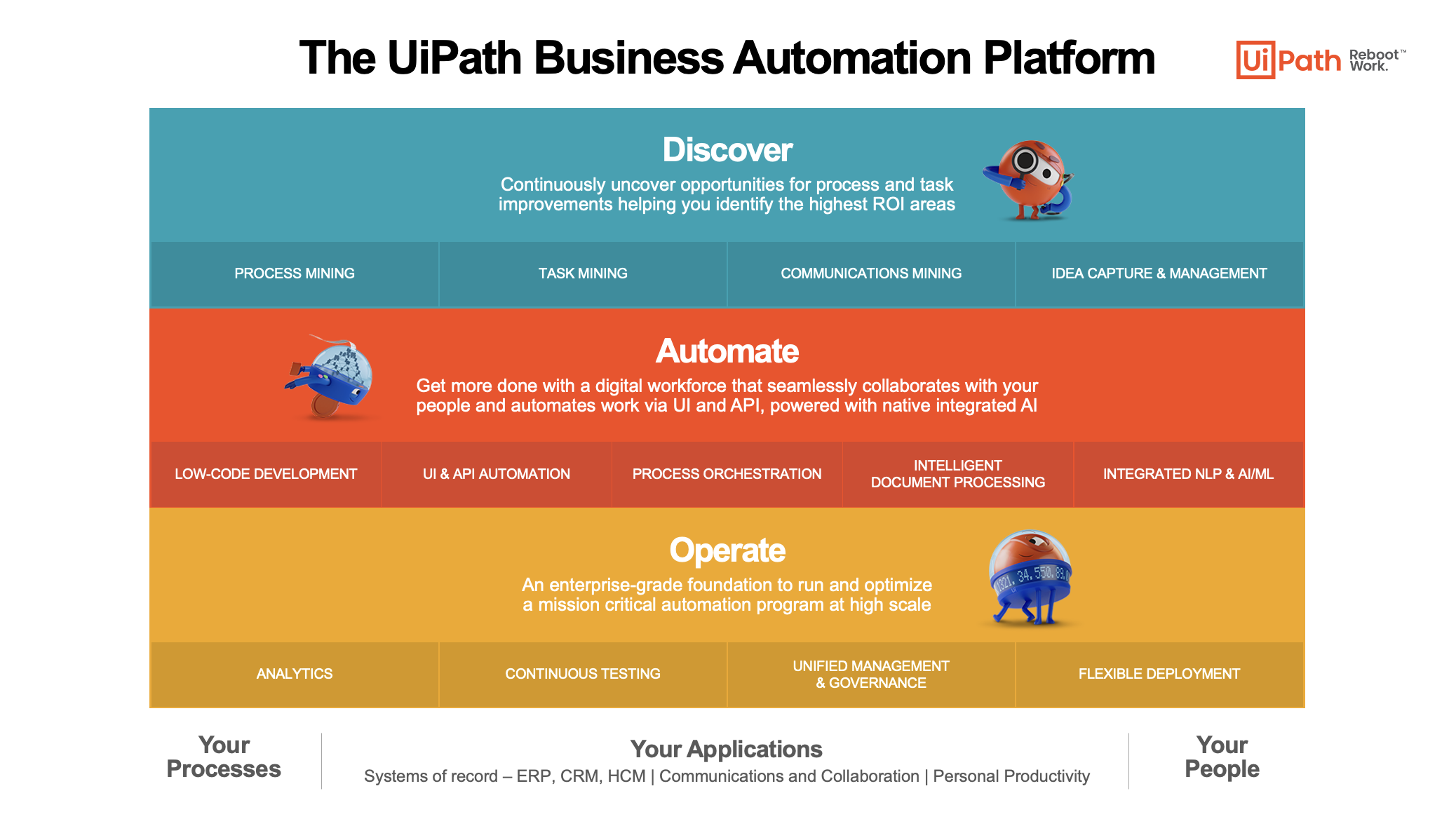 Discover
Revamped root cause analysis and filter collections
Improving the user experience and efficiency of Process Mining capabilities (available via the UiPath Business Automation Platform) are top priorities and we're excited to share two new features released this month.
The first is the ability to save a collection of filters, enabling users to easily access and navigate from one filter collection to the next within a dropdown. This new feature saves users time and effort when repeatedly rebuilding combinations of filters.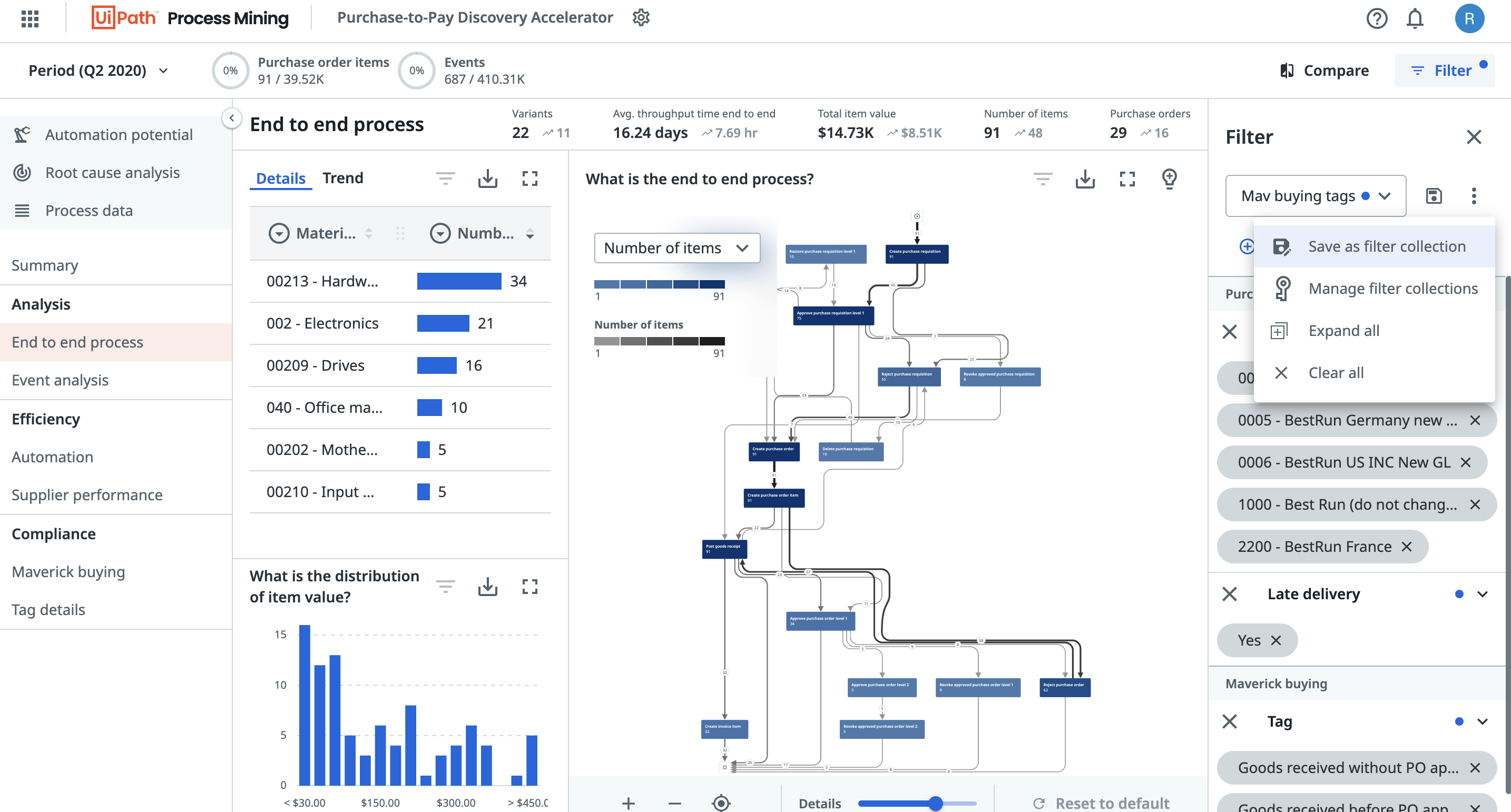 The second is the root cause analysis interaction, which allows users to 'slice and dice' different combinations of data for their filtered scenarios. Users can better understand how different combinations of data impact their variance or anomalies.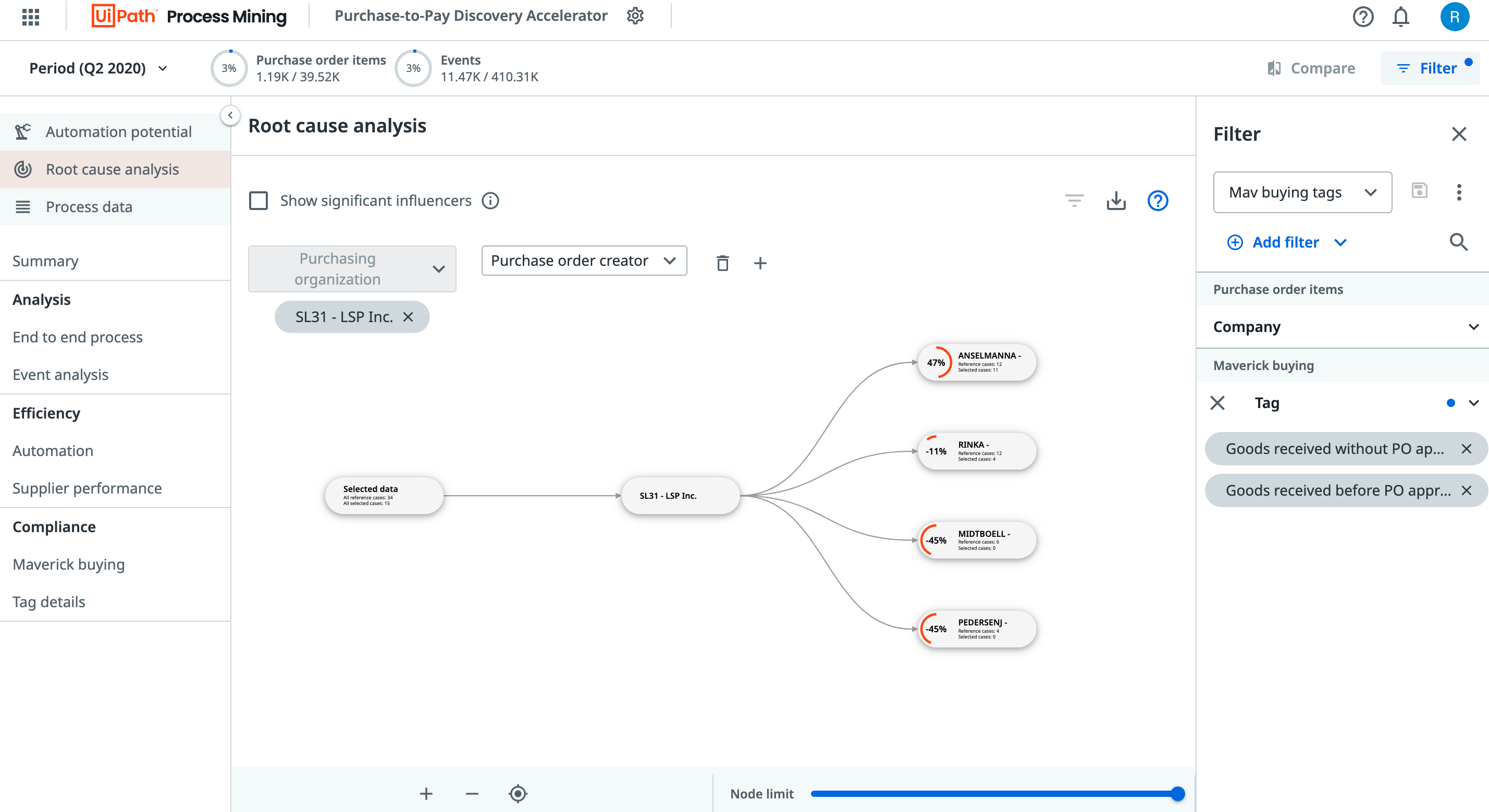 These new features enable users to better understand their data and make necessary improvements to their processes, ultimately improving overall business operations.
Introducing TRACY
Our newly patented process graph layout algorithm named TRACY is now part of UiPath Process Mining capabilities. TRACY offers benefits for both business users and process analysts to better understand their processes by helping identify the most popular path within the process, building the rest of the graph around it, and providing stable process visualization.
TRACY will be available out of the box for all new applications created going forward. For existing applications, the app needs to be recreated to benefit from TRACY. Migration is simple and involves just a couple of steps.
Automate
Live streaming support in remote debugging
You asked for it, now it's here! Developing and troubleshooting unattended robots in Studio is now faster than ever, with the ability to stream the execution in remote environments, allowing developers to watch live what the robot is doing.
Remote debugging with live streaming enables developers to more easily build cross-platform automations with serverless execution directly within Studio, troubleshoot production automations that are running on different environments, and troubleshoot Automation Cloud™ Robots.
Trigger-based attended automation
In Studio 2023.2, we are introducing a brand-new way of building attended automations: one that is based on application, user events, and triggers (see diagram below).
To make this possible, we have made improvements across the board for attended automation, with the introduction of a trigger-based framework, new capabilities for designing user dialogs, and a revamped forms activity package that delivers faster response times, scalability support, and multi-form support.
With these improvements, we are both making the development of attended automations much more approachable for any robotic process automation (RPA) developer, as well as enabling more complex use cases (like contact center scenarios).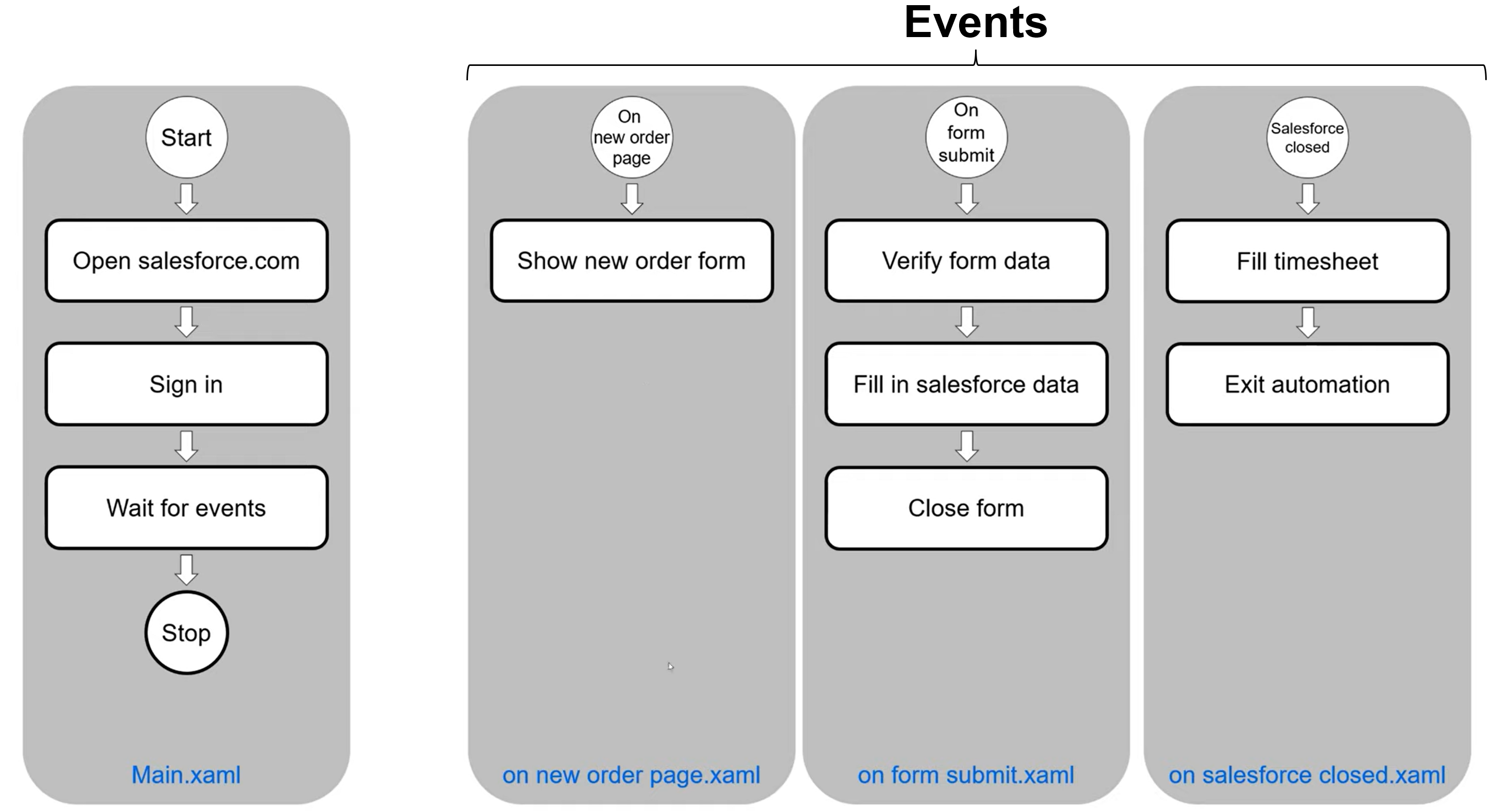 Over 80 new productivity activities
Our new Microsoft Office 365 and Google Workspace activity packages have over 80 new activities that enable building cross-platform projects and trigger-based automation.
These activities also come with an improved experience that ensures citizen developers can now automate across platforms with ease, targeting such use cases as email, files, Microsoft Excel, and events. Trigger-based automation includes new email arrivals, attachments, and files that can be automated with reduced authentication issues and configuration time thanks to UiPath Integration Service.
Assistant
We've introduced a new tab in UiPath Assistant, designed to enable business users to get more visibility on the progress of their automations. Users can access a new Running tab whenever they run an automation and get instant updates on:
Steps made by a robot during the automation execution

Status of the automation

Total running time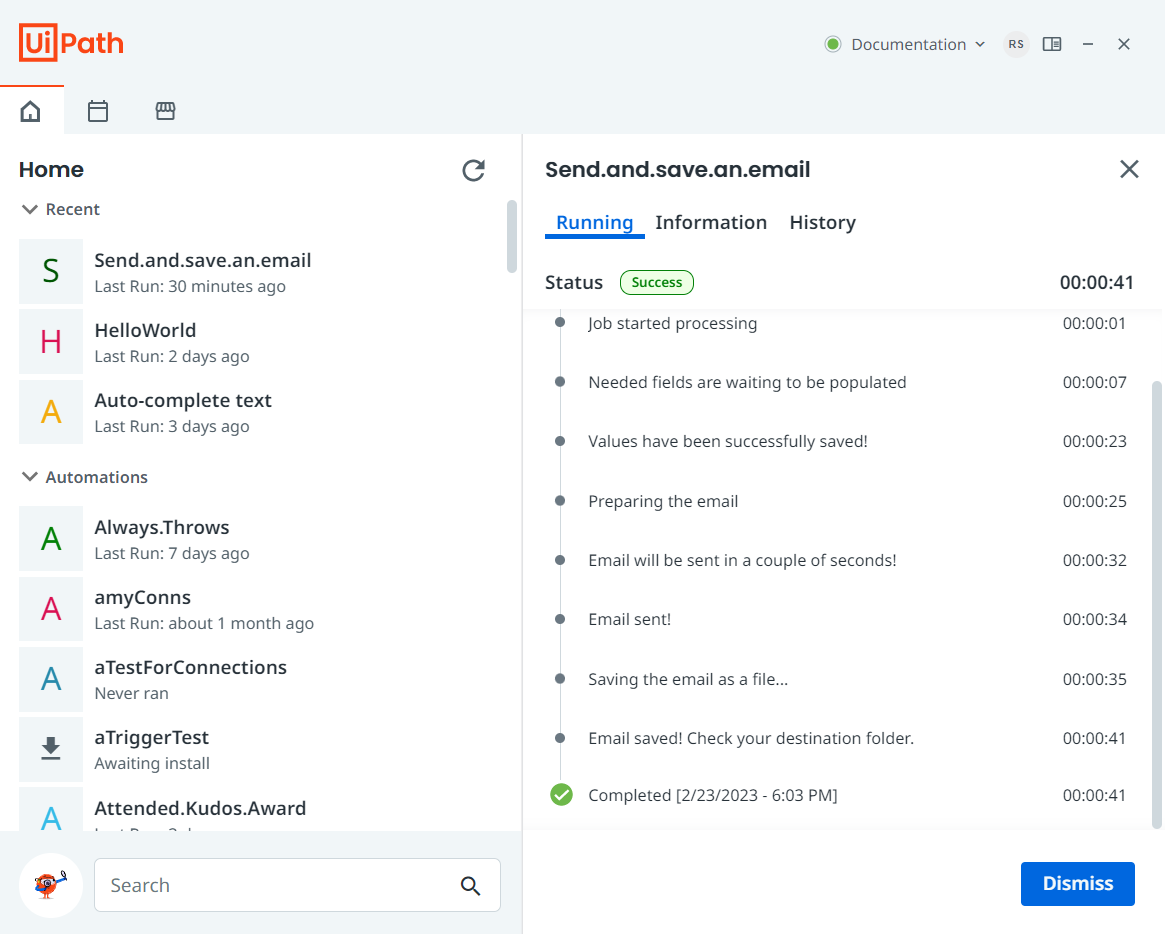 These details are provided with the help of the Report Status activity. You'll add the activity to your attended automations during the development process in Studio.
As a result, users can get a better understanding of what's happening behind the scenes with Assistant and—if something goes wrong—easily identify where the automation got stuck, enabling an enhanced user experience for every employee at your organization.
Enhanced use cases with DocuSign Connector
The Integration Service DocuSign connector has been updated with seven new curated activities—plus three new event triggers. These additional activities will expand business automation use cases across lines of business (LOBs).
The enhanced activity set for DocuSign will allow automation developers to programmatically send an envelope of documents for signature, add recipients/documents to an existing envelope, and download all signed documents
For example:
Sales
When a new account is entered in Salesforce, an envelope of contract documents will be automatically sent from DocuSign for customer signature.
Legal
When a paralegal adds a new document to Google Drive, DocuSign will automate the creation and sending of legal documents, in case updated terms are added to the legal document.
Human resources (HR)
Here's an example use case of onboarding documents via DocuSign, based on a BambooHR trigger:
Visit the Integration Service page to review other prebuilt connectors.
Redesigned Data Service activities
We're happy to share that Data Service just became a lot easier to use within Studio.
All 11 activities have a redesigned interface to streamline visibility of Data Service entities, fields, and operations, enabling users to see the data structure of entities. Additionally, activity-specific actions are now within the activities themselves, instead of being in the property panel.
Operate
Orchestrator
As we're constantly adding new capabilities to make automation more efficient, this month we've released two new features that are already available in UiPath Orchestrator if you're an Automation Cloud customer. The features will be available in our 2023.4 release for Automation Suite.
You can now download more data than before while you continue working without interruptions, thanks to the ability to export grids (that contain logs, audit data, and queue transactions) in the background in a CSV format, for later processing or audit reasons.
Once the export is ready, you'll get a notification in the interface and via email, so you'll have your data delivered to you while you focus on other tasks. Moreover, you can find and download all of your exports in a centralized manner from the new My reports page:

You'll also have better control of your automation processes in the cloud thanks to the ability to personalize execution settings for jobs, triggers and queues, which were previously configurable only on-premises. This is especially useful when you have to adjust your execution settings beyond the defaults, or when you migrate your on-prem setup to the cloud. The previous default behavior for jobs, triggers, and queues in the cloud remains unchanged.
Customer-managed keys for Automation Cloud
UiPath Automation Cloud now offers customer-managed keys as an advanced enterprise security capability, giving organizations complete control over access to their encrypted data. Because they alone have the key, access to the key can be revoked at any time.
Customer-managed keys are a feature of the advanced platform SKU, which also includes other features designed for advanced enterprise scenarios. You can move between a UiPath-managed and customer-managed key strategy as you wish from within the Automation Cloud portal interface.
While customer-managed keys are an important option in an enterprise security strategy, they do come with some precautions that need to be taken to avoid key loss (and data unintentionally becoming unrecoverable). To find out more, and to fully understand the upsides and implications of moving to customer-managed keys, please see the documentation.
Stay in touch
As always, we encourage you to try all the new capabilities and keep the feedback coming through the Insider Program. And join UiPath Dev Dives to learn how to use all the latest and greatest in real-world scenarios.