Updates, customizations, bugs—with all the constant changes happening in your SAP® software, you might feel overwhelmed trying to keep up with modifications. Not to mention, there's an added layer of complexity with figuring out how to test your SAP system properly. You'd love to have guidance on where to focus your testing, but is there any kind of tool that can provide that?
Introducing the Heatmap for SAP and Change Impact Analysis for SAP, two new UiPath Test Suite features that unlock optimal test prioritization. UiPath Test Suite, powered by the UiPath Business Automation Platform, already creates a seamless automated testing experience for your SAP system, and these new tools now make it even easier to keep pace with SAP changes at scale.
Meet the Heatmap for SAP
If you're unsure of what to test or where to start your testing, or you want to see exactly how your SAP system is used, you've come to the right place. With the Heatmap for SAP, you can use real-time process insights to instantly discover test automation opportunities based on your SAP system usage. The Heatmap for SAP feature is compatible with multiple SAP systems, including SAP ECC, SAP S/4HANA, and SAP EWM.
If you're just getting started on your testing journey, these insights can help you jumpstart your test prioritization. If you've already been using UiPath Test Suite, the Heatmap for SAP feature will provide you with insights and identify gaps so that you can determine if your test cases correlate to your SAP system usage.
Heatmap for SAP helps you identify the most critical test cases by showing test prioritization based on real data with immediate results. That's right—there's no long setup, configuration, or analysis process necessary.
You can also use the Heatmap for SAP to more easily determine test relevance and test coverage. The size of the box on the Heatmap displays how relevant the test is for achieving a specific goal. Essentially, the size of the box answers the question: "How often and how heavily is this transaction used?"
The colors of the boxes provide a visualization of the execution coverage of the transaction by executed test cases. The colors signify the following:
Gray: test case doesn't exist or hasn't been executed

Red: test case exists but at least one execution has failed

Green: test case exists and all executions have passed
These visualizations allow you to quickly understand your SAP health.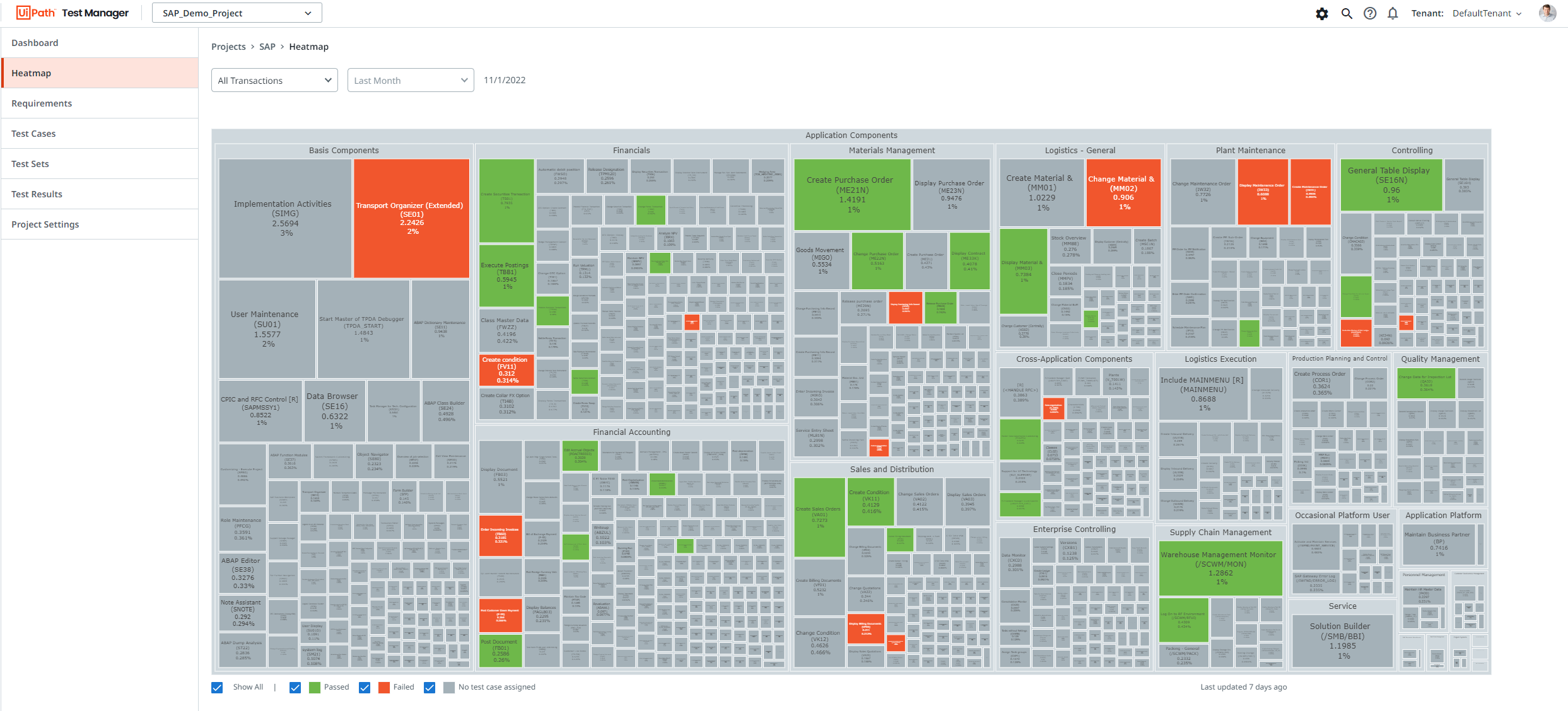 Overall, Heatmap for SAP is a gamechanger for identifying business risks and focusing your testing on changes within your SAP system.
And if you're looking to level up your SAP testing practices even more, we've got just the tool for you—Change Impact Analysis for SAP.
Meet Change Impact Analysis for SAP
Powered by artificial intelligence (AI) and machine learning, Change Impact Analysis for SAP equips you with the information you need to scope testing around any changes made in your SAP system. Using impact analysis, Change Impact Analysis identifies test cases that need to be executed so you can ensure you're testing the right things.
Don't have time to run a full regression suite? No problem. Change Impact Analysis uses AI to help you figure out exactly what to test so that you can optimize your use of UiPath Test Suite.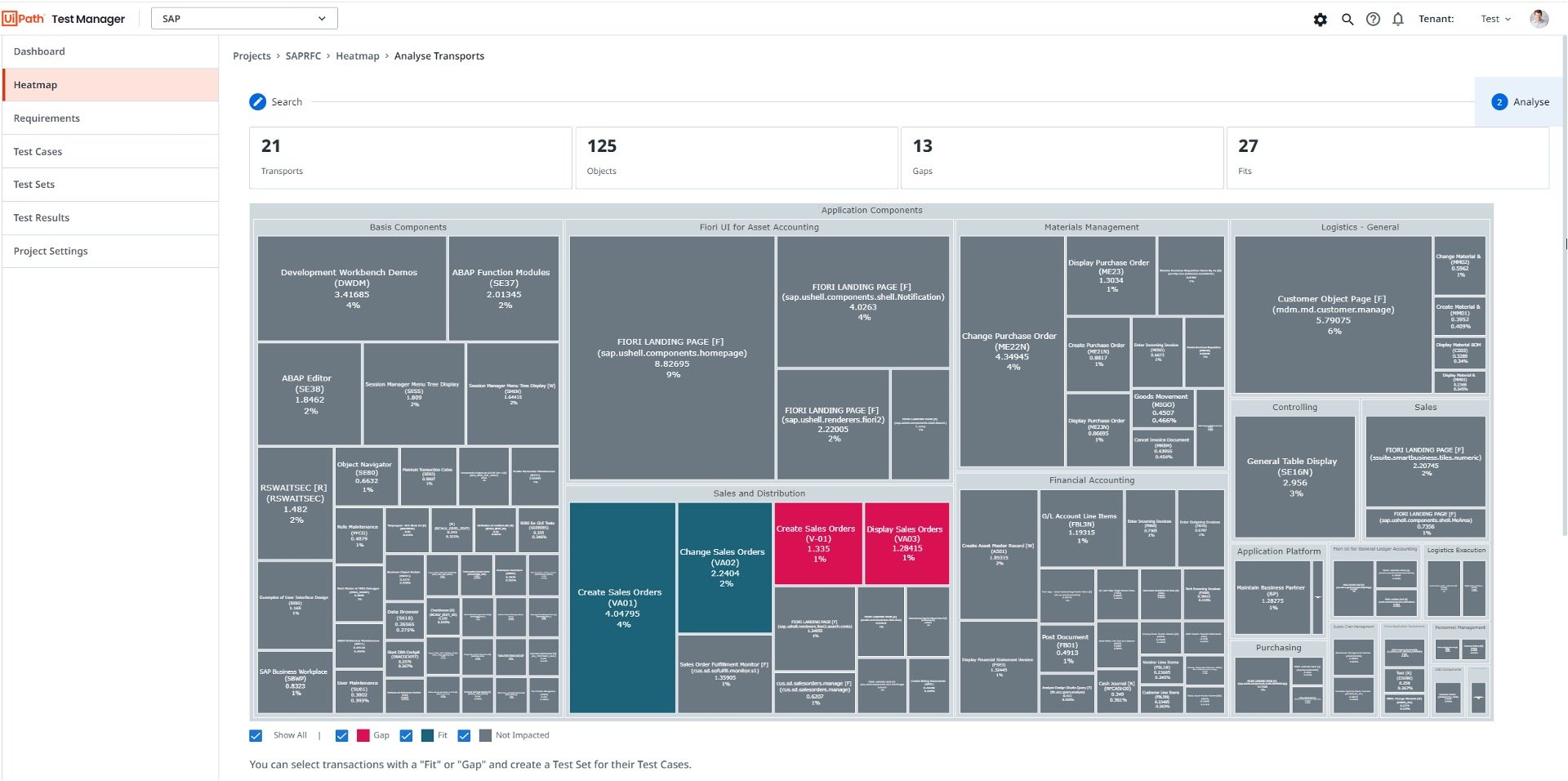 By using Change Impact Analysis to map test cases to objects tested in SAP, you can ensure risk-free SAP releases and go-lives with optimized testing and effective change management.
How exactly does Change Impact Analysis for SAP work? Let's take a closer look:
First, Change Impact Analysis collects and stores information on executed transactions and detected dependencies during the run time.

Then, it presents a real-time impact analysis so you see how changes correspond to platform-functionality risks. You'll see the changes through live analytics and deep-dive dashboards.

Finally, you can take targeted action by prioritizing test cases for highly-used SAP functions, instead of needing to test the whole regression portfolio.
It's as seamless as that—a simple three-step approach to optimizing your testing.
Once you start using Change Impact Analysis, you'll quickly realize the benefits. These benefits include:
Reducing testing efforts through test prioritization

Understanding the impact on business processes

Developing knowledge of what needs to be tested

Keeping pace with SAP changes

Freeing up your team to focus on more strategic quality initiatives
Streamline your automated testing journey with UiPath Test Suite
It's easier than ever to test your SAP system quickly and continuously with enterprise-wide, production-grade, and AI-powered test automation capabilities from UiPath Test Suite. Use the power of AI to make testing more precise through Heatmap for SAP and Change Impact Analysis for SAP.
Discover how you can elevate your test automation practices even further in our SAP testing e-book.
Planning on migrating to SAP S/4HANA? Learn how you can accelerate your migration by checking out our brochure.