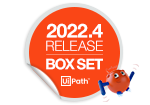 With the recent 2022.4 release, we continue our mission to deliver security wherever automation happens. Here's what you need to know: we're delivering important updates to security and compliance with enhanced governance and data sovereignty, SOC 2® for additional services, and HIPAA attestation for UiPath Automation Cloud™.
As our customers continue to automate increasingly critical tasks with UiPath, we're looking to improve our security posture with every release. Your trust is at the core of our product development. So, we've added significant enhancements across the board to meet your compliance and accountability expectations. Plus, with some of the updates delivered, such as Security Assertion Markup Language (SAML) single sign-on (SSO) integration, you're not only getting improved security but also a better user experience.
Let's look at everything included in the 2022.4 release from a security perspective.
UiPath: End-to-end secure automation platform
UiPath Automation Cloud™
IT governance with conditional access: policy-based configuration to ensure that only managed and compliant devices can access Automation Cloud.

Full data sovereignty: data from all Automation Cloud services is now co-located in the same data center, providing simplified compliance with your data sovereignty requirements.

Broader compliance: SOC 2® attestation for additional services and HIPAA attestation provides confidence to adopt Automation Cloud if you're operating in a regulated environment.
UiPath Orchestrator
Added BeyondTrust and HashiCorp credential stores: you can read more about the new identity and access management (IAM) options in the separate section below.

At-rest encryption: allows all stored queue data to be encrypted by default with an opt in. This offers a built-in, transparent encryption option on top of the current encryption keys in use: tenant encryption key for Automation Cloud and organization/deployment instance encryption key for on-premises.

OAuth 2.0 for robot authentication: a new robot authentication mechanism based on OAuth 2.0 allows unattended robots to connect to Orchestrator using a client ID - client secret pair. This way, robots can access resources by using their own credentials instead of impersonating users.

Roles and permissions enhancements: it's now easier to create and edit roles and permissions in Orchestrator, making it simpler to implement your desired controls.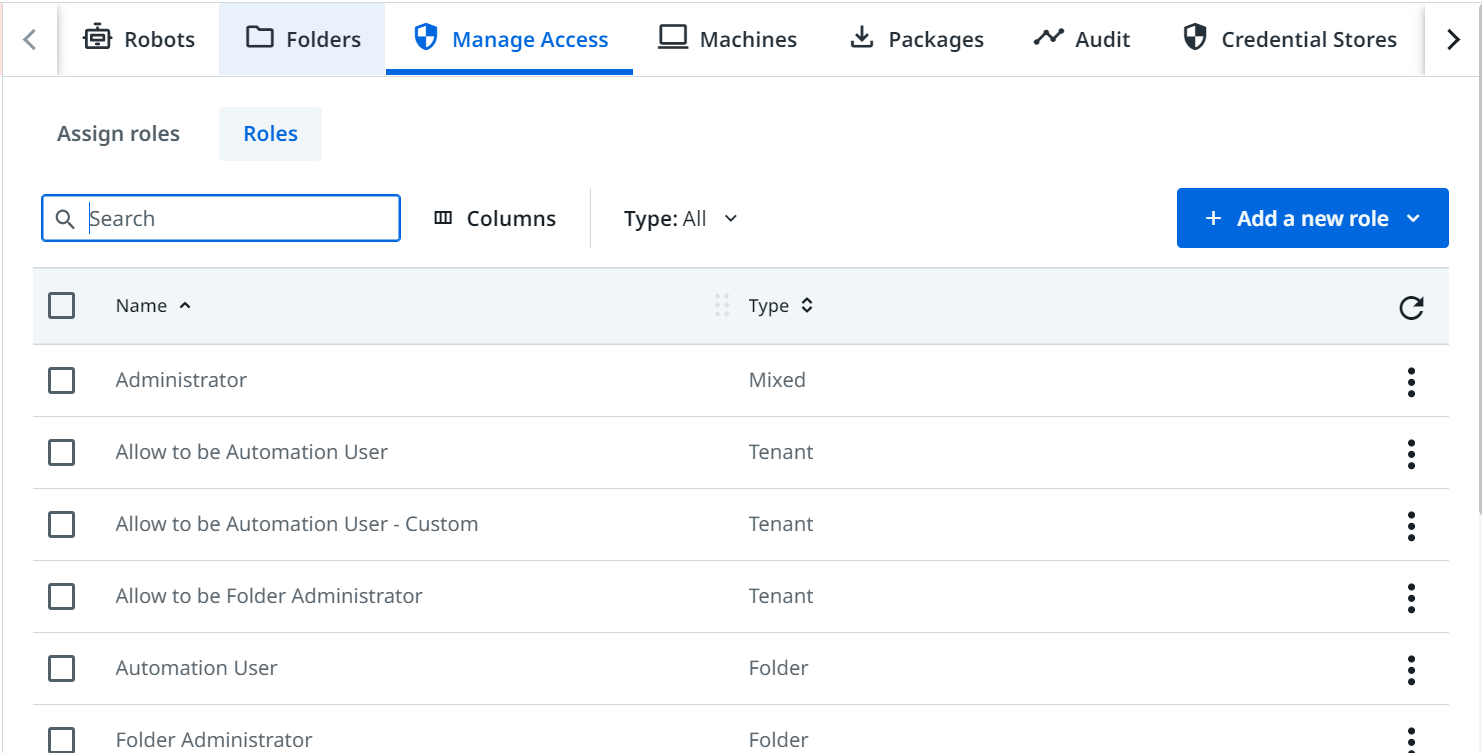 UiPath Test Manager
Role-based access control (RBAC): define roles and permissions for creating and managing testing. Configure permissions for additional actions and resources such as dashboards. With new access control on a project level, users can either be allowed or restricted access to projects. Authorized users (i.e. admins or project owners) will have full control over authorization.
UiPath Process Mining (in Automation Cloud)
RBAC: manage roles and permissions for creating and managing your process apps in Process Mining from Automation Cloud. Configure permissions for additional actions and resources such as dashboards.
UiPath Insights (on-premises)
User group support: quickly add Insights users from your existing Azure Active Directory (AD), Orchestrator, and Automation Cloud memberships groups.

Log configuration rules: gain full control over which processes' log data is sent to Insights. Supports improved scale, compliance, and security.
UiPath Action Center
Data encryption: allows individual teams to encrypt data so they can keep actions data and other sensitive information separate and controlled. This enhances security and strengthens privacy protection.
New identity and access management options
SAML enterprise SSO is now available for you to start using with your apps. SAML support is a must for enterprise-grade software as a service (SaaS) solutions. It improves user experience since humans and robots only need to sign in one time to access multiple apps.
SAML SSO also brings better security, since you can configure sign in policies with your centralized identity provider (IdP) of choice. Now, with native support for SAML 2.0-based multi-factor authentication, Automation Cloud allows you to manage identity and application access more easily.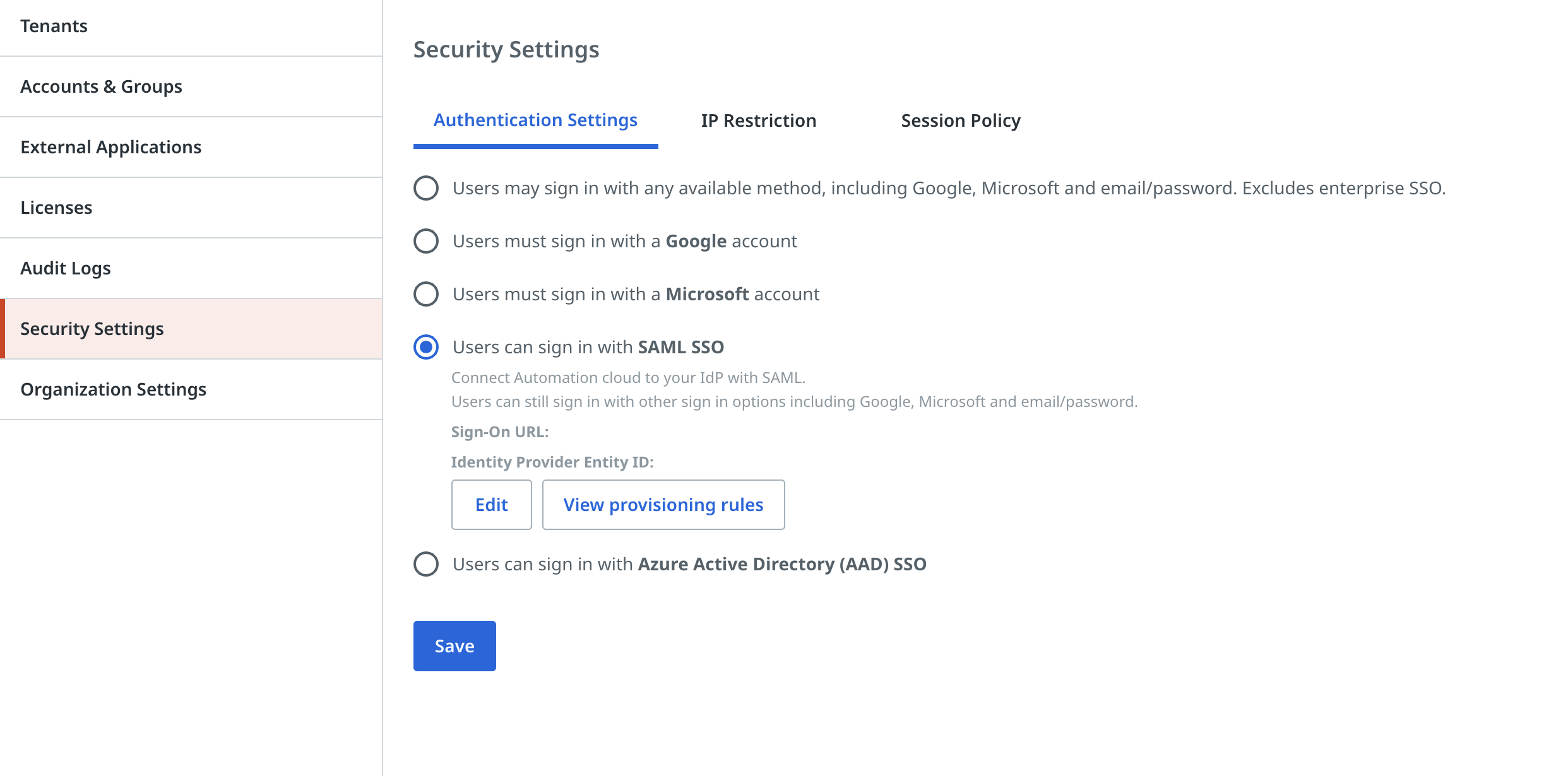 Orchestrator in Automation Cloud is also getting support for more credential stores. You can now add two new providers for assets and robot passwords: BeyondTrust Password Safe and HashiCorp Vault.
Previously, only CyberArk Central Credential Provider (CCP) and Azure Key Vault were supported out-of-the-box in Orchestrator. Now, with extended support for some of the most popular credential stores, you can choose the one you're most comfortable with or are already using as a corporate standard. Remember, when you deploy Orchestrator on-premises you can also use custom plugins to add other credential stores.

Takeaway
At UiPath, security is not an afterthought. Our end-to-end capabilities include tools and features to keep your digital workforce as secure and compliant as your human workforce. When you need best-in-class security, governance, and automation management, choose UiPath to drive digital transformation with minimal security risks.
Previously, in the 2021.10 release, we announced an industry-first partnership with CrowdStrike to deliver robot endpoint protection against malicious activity that could disrupt automation. Now, the 2022.4 release raises the bar on security and compliance through enhanced governance and data sovereignty, SOC 2® attestation for all services, and HIPAA for Automation Cloud. And we're not stopping here. In future releases you can expect more security updates that will cover the entire human-robot work continuum. All built with security.
In the meantime, make sure to visit the Trust and Security Portal to learn more about security and compliance at UiPath. And let us know what security features you'd like to see in future releases.